NBA Win Total Odds & Pick: Will the New-Look Chicago Bulls Exceed Expectations?
Credit:
Jeff Haynes/NBAE via Getty Images. Pictured: Zach LaVine #8 of the Chicago Bulls.
The Chicago Bulls are expected to be in playoff contention with an over/under of 41.5 wins.
Matt Moore analyzes the Bulls' win total odds below.
Check out this post for updated season win totals and this post for my other 29 season win total picks.
Chicago Bulls Win Total Odds
The Case for the Over
Chicago had rotten luck last season.
The Bulls' Pythagorean-expected-win mark per 82 games number was 37.8, about five games worse than the over. But the context of the season was wilder than that. In games inside three-points with two minutes to go, Chicago was 10-16, the worst mark for any team with more than 30 wins last season.
There's an idea that the trade for Nikola Vucevic was a failure. The Bulls struggled after the trade, trying to adjust, but they couldn't turn it around because, at that point, Zach LaVine was out with COVID.
After the All-Star break, the Bulls finished eighth in defense; they struggled on offense with LaVine out. Certainly, LaVine being out was part of that issue, and the worst on-court defensive player in that span was to Vucevic.
Instead of trying to argue that those players were good defensively, it's better to realize that Billy Donovan can likely pull the Bulls' Defensive Rating up a level through scheme and coaching.
Defensively, yes, it's a limited lineup. But Frank Vogel and Steve Clifford managed to get the Magic top-10 in defense with Vucevic in drop coverage against pick-and-roll. Patrick Williams projects as a plus defender, especially with another year of experience.
He looked like he'd added serious muscle in Summer League. LaVine and DeMar DeRozan are defensive weak points, but Ball is a plus defender, especially in help situations.
The roster is much better after their offseason upgrades — a starting five of Lonzo Ball, LaVine, DeRozan, Williams, and Vucevic will cook offensively.
LaVine was underrated last year, averaging 27-5-5 on 51-42-85 splits. Ball's shooting stabilized last season; he's now reliable on spot-ups and not awful on pull-ups. More importantly, he operates best when he doesn't have to create as the primary ball handler but as an auxiliary passer. He's now the third playmaker next to LaVine and DeRozan.
Minimum 500 pick-and-rolls last season, DeRozan was second (behind Kawhi Leonard) in points per possession, including passes as the ball handler. That was with a pretty abysmal set of offensive weapons in San Antonio. With Vucevic and LaVine, he'll have All-Star weapons.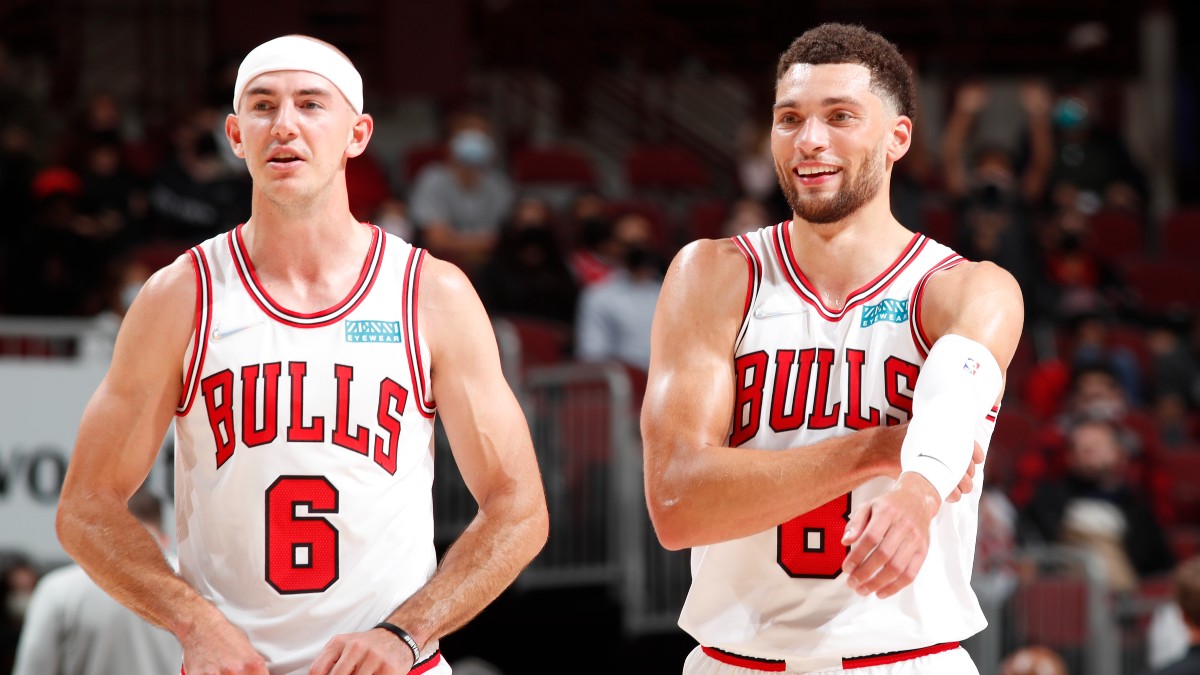 The bench is young but talented. Alex Caruso will help the defense, and Tony Bradley gives them a rim protector.
There are no red flags on their schedule — it's not an easy schedule, but not a particularly tough one, either — and none of their key players have significant injury histories.
The Case for the Under
The elephant in the room is whether what LaVine did last season is sustainable. LaVine never scored more than 25.5 in his career before last season. He never had an eFG% above 53% in his career — his eFG% last season was 59.6% — plus he had career highs in assists and rebounds.
Can LaVine have back-to-back career years? Can he even hit close on his production by efficiency last season?
If LaVine drops, that's it. The combination of DeRozan and Vucevic with pre-2020-21 LaVine isn't enough to get the Bulls over .500. The division is tough with not just the Bucks but the Pacers.
This team needs LaVine to be elite to make this combination work. He was elite last season. If you don't think he will be again, that's a reasonable position and a reason to take the under.
I can make (and believe) the argument that the Bulls can be decent on defense, but decent is not good. The bench got younger and lost impact veterans who held up the Defensive Rating. DeRozan is a minus defender, LaVine is a minus defender. If Ball and Williams can't execute well enough to help Vucevic, he becomes a weak point.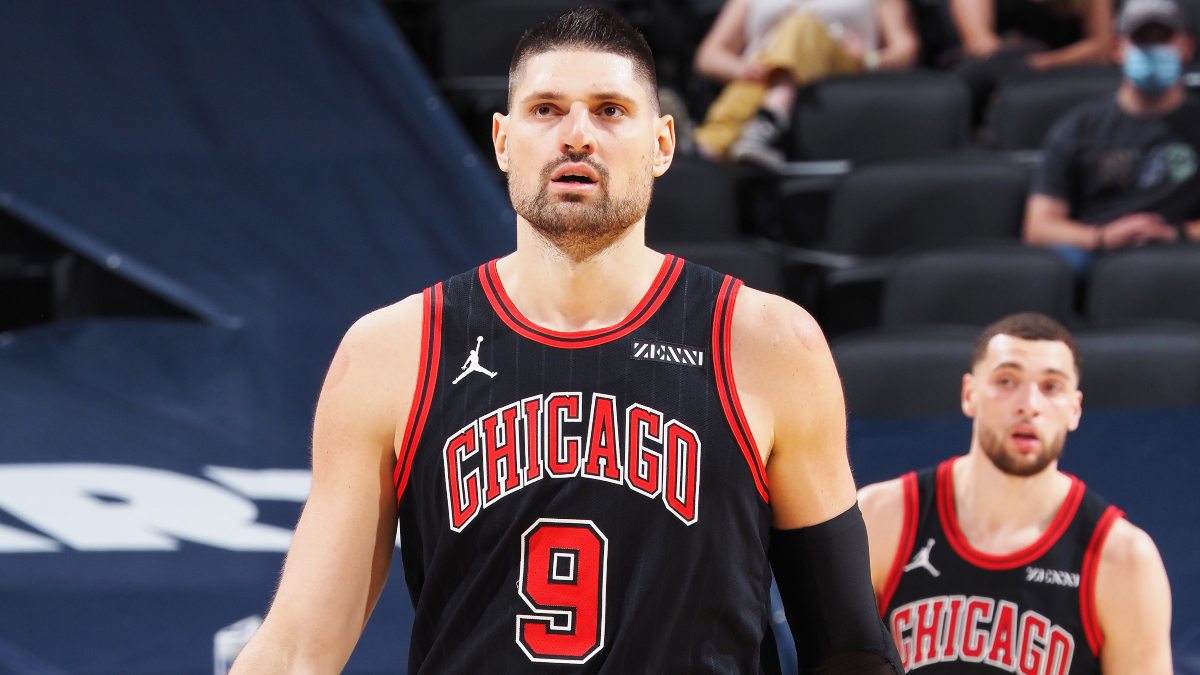 Drop coverage fails when guards can't get over the screen. DeRozan was third among all players with at least 300 picks defended in die-on percentage per Second Spectrum, LaVine was seventh. You can bring help to tag the roll man or help on the ball-handler, but that leaves 3-pointers open. It's going to be a problem.
The Spurs were outscored with DeRozan on-court in each of the past two seasons, and his teams have had better net ratings with him on the bench in all but one of the past five seasons.
The Bulls lost three of their top-four players in Win Shares in free agency and trades and six of their top-10 in Value Over Replacement Player. It's a whole new roster, which isn't bad but may take some time to get on the same page.
Chicago's overall schedule is easy, but it's a bit front-loaded. They have seven back-to-backs before Jan. 1, tied for second-most (with eight other teams). They also have more rest disadvantage games than rest advantage games in that span.
After the All-Star break, they have the third-toughest adjusted strength of schedule per PositiveResidual.com. So if they get off to a slow start because of continuity issues, they might have a hard time catching up.
The East is also jam-packed with teams in the Bulls' tier — Boston, Atlanta, and Miami, Indiana — who will likely be better, and the Wizards who are trying to be better. The losses have to go somewhere.
If LaVine's production and efficiency aren't what they were last year, this team is composed of good-not-great sub-All-Star players with a big payroll and little depth.
Bulls Win Total Bet
The number is just above .500 for a reason. Either you think they drastically underperform and settle into the play-in range, or you think this all clicks, and they thrive.
I'm banking on a very unquantifiable measure here, that systemic defense built from coaching can make them a top-20 defense with essentially below-average defensive personnel. Vucevic's on-court Defensive Rating hasn't been better than 110. That's my general measure at this point for "so bad it's difficult to overcome."
DeRozan as a negative player is hard to get around, but I take heart in how good his splits were when he wasn't sharing the floor with another mid-range volume shooter, LaMarcus Aldridge, truncating the spacing.
LaVine and Ball take enough 3's, and Vucevic can surprisingly stretch the floor. I'm not worried about an archaic, low-3-point offense with Donovan; Chicago was 16th in 3-pointers made per 100 possessions last year without much creation.
I'm high on Williams and like the fit with Ball. I'm a believer in LaVine. His decision-making and process were sound last year. His shot was hot, but they can afford some regression with all the roster improvements.
Ultimately, if you're not sold, I can't blame you, but this is gambling. I'm willing to gamble on things going right for the Bulls. I like the over. I think their average outcome is an over, and their ceiling is 49-50 wins.
How would you rate this article?
This site contains commercial content. We may be compensated for the links provided on this page. The content on this page is for informational purposes only. Action Network makes no representation or warranty as to the accuracy of the information given or the outcome of any game or event.