Clippers vs. Nuggets Game 3 Betting Odds, Picks & Predictions (Monday, Sept. 7)
Credit:
Garrett Ellwood/NBAE via Getty Images. Pictured: Kawhi Leonard, Jamal Murray
After Los Angeles won the series opener easily, the Clippers were flat to open Game 2, eventually losing to the Nuggets to bring the series to one win apiece.
However, even in a losing effort in Game 2, the Clippers still scored 101 points after having scored at least 111 points in their seven previous playoff games.
Check out Brandon Anderson's betting preview with odds, picks and predictions for Game 3, including why he's targeting LA's team total on Monday night.
Clippers vs. Nuggets Odds
Odds updated as of Monday at 6:45 p.m. ET and via DraftKings. Get up to a $1,000 sign-up bonus at DraftKings today or see more offers and reviews for the best online sportsbooks.
---
Well that was more like it.
For anyone hoping for a competitive series, Game 2 was a breath of fresh air. The Nuggets ran out to a 44-25 first-quarter lead and led wire-to-wire, evening the series up at two. After a dominant Clippers' win in Game 1, it looks like we have ourselves a series.
Now let's analyze the matchup and odds to find the best betting value for Monday night.
---
Check out our free NBA odds page, which automatically surfaces the best line for every game. Subscribe to our new NBA Insiders tool at FantasyLabs to beat the market with our cutting edge player projections, injury news and betting thresholds.
---
Los Angeles Clippers

The Clippers shouldn't be too worried about Game 2. Denver came out on fire, with Jamal Murray and Nikola Jokic hitting everything early and Gary Harris finally making shots for the first time in six months. Kawhi Leonard had his first bad playoff game in half a decade, going 4-of-17 from the field. Paul George and Lou Williams had miserable shooting nights, too.
The Clippers barely hit 40% of shots as a team and made only 28% of their 3s.
And for all those negatives? Los Angeles won three of the four quarters and was in the game until the final minutes, losing by only nine points.
I'm not sure the Clippers will be too worried yet. If they lose again or fall behind in the series, that may wake them up, but for now they'll play confidently knowing they're the better team and that shot variance will go their way.
They still need more minutes from Patrick Beverley with Reggie Jackson getting hunted on D, and Montrezl Harrell still has not been himself. But the Clippers still feel like they are rounding into shape. They seem to know it, too.
Denver Nuggets

The Nuggets are no fools. They know everything we know, too. They got hot and made some buckets, but they know there's a lot of work to come still.
Their biggest takeaway from Game 2 was how well they defended Leonard. It wasn't that Kawhi just missed a bunch of shots — the Nuggets really blitzed him. Jerami Grant in particular was really good against Leonard. Kawhi is a difficult shot maker regardless of the defense, but that's the sort of effort Denver will need to stay in this series.
Denver will also be encouraged by Gary Harris, who had his first great game since his return. Even without Will Barton, Harris really solidifies this rotation. Grant and Paul Millsap are eating the lion's share of the forward minutes, while Monte Morris and Michael Porter Jr. are better suited to smaller bench roles for now.
Denver should be caught up from its rest deficit now, and this is about as full strength as the Nuggets will get.
Well, hopefully.
Nikola Jokic is listed as questionable for Game 3 with a wrist injury as of writing. You have to figure he plays through the pain, but if he's out, this will be an easy one for L.A. — everything Denver does runs through Jokic.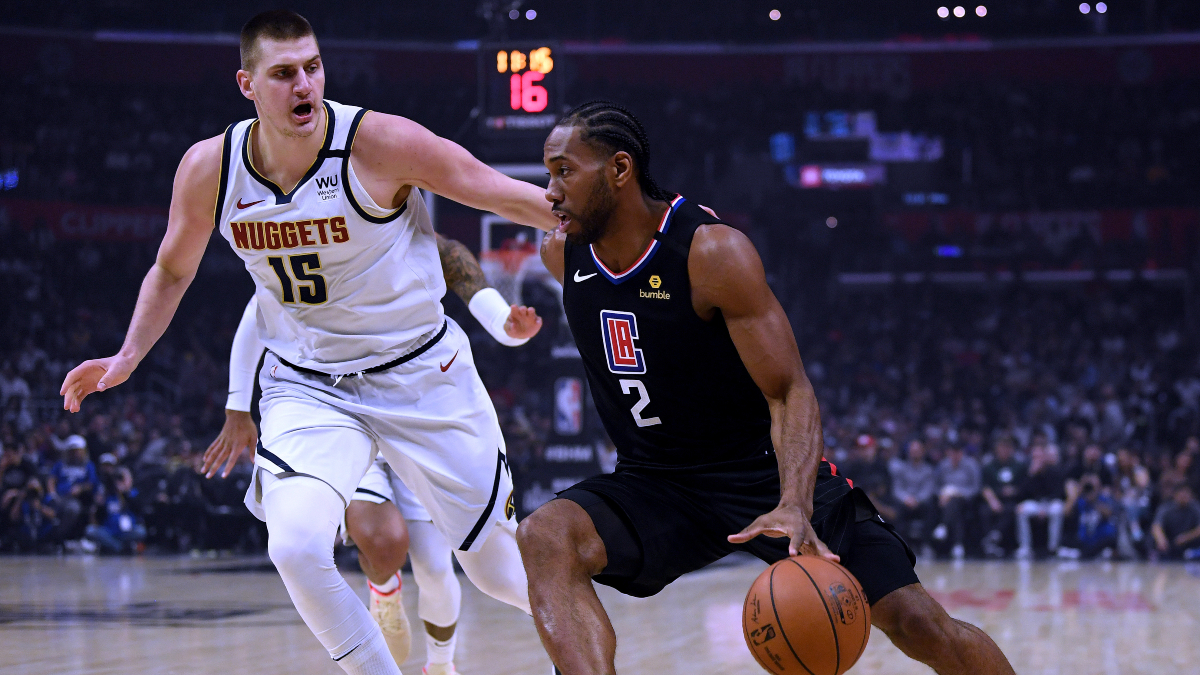 Clippers vs. Nuggets Pick
The line didn't budge at all on this one, so the oddsmakers know what we know: That we really haven't learned a ton about this series in either game so far, except that one huge quarter by either team can swing a whole game.
I still like the Clippers in this game and in the series, but still don't see much value at -8.5 — Denver has enough offense to backdoor cover even a comfortable L.A. win.
There's a bit of Golden State Warriors aura to the Clippers right now in the sense that they seem to get a bit overconfident and always think they have that extra gear to turn to. When they won Game 1 so easily, it was no real surprise that they came out flat in Game 2, perhaps thinking the series was already over.
Denver should have L.A.'s attention back now.
I like the Clippers to win but don't love either side of the spread, and L.A.'s moneyline is too poor of odds to play. In the end, I'm going back to the well a third straight time: The Clippers scored 101 points in Game 2 with horrible shooting nights from their three best scorers, and they had scored at least 111 in their previous seven playoff games and are still averaging 122.6 points per game.
Even with an improved defensive effort by Denver, I still see L.A. getting to 114 points fairly easily in most game scenarios. The Clippers get there in a blowout win or in a shootout. Really, the only miss is another flat performance with bad shooting all-around, and we shouldn't expect that in two straight games.
THE PICK: Clippers Over 114.5 (-110; would play as high as 115.5)
How would you rate this article?