What Does Daryl Morey Bring to the 76ers? More Questions Than Answers
Credit:
Bill Baptist/NBAE via Getty Images. Pictured: Daryl Morey, GM of the Houston Rockets.
"He might not go back to basketball. He can go work in finance and not have to deal with all the … everything."
That was said to me by a very smart NBA person about Daryl Morey after his exit from the Houston Rockets where Morey worked for 14 years. The idea was echoed for various reasons: the backlash from the Chinese government after his tweet, the recent turn against analytics across sports, the shifting dynamics of the sport.
Maybe Morey was done with basketball.
Turns out, not so much.
Morey has reportedly agreed to join the Philadelphia 76ers as the new President of Basketball Operations.
(Hang on, just one second, just need to throw this entire column I wrote about the Sixers being done with analytics in a garbage can … and then light it on fire … and then spread its ashes across as much of the ocean as I can … there. OK, we can move on.)
There are repercussions upon repercussions to this move, from Sixers ownership to Doc Rivers to whatever the hell Tillman Fertitta is doing with the Rockets.
But let's start with Morey.
Why Did Morey Stay With Basketball?
There were serious questions as to whether Morey would be hired again after the Hong Kong incident last year. The questions were stupid. They assumed that in a league where there are ultimately 30 real decision-makers that a man who lasted 14 years in a job in which most men only last five at best wouldn't get another job.
The same day Morey reportedly agreed to join the Sixers, ESPN reported that China's response to Morey's tweet regarding Hong Kong last fall cost the league $200 million.
I won't go into the dynamics of Morey's tweet and the complicated discussions about global politics, upholding the value of free speech, and the idea of the NBA as a vehicle for social change in pursuit of the good. However, the idea that Morey's skills wouldn't be valued given his track record was madness.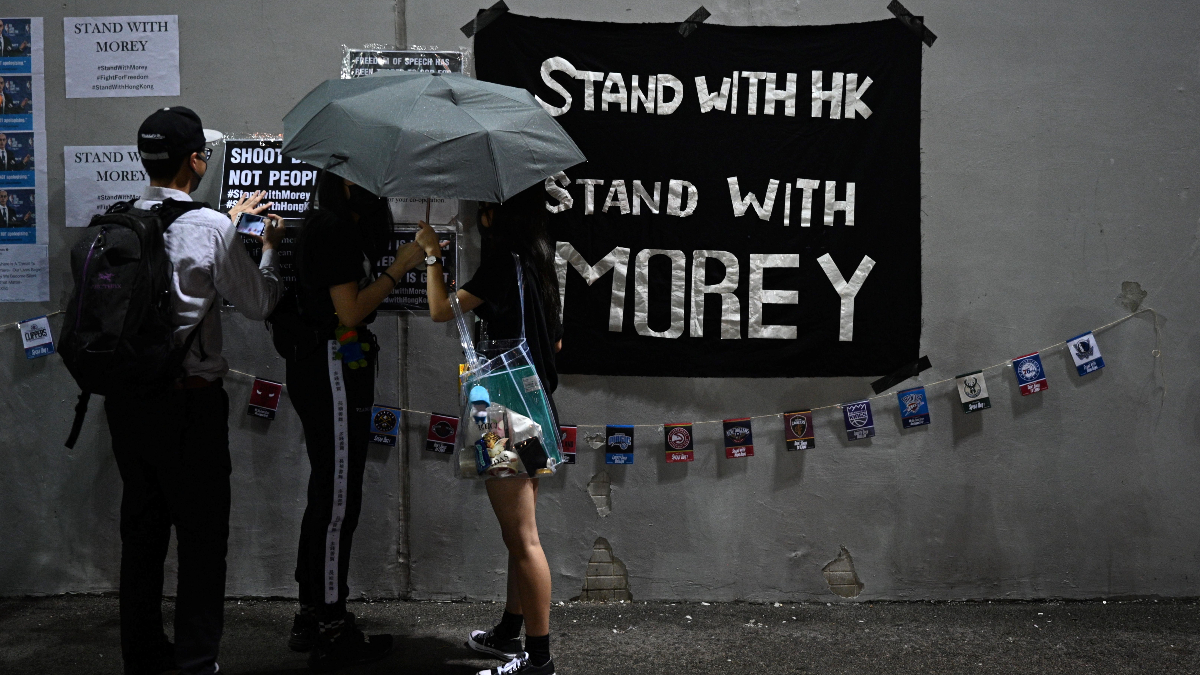 The broader question is why Morey decided to come back at all. He could have hit academia with visiting lectures. He could have worked in finance or tech development. He could have gone into media rather seamlessly.
But Morey must love basketball enough to stay in and deal with everything that comes with the job. Bear in mind that he's a lightning rod for criticism. Some general managers feel he's smug. The "real hoopers" crew hate him for bringing math into their game. Media members sometimes mischaracterize his approach.
At the end of it, though, Morey loves basketball. That was apparently enough to keep him in pursuit of a an NBA championship with a fresh team. Morey is not doing this because he has no other options. He's choosing to walk into the hornets' nest.
How Does Morey Fit With the 76ers' Front Office?
Hiring Morey is objectively a good move in a vacuum, much like hiring Doc Rivers as coach is objectively a good move in a vacuum. Morey is a great executive with a track record of success, Rivers is a great coach with a track record of success.
And despite Rivers not being analytically-forward, the combination of Morey and Rivers isn't bad. Morey is typically hands off with his coaches; there isn't a history of his interfering with game plans, rotation management, or otherwise.
Furthermore, Morey and Rivers' time in Boston with the Celtics overlapped by a few years. They are of the same era and have a longstanding familiarity with one another.
However, Elton Brand's role in this is where things gets weird.
Here's how you want a team set up: The owner hires a President of Basketball operations who hires a GM, then hires a coach and there's synergy between all three.
Here's what the Sixers did: The owners elevated the GM and cleared out other individuals in the front office to give Brand more power. Brand and ownership then hired Rivers, then ownership hired Morey to operate above and around Brand.
You can get all these pieces on the same page, but a month ago, Brand was talking about needing more "basketball people" involved in the process. Morey is absolutely a basketball person. He has worked in basketball for two decades. However, he is not who Brand was presumably talking about when he said "basketball people."
This makes me nervous about the longterm stability there, but ultimately, as long as everyone's willing to be on board with compromise, this should work.
What About Ben Simmons and Joel Embiid?
This was the immediate and urgent question after the Morey news broke.
If you want to see how divisive the issue of whether the Sixers should keep the two together or not is, check out this poll I sent out in the wake of the Morey news and how closely split the results are:
Poll (1 of 2): Morey should:

— Hardwood Paroxysm (@HPbasketball) October 28, 2020
I wrote about the issues with Embiid and Simmons in my ill-fated column from last week.
There's no real telling what direction Morey will go in. He'll be patient in the beginning, most likely, as he settles in.
Here's what he likely won't do: trade Simmons because he can't shoot 3's. This is a drastic misinterpretation of who Morey is and how he operates, so let me provide a little insight.
Between 2009 (when the Yao-McGrady era ended) and 2015, the No. 1 market inefficiency in the NBA was volume of 3-pointers. No one was shooting enough. You can think all the teams shoot too many 3s now and it won't change the drastic way teams limited their scoring output per possession.
The big market inefficiency in 2017-2018 was isolation. The Rockets had the best isolation player in the league, James Harden, and another top-five ISO player in Chris Paul.
Most of that game plan was the product of Mike D'Antoni who told me before the season one of his priorities was to keep two top-end defenders away from the ball, which is why he wouldn't use screen and roll with the two stars. But Morey was the head executive for both of those shifts.
So instead of looking at the Sixers and assuming he's going to run them like the Rockets, it's better to find out what the market inefficiency is that Morey will look towards, and what does his roster afford him. He's also a believer in star talent, and the idea that star players will "figure it out." Simmons and Embiid haven't figured it out yet.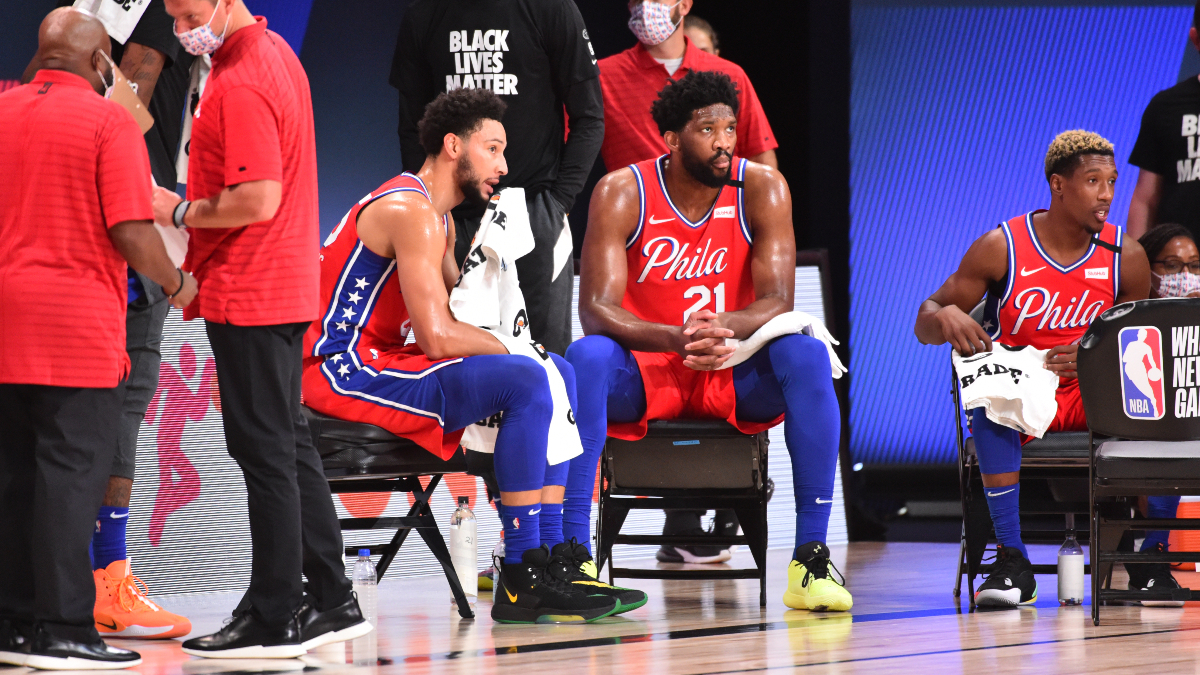 Maybe Morey surrounds the two with shooters, but there were shooters on last season's team who just didn't shoot well, suggesting that maybe the spacing problem is Simmons and Embiid instead of Simmons and Embiid's problem being spacing.
There are two paths towards exploiting a market inefficiency with the Sixers:
Post play: Only four players averaged 1.0 points per play out of the post including pass-outs with a minimum of 300 post-ups, and Embiid was the best of that bunch, averaging 1.13 points per possession, despite his ongoing issues with managing double-teams. If you think having Simmons as a non-shooter inherently limits their efficiency there, this highlights the problem with putting Simmons and Embiid together.
Transition: Only two teams, the Heat and Suns, averaged 1.5 points per possession or better last season. The Sixers, somehow, ranked 22nd in points per possession in transition despite having Simmons. If you think Embiid slows them down, this also highlights the problem with putting Embiid and Simmons together.
Morey is aggressive. That's always been his MO. So if the combination doesn't work after whatever he feels is an appropriate evaluation, there will be moves.
There are no signs that any move will be made before the start of next season, but given his history, I also wouldn't rule it out if he feels he can maximize the team's longterm capacity through a move.
---
Check out our free NBA odds page, which automatically surfaces the best line for every game. Subscribe to our new NBA Insiders tool at FantasyLabs to beat the market with our cutting edge player projections, injury news and betting thresholds.
---
What's the Impact on 76ers Futures Odds?
Hiring a President of Basketball Operations with a cap-strapped roster in a pandemic-unstable year before free agency begins is not going to shift where I think the value is on the odds board.
The Sixers have constantly underperformed relative to expectations. Simmons and Embiid have both had myriad injuries. There's no reason to go in on any Sixers futures odds for the division, conference, or title (at least not yet).
If you want to try and account for in-season moves and trades before they happen, however, keep the Sixers on your mind. At the very least, they are not standing pat in the surrounding pieces around the roster, which makes you think more change is possible.
How would you rate this article?