3 Reasons Why DeMarcus Cousins' Warriors Debut Spells Doom for the Rest of the NBA
Credit:
Photo credit: Kelley L Cox-USA TODAY Sports. Pictured: DeMarcus Cousins
DeMarcus Cousins will make his Golden State Warriors debut tonight at 10:30 p.m. ET against the Los Angeles Clippers.
Our NBA experts spell out the three biggest reasons why Cousins' addition makes the Warriors utterly unbeatable.
DeMarcus Cousins broke the NBA internet this summer by declaring he was signing with the team that needed him the most: the two-time defending champion Golden State Warriors.
He will finally make his Warriors debut tonight under the bright L.A. lights against the Clippers.
His addition to perhaps the best NBA team of all time has been the biggest debate across the NBA universe this year, and some have argued that Cousins won't make a difference — or he might even be harmful.
We touch on those concerns below, but our analysts — Matt Moore, Justin Phan and Rob Perez (World Wide Wob) — came to the same conclusion: Cousins' addition to this juggernaut will bring nothing but doom to the rest of the NBA's teams.
Here are the three biggest reasons why…
---
Matt Moore: Cousins' 1-on-1 Game Makes the Warriors Unguardable
Here's what you're really trying to do with an NBA defense, as several coaches have told me throughout the years.
You're trying to get as high on your preferred opponent shot attempt chart as possible. So if you're facing Golden State, I would imagine it goes something like this (as I don't have access to an actual scouting report):
Curry 3-pointers of any kind
Kevin Durant off-cuts
Kevin Durant shots off screens
Klay Thompson spot-up shots
Dunks off the pick-and-roll
Literally any shot by anyone else except Draymond Green 3-pointers
Draymond Green 3-pointers
Now, the problem comes with the Warriors' ability to punish you for trying to take those things away. You double Curry, and you have to do it with Kevon Looney's man, because you can't bring help from KD or Klay Thompson.
But you do that, and this happens:
But Cousins may not be great in that spot. He's coming off a torn Achilles.
Cousins is probably not going to be a pick-and-roll threat for much of the time. What he can do, however, is pop to the perimeter and hit 3s.
The bigger issue, though, is how he forces help.
Leave Cousins in 1-on-1 coverage, and he's going to feast in the post.
You might resist the first few possessions; after all, you can't leave one of their shooters. But he's just killing your guy inside and your center is picking up fouls. So you double. And then he's passing to the perimeter to the open man.
Maybe you bring Draymond's guy down, though. Maybe you bring him down and say "make Draymond shoot." Except Green won't do that. He'll run dribble hand-offs with Curry or Klay, and now you have one defender trying to maneuver around Green to try and contest an open Curry or Thompson 3-pointer.
OK, but you've brought help from Draymond and then brought more help on the DHO. You let Green go completely, and the secondary defender helps on Curry or Thompson while their man catches up.
Except now you've left either Curry, Thompson or Durant to bring help. And while you're doing that, Draymond is wide open driving for a dunk, and Cousins has spaced out to 3-point range.
So Cousins' man helps down to contest at the rim or the other shooter's defender helps down, and you have to hope you've managed to prevent:
a Cousins score at the basket
a Curry or Thompson DHO 3-pointer
a Curry, Thompson or Durant spot-up 3
a Draymond driving dunk
a Cousins open 3-pointer
Doom.
All of this is to provide evidence of how Cousins' addition to the Warriors makes it that much harder to contain, not only for how good Cousins is, but his specific ability to beat single coverage.
Not only do you not trust Looney to do that consistently, but you don't trust Green to do that either. There are now four players on the floor for Golden State that you cannot reliably guard in 1-one-1 coverage, let alone when they start moving off screens.
You want to switch everything? Fine. Now you've got your little wing matched up on DEMARCUS COUSINS.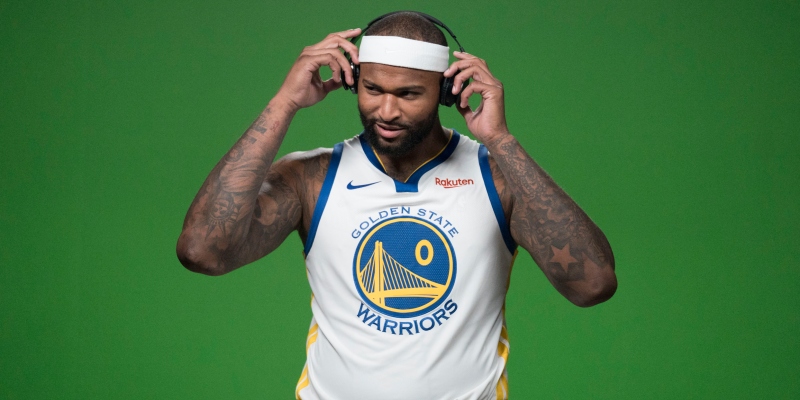 It's impossible, if Cousins is anything close to himself. And he has to do this for only 20 minutes a game for you to already be too far back.
Defensively, there's gain, too. The Warriors defense is 9.2 points per 100 possessions better with Green on the floor this season, and that's in a down year for him.
But there are more and more instances this year in which Green can get beat in 1-on-1 coverage, especially down low. There's a reason that the "Hampton's 5" lineup appeared in only 4.5 minutes per game last season and has appeared in just 4.6 this season.
Cousins fundamentally makes the Hampton's 5 lineup unnecessary. They can either sub Green out for Cousins in lineups with a bigger finisher (like Houston with Clint Capela) or play Green and Cousins together vs. traditional 4-5 matchups while maintaining their floor-spacing (like vs. Denver).
I believe there's only so good a team can get, and that you are not the sum of your parts. But with everything the Warriors are already so good at, and how many bad positions they already put you in, I'm just not able to envision any way to consistently defend a Warriors team with DeMarcus Cousins.
---
Justin Phan: Cousins' Addition Unlocks Perfect Rotations
Here's the scary part: Cousins has yet to step onto the court and play a single minute for the Warriors, and he's still managed to have a significant role in their recent success.
We've already seen the Boogie effect in the Warriors' rotations, as coach Steve Kerr stopped staggering the minutes of Curry and Durant starting on Jan. 11 vs. the Bulls to prepare for Cousins' return.
Since then, the Warriors have gone on the most dominant offensive stretch we've seen in league history. Here's a look at what they've done over the past four games:
4-0 with a +80 scoring margin
138.5 points per game
134.5 Offensive Rating
63.1 effective field goal percentage
47.7 three-point percentage
3.2-to-1 assist-to-turnover ratio
There was an NBA-record 51-point quarter in there and a game in which they scored 142 points despite shooting just 10 free throws (also a record), among several others.
The decision to not stagger Curry and Durant has had a significant role in their recent success. That two-man combo has logged an average of 30 minutes over the past four games, and the Warriors have gotten whatever they've wanted offensively when the pair has shared the court:
120 minutes
380 points
146.5 (!!) Offensive Rating
68.1 effective field goal percentage
53.5 three-point percentage
3.8-to-1 assist-to-turnover ratio
They're obviously not going to keep scoring at that rate, but the Curry-Durant duo has been devastating opposing defenses for years now.
Over the past three regular seasons, the Warriors have posted a 120.7 Offensive Rating when the two are on the court together. For reference, the most efficient offense in league history (this year's Warriors team) has posted a 115.6 mark.
So how does this relate to Cousins?
His addition allows them to play the Curry-Durant duo for entire quarters at a time, and his fit with their unit to start second and fourth quarters couldn't be more perfect.
Under Kerr's new rotation, Cousins will start out second and fourth quarters alongside Klay, Draymond, Andre Iguodala and Shaun Livingston. That unit provides the best possible blend of lower-usage players who enable Cousins to be the focal point on offense as well as the defensive weapons needed to cover up for him on the other end.
There's always a risk that things will go awry when trying to incorporate a high-usage player like Cousins onto a team that already features the likes of Curry and Durant, but the Warriors are putting him in a position where he seems pretty unlikely to fail.
And given the extremely inconsistent play of Jordan Bell, as well as the possible season-ending injury to Damian Jones, Cousins provides a massive upgrade at the Warriors' current biggest position of need.
Yes, he's coming off a significant Achilles injury, but let's not forget he's not that far removed from being one of the league's most gifted scorers and best passers at his position.
The addition of Cousins will add to the Warriors' overall variance when it comes to their range of outcomes, but it also significantly raises their ceiling.
It's tough to see how he won't make this already dominant team even better.
---
Rob Perez: He Will Be More DeMarcus Cousins Than Boogie
All of that crisp, deep-dive analysis leads us here — to the aspect of DeMarcus Cousins' game that supersedes all numbers and facts: Boogie.
I've thought long and hard about how to illustrate the difference between DeMarcus Cousins and Boogie to the mainstream public, which is unaware of his history, and I always end up on the same GIF:
Here, Dr. Banner just got the taste slapped out of his mouth and dragged in front of the world by Thanos. He's struggling to morph into The Incredible Hulk when Iron Man desperately needs him to, and he's caught between dimensions of his earth-wrecking alter ego and humanity.
OK, even I'll admit the exaggeration of the comparison here is absurd — so let's form a logical hypothesis with what we already know:
When DeMarcus Cousins erupts into the scorched-earth center he was put on this planet to be, there may not be a more-skilled big man in the game today.
He has, without a doubt, one of the most intimidating "switch-flipping" surges you will ever see on a basketball court. When he's up for it, he can give you a 40-piece anytime, anywhere.
With this "switch-flipping" comes consequences, however. In his attempt to conquer all the mere mortals before him, the "I must score" burden Cousins takes on ends up producing diminishing returns for his team, a couple things don't go his way and he detonates into a fireball of inefficiency/technical fouls until he's either benched or ejected.
Not a single coach has been able to successfully wield the Hulk-esque power Cousins holds for an entire season.
When shit hits the fan, we have seen him aggressively engage several of the Warriors' best players after the bell like an episode of Monday Night RAW.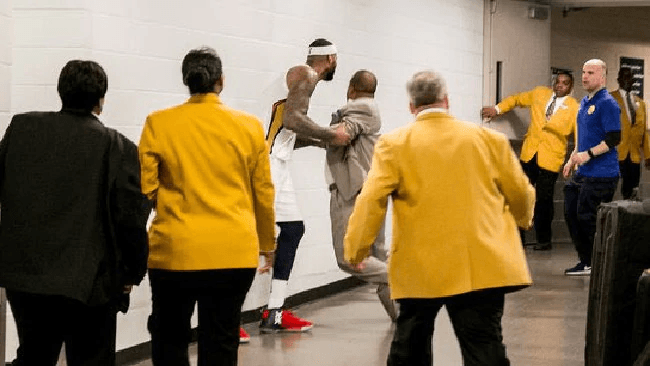 While these beefs have almost certainly been squashed by now, what happens if tensions arise once again and all of these guys are in the same locker room? There aren't any security guards between doors here.
Having a historically emotional wild card so close to the Hampton's 5 has to be terrifying for Warriors fans.
When Golden State goes on one of their riders of the apocalypse death runs where they turn a 15-point deficit into a 20-point lead in the time it takes for you to go and come back from the bathroom, these are times that make me think: "The only player who can prevent this team from three-peating is DeMarcus Cousins, destroying the dynasty from within."
And while that dark cloud will always hover, I am willing to declare that there is nothing for the Warriors to worry about regarding the volatility of Cousins and the potential emergence of his alter ego: "Boogie."
A couple of reasons why:
1. He's playing for his career
This man is returning from a ruptured Achilles, quite possibly the worst injury possible in basketball today. When I look at the list of players who somewhat recently suffered similar trauma…
Kobe Bryant
Elton Brand
Wes Matthews
Rudy Gay
Mehmet Okur
None of these players, with arguably the exception of Rudy Gay, performed remotely close to the level they were at before the tear.
It is an injury that has humbled the game's greats, and even though Cousins doesn't rely on verticality and sheer athleticism like a lot of other NBA players, you have to think that the fragility of his health is going to keep him grounded and dressed in his Sunday best for the remainder of the 2018-2019 campaign.
If he's going nuclear in the trenches against opposing big men and re-injures himself, it will prevent him from…
2. He's playing for that big contract he missed out on
If Cousins doesn't get injured, he is likely getting paid $150 million minimum from someone this past summer. Despite all of his flaws, he's that good — good enough that teams would prioritize his skill above everything else.
Coming into this most recent free agency period, he had earned $80,711,986 in salary over the course of eight seasons.
While that is an amount of money that you, me and just about 99.9% of Planet Earth would willingly accept in compensation for our basketball talents, Cousins has technically been paid less per year, on average, than what Ian Mahinmi and Timofey Mozgov are currently making from their current employers.
That big contract he was supposed to sign was robbed from him by the basketball gods, and it was documented this summer how much this affected him.
He will NOT let this happen again because of his own actions. I feel completely fine declaring that.
He knows to get back to that "All-Star" level of compensation, which he can potentially get this summer, he's going to need to perform. He's going to need prove he's still got in ON the court, and the 'Boogie' days are long behind him OFF it.
Nobody wants to give Boogie $200 million, but they will give it to All-Star DeMarcus Cousins who just proved that he's willing to embrace the team's culture instead of flaming it with the fire of a thousand suns.
"The Resurgence," as he calls it in his Showtime documentary, isn't just about his Achilles.
And he's going to prove it.
How would you rate this article?