Moore: The Denver Nuggets Have Finally Arrived
Credit:
Greg M. Cooper-USA TODAY Sports. Pictured: Denver Nuggets guard Will Barton (5), guard Jamal Murray (27), center Paul Millsap (4).
To the average NBA observer, the rise of the Denver Nuggets may seem sudden based on their recent past.
But to those in the know, this team has been quietly building itself up and is now a force in the Western Conference.
So how in the world did the Nuggets get here?
It took one loss.
Three seasons of frustration and hope, of setbacks and progress, two steps forward, one step back, a Black Swan center from the Balkans who loves horse racing and video games, a patient and careful rebuild, a new identity, a gradual shift towards momentum, injuries, trades and self-doubt … and it really took only one loss.
April 11, 2018: Minnesota Timberwolves 112, Denver Nuggets 106.
That was the night the 2019 Denver Nuggets made the playoffs.
The Nuggets lost that night almost a year ago in heartbreaking fashion and failed to make the postseason for the fifth straight season. They had been almost out of it with three weeks to go before a furious rally brought them back. They needed to win one road game to complete the run.
They lost in overtime.
Emotional losses like that can leave scars and cost jobs. Instead, it sparked defiance in Denver. The Nuggets, by their own admission, knew they were better than that. They knew they belonged in the playoffs, not at home. They knew they let too many games vs. worse opponents slip through their fingers.
Denver entered training camp with a renewed sense of purpose and a determination that this time there would be no standings watching, no hoping for other teams to lose.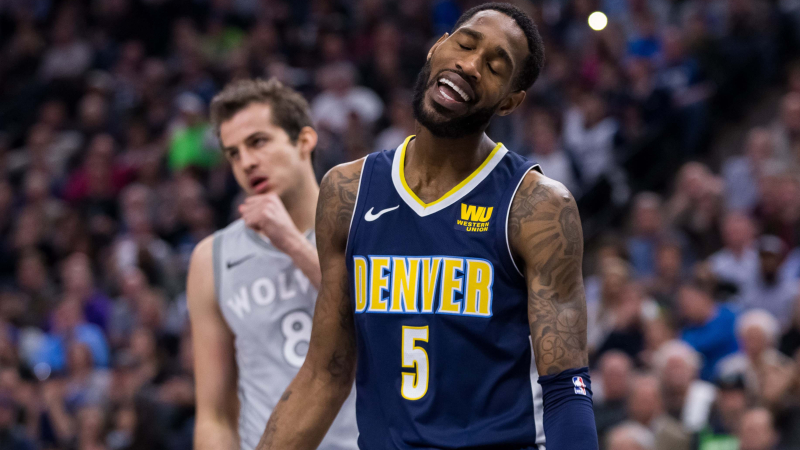 As Will Barton told reporters, "Just told myself, 'We're not doing that.' We had a meeting. The first day of training camp (in San Diego), the night before, we all met. We talked to each other about our roles and what we wanted to accomplish this year."
That loss stung Barton most of all, but along with Gary Harris, it also helped ignite the determination Denver needed in its mindset going into this season. You can get a sense for where teams are in preseason: whether they're going through the motions, uncertain of how unstable chemistry will fare, or excited about a fresh start. It was apparent from the get-go that the Nuggets understood one thing: this was a good team.
That's important. The Nuggets, like a calf trying to steady itself on its legs, had danced around success for two seasons. They were good … at times. They could play well. But then they would lay a disastrous egg.
Coach Michael Malone would leave a bench unit in too long at the end of games. The starters would zone out vs. inferior teams, leaving Malone flabbergasted at the lack of effort. They'd struggle to close.
Much is made of a team's signature wins vs. great teams, but it is most often the consistency of beating teams you should that determines whether you reach the postseason. Denver was 23-10 against teams under .500 (70% win rate) in 2017-18. In 2018-19, with nine games to go, they are 29-8 (78.4%). That is how to make the playoffs, even as they struggle down the stretch with losses like Sunday's bizarre meltdown vs. the Wizards.
Denver has a top-five offense, a top-10 defense and the fifth-best Net Rating in the NBA. They have a good chance at a top-two seed in the brutal Western Conference, all with a core mostly built around guys under 25 years old.
But to figure out how they got here, you have to go back to the worst years of a mostly forgotten franchise.
THE CHANGE OF COURSE
The Nuggets were, without question, lost heading into the summer of 2015.
A still-green front office had whiffed badly on its first coaching hire of Brian Shaw and its first series of free agency signings. The team was in the worst spot it had been since the early 2000s. They had attempted to "keep one toe in and one toe out," as President of Basketball Operations Tim Connelly described it, trying to make the playoffs while rebuilding for the future.
It was a disaster on multiple fronts. The players didn't fit or play for one another. The coach was completely lost: Brian Shaw is a good man who may very well make a great head coach someday, but he had a box to collect cell phones and once rapped a scouting report. He was so lost at connecting with his young players.
Ty Lawson's DUI issues spiraled out of control. Danilo Gallinari took nearly 18 months to recover from a knee injury that resulted in botched operations.
Shaw was fired in the early part of the new year. That summer, the front office made a dramatic re-orientation of their approach. They brought in Malone, fired by the Kings after an encouraging start to the season amid front-office drama, to reshape the team's culture.
They struck out with their first-round pick in Emmanuel Mudiay, but their 2014 second-rounder, Nikola Jokic, came over and by the end of the year had already shown great promise.
"When I first got here, I don't know if we were building a championship-level team," Connelly told The Action Network this week. "And that's my fault. There was talent there, but the collective did not look like one that could matriculate to a championship-level team.

"I think when you make the change, it's a good time to take inventory of where you are. We just thought the best chance was to look for and acquire as many like-minded guys as we could find. Versatile, self-motivated guys who love to play who would enjoy not just the team but the city and see if we could win with those kinds of guys."
The process was slow, and the change was gradual. By the end of the 2016-17 season, the culture had been rehabbed for the most part. NBA veteran Mike Miller helped with veteran leadership and guidance for Jokic. Harris blossomed with actual playing time and a role that he built on. Jamal Murray flashed the kind of potential you want to see, and Jokic became a full-blown star. Denver had excised the locker room issues and strengthened the good parts.
There were mistakes, though, as the front office will openly admit. Without listing them specifically, the team knows moving both center Rudy Gobert and guard Donovan Mitchell to a division rival in the Utah Jazz were big misses. They simply accept that you're not going to get every move right.
"I think there are so many unbelievably smart people in the league, smarter than I am. But we're pretty proud of our work ethic, and we're pretty proud that we're willing and able to say, 'We tried, but we missed the mark there.'
"If you're so paralyzed by fear that you're unable or incapable to make quick decisions and trust your gut, it's a miserable league to be in. It's liberating, too, honestly, to be able to say, 'Man, we missed the mark there.'"
But overall, Denver managed to recover from so many early mistakes and re-orient itself fully to a full young rebuild. If we want to cry out for teams to use their draft picks and cap space wisely to rebuild, it's hard not to find the Nuggets' rebuild to be almost perfect.
They rebuilt around three young studs in Jokic, Murray and Harris, added a veteran value player in Barton who believed in the team, added All-Star fill-in-the-blanks forward Paul Millsap and developed guys like Malik Beasley, Torrey Craig, Juancho Hernangomez and Monte Morris into valuable role players. You can't find weak spots on this roster or in how they play with and for one another.
Denver built an impressive roster, but what's maybe more impressive is how their whole is greater than the sum of their parts. And that's where Malone comes in.
---
THE FIRE
Malone is fighting himself, more than anything.
The Nuggets head coach has it made, you'd think. His team has vaulted itself into the playoffs after three years of hard-earned lessons, bad luck and mistakes that have turned their coach's beard an early gray. Not only that, but the Nuggets are cruising toward their first 50-win season since 2013 (the last season they made the playoffs) and one of the best records in the Death Gauntlet of the Western Conference.
Malone can't let up, though. He's struggling– desperately trying by his own admission — to recognize the accomplishments after so many failures and adversities. This is a fairly basic thing that you would think is standard in NBA coaching, but it isn't: Malone cares. He has poured so much of himself into his profession, into this team.
He's a lifer, the son of a lifer; this is what he does. He has worked to find balance, to make room for his daughters' volleyball tournaments and to keep his family close. But coaching basketball is in his blood, and it's what he brings all of himself to, every day in the gym.
He tells himself that he knows he has to keep one eye forward on the next game, on the marks his team can still achieve: homecourt, a top seed, a playoff series win — as many as he can possibly wring out of what has become a special season. But he also knows he has to take stock of how far this team has come.
So he allows himself little moments like this one:
When you're evaluating the 2019 Coach of the Year race, you can look at all sorts of factors.
Doc Rivers made the playoffs with a makeshift team of non-stars after trading the best player on his roster three times in two years.
Mike Budenholzer took a first-round-out squad, built an offense around MVP-leading-candidate Giannis Antetokounmpo and turned the Bucks into an absolute juggernaut.
Nate McMillan has the Pacers as a top-five team in the East without Victor Oladipo.
But Malone deserves a full rundown of his resume in the discussion:
A likely at-worst top-three seed in the brutal Western Conference
The development of a roster made up mostly of kids under 25 (which is supposed to be too difficult to rely on according to LeBron James)
A top-five offense three seasons in a row
A top-10 defense after finishing bottom-10 the past two seasons
Taking a Nuggets team from the ninth spot to a top-three seed in a year despite missing Barton for three months and Harris/Millsap for five weeks
Perhaps it's unfair to weigh previous seasons on a single-season award, but it's impossible not to factor in how far this team has come compared to just a year ago. Malone has always struggled with his temper; there are many coaches in the NBA who absolutely despise losing, but Malone's internal wrath is evident after each one.
More so, in fact, when the team wins despite playing well. He fumed like Vesuvius when his team nearly surrendered a 28-point lead to the Pistons. And when his young and inexperienced Nuggets failed to get up for games vs. opponents they should beat — which cost them a playoff spot two seasons in a row — Malone would be exasperated at his failure to reach them and get the effort needed in those low-hype games.
Malone made mistakes along the way, too. He rode guys too hard, being too demanding early on as he tried to reshape the culture. He learned to give and take with his demeanor, backing off when the team was in slumps and relaxing instead of tightening up.
A notable element in Malone's coaching has been that he rarely makes the same mistakes year after year. In 2016, he would leave bench units in to run out of gas. As late as last year, he was too quick with burning timeouts after a transition bucket allowed, too furious to not try and correct it, leaving him dry at the end of close games. Those mistakes have slipped by the wayside as he's improved.
"What I don't think MO gets enough credit for is," Connelly muses, "we have patience with players, we have patience with most levels of an organization, but where's the patience with coaches? Mo's still a young coach, and he's getting better and better each day. We're patient with Gary Harris; it's the same with coaches."

"I think his growth has been as important as any player's growth. It's a very underrated aspect of our team and how smart he is as a coach."
Malone was thought of as a defensive coach. But for all the conversations about maximizing Jokic, two things have been undeniable in Malone's Nuggets tenure:
Jokic has blossomed into an All-Star
The offense has been top six the last three seasons
For whatever impact Jokic has, which is obviously tremendous, you still have to set him up to succeed. How many incredible offensive talents are on mediocre offenses around the league? The Nuggets have helped Harris become a dynamite two-way player who adds something new every game.
Murray, even this season, has made leaps and bounds in running the offense even if he continues to struggle with it at a young age. Beasley was a 10th man a season ago, and now he's a legit Most Improved Player candidate.
All of that belongs, in some part, to Malone.
It's a cliché narrative, one that this writer tried to avoid when approaching this article, but it simply must be addressed, again: Malone cares. That may seem obvious for an NBA coach, but it often isn't. Coaches can be driven by the "lifestyle," as one executive put it, or by their routine life in the realm of competition. Malone, however, pours himself into every facet of the profession.
He's analytics-forward, often listing off key numbers his staff has tracked, like "kills" of three stops or more, or how many blow-bys the defense surrendered. He examines the team's performance individually and holistically.
"He takes a lot of insight from us," Harris told The Action Network, "and that's huge. He definitely cares, and it shows. We all love him, and he's been part of the reason we've had the success we've had."
But that fiery disposition that makes him so wound up after games is tempered by his personal investment in the players. More often than you'd think, you'll find that a coach hasn't spoken to a player in some time, leading to alienation. Malone is the opposite, finding time to personally connect with guys in moments of struggle.
When he benched Murray late last season, he sat down with him to talk him through it. Same with Isaiah Thomas and the decision to remove him from the rotation last month, a decision that remains painful for Malone given their relationship.
Malone has given himself to this profession, and after a scarring experience in Sacramento he will never get over — the man still won't wear purple — Malone has cashed in on all the hard work this season.
Mistakes are still made; Denver's defense has fallen off a cliff since December, and every team is licking its chops at Denver as a potential playoff matchup compared to other options. But Malone's investment has paid off, and his total approach to reconstructing a poisoned environment deserves recognition.
"He's so passionate and competitive," Barton said. "He's almost like a player. You love that for him. He's in the fight with you every day, every practice, every game. He cares about everything, the X's and O's, his relationships with his players and coaches, how he's coming off to guys, trying to carry guys, everything. He's been right on the money."
THE PLAYERS
There isn't enough time now to show how every player's plus-minus improves with Jokic on the floor for a third straight season, or how his assist numbers are unheard of for a big man. Jokic should be somewhere on the list for MVP candidates, probably near fourth or fifth alongside Stephen Curry and Joel Embiid.
He continues to mystify the league as someone who looks the least like an NBA star and plays maybe the most like one: unstoppable on contested shots, efficient, willing to improve defensively and make the right play offensively.
But the rest of the Nuggets each had to carry their own weight. The front office found the right guys and the coaches set the players up to succeed, but the Nuggets had to cash in on those opportunities. Seven players on Denver average double-digits in scoring.
Murray grew into an 18-points-per-game scorer along with five assists per night, even in a season in which he remains inconsistent the way young players are. Harris has struggled with injuries all year and yet remains a reliable contributor. Barton suffered the worst injury of his career and he's shooting 36% from deep.
Mason Plumlee and Morris, who spent almost all of last year in the G-League, lead one of the best bench units in the league.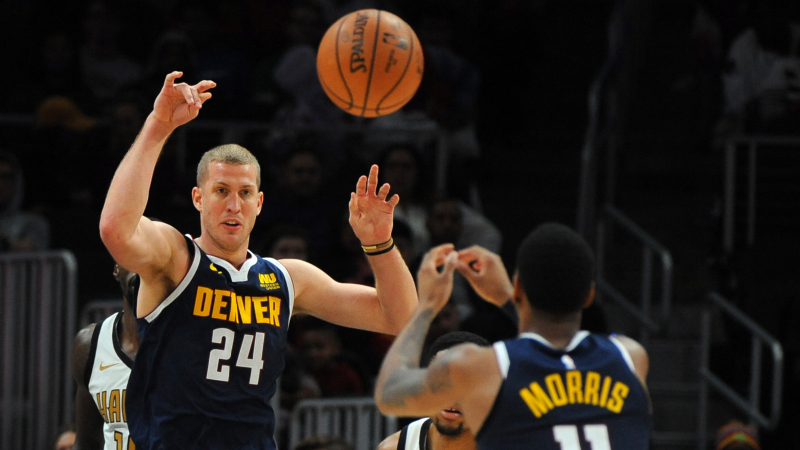 All of this adds up to a team that has been better than the sum of its parts in a season where so many parts were on the shelf. Craig had to fill in for months in a key role, and his shooting has improved month over month as his defense gets smarter. Beasley began as the third bench wing and now is sixth in scoring on the team with several huge performances.
This is a special year in Denver, and while it may not portend the future, the way its players have all stepped up deserves mention.
---
THE UNKNOWABLE FUTURE
It is a popular take, let there be no mistake. Beat writers whisper, "You know, every team in the playoffs wants these guys (the Nuggets)." Takes on Twitter abound with the Nuggets being regular-season frauds and ripe for an upset — before they've even played a game.
Skepticism is warranted.
There's uncertainty with everyone on the team how the playoffs will go. So many players simply haven't been there. Barton is one of the playoff veterans on the team, and he's played 81 total playoff minutes.
The core guys — Jokic, Murray and Harris — have never been in a playoff environment. There's uncertainty in the locker room and with the coaching staff on how the players will respond to that environment.
However, there's a difference between not knowing and knowing it will end badly. The Nuggets may very well fall to an upset from the sturdy Spurs or the rabble-rouser Clippers. They could get caught by a dangerous Thunder team in a seed too low for its talent or a Jazz squad that gives them so many matchup issues.
They're almost certain to lose in the second round if they face the Warriors or Rockets, who remain a nightmare matchup for them (especially after a 27-point loss on Thursday). Denver faces the Warriors on Tuesday having lost two of three, with a back-to-back vs. San Antonio the night after, and then consecutive games vs. the Blazers. Denver could wind up falling as far as fourth this week — a disappointing finish to a marvelous season.
There's also likely to be betting value on them, though. The lines will be key to watch. Typically, metrics-solid teams like the Nuggets have gotten inflated lines. Their inexperience, however, may result in the opposite. The public will almost assuredly fade them. Denver has signature wins vs. every top team in the league sans Milwaukee and one of the best home records in the NBA. This team will be undervalued by perception, and the public will likely hammer its opponents.
Again, that doesn't mean the Nuggets can't be exposed in their first playoff appearance. But of the teams they are facing, how many outside Golden State and Houston have deep runs with their cores?
How many don't have the same matchup issues Denver might face?
If the Nuggets are heavy series-price favorites, there's value on the underdog. But at this point, after so many points in which the Nuggets have been counted out and how they've responded, it might be time to admit we don't actually know where this team's ceiling actually is.
How would you rate this article?