Nuggets 2018-19 Season Win Total: Can Denver's Offense Carry It to No. 8 Seed?
Credit:
Credit: Isaiah J. Downing-USA TODAY Sports. Pictured: Denver Nuggets guard Gary Harris (14) and guard Jamal Murray (27) and forward Trey Lyles (7) and center Nikola Jokic (15) in the fourth quarter against the Los Angeles Clippers at the Pepsi Center.
Check out this post for updated season win total odds and this post for my other 29 season win total picks.
Denver Nuggets
The pick: Over 47.5
Confidence: 2 out of 10
The case for the over: This team cooks offensively. Truly great offensive teams have a slightly better chance at making the playoffs with a bad defense than the reverse.
The Nuggets won 46 games last season with Paul Millsap missing 44 games. More than half the season, without their All-Star defensive bedrock, is a pretty simple explanation for the Nuggets missing the playoffs last season.
Denver's biggest issue last season was bridging the first and second quarters when its bench units came in, specifically due to a lack of competent point guard play.
The Nuggets not only removed one of the most negative players in plus-minus impact last year (Emmanuel Mudiay), but this offseason they added Isaiah Thomas as the backup. Thomas' instant offense should help them maintain leads.
Denver wound up losing a lot of games to bad teams, something prototypical of a young team. With more continuity, maturity and consistency, the Nuggets will prove more resistant to those losses.
Carving off even three of their 10 losses to teams under .500 would go a long way. Denver has too much talent if things don't go haywire (which we'll get to in a minute) not to win 45 games at a minimum.
The number is high, but well within reach for what Denver's talent and previous results would indicate. The Nuggets have one of the highest ceilings in the West — win-total-wise — this season.
The case for the under: Unfortunately, they also have one of the lowest floors. Coach Michael Malone and the front office are all in the last years of their contracts. This is a pressure cooker. If the Nuggets get out to another slow start, things could spiral, and kick off major changes. That's dicey.
This is one of the worst defensive teams in the league and they made no real changes to suggest they will improve this season. If their offense doesn't blister the very surface of the sun, they will struggle.
They also don't really have a small forward. Like, on the roster.  So there are a lot of ways it could go sideways, or at least tilt towards the low side.
The verdict: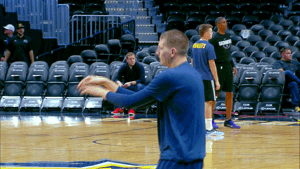 I could go back and forth on this all day, and there are too many unstable factors at that number.
How would you rate this article?