Moore: How the Domantas Sabonis Trade Rumors Could Impact Win Totals
Credit:
Brian Spurlock-USA Today Sports. Pictured: Domantas Sabonis.
If the Indiana Pacers trade Domantas Sabonis, how will their win total be affected?
Which teams are most likely to try to compile an offer for the talented forward?
On Friday, the Athletic's Sam Amick reported that Pacers forward Domantas Sabonis could be on the move after contract extension talks broke down:
With Domantas Sabonis and the Indiana Pacers far apart in discussions about a possible contract extension, and with a deal looking unlikely as the Monday night deadline looms, sources say the Pacers have engaged in active trade talks with several teams this week about the fourth-year forward. …There is no lack of interest in Sabonis, who averaged 14.1 points, 9.3 rebounds and 2.9 assists last season as the Pacers — who lost Oladipo to a season-ending ruptured quad injury in a game against Toronto on Jan. 23 — pulled off such a surprising campaign (48-34; lost in the first round to Boston). Thus far, sources say the Pacers' asking price in talks with several teams has been too high.
Simply put, this could swing a whole lot of futures.
The Pacers are the team we know about the least. If they add a scoring weapon to plug the gap until Victor Oladipo returns, it helps them tremendously. If they add a competent big man to their bench and maybe a veteran point guard, that might bolster them as well. If they take on future assets or a project, it signals a short-term move back that could hurt their over chances/bolster the under.
The prospective trade partners are much more volatile. There are no reported partners yet, but the likely suspects draw interest and/or concern, depending on whether you've taken a position yet.
The obvious one is Boston, a team ESPN's Zach Lowe has suggested as a potential trade partner. The Celtics have young pieces, draft equity and a need for a functional big after losing Al Horford to the 76ers. Sabonis would fundamentally alter their ceiling, providing a B-grade Horford replacement in a bad frontcourt.
The Celtics, presumably, would not trade Jaylen Brown to acquire Sabonis. If the Pacers are balking at an extension for Sabonis, it's unlikely they'd want to shell out for Brown on an even bigger deal.
Jayson Tatum is off the board; trading Marcus Smart is a possibility. On the one hand, it would mean the Celtics traded their heart and soul. On the other, this is the team that traded Isaiah Thomas.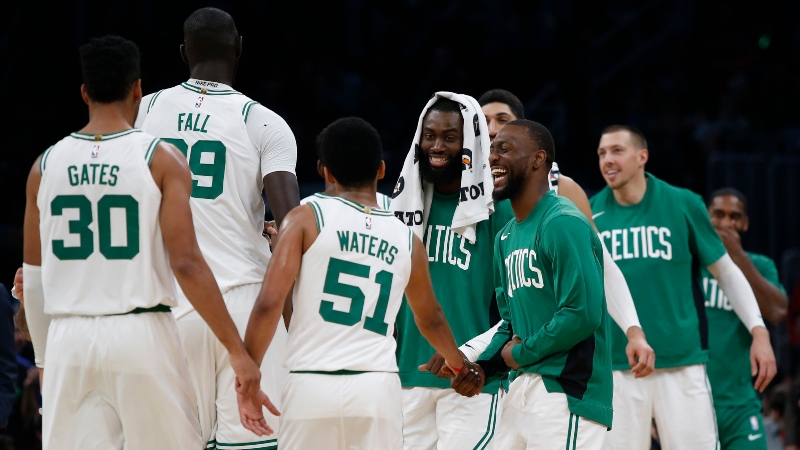 If such a deal happened, it would likely bump the Celtics into the over range in the East. Sabonis would be a competent big man to pair with Kemba Walker, Tatum and one of Brown and Smart. Defensively alone, the upgrade shores up enough to push them into the 50s.
Other possibly interested teams include the Spurs, Knicks, Mavericks and Magic. All of those teams have high bars relative to their talent level. There's not enough intel to make an advance move on them, but they're indicative of how a deal for Sabonis could shift things.
The fourth-year forward finished 51st percentile as the roll man in pick-and-rolls, 70th percentile in the post and 62nd percentile on spot-ups offensively  in 2018-19, per Synergy Sports. He also finished 11th in rebound percentage last season among players playing 20 minutes per game.
He also shot 59% from the field, which is pretty good.
It's possible the Pacers hold on to Sabonis through the start of the season or even the year, but the prospect of a player who not only provides production, but is the kind of impact player who does the little things — screens, passing, putbacks — that help you win games is enough to provide some extra tension if you're still parsing future bets.
How would you rate this article?