Blowouts and Boredom: The Story of the 2018-19 Warriors … And What's Next
Credit:
Cary Edmondson-USA TODAY Sports. Pictured: Steph Curry and Draymond Green
The Warriors will look brilliant one game ... and then bored the next.
Matt Moore analyzes what we've learned about Golden State so far and what we can expect going forward now that DeMarcus Cousins is healthy.
I was in the building for Nuggets-Warriors on Tuesday night, billed as the battle for Best in the West, but it ended up being the latest "Warriors send a message" game.
Everyone but me believes that the Warriors took the Nuggets seriously, decided to bring their A-Game and in doing so sent a message that they remain the champs and the ones in control of the NBA title's short- and long-term futures.
It's an easy narrative. The Warriors came out with energy, passion and Lord did they shoot the lights out. Steve Kerr called it the best he's seen from his team, and he's seen a lot of good.
I'm not here to try and tell you the game didn't matter or sell you on Denver being able to hang with Golden State in the playoffs.
My position, to be clear, is and has been that this is an incredibly successful regular season so far for Denver, but that we've never seen this core in the postseason.
There are reasons for not only caution with predicting how the Nuggets will fare, but skepticism.
We saw parts of that Tuesday with how easily the Warriors attacked Nikola Jokic early on.
But there are a few things I want to note as it pertains to the Warriors.
First, Golden State owns six of the top 15 first-quarter scoring performances this season. They are 6-0 in those games, unsurprisingly. But they wound up winning by single digits in two of those games, and two more came against Chicago, which, let's be honest, isn't an actual NBA team at this point.
My point here is that the Warriors performing like that in the first quarter is not some sign of them being locked in and sending a message. The Warriors tend to operate a little differently.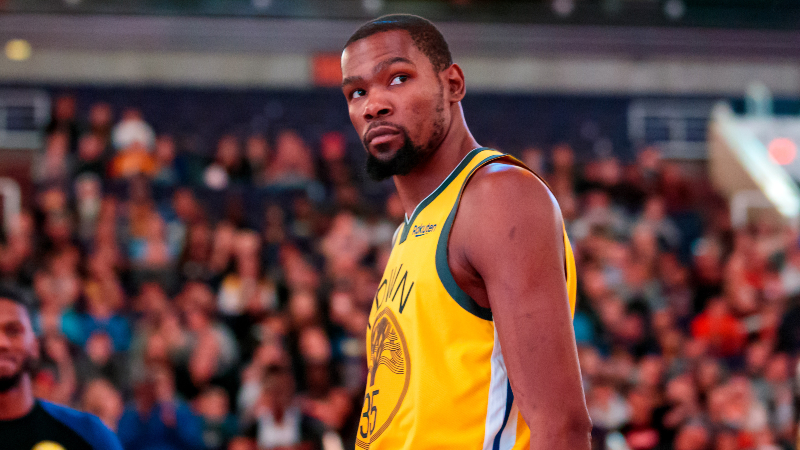 The regular season is a slog to them. It's their fourth straight slog since winning the title for the first time, and the third since regular season games stopped mattering when they became the first team to blow a 3-1 lead in the Finals.
They come out, and if they find that energy and the buckets drop, they will absolutely pour it on. The Warriors still love embarrassing teams when they have it. That's why two of those first-quarters were against the Bulls.
The Spurs of old wouldn't do these types of things. It's not better or worse, they just didn't have the explosiveness nor did they care to put the hammer down and see how much they could win by.
This isn't moral exceptionalism; it's just a different approach.
My point? The Warriors' "sending a message" was less one of choice than one of opportunity.
Because pay attention to this quote:
When the Warriors were down 3-2 to Houston with their season, their dynasty on the line, they were outscored 39-22. When they were on the road in a Game 7, again, all that on the line? Houston outscored them 24-19.
Why didn't the Warriors "bring that energy" in those games? Why didn't they come out and blow the doors off Houston the way they did Denver? Is it just about how good Denver is? Partially.

But it's more about how the Warriors are trying to find ways to entertain themselves. Really burying a team often requires exact, brilliant defense like they used to play in 2015 and 2016.
It's work.
This team is well beyond work, because they've already done it. They don't need to anymore.
Now, keep this in mind: Golden State won Game 4 vs. Houston by 41 points. It was a massacre. And yet Houston was able to push right back. So yes, from time to time, Golden State is just going to destroy you.
The key is that it doesn't preclude you from winning the series; you just have to win the close games, which is what Houston was brilliant at.
Of course, the logical next part of this discussion is: "and Houston still lost." This is the paradox with the Warriors. They can't be the all-destroying super-monster every game, even after adding DeMarcus Cousins.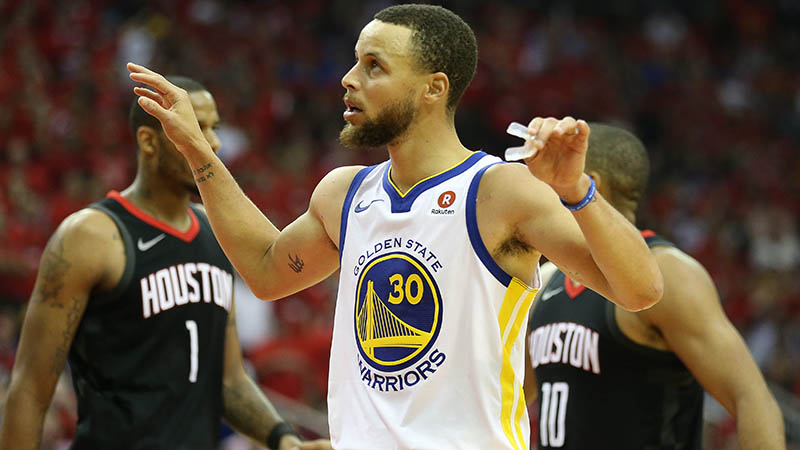 They just don't have the energy or focus to do that anymore. Basketball energy is ephemeral and impossible to formulate. It arrives or it doesn't, and there have been many times when it simply did not manifest for Golden State.
The issue, of course, is that you have to take your two or three "oh God they've become the living embodiment of the sun" games, and then you have to find a way to win four.
If you're a great team, you might get one or two blowouts in a seven-game series (Houston got one). But you have to then win the other two or three, and in the end, when everything goes wrong and the ball isn't flying and they are not locked in, they still have Kevin Durant and Stephen Curry who can kill you no matter what you do.
Tuesday's annihilation of the Nuggets doesn't ruin Denver's season or permanently crown the Warriors.
Nothing is different on Wednesday than it was Monday, except for Golden State retaking sole possession of the top spot in the West, a position they don't truly need, as they showed last year.
The Nuggets are still a really great regular-season team that has to find a "higher level" as coach Michael Malone described it post-game, and the Warriors are still the favorites to win the title.
But don't get caught up in the idea that the Warriors are ready to spit off a run of dominant performances, or that they sent a message.
Green's right: They don't need to let the league know who runs the show. Everyone knows. And the chances remain the same — slim, but existent– that anyone but the Warriors will raise the trophy in June.
THE ACTIONABLE ANGLE
Here's my favorite way to put this into discrete terms: The Warriors are 12-6 against when favored by more than 9.5 points this season, per our BetLabs data.
Effectively, they are dominant vs. teams they should completely destroy. They run it up.
Now here's the kicker. In the games vs. tougher opponents, the tighter ones when they're favored by 3-9 points? Golden State is 4-13-1 ATS.
And that trend has remained consistent since Steph Curry returned from injury: They are 2-8-1 ATS since Dec. 1 in such games.
Maybe Cousins changes that number for the short term, but I'd expect it to hold overall as the season goes on. They are still just 10-8 in those games straight-up.
The market seems to have adjusted from last year's debacle with the Warriors' ATS performance.
Now may not be the time to fade the Warriors, but don't be surprised if they shift gears down and return to a team that looks like it has nothing to play for.
Because that's exactly what they are.