Warriors-Lakers Betting Guide: Will Injured Lakers Cover the Big Spread at Home?
Credit:
Photo credit: Jerome Miron-USA TODAY Sports. Pictured: Brandon Ingram
Betting Odds: Golden State Warriors at Los Angeles Lakers
Spread: Warriors -12
Over/Under: 232.5
Time: 10:30 p.m. ET
TV Channel: TNT
---
The Lakers will host the defending champions tonight without three of their most important players in LeBron James, Lonzo Ball and Rajon Rondo.
What does that mean for tonight's spread and over/under? Our analysts discuss.
---
Betting Trends to Know
In the Warriors' last game against the Clippers, Golden State shot an abysmal 9-of-37 (24.3%) from 3-pt range, which was the Dubs' seventh game this season below 25% from behind the arc.
Under Steve Kerr, the Warriors are 13-31-1 (29.5%) against-the-spread when they play on the road after shooting 33% or worse from 3-point range in their previous game, failing to cover the spread by 3.1 PPG. — Evan Abrams
Did you know? LeBron James has played 43 total games against the Warriors since the beginning of the 2007-08 season. This will be just the second time in that span his team will have to face Golden State without him (the other was Jan. 9, 2015 with the Cavs, an 18-point loss in Golden State). — Abrams
---
Moore: Why I'm Laying the Points
The Warriors should roll them, especially without Lonzo Ball.
Do you trust the Warriors to take this game seriously? The buzz of the Cousins debut is over.
Do they care enough to go in and put the beatdown they should on them?
In the absence of a reel "feel" for this game, I'd point to my favorite Warriors ATS stat: As a favorite of 9.5 points or more (double digits), they are 12-4 ATS. Lay the points. — Matt Moore
---
Mears: This Spread Is a Stay-Away
What a brutal game.
The Warriors currently sit as 12-point road favorites, which is tied for the highest road spread this season. Since 2004, double-digit road favorites are 142-153-4 (48.1%) ATS. (This season, those teams are 6-2-1 ATS, for what it's worth.)
This game is really hard to handicap, as Matt mentioned above. The Dubs may not take this seriously, but even so it's hard to figure out how the Lakers will be able to score. Here's their projected lineup for tonight, courtesy of FantasyLabs: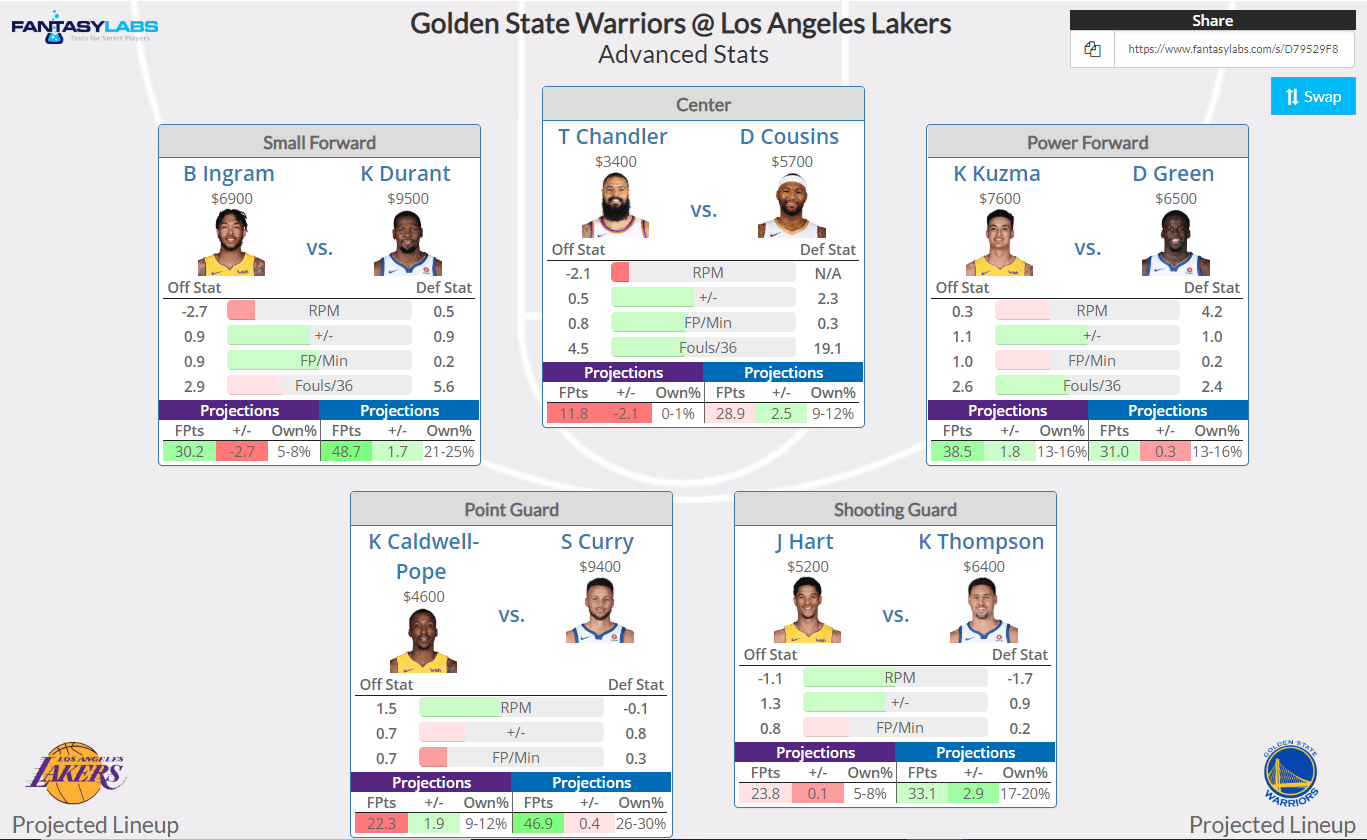 I'm not seeing many good dribblers in that lineup. The best facilitator might be Lance Stephenson, who will play increased minutes off the bench. Not great.
The Lakers have yet to play a game with LeBron James, Lonzo Ball and Rajon Rondo all out. With them just off the court, Michael Beasley has led the team with a 29.4% usage rate and miserable 47.9% true-shooting. That's mostly against bench units, however, and he's projected to play only 10 minutes tonight.
Ingram and Kuzma have both posted usage rates above 25%, but again that's a small sample size likely not against starters. On a team level, it's clearly been ugly without those three injured players:
Lakers, all minutes: 109.2 ORtg, 108.2 DRtg, 52.9% eFG%, 102.2 pace
Lakers without LBJ, Lonzo and Rondo: 107.6 ORtg, 110.3 DRtg, 50.3% eFG%, 102.6 pace
Those aren't great numbers, especially against presumably non-starters.
There's obviously a massive talent disparity here. But I think whether the Warriors cover tonight will be based on their interest. They could win by 40 if they want; they could also come in flat. For that reason, this game is a stay-away and instead I'll get invested by playing the Lakers value plays in DFS. — Bryan Mears
---
Editor's note: The opinions on this game are from the individual writers and are based on their research, analysis and perspective. They are independent of, and may not always match with, the algorithm-driven Best Bets from Sports Insights.