The Superhuman, The Artist, and The Rock Star: Houston Trades Harden to Nets in 4-Team Deal
Credit:
David Dow/NBAE via Getty Images. Pictured: James Harden (13).
The biggest NBA trade in several — well … months … at least — occurred on Wednesday.
The Brooklyn Nets traded Caris LeVert to the Pacers, Jarrett Allen and Rodion Kurucs to the Cavaliers, and four first round picks and four pick swaps to the Houston Rockets in exchange for All-Star James Harden. Harden joins his former teammate, Kevin Durant, and Kyrie Irving in a new Eastern Conference Big 3.
The Rockets, meanwhile, flipped LeVert for Pacers former-All-Star Victor Oladipo, along with Dante Exum and the picks. The move replenishes some of the draft stock Houston lost in the Westbrook trade while giving the team a top-tier 2-guard and saving Houston money (which was surely a benefit to owner Tilman Fertitta).
The Cavaliers moved Dante Exum for Jarrett Allen and Kurucs, while the Pacers flipped Oladipo for LeVert. There are wide-ranging implications of the deal.
Let's break it all down.
---
Brooklyn Nets: The Superhuman, The Artist & The Rock Star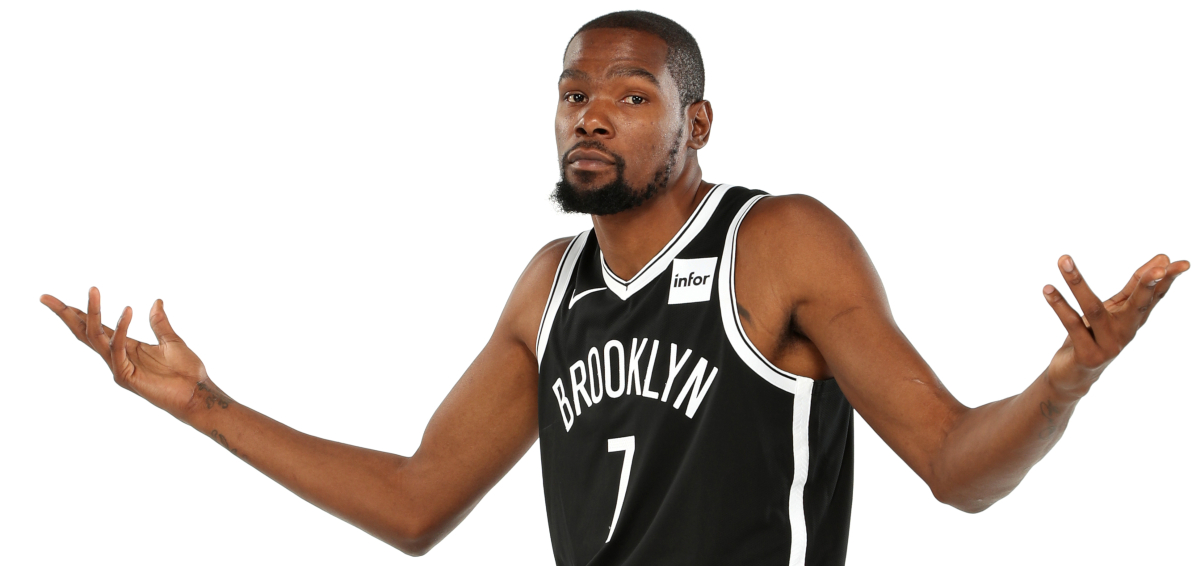 More questions than answers abound after the Nets' big move.
What was the impetus?
Was it as simple as "James Harden is an incredible star player, and it's always better to have more stars?"
Was it Kevin Durant, lobbying for his old teammate? League sources contend that Durant's and Harden's relationship, while warm, was strained towards the end of Harden's OKC tenure nine years ago — but also that much has changed since then.
Was it an insurance move in the event that Kyrie Irving's unexplained absence is prolonged, or if Irving is away from the team again in the future?
Did Sean Marks and Head Consultant Steve Nash envision what Harden would unlock for them that isn't visible in the vacuum space of the transaction?
Did Irving want this move? Did he not? Did he care?
How will this work?
The easy, talking-head approach will be about if there's enough touches to go around. "There's only one basketball, ha ha ha" will be the going line.
I'm less concerned about that. Star players have ways to figure these things out. This was the whole idea to which the Rockets subscribed when they added Chris Paul with James Harden. And, while that combination eventually imploded, it was because of personality — not on-court fit. The two found a way to work together in 2018, nearly reaching the Finals and toppling Golden State.
The absence of a glaring offensive weakness in the new Triad is important, too. Harden, Durant, and Irving can all score on their own, shoot off the catch, pass and shoot off the dribble, finish at the rim, and shoot from deep. There's no error in the code like there was when teams would leave Russell Westbrook wide open next to Harden. It may wind up being mostly your-turn/my-turn, but each of the Nets' stars has the ability to break down the perimeter defense and cause the defense to collapse, leaving one of them open.
The Archetypal Structure of a "Big 3"
However, when I looked back at the history of superstar duos and trios for this piece, the structure has been pretty consistent:
One player is the alpha omega scorer.
Exemplars: Michael Jordan, Larry Bird, LeBron James & Paul Pierce.
Another player is the star who could do more offensively but sacrificed to make the team work.
Exemplars: Scottie Pippen, Kevin McHale, Dwyane Wade & Kevin Garnett.
And the third player is a star who is willing to do the dirty work — like defense, rebounding, and spot-up shooting.
Exemplars: Dennis Rodman, Robert Parrish, Chris Bosh & Ray Allen.
The Nets do not have this structure. Durant is the alpha, the omega, the defender, the creator and the finisher. He does the dirty work. He initiates. He's everything, and he's doing it off an Achilles injury.
Who sacrifices? Who takes a step back? Who accepts that he won't be the star? Kyrie Irving says his art is what's most important to him. Artists don't paint small bits of a painting. Harden is a rock star. Durant is a superhuman. He can operate in a team concept, but for how long?
There are always those who scoff at these questions. "Whatever man, you've got KD, Kyrie and Harden, you can figure everything else out."
Ask the Clippers how that's going.
From a betting perspective, there's nothing really actionable. The Nets odds shortened considerably Wednesday to as short as +270. It's hard to make the argument that they're now better than the Lakers. The Bucks are now almost 4-1 to win the East, and while the Bucks can be upended by any hot-shooting team, it's something to keep an eye on; that's a pretty great price for a team with a lot more internal structure.
The biggest loss here is likely Kevin Durant bettors. Players on stacked superteams struggle to put up huge stat lines, and their performances are always weighted against the help they have. Harden will take shots, assists, rebounds, minutes and usage from Durant. Tough break.
---
Houston Rockets: Good, Ol' Fashioned Revenge

The Rockets' division odds — not their title or conference odds, but rather their division odds — dropped to +1600 after the trade was announced.
This is a little insane.
John Wall has looked great this season, averaging 19 points, 5 rebounds and 5 assists on his lowest usage rate since his second NBA season and is shooting 45% from the field. DeMarcus Cousins has looked good. Christian Wood's numbers are predictably great. There are still veterans on this team.
Oladipo is averaging 20 points per game. He's shooting just 42% from the field but 36% from 3. He's not the player he was before his injury, but he's not far off and continues to improve. Furthermore, he fits well next to Wall. Wall's speed and creation complements Oladipo's shooting and scoring.
Oladipo also will actually defend — something the Rockets have not seen out of their 2-guard in a decade.
Furthermore, the tone of the conversations following Harden's postgame interview (which wound up being his exit interview) were angry. The Rockets clearly feel betrayed. Harden made a mess of his former home, and his teammates are motivated to prove a point. Any extra motivation, especially in a messy season like this one, is a considerable advantage.
A good sign of how little effort Harden was giving? Wall and Wood, who have both played well this season, had a 103.7 offensive rating with Harden on-court and a 110.8 offensive rating without him. Your offensive rating should never be worse with Harden on-court in so many minutes.
Houston's opening to the season, featuring a contact-tracing protocol break that kept half the team out to start the year, has effectively nuked the team's record and advanced stats. Plus, the Rockets have faced a tough schedule.
Don't write off Houston just yet. Especially given the Mavericks' unimpressive start, there's still value on Houston making a run at another Southwest title.
---
Indiana Pacers: The Quiet Advantage
League sources were unsurprised when Indiana made the move to trade Oladipo for LeVert.
"They've been trying to move him for a while. Oladipo just didn't make the kind of mess Harden did," one source remarked.
Oladipo's upcoming contract was a significant mitigating factor. With LeVert, they have a player on a cost-controlled deal for three years. The Pacers didn't panic when Myles Turner and Domantas Sabonis got off to an awkward start together, and now they're thriving. Malcolm Brogdon is driving the engine, and the Pacers' depth and quality player development have made them one of the more intriguing Eastern Conference contenders.
LeVert isn't quite the polished scorer that Oladipo is, but he does have creative instincts. He can provide individual offense when the more complicated mechanics of the Pacers fall short, and he is a quality defender. You can easily make an argument that Oladipo is better than LeVert, but it's close — and the cost benefits are significant.
The move gets the Pacers under the tax line, which should not be overlooked in the Pacers' motivation for the deal. Giving up only Oladipo, who didn't want to be in Indiana, and getting a quality guard in return is a good move.
The Pacers didn't slip an inch with this trade.
---
Cleveland Cavaliers: The Opportunists

Everyone was curious about the Cavs' move. Exum had played great defensively, and they already had Andre Drummond (who's been light out defensively this season and rebounding at an astounding rate) and JaVale McGee. Why add Jarrett Allen?
The reality? This opens the door for the Cavs to sell high on Drummond in a contract year.
Collin Sexton and Darius Garland have made real strides and look like a backcourt to build around. Isaac Okoro has shown early flashes. Larry Nance Jr.'s defensive numbers are incredible. But the Cavs can still look to the future. Drummond is set to be a free agent this summer. If the Cavs can find a good trade offer, they can make it. If not, and Drummond walks, Allen provides a replacement long-term.
Allen fits perfectly with Sexton and Garland as a pick-and-roll finisher. The Nets were considerably better with Allen on the floor than Jordan this season.
Cleveland is headed in the right direction, if it can stay the course. But the question has to be asked: What about Kevin Love?
---
---
How This Move Impacts the Rest of the NBA
None of these moves impact the Lakers at all, who remain the odds-on favorite to win the title; nor do they impact the Clippers, the Lakers' strongest challenger.
However, the trade helps Denver. Harden has presented a matchup problem that the Nuggets could not solve for years. Having him out of the West helps them considerably.
The Celtics are pushed further away from both division and conference titles, given their matchup issues and the Nets adding more firepower. The Celtics still don't have a frontcourt weapon to take advantage of the Nets' weakness there.
The Sixers, meanwhile, are best positioned to combat the Nets. They have the defense, a center to punish them inside, and the shooting to keep up.
Miami somehow misses out on both Harden and Oladipo in the same deal. The big star move that's been speculated seems to be over for now.
PJ Tucker is the next name being mentioned for Houston to potentially trade, but league sources also said there will be renewed calls for Eric Gordon, should the Rockets make him available.
Somehow, someway, there was a trade in the NBA where Oklahoma City didn't get a draft pick. It's 2021 — anything is possible, really.
How would you rate this article?