Moore: It's Time to Buy in on the Indiana Pacers
Credit:
USA Today Sports. Pictured: Myles Turner, Victor Oladipo, Domantas Sabonis
Matt Moore thinks the Indiana Pacers are a near-lock for the 2018-19 NBA playoffs.
He takes a look at their win profile and more to back up why it's time to buy in on Victor Oladipo and Co.
When you cover the ins and outs of an 82-game regular season, you pick up on what makes an NBA team good (aside from the obvious ones).
Most anyone who follows the league regularly knows that point differential often matters more than record. But beyond that, which teams you beat can matter as much as how many teams you beat.
In my experience, the most valuable wins come in this order:
Home games: This is a given. If you don't win at home, you're almost always sunk.
Division games: Not only do teams put space between themselves and direct competitors, but division record determines a lot of tiebreakers for positioning.
Games against teams worse than .500: Only nine teams in the West have managed single-digit losses against teams worse than .500 and missed the playoffs. This is the Spurs' model for sustained success — beat the teams you should.
Games on a back-to-back: These convert schedule losses to wins.
Conference games: These are relevant for tiebreakers and positioning.
Getting caught up in the games against the top teams to prove that a team can "beat anyone" is actually more volatile and less sustainable. It's better to be consistent than to have a high ceiling, because in the playoffs, matchups often change and you can't control which teams you face.
With that in mind, below is a look at the win profile of the Indiana Pacers.
Overall Win Profile
The Pacers have the third-best record in the Eastern Conference at 25-12 and are only two games back in the loss column from the No. 1 Bucks.
Who do the Pacers beat?
They're excellent against teams they should beat, going 18-3 against teams worse than .500.
God bless the Eastern Conference. The Pacers are 18-5 against the East, with three of those five losses coming to the Raptors, Bucks and Sixers. The Pacers also have wins against the Sixers, Celtics and Bucks.
Who do they lose to?
They're only 6-7 against the West, which simultaneously shows you how tough the West is and emphasizes how good the Pacers have been in the games that matter. Of their nine losses to teams better than .500, a healthy chunk have come against the West.
Basically, the Pacers — as much or more than almost any team but the Bucks — beat the kind of teams that put you into a playoff spot.
Who do the Pacers cover against?
Indiana is 8-5 against the spread as an underdog this season, including 3-0 as a home dog. The Pacers are 9-6 as favorites against the Eastern Conference and, surprisingly, 3-1 ATS as favorites against East teams better than .500.
Maybe most impressive? The Pacers are 5-1 straight-up and ATS on the second night of a back-to-back.
Who do they fail to cover against?
Compare this with the the other conference, and there's good reason to think Indiana will struggle against West teams on the road. The Pacers are currently 3-4 on the road against Western Conference teams.
No team highlights the conference disparity quite as much as the Pacers.
However, there's one small caveat here: The Pacers played the Rockets twice at the very tail end of Houston's nadir before they turned it around. The line on those games was probably tighter than it would be now. There are always instances in which this is the case, but it stood out in that specific matchup with how the timing worked out.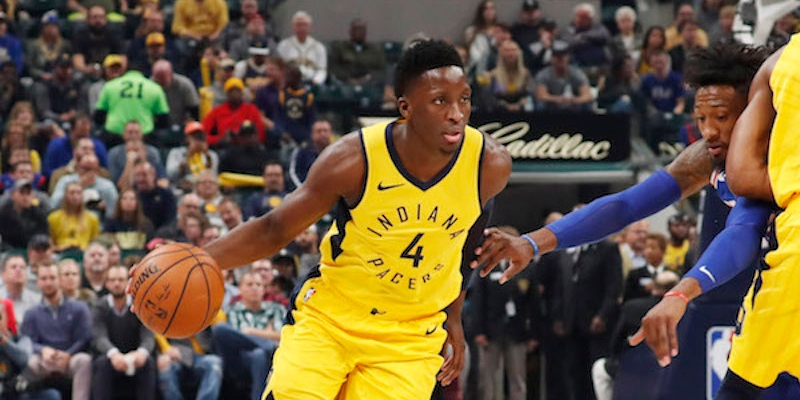 What's the Pacers' projected outlook?
Indiana is what I would call a near-lock for the playoffs at this point.
The Pacers hit on all the key categories:
Home record: 13-5
Division record: 5-2
Against teams worse than .500: 18-3
On the second game of a back-to-back (SEGABABA): 5-1
Conference record: 18-5
It would take a catastrophic collapse for the Pacers not to make the playoffs, and they remain in contention for a top-two seed in the East. They're also a team that receives so little attention as to be a good draw for gambling, especially against the East.
Other things to note
Myles Turner has made huge stride defensively. People were abandoning all stock in him to start the season, but he's made massive improvements, helping Indiana to the best defense in the league. Turner has a 100.2 defensive rating on-court this season, and his help defense has become much better.
Aaron Holiday is a rookie, but it's clear that he's going to be the Pacers' point guard of the future. He has the best on-court net rating of any player on the team, and when you see his ability to navigate defenses like this, it shows what he's capable of:
Domantas Sabonis is good at everything. Just everything. Passing. Defense. Scoring. He's one of only four players in history to come off the bench and average at least 14 points per game, shooting 60% or better from the field. His per-36s for a player his age are unprecedented, and while those are wonky, it's proof of his impact. He needs to be in the Sixth Man of the Year conversation.
Victor Oladipo recently admitted that he's struggling a little bit with the adjustments being thrown at him. That the team has stayed so good with a little regression and injury problems from Dipo is proof of their team quality.
Thaddeus Young unlocks so much of what the Pacers need to do. His ability to play smallball four and switch effectively, and how he passes with Turner and Sabonis opens up a ton. He's got a reliable floater, which is huge: He's hit 12-of-17 floaters this season. Having that weapon enables a lot for a team that doesn't take a modern amount of 3-pointers (28th per 100 possessions).
Data courtesy of ESPN, NBA.com, Basketball-Reference and Synergy Sports.