Jaren Jackson Jr. = Anthony Davis 2.0?
Credit:
Photo credit: USAToday Sports. Pictured: Anthony Davis and Jaren Jackson Jr.
Memphis Grizzlies rookie big man Jaren Jackson Jr. has flashed huge potential already in his NBA career.
His stats and game are eerily similar to those of Anthony Davis, who he plays on Friday at 8 p.m. ET.
Can Jackson get to Davis' level? Or even higher? The Action crew and I dive into the similarities and differences between the two players and how Jackson projects moving forward.
You didn't just open this post randomly. You're either joyous, curious, or furious at the headline.
Honestly, I can't blame you. At first glance, it's a stretch of epic proportions.
I mean, we're talking about Anthony Davis here — arguably the No. 1 basketball player in the world you would build an expansion franchise with if given the opportunity to pick anyone.
I can't take it anymore.
What Jaren Jackson Jr. is doing in Memphis can no longer go overlooked. If it said anything other than "Grizzlies" on his chest, he would be getting the same amount of praise Luka Doncic receives from the mainstream media every time he so much as ties his shoe and combs his fingers through his flawless John Tucker Must Die hair.
But it does say Grizzlies on his jersey, and a big reason why he's this far along already in his basketball evolution is because of that.
Why are we even having this conversation in the first place? What is it that makes Anthony Davis Anthony Davis, and what do the two have in common?
The ability to influence every possession on the floor — offense and defense — with unprecedented athleticism for their physical attributes
The ability to score mass volumes of points without having plays called for them
The ability to strike the fear of god into any opponent attempting to score at the rim
The ability to play every position on the floor, 1-5
The ability to do game-changing things that don't have a statistic in the box score
With that said, let me get this out of the way now: Any standard box score statistic you look up on JJJ is likely not going to impress you compared to the league's stars.
There are multiple reasons for that, as we will dive into here shortly, but the No. 1 of which is he can't stay out of foul trouble. ELEVEN times this season he has finished a game with at least five fouls. His aggressiveness and lust for altering shots must be harnessed, otherwise referees will eat him alive.
Jackson not only acknowledged this but elaborated on how he's using the video game NBA2K to work on his timing so that he doesn't fall for pump fakes:
This is great to hear, but action always speaks louder than words.
Despite the limited minutes, Jackson Jr. currently holds a 7.5% block rate — sixth in the entire NBA. What this means is that if JJJ is on the court and you play for the other team, there is a 7.5% chance your shot is going to be blocked by him.
This man* (19-year-old kid*) is nothing short of a basketball menace, and the path he's on through 23 games sure looks familiar….

What I'd like to do now is tag in some help. I have consulted the oracles, the brains behind the operation here at The Action Network, to dig even deeper into my ludicrous hypothesis to see if it is indeed true that Jaren Jackson Jr. will be the league's next Anthony Davis …
… this is what they've found.
---
Bryan Mears: How JJJ and AD Compared as Prospects
After his 2011-12 season at Kentucky, Davis was considered the surefire No. 1 pick. The Wildcats won the title behind the consensus national player of the year, who averaged 14.2 points, 10.4 points and 4.7 blocks per game.
Davis was heralded as one of the can't-miss prospects over the last 20 years, and somehow Jaren Jackson Jr. slipped to fourth. Why wasn't the Michigan State big man placed in the same tier?
Part of it was Jackson's role at Michigan State. He played just 21.8 minutes per game — largely at the power forward spot — and the team already had a go-to leader in sophomore Miles Bridges, who led the team with 17.1 points per game.
But if you look at Jackson's per-40 numbers in college, like in the NBA things aren't that different from the numbers AD put up. Davis averaged 17.7 points per 40 minutes; Jackson was at 20.0. Davis averaged 5.8 blocks/40; Jackson was at 5.5. Davis averaged more rebounds, but again, Jackson was playing with a center for most of his minutes.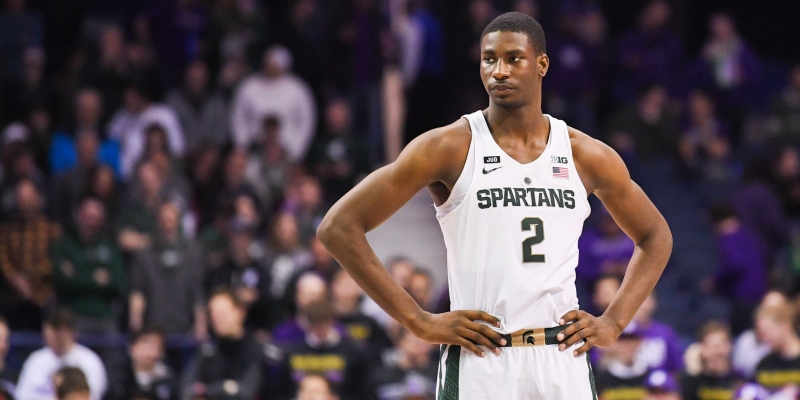 I think Jackson's role didn't do him a lot of favors. Outside of having low raw stats, Jackson didn't get to show some of the ball skills he since has in Memphis.
It's really hard to face up and attack off the dribble when 1) spacing is already cramped in the college game, and 2) there's another big man and his defender at the basket all the time.
Jackson has shown incredible ball skills in Memphis early on; the dude has even broken out some eurosteps in the open court.

The face-up game is important, as it shows he could eventually develop into more of a first option offensively instead of merely a spot-up shooter or a roll man in the pick-and-roll.
And the shooting — well, we should have seen that coming. (I will note, a lot of smart people had Jackson in the super-elite tier before the draft, notably one of my favorite draft places, The Stepien. Shout-out to those guys doing great work.)
Take a look at Jackson's shot chart at Michigan State:
Look at that beauty: Jackson took 58 three-pointers classified as "NBA 3s," and he made a stupid 44.8% of them. Over a quarter of his shots were from that range, and another 40.1% came around the rim.
Daryl Morey is somewhere smiling.
Of course, Jackson isn't Davis' equal in every aspect as a prospect. Davis was superior as a playmaker and as a pull-up shooter. Jackson has flashed as the first, but the jury is more out on the second. That will be a part of how high is offensive ceiling truly is.
But the point remains: Jackson was/is an elite prospect and probably should have gotten more AD-like buzz.
That's enough about college, let's kick to Matt Moore and Justin Phan, who are going to look at how Jackson and AD have looked like as NBA rookies…
---
Matt Moore: How JJJ and AD Compare Defensively
PSST! Here's a secret; tell no one…
Anthony Davis wasn't great defensively early on.
There are indications all over the place that this was the case.
The eye test bore it out; you'd watch him consistently make mistakes and get caught napping on the weakside.
The numbers bore it out; Davis was 16th (!!!) percentile defensively in individual defense, per Synergy Sports. The defense was a point worse per 100 possessions with Davis on the floor, and they weren't great to start.
This is all expected. For big men, there's a much steeper learning curve. They have to manage not only their own assignment but cover for mistakes on the perimeter and contest at the rim. It's OK for big men to be bad defensively early on. (Do you hear that people ready to bury DeAndre Ayton? Do you hear me?!)
That's what makes Jackson so exceptional defensively. He's already such an impact player.
In addition to the block rate Wob listed above, the Grizzlies have a better Defensive Rating with Jackson on the court by 2.1 points per 100 possessions. That's wild; it's incredibly uncommon for a rookie to contribute defensively that way.
Some context is needed there, however.
3J plays for a veteran team, alongside one of the best defensive centers over the past decade in Marc Gasol.
Without Gasol, Jackson's Defensive Rating goes from 92.9, which is basically a global force field, to 104.9, which is not great.
What's also interesting, though, is that Gasol's Defensive Rating similarly plummets without Jackson, getting nine points worse. Jackson's making a good defensive team great. That's exceptional for a rookie.
Rookies often get tested by veteran players with scoring ability. They want to see if there's a weakness there.
An example: Off a switch, Tobias Harris tries to drive on the kiddo. One thing to watch with Jackson is how, when defending an attacker, his hands are almost always straight up. He's always contesting. And he absolutely smothers Harris here, even snatching the ball away:
In this next clip, Danilo Gallinari tries to get him with the crossover, but Jackson's able to use his long arms to reach in and slow him down for a second, which gives Jackson the time to get turned around.
Again, Gallo gets past him, but once he does, there's not actually an advantage because Jackson's length means he can recover to block the shot:
The only area he really struggles is with defending spot-up options.
This is pretty standard stuff for rookies, who get caught ball-watching trying to make a play. He's got Marc Gasol low here. He doesn't need to help. Marc's got this. But in doing so, he gives up a corner 3, a sore point for Memphis' typically-great defense.
Jackson's given up the second-most spot-up shots of any Grizzlies player. As teams start to scheme against him more with stretch bigs, that'll be an area he has to shore up.
But all of this is indicative of where Jackson is ahead of where Davis was. He's more springy; he's more mobile. Davis was slight, but also because he's bigger, he's not as lightning-quick.
And Jackson's instincts for anticipation, combined with how hard he plays every quarter, makes up for any differential. He's always in attack mode, and that's what you want. It's better to make mistakes from aggression than mistakes from being paralyzed by choice. He's decisive and effective.
I don't think Jackson could carry the offensive load Davis had as a rookie. The per-36 numbers are great, but it's different when you're weapon No. 1 on the scouting report.
But Jackson projects, based off these early couple dozen games, as a legitimate future DPOY candidate. That's ahead of where Davis was.
We always knew Davis' length and athleticism would make him a defensive weapon in time. With Jackson, we've already seen the impact he can give from the get-go.
---
Justin Phan: How JJJ and AD Compare Offensively
Jackson has proven he's already ahead of the curve defensively, so any comparison to Davis will ultimately hinge on how he's able to progress on the offensive end.
While the perception is that Jackson won't be able to carry the offensive load the way Davis has, the numbers tell a different story.
Jackson has been a more efficient and diverse scorer than Davis was as a rookie and has done so while posting a higher usage rate and relying less on his teammates to set him up.
The usage breakdown of the 2012-13 Hornets isn't all that different from this year's Grizzlies squad, with a clear lead guard (Eric Gordon vs. Mike Conley) and two secondary options through which the rest of the offense was funneled (Ryan Anderson, Davis; Marc Gasol, Jackson).
There is a difference, though, in how Davis and Jackson have generated their looks within those offenses.
Davis touched the ball less than two seconds on 72.9% of his shot attempts as a rookie and dribbled more than two times on just 3.1% of them. When he did decide to take his defender off the dribble, his efficiency fell off a cliff.
Jackson's been a lot more comfortable in those situations, with 11.7% of his shot attempts coming after at least three dribbles. He's converted around 60% of those looks, and, more importantly, he hasn't been bothered when defended well.
Per NBA.com, he's 93-for-157 (59.2%) when the closest defender is classified as "very tight" or "tight."
Perhaps most impressive is the numerous ways Jackson generates his offense. While Davis shot just six 3s his entire rookie season, Jackson's already firing off 2.5 attempts per game and hitting 35% of them.
He's in at least the 59th percentile in shooting accuracy relative to his position from just about every zone on the floor, per Cleaning the Glass, and already draws fouls at a high rate.
His involvement in the Grizzlies offense has translated directly to wins, as the team is 10-4 when he posts a usage rate of at least 22%. When his usage rate dips below 22%, their record falls to 4-5.
All of this isn't to say that Jackson will be a better offensive player than Davis, but it does show that we're not giving him nearly enough credit on that end of the floor.
How would you rate this article?