Joel Embiid Gets Worked by Celtics Young Core in Season Opener
Credit:
Greg M. Cooper, USA Today Sports. Pictured: Joel Embiid
The Celtics (-4.5) defeated the 76ers, 105-87, covering the spread easily on Opening Night.
It was a particularly rough game for Joel Embiid as he was on the wrong end of some highlight-reel plays by Boston's stars.
It was a rough night at the office for the Philadelphia phenom. Despite posting a stat line of:
23 points (9-21 FG)
10 rebounds
2 blocks
Joel Embiid was on the wrong end of several highlight reels and stare-downs courtesy of the Boston Celtics young stars.
Here are some of the highlights — or lowlights — from Opening Night.
Jaylen Brown
Jayson Tatum (and the Kings' 1st round pick the 76ers traded to trade up for Markelle Fultz)
Terry Rozier
He's self-aware, though. After the game, Embiid made sure everyone knew where he stands — he knows his team has gotten its ass kicked by the Celtics recently and has to take the L.
But he is Embiid, and he will always get the last laugh…
Poor Jalen … he will never be able to rid himself of that 81-point stink.
Before we go, don't forget what happened to Russell Westbrook after Embiid put a poster bounty on him after they had their tiff last season…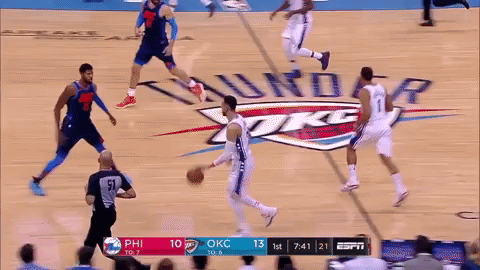 Joel gonna have that Tatum wink as his phone lock screen wallpaper until they play again, you better believe that…