1-on-1 with Joel Embiid: Kobe's Influence, Twitter Trash Talk and Becoming the NBA's Unprecedented Superstar
Credit:
USA TODAY Sports. Pictured: Joel Embiid
I'm the idiot who didn't Trust the Process last season, betting the Twitter-verse that the Philadelphia 76ers would not win 43 games.
Unsurprisingly, 76ers star Joel Embiid trolled my lost bet on Twitter during the season.
I sat down with Embiid this offseason to discuss his social-media prowess, the beefs it causes on the court, his love of Shirley Temples and much more.
NEW YORK — It is gross outside. There's not a cloud in sight, but it's one of those days where you can feel the humidity oozing through the windows regardless of how much air conditioning is blasting.
I'm hanging out at the Hotel on Rivington waiting for Joel Embiid, the Philadelphia 76ers' once-in-a-generation center who took the basketball world by storm last season. We're going to have a drink together — more specifically: a Shirley Temple.
This is nothing unusual for Embiid. Even before meeting him, I already know the story — he loves Shirley Temples. Like, really loves them. And he didn't even know they existed until a couple years ago.
His explanation for his obsession, as he would later tell me:
"Yeah. This girl, she came up to me. I think she wanted to get me drunk. So I was like, 'I don't drink alcohol.' I think that night I ended up having 15 of them and that's when I fell in love with it."
We'll get to that later. In the meantime, I'm back at the Rivington trying to figure out what I'm going to say to this man when he sees me.
Normally, I don't get too nervous meeting high-profile strangers. But in this particular case, I'm the idiot who didn't Trust the Process.
I got cocky after consuming a couple adult beverages and doubled-down on my take that Joel couldn't stay healthy enough for the 76ers to win 43 games let alone make noise in the playoffs.
Not going to lie, I thought this might slip through the cracks by the time March 22 came around, but it did not…
I was found guilty in the court of #NBATwitter law and was sentenced.
"I remember everything," Embiid told me within minutes of meeting. "I got receipts. I'm coming. I'm coming for people. When we win the championship, I'm coming."
You don't have to tell me twice, but when you are on the receiving end of this declaration, everything gets put into perspective rather quickly.
Embiid is seven feet tall without shoes on. His wingspan reaches an additional six inches and looks like it could bear hug a pterodactyl if ever given the opportunity.
He is 250 pounds of pure muscle and one of — if not the most — physically dominating presences the game of basketball has seen since Shaquille O'Neal.
Because Joel has played only one-and-a-half regular seasons, the comparisons to one of the game's all-time greats can certainly be considered a stretch. But his performance in that small sample is nothing short of eye-popping.
To give you some context: Shaq averaged a career shooting percentage of 74.8% when he attempted shots between 0 and 3 feet away from the rim. He was absolutely unstoppable.
You wouldn't even dare try to hack him because of the high probability of losing your arm on the way up, or ending up underneath one of the backboards he'd make crumble to the ground like a wobbly Jenga tower.
Joel Embiid has shot 72.8% from the same area.
O'Neal averaged 2.3 blocks per game throughout his career, Embiid is at 2.0.
I could sit here all day and list stats that prove just how dominant in the paint these two are.
What separates Embiid from Shaq — and why basketball fans across the globe are wide-eyed at his potential — is Joel's ability to stretch the floor and create off the dribble.
Since Embiid entered the league, 21% of his total shot attempts have been 3-pointers. He makes 32.7 out of every 100 he takes. What percentage of Shaq's shots were 3s? 0.1%.
Embiid's dunks are assisted nearly 15% less than Shaq's were. That means he's creating these opportunities by himself more times than not.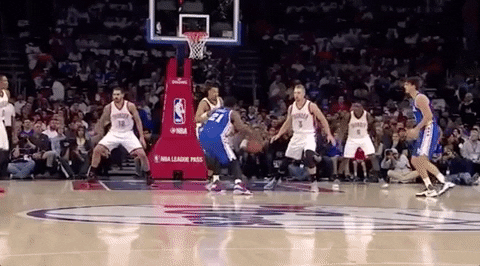 'Creativity' is the word you're looking for.
No man this size should have handles better than your point guard. His efficiency, repertoire of moves and superior talent are what makes him so damn good.
But what makes him Joel Embiid is his ability to convert these skills into a brand.
It feels like we can't go a week without seeing something he does on social media or an extracurricular act during a game go viral.
Let's go back to Jan. 28, 2018, when Embiid dunked Russell Westbrook into another dimension…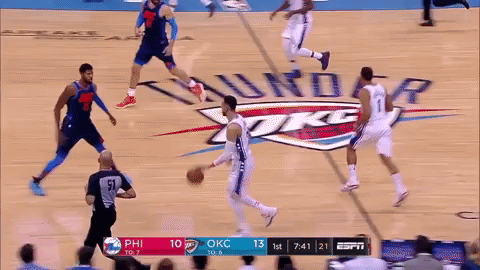 Oklahoma City held on to win the game 122-112. As the clock ticked down to zero, Westbrook seemingly stared down Embiid to remind him that he may have won the battle, but he didn't win the war…
I had to ask him…
Does he know his actions have consequences? That every player is going to want his neck whenever he puts someone on blast?
"It makes sense," Embiid said. "When I do stuff like that and it ends up on Twitter, I know that guys are gonna want to come back at me. Usually I win those type of matchups. I think most of those guys, they know that at the end of the day it's fun … But, there's a couple guys, about 2 or 3 guys, that just take it to another level."
Oh, is that right? Care to elaborate?
"I don't wanna say their names. I think you know. I'm gonna go ahead and say their names. Whiteside. Westbrook…"
And as for that Westbrook moment in particular:
"I was looking back at him, and at that point, I care. I'm a winner. I care about winning. It doesn't matter if I dunked on him or whatever happened in the past. I lost the game. At the point, I'm like, 'I'm the loser here. I'm gonna get you back.' Next year, I'm excited for all those OKC games. I think both of them are going to be on TV. I'm excited. I gotta get the win. So, that's all I was thinking about, and I know he was staring at me."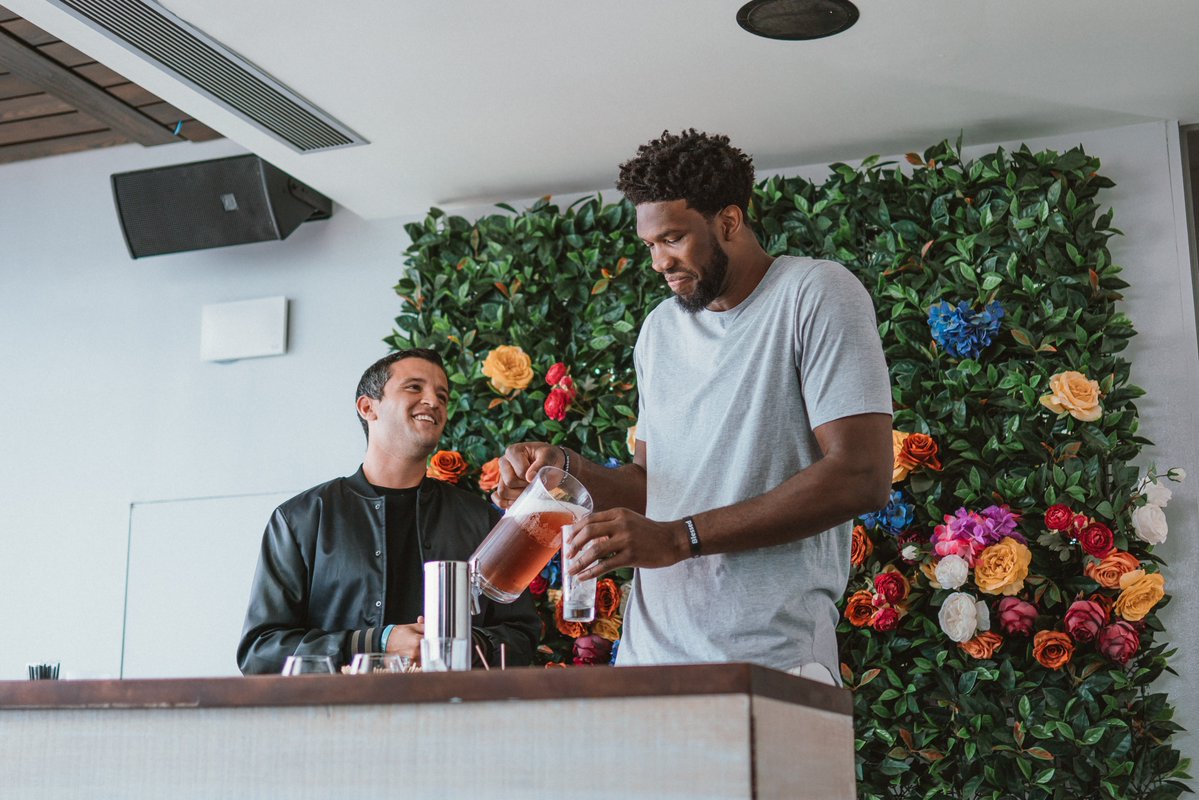 This is what makes Joel Embiid different. Shaq had 'Kazaam', a revolutionary film in so many absurd ways, but there is a degree of authenticity here with JoJo that is unprecedented, mainly because Twitter/Instagram/Facebook weren't a thing in previous eras of the NBA.
Embiid is the first of his kind — an embodiment of his own online WWE persona. The internet is his RAW, the games are his Wrestlemania.
And just when you thought social media couldn't be even more of a catalyst for his motivation, a recent quote tweet inspired Joel to a whole new level:
"I really appreciated it because Kobe is like the God," Embiid said about Kobe's tweet. "He's why I started playing basketball in 2011. I remember watching the Finals in 2009, and it was the Lakers against Orlando. And, that's how I fell in love with the game, and I wanted to start playing basketball, and I finally started in 2011 and it was all because of Kobe. So that tweet meant a lot."
Hold on a second. He really said "I started playing basketball in 2011."
This isn't new information, but it is simply incomprehensible when you see how good he's gotten in just seven years — so good that he's already being used as the comparison and ceiling for incoming NBA draft prospects:
What was he thinking when he pressed send on this?
"I was watching the NBA draft and I was listening to all these analysts that think that they know basketball, and were comparing that kid to me. And then I'm just sitting here, I'm like, 'Uh, please. Don't compare me to that dude.'"
A little harsh? Maybe. But like every other outlandish hypothesis he sprays into the blogosphere, he's able to back it up.
Defense has always been a point of pride for Embiid. During the 2017-18 campaign, he was named second-team All-Defense. He finished second in the Defensive Player of the Year voting behind Rudy Gobert.
When Joel was on the floor the 76ers were +487 net points. Without him? -118. That is a 605-point difference on a team that won 52 games.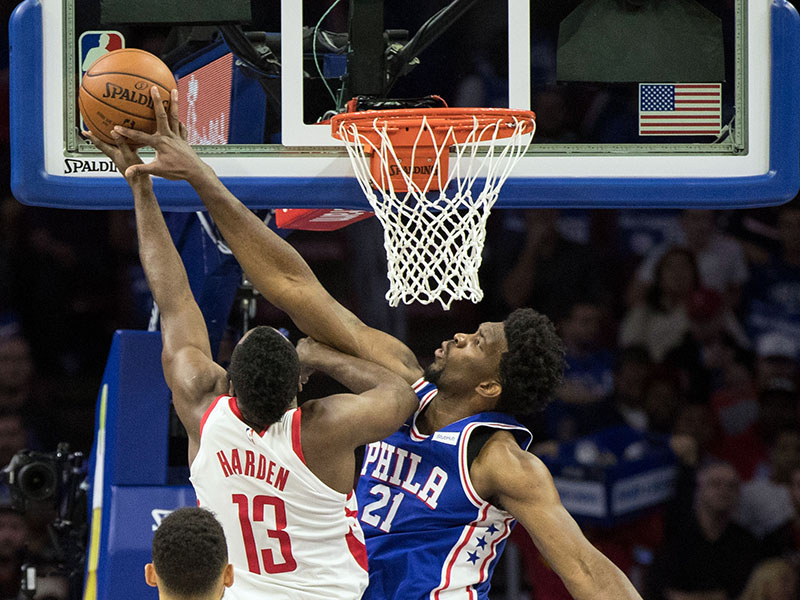 The team's defensive rating was -5.2 with him off the floor vs. with him on. Almost every advanced analytic proves he knows what he's talking about.
Furthermore: regarding the Ayton tweet, he continually emphasized that he, himself, is different (on defense) than everybody else in the league.
And then that's why Draymond tweeted at me. And, stories that Draymond actually texted me when he heard that comparison too. And then he was like, 'you going to let them talk to you?' like, 'you going to let them compare that dude to you?' And I'm just sitting here, I'm like 'no chance.' Like, dude ain't even, he's not better than me or he's not as good as me. And that's why I tweeted that. I tweeted all that."
It's unfathomable how quickly his honesty in simple conversation makes you forget he's one of the best basketball players on Planet Earth. You truly feel like you're talking to a walking, breathing NBA Twitter comment section with all the actually correct answers.
At this point in the afternoon, JoJo has sweat through one of his shirts, drank a Shirley Temple in no more than two gulps, and engaged with me in a little New York/Philly trash talk on his way out.
His ride is here. He's off to his next meeting. When we dap up, I make sure to remind him it's not goodbye, it's see you later — because you're damn right I'm going to be heckling him courtside at Madison Square Garden like it's the 2018 version of Spike Lee vs. Reggie Miller.
But wait a minute, that's what he wants …
Did I just get trolled? Do I Trust the Process now after years of pledging to never believe in it?
I don't know the answer to that question just yet, but I was once told "never meet your heroes because they'll disappoint you."
I can assure you — whoever came up with this quote — has never met Joel Embiid.
He is more than just an athlete…
…he is a lifestyle.
---
This interview was conducted in conjunction with Twitter Sports.
How would you rate this article?