Wob: No Matter What Happens with Kawhi Leonard, the Raptors Have Already Won
Credit:
Photo credit: Reinhold Matay-USA TODAY Sports. Pictured: Kawhi Leonard
Kawhi Leonard, who will be a free agent this summer, has been perhaps the best player in the 2019 NBA Playoffs.
Rob Perez (@WorldWideWob) details Kawhi's heroics and discusses the future of the Raptors franchise -- with and without their star.
It's the best scene from "Rounders" — when Mike busts Teddy KGB heads up, clears his debt with him and Grandma and has made enough to pay Professor Petrovsky back half the loan he gave him before the night started.
"That's a safe play," Mike says, until Teddy high steps on him and reminds the room he's still up big from the last time they played.
Mike can go home with his health, but not his respect — and he makes the decision that he'd rather die than be looked at as a poker beta, so he sits back down and the two fight on with his life on the line.
There's no explaining the mindset here other than some people are willing to lower their rock-bottom to six feet under the ground if it means the reward is living without regret.
The moment Toronto Raptors President Masai Ujiri signed off on the blockbuster Kawhi Leonard/DeMar DeRozan trade this past summer, he sat at that same table with Teddy KGB. The Raptors were drowning in playoff mediocrity, and while keeping DeRozan and Kyle Lowry together for the next two seasons was a more than safe play to guarantee postseason berths, the Raptors would have had to live with the East's elite 'sticking it in them' every time the conference finals started.
What has transpired since the transaction is as close to the nuts as you can get without actually having it: Kawhi Leonard is a nuclear weapon who has been deployed on the basketball world and there's no override.
In this semifinals series alone, he has totaled…
Game 1: 45 points, 81% FG
Game 2: 35 points, 71% FG
Game 3: 33 points, 61% FG
Game 4: 39 points, 65% FG
Efficiency numbers like these are usually reserved for the likes of DeAndre Jordan and Rudy Gobert, giants who just camp out in the paint and dunk every rebound or loose ball that gravitates to them. What makes these statistics so eye-popping is that only 26.3% of Kawhi's total field goal attempts have been shot between 0-3 feet away from the rim; everything else could technically be classified as a jump shot.
Mid-range field goal percentage: 64.3%
3-point percentage: 52.6%
Free throw percentage: 86.0%
Oh, and for good measure: Kawhi on Sunday became the fifth player in NBA history to record 150 points, 30 rebounds and 15 assists through the first four games of a playoff series (per Elias Sports Bureau). The only other players to accomplish that in NBA history, you ask? Michael Jordan, Rick Barry, Wilt Chamberlain and Elgin Baylor.
Kawhi's productivity isn't the result of being the beneficiary of having an all-world teammate running alongside him, either. As a matter of fact, he's not only the best player on the floor — but the most important.
Below you will find every Raptors rotation player's individual postseason Net Rating with and without Kawhi Leonard on the floor.
What this translates to is the hypothesis of Kawhi's irreplaceable, top-five-basketball-player-in-the-world status being confirmed. We could even get a little dangerous and say he's top three, but that's for another day because we could sit here and analyze Leonard's unfathomable on/off efficiency stats until our eyes bleed.
The one player in particular we need to single out is Pascal Siakam, The Prince That Was Promised.
Similar to the Azor Ahai, we're not going to get the story we all foresaw, as Siakam does not appear to be ready to step in as the heir apparent to the Raptors franchise if Kawhi were to leave this summer. But don't get those words twisted; that doesn't mean he's not on his way. He's going to win the NBA's Most Improved Player award for a reason, and his ascension to basketball stardom is burning on jet fuel.
Siakam's -22.6 individual Net Rating this postseason without Kawhi on the court cannot be defended (this means the Raptors are 22.6 points worse per 100 possessions when Siakam is out there by himself without the T-1000 Kawhimenator).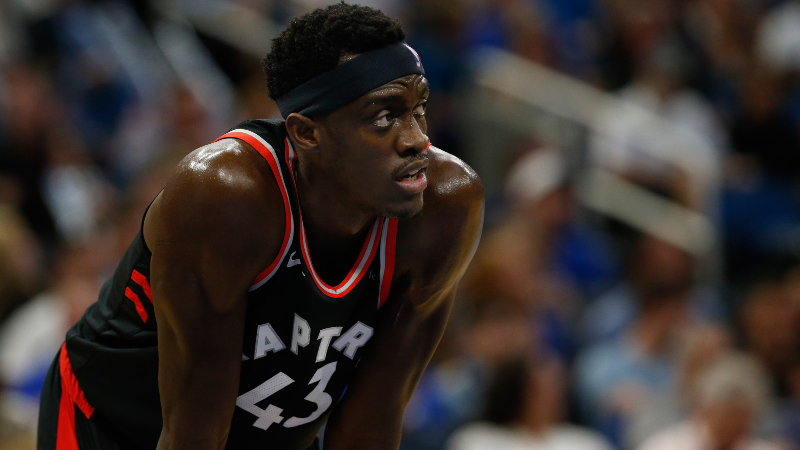 However, the case can be made that it might be even worse if Kawhi's presence wasn't there for Siakam to learn from and grow alongside. In a recent interview with ESPN's Scott Van Pelt, Siakam elaborated on Leonard's importance to his development:
"[He has inspired me to] go out there and work on my game. I think coming in, we all knew what type of player he was, and I think, for me, just having him every night, how he works every single day – he's in practice, working on his game and he's a professional. Just seeing that kind of inspires me to go out there and work on my game as well.
He would come every day, work hard and he would do what he was supposed to do and come on the floor and play for how many minutes he's out there and give everything he's got."
Those words tell me Kawhi is not only performing brilliantly on the court but is making everybody else better, too. This is ridiculously rare in today's NBA — where a star can reach this level of divinity in the box score and amongst his colleagues. He is training an apprentice to ensure the longevity of the Raptors' success for years to come, even if he's no longer with the organization. His work ethic is contagious, and Siakam's hockey-sticking stock chart happening the same year Leonard is his sensei is no coincidence.
And then there's the business side of it all: Ujiri has been sitting at the table playing with house money all along. Even if the Raptors don't make the Finals and Leonard leaves in free agency this summer, they are perfectly set up to compete next season and then blow everything up and completely rebuild without the burden of any long-term contracts haunting the salary cap.
Just look at their salary cap situation: Lowry is on the books for $33.3 million, and for argument's sake let's say Marc Gasol picks up his $25.5 million player option because he's likely not going to get that type of money for more than one year anywhere else. Ibaka is making a whopping $23.2 million guaranteed, but then he will head into unrestricted free agency as well in the summer of 2020.
The result of all this is the ONLY players who are on the books for the Raptors in 2020 are: Pascal Siakam, OG Anunoby and Norman Powell — their three young, key up-and-comers who will make a grand total of $18.5 million in salary, leaving the rest of it to be used at the franchise's discretion. That is, without a doubt, the most ideal salary cap situation possible if you don't have a top-15 player locked in.
The Raptors may ultimately end up losing in the playoffs this year, but they can't lose long-term. THIS is why the Raptors did the Kawhi trade; there isn't a hand that can beat them if they hold their cards long enough.
Before Mike bet everything and trapped Teddy, he reminisced on the time he told his buddy Worm, "You can't lose what you don't put in the middle." He then quickly came to the realization as he stacked his chips and moved them to the middle: "But you can't win much, either."
Masai Ujiri knew as soon as this year's hand was dealt he was going all-in, but that decision is easy when you're holding aces.
How would you rate this article?