Wob & Moore: Kawhi Leonard Has Ascended to the LeBron, Durant Tier of NBA Royalty
Credit:
John E. Sokolowski-USA TODAY Sports. Pictured: Toronto Raptors forward Kawhi Leonard (2) dunks on Milwaukee Bucks forward Giannis Antetokounmpo (34).
The 2019 Eastern Conference Finals was a series we didn't know we needed but are so glad we ended up getting.
Matt Moore (@HPBasketball) and Rob Perez (@WorldWideWob) give their thoughts on the Eastern Conference Finals and where Kawhi Leonard currently sits in the NBA superstar hierarchy.
From "LeBronto" in last season's playoffs to the NBA Finals this year: I think it's now safe to say the Toronto Raptors officially won the Kawhi Leonard trade (sorry, DeMar DeRozan).
You know the story: The Bucks go up 2-0 in the series, Leonard hits another gear and the Raptors win four straight games to close out the series in Game 6 and move on to face the Golden State Warriors for the Larry O'Brien trophy.
Our NBA aficionados Matt Moore and Rob Perez give their thoughts on Toronto's Game 6 win, the impact of this series and what lies ahead in the Finals.
Wob: Kawhi Leonard Absolutely Dominated the Eastern Conference Finals
I feel weird being surprised by what we just witnessed.
Leonard is an NBA Champion, Finals MVP, three-time All-Star and two-time Defensive Player of the Year. Those accolades alone should warrant a sentiment of respect and level of aspirations only few players can ever contest.
But what he just did Giannis Antetokounmpo in the Eastern Conference Finals is something I know we'll be talking about for years to come.
Giannis is the closest thing I have ever seen to a basketball nuclear weapon. In terms of skill, athleticism, physicality, natural talent and just sheer dominance, he is already in the category of Lakers-era Shaquille O'Neal and Heat-era LeBron — two players in recent memory for whom the only defensive strategy was sitting cross-legged on the floor, putting your head in your lap, counting to 10 and praying to whoever your god is that he goes by without killing you.
Giannis doesn't have a feared jump shot or ability to punish opponents at the foul line, and he's still this scary. He's more than likely going to win MVP at the NBA Awards Show in June, but after what we just witnessed in Toronto, it's hard to believe the moment won't taste a little sour for him.
Leonard just evicted him from the playoffs. Not eliminated. Not outplayed. He threw Giannis' s**t into garbage bags and tomahawked it out the window. Giannis' career arc doesn't change — he's only 24 years old and will have his time in the sun — but this is about Leonard.
Per NBA.com, he guarded Giannis on 160 total possessions throughout the series. On those possessions, Giannis scored 30 points, shot 35% from the floor, made 1-of-7 three-pointers and turned it over five times.
Honestly, it looked even worse than it reads.
There were several moments in Games 5 and 6 where Giannis would challenge Leonard 1-on-1 or the entire Raptors team in transition, relying on the power of his 6'11" infinity gauntlet of a body that had harvested him so many souls in the past.
He never forgot to aim for the head. Drive after drive, rage dribble after rage dribble, Leonard was there to impede the seemingly unstoppable object from its course.
When you illustrate just how dominant Leonard's defense was against him, it's even more eye-popping.
(by u/llewellynjean on reddit)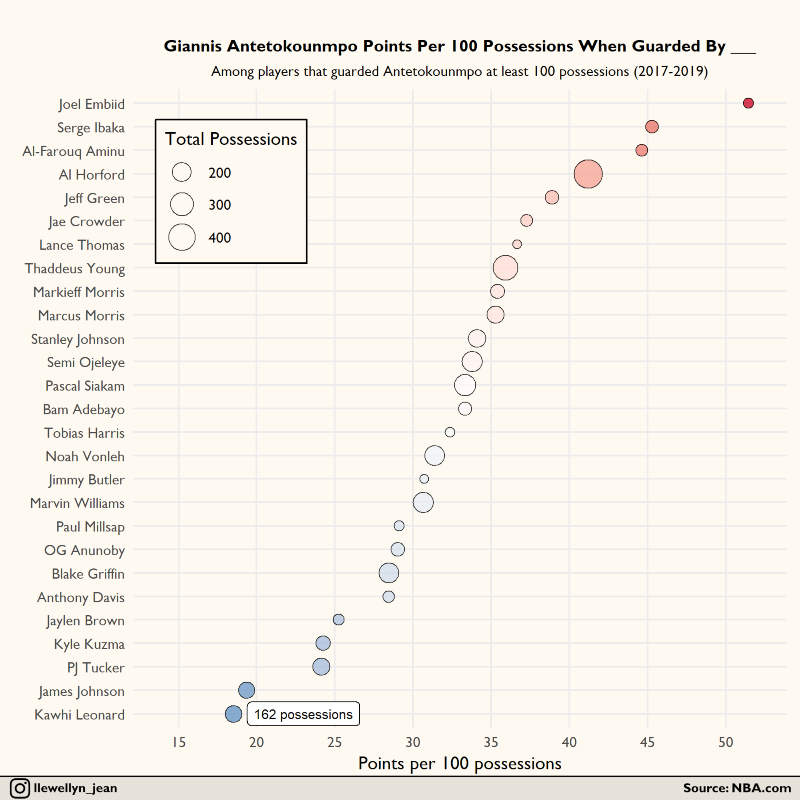 [OC] Kawhi is holding Giannis to 18.5 points per 100 possessions, the lowest mark for anyone who has guarded Giannis at least 100 possessions over the last two seasons
And that's just one side of the floor.
On offense, Kawhi finished the series shooting 44% from the floor, 34% on 3-pointers and 89% from the free throw line, averaging 29.8 points, 9.5 rebounds, 4.3 assists and 1.0 mushroom cloud detonations on Giannis' head.
His Game 6 performance goes into the history books as one of the most clutch of all time, according to NBA.com/stats:
Kawhi Leonard recorded 27 PTS, 17 REB, 7 AST in the @Raptors Game 6 win. The last player with that many points, rebounds, and assists in a #NBAPlayoffs series-clinching win was Michael Jordan (38 PTS, 19 REB, 7 AST) in 1991. pic.twitter.com/IVXpZI9UAZ

— NBA.com/Stats (@nbastats) May 26, 2019
There are enough jaw-dropping stats to make your eyes bleed, and this is all in addition to what he accomplished vs. the Philadelphia 76ers — including the biggest shot in franchise history to close out the series at the buzzer of Game 7.
So here we are … it's time to have the talk. Has Leonard finally, unanimously ascended to basketball immortality? The purity of the air I'm talking about is LeBron James and Kevin Durant, the two players who have undoubtedly been the best in the world for upwards of a decade.
This is not a career legacy discussion (that's for another day); this is strictly in the moment of 2019 and their current standing.
Kawhi checks all of the boxes of the LeBron/Durant stratosphere: the historical comparisons, the "holy s**t" moments, the sheer dominance at BOTH ends of the floor (sorry, Steph), the performances in the clutch that will run on loop during official NBA montages 30 years from now, the magnitude of buckets scored necessary to close out a conference finals, the advanced analytics,  and the unprecedented carrying of a franchise on his back to parts unknown.
No matter what happens in the Finals, he's there.
---
Moore: Giannis Just Wasn't the Best Version of Himself
Before I get to Leonard, I do want to stan for the MVP for a second here. We have all these numbers about the performances, and certainly Leonard is the best 1-on-1 defender in existence (and maybe ever).
But you tell me: Was this good defense or just a miss?
How about this one, where he gets right under the rim and lays it off the square?
How about the Euro-step where he got completely through Kawhi to the rim and jammed it, only to miss a dunk?
My point is: When you go back and watch, you see two things:
The Raptors aren't exclusively guarding Giannis 1-on-1 with Kawhi; they're sending three guys and bodying him heavy.
Giannis missed some really great looks.
But even then, the cumulative effect of Kawhi can't be understated, and in this series he took a huge evolutionary step forward. Leonard totaled nine assists in Game 6, the most in his postseason career.
He punished the defense for helping on him by finding noted knock-down shooter (and apparent Splash Brother) Fred VanVleet.
Adding that dimension is huge for continuing to make him unguardable. He's the best isolation player, one of the best pick-and-roll players, the best defender and a burgeoning passer.
Leonard, in the playoffs, is 87th percentile in pick-and-rolls as the ball-handler in points per possession, 74th in transition, 64th in isolation (with the third-most ISO possessions), 88th percentile spot-up, 88th percentile post-up and  90th percentile off-screens.
The most impressive thing about Leonard has always been his unparalleled efficiency across play types; he does everything. The knock used to be that he was an inconsistent and mediocre playmaker; he's made the leap there, as well.
Durant remains No. 1 in my mind for his height and experience, and Leonard hasn't yet been guarded by a player who can truly challenge him. The Bucks' options are Giannis, who did a great job but had to help protect vs. Siakam and Ibaka, and Khris Middleton, who has done a yeoman's work but doesn't have the ability to really hang.
In the Finals, we'll see him (at some point?) vs. Durant, and then we'll finally get to see the showdown for best in the world … if Steph Curry doesn't crash the party.
How would you rate this article?