Kyrie and Durant to the Nets: The Implications of Brooklyn's Free-Agency Haul
Credit:
Bob Donnan-USA TODAY Sports. Pictured: Forward Kevin Durant (right) handles the ball against guard Kyrie Irving during NBA All-Star Game practice.
Just before the clock struck 6 p.m. reports circulated that Kevin Durant would join the Brooklyn Nets with Kyrie Irving following suit.
Matt Moore analyzes the move for the Nets and how the effects will ripple across the NBA.
And just like that, the NBA was never the same again … again. Kevin Durant has made his decision on the "next chapter" after his last "next chapter." Multiple outlets report that Durant will be signing with the Brooklyn Nets, along with Kyrie Irving and their friend DeAndre Jordan.
So, you know, madness. A new superteam has been born, albeit one with fascinating complications. Lets' break it down and look at the futures market for the Nets as we do so.
SHORT TERM
The biggest question Brooklyn faces is how Irving will handle a less talented roster that likely isn't competing at the level he was last year in Boston.
The Celtics struggled with that this past season as well, so maybe lower expectations in a place that he wants to be will bring out the best in Irving, as well as learning from last year's struggles with a fresh start.
The Nets still have an exceptional backcourt rotation. Irving-Spencer Dinwiddie-Caris LeVert-Joe Harris-Jarrett Temple is just a lot of playmaking and shooting. They'll have Allen and Jordan to finish lobs and I have no idea what they'll do to fill in the 3 and 4 spots. Once we know more of those we'll have a better idea of the value on their win totals (which are off the board at books) and various future odds.
The Nets will likely jump to the high 40's right alongside the Celtics. How they fill out the rest of the roster will make that a coin flip.
There will be good odds on them in the Atlantic division, however, if Kawhi Leonard departs the Raptors. If Leonard stays, obviously the value is on Toronto to repeat, but if he goes, the Raptors will have a serious absence of top-level talent and an aging team coming off a title celebration.
The Celtics are vulnerable, even with Kemba Walker, and the Sixers are always within a Joel Embiid injury of trouble. They also are likely to lose either Tobias Harris or Jimmy Butler and JJ Redick just agreed to a deal with the Pelicans already; the Sixers' offense took a hit.
The Nets' role players were great last season and they needed a star player; Irving gives them a chance at it. Irving's MVP odds are going to have some value as well, given both his role and the system he's in under Atkinson that will create more 3's and a more efficient offense.
2019-20 NBA title odds

Nets 30/1 before Kevin Durant and Kyrie Irving

Nets 30/1 with Kevin Durant and Kyrie Irving

— Jeff Sherman (@golfodds) June 30, 2019
There's no value on the Nets to win the title this season. The Eastern Conference title, however, is at +800. Without Durant that's still probably not good enough with Giannis Antetokounmpo still existing in this reality and Leonard possibly returning. But it's an indication of how unstable things now are in the East that it's at least addressing with the Nets' best player on the shelf for a year.
The Nets undeniably won free agency with these massive moves and are set to be an absolute superstorm over the Eastern Conference for years. There are lots of things that can derail them; Durant's injury, Irving's temperment, a tight cap sheet with good young players like LeVert hitting free agency in the future.
But there's also Kevin Durant and Kyrie Irving, and that's enough to make them the undisputed winners of free agency in the Eastern Conference.
THE LONG TERM
Durant will be out a full year with his ruptured Achilles tendon. He might be able to get back at the very end of next season, but given his recent experience, the odds of that happening seem slim. So let's skip forward one season.
The Nets will have been able to see what works and what doesn't with Irving and the rest of the roster and there are a lot of question marks to go from here. Do they keep Jarrett Allen, who was great last season, after signing Jordan to make Irving and Durant happy?
Will Jordan suddenly be revived after he spent a year getting empty stats in Dallas and not trying on defense? Do they start Allen and bring DJ off the bench?
Where does LeVert fit in? The Nets are also reportedly adding Garrett Temple, which will give them a quality wing to go alongside LeVert, Harris and Rodions Kurucs. Plus, Taurean Prince can work at power forward.
With Durant, even if he only comes back 80%, this lineup will, of course, be fire. Durant and Irving will definitely slide into my-turn-your-turn dynamics, but honestly, that might be best.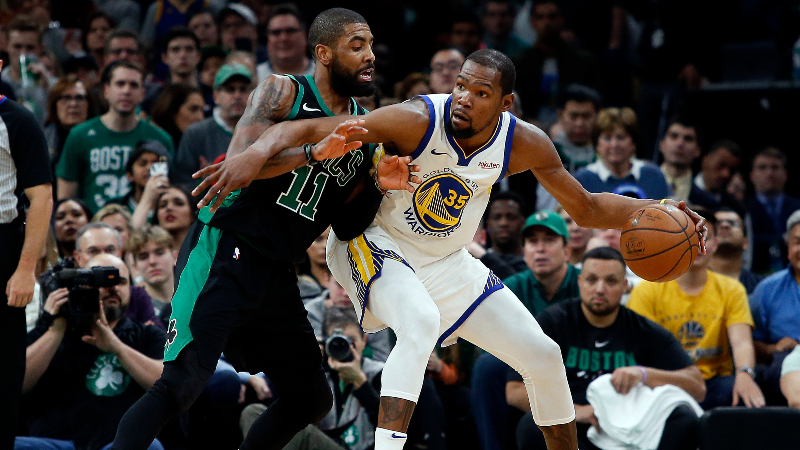 Irving struggled when he was asked to bring the whole team offense together in Boston, but thrived next to LeBron James as second scorer in Cleveland. Durant can bring the ball up and run point forward, acting like LeBron only with superior shooting and less athleticism (especially after the injury).
Durant will get as much ball control as he wants in Brooklyn, something he struggled with in Golden State. He wanted to be the focal point and make the most of his talents, and it's hard to do that on a team with so much talent. Now he'll have the opportunity to be the engine in what is still a highly efficient and optimized offense in Brooklyn under Kenny Atkinson. Irving has advanced as a playmaker.
Irving-KD pick and roll, either way, is quite honestly unstoppable, and likely to be used more than the Curry-KD pick and roll was in Golden State.
This year serves as a year to figure out what needs to be around Durant, to get him healthy and ready. I have optimism that he'll return at a higher level than we've ever seen someone after Achilles surgery return, and the Nets should be considered among the top three teams to win the title over the next three years.
How would you rate this article?