Wob: 7 Stages of Grief After the Knicks Missed Out on Zion
Credit:
Patrick Gorski-USA TODAY Sports. Pictured: Zion Williamson
Sadly for Knicks fans everywhere, New York did not get the No. 1 pick in the 2019 NBA Draft, as New Orleans won Tuesday night's lottery.
With Zion Williamson headed south, lifelong Knicks fan Rob Perez (@WorldWideWob) comes to terms with his new reality.
Grief can take care if itself, but to get the full value of a joy you must have somebody to divide it with.
Mark Twain's wise words resonate with me here as I write this article following the 2019 NBA Draft Lottery — one that included a roller coaster of emotions the likes of which we've never seen. Has a low-percentage chance team won the lottery before? Sure. Just ask David Griffin, who is a walking, breathing jackpot.
But never had we seen teams with low odds have a chance at the third AND fourth pick, throwing the entire process into chaos. As soon as the envelope for the 11th pick was opened and a Timberwolves logo appeared instead of the Lakers, there was a legit two minutes there where fans of every team felt like they had a gun to their head.
I know that analogy is a little harsh, but once the Memphis Grizzlies and New Orleans Pelicans were guaranteed to be in the top 4 — that meant four of the league's five worst teams were about to fall 5, 6, 7, 8.
The New York Knicks were not one of these teams, with more than a 50% chance pre-draft of falling to 5. If Atlanta or Chicago did not appear on the screen when picks 7 and 8 were announced, the Knicks were guaranteed to be fifth.
We then had to endure making sure the Suns and Cavs appeared at 5 and 6 with the same consequences at stake. With this being arguably the biggest night in New York Knicks history since Game 7 of the 1994 NBA Finals, it is near impossible to put into words how difficult that was to watch. Truly theater at its finest, I cannot recall chaos climbing the ladder that fast during previous draft lotteries.
Anyway, thanks for listening. If you can't tell already this is meant to be my own therapy session as we travel through the seven stages of grief and await the result on the other side.
SHOCK: Initial paralysis at hearing the bad news
Not going to lie, when the Knicks survived the fourth pick, Zion felt like destiny. He was laughing, holding RJ Barrett close like two kids who realized they were next in line to ride the roller coaster … and may have even saw the light himself:
I swore before this night began that I would sign on the dotted line for the third pick guaranteed right then and there. The thought of dropping past that in a clear-and-obvious three-player draft was too much to bear. In the end, I got exactly what I wanted — yet, I couldn't help but feel unfulfilled when I saw my former colleagues celebrate:
I was a prisoner of the moment, after promising so many times to never go back to jail. It felt like getting an X Box on Christmas morning when you asked for a Playstation, you should be grateful that you got anything at all because there are people out there in the world, or in this case NBA franchises, who got nothing — but there is a natural letdown after such high aspirations, nevertheless.
DENIAL: Trying to avoid the inevitable
"The inevitable" in this case is that the Knicks will find a way to mess this up. But that's not going to happen, and no I am not in denial. Pending cataclysmic events to their health, the Knicks are taking whoever is left over from the Grizzlies' second pick of Ja Morant or RJ Barrett.
Most importantly: Both RJ Barrett and Ja Morant are good enough to be franchise cornerstones around whom you can center a trade. If only there was a perennial superstar out there who wore a "THAT'S ALL FOLKS!" T-shirt to his final home game last season.
If Anthony Davis' stance truly has not changed, the calendar will become a bigger and bigger problem for the Pelicans every day that passes by. Sure, you can fall back on the "is he prepared to sit out another season?" all you want, but New Orleans is not getting into another extended petty war against this dude with Zion Williamson now on the team.
The Pelicans are immediately back to being playoff-relevant and will undoubtedly look to end this whole shitshow sooner rather than later as they have bigger and better aspirations to fulfill than just trolling the Lakers.
ANGER: Frustrated outpouring of bottled up emotion
I am mad that the world thought Knicks fans were 'Zion or bust'.
Since when is a 14% chance a guarantee? Of course we wanted Zion, but to paint us into this category of HAHA Nelson pointing memes is just reckless slander.
Y'all make it sound like we gave up a championship or something for Zach Randolph with a dunk package. The Knicks were going to be terrible this year regardless, and trading Porzingis has nothing to do with where the franchise ended up in the draft.
Free agency is what truly matters for New York. Even if the Knicks had won the lottery, Durant was getting all the billboards … all the streets named after him … all the Times Square real estate. Not Zion. We'll live.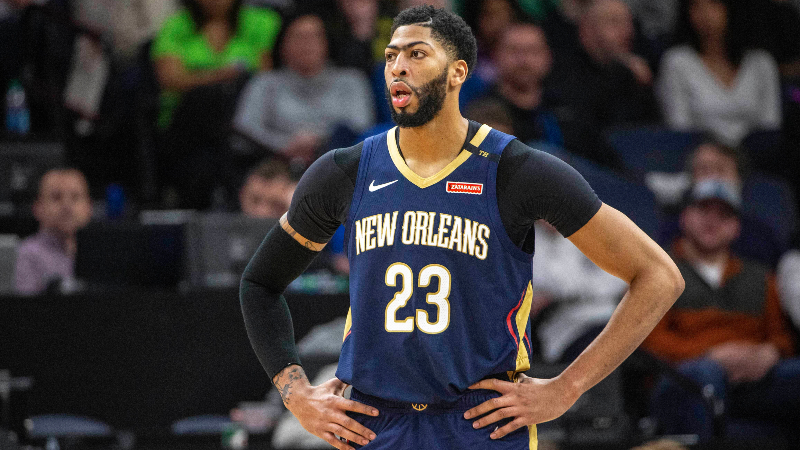 BARGAINING: Seeking in vain for a way out
If you're the Pelicans, the price for Anthony Davis just went up because now there's a third team in the mix that can offer a legitimate deal.
The Lakers can offer Brandon Ingram, Lonzo Ball, Moe Wagner, Josh Hart, Kyle Kuzma, and the 4th pick in this year's draft.
The Knicks can offer RJ Barrett or Ja Morant, Kevin Knox, Mitchell Robinson, Dennis Smith Jr., and Frank Ntilikina.
The Celtics can offer Jaylen Brown, Jayson Tatum, and more first-round picks in this year's draft that they can even keep track of.
New Orleans is going to FLEECE somebody when the time comes simply because of supply and demand.
All that matters now: The Knicks are right back in the Anthony Davis sweepstakes, as they were before the Porzingis trade. And now this time — they have cap space.
DEPRESSION: Final realization of the inevitable
Durant is going to pick up his player option to play one last year with the Warriors and the Knicks are going to blow their cap space on Tobias Harris and Khris Middleton, aren't they?
TESTING: Seeking realistic solutions
Honestly, RJ Barrett might be too good to trade.
Anthony Davis on a max contract or this on a rookie deal?
ACCEPTANCE: Finally finding the way forward
If the Knicks fell to fourth or fifth and had to watch Jarrett Culver launch a brick off the backboard so bad you feel genuine concern for the health of the ball or that glorified Trevor Ariza with an NCAA ring that he's probably not even allowed to sell, we fans would have been BEGGING for the third pick.
Anthony Davis was probably off the table if the Knicks didn't land a top three, but now, the dream is alive.
It goes like this: Durant signs first so he is seen as the man who resurrected the basketball Mecca. Then he brings his buddy Kyrie with him, who will be viewed at as the Robin who came because KD did it first. And from there, it's up to David Griffin.
What's the worst-case scenario here: the Knicks proceed with their promising young core of Knox, Robinson, and DSJ? Because if Davis is traded to New York you better believe the Pelicans are taking them ALL.
This is a no-lose situation for the New York Knicks as long as … you know … they get both Durant and Kyrie this summer. What could possibly go wrong?