NBA Odds, Picks & Promos in Pennsylvania: Win $50 if the 76ers Hit at Least One 3-Pointer!
Credit:
(Photo by Michael Reaves/Getty Images)
It's another huge week in the sports world, as the NBA and NHL return. Naturally, sportsbooks in Pennsylvania are celebrating the occasion with plenty of no-brainer promos.
NBA Odds, Picks & Promos
Here are all the details.
---
Parx Sportsbook
Offer: Bet $25, Win $50 if the 76ers Make a 3 vs. the Pacers
Philly for 3 … BANG!
With this promotion, Sixers fans in Pennsylvania can cash on after one 3-pointer is made. And yeah, we're pretty confident in Philly's ability to make at least one shot from deep considering they're averaging more than 11 per game this year. Heck, Ben Simmons even made one in a recent scrimmage game!
To snag this $50:
Deposit at least $25
Make a $25+ pre-game bet on the 76ers-Pacers game (odds of -250 or higher; e.g. -200, -110, +150, etc)
If your original bet on the game wins, you'll win that money, too.
The 76ers are in the hunt in the Eastern Conference and it's setting up to be a crazy playoffs in the bubble. Whether you expect them to go on a lengthy title run is moot for this promo, though. You just need them to not have the worst game from 3-point land ever.
Bet $25, Win $50 if the 76ers Make a 3-Pointer
---
DraftKings Sportsbook
Offer: Bet $20, Win $100 on Any Team's Moneyline Through Saturday
Bet Now: Click here
Who's it for? New and existing users
Fancy a spread favorite, but their moneyline is too juicy to bet? Well, this promotion solves that problem, as you can bet on any NBA team at +500 moneyline odds through Saturday.
All you have to do is:
Sign up for a new account and deposit at least $20 (this bet comes with a $20 max)
From DK's homepage, click the "Choose Now" button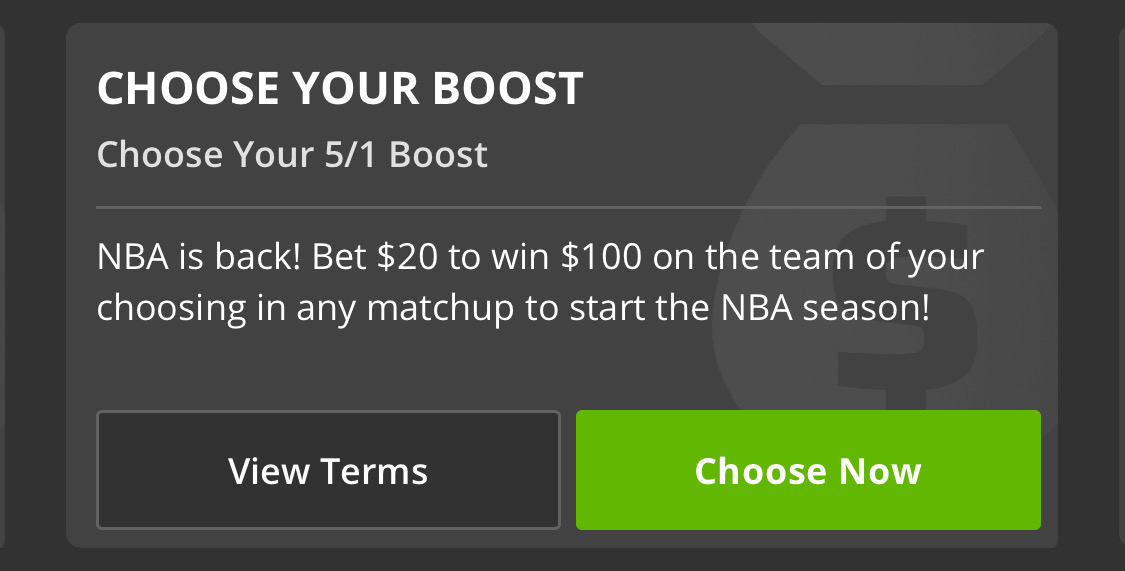 From there, you'll be taken to a landing page where you pick your game by clicking "BOOST THIS GAME." Important: Once you select a game, you can't undo it, so choose (and click) wisely.
Once you boost the game of your choosing, you'll be able to bet either side at +500 moneyline odds.
The biggest favorite at the moment for Saturday the 76ers against the Pacers (-235). Other sizable favorites include the Clippers (-200) vs. Pelicans and Lakers (-175) vs. Raptors.
Whether you want to play the numbers game and choose a big favorite or boost your favorite team regardless of their odds, you'll want to take advantage of this promo.
How would you rate this article?