NBA Odds, Picks & Promos in Pennsylvania: Bet the Lakers at Crazy Odds!
Credit:
Chris Elise/NBAE via Getty Images. Pictured: LeBron James
It's another huge week in the sports world, as the NBA and NHL return. Naturally, sportsbooks in Pennsylvania are celebrating the occasion with plenty of no-brainer promos.
NBA Odds, Picks & Promos
Here are all the details.
---
FanDuel Sportsbook
Offer: Bet the Lakers at +30 (and rising!)
Bet now: Click here
Who's it for? New and existing users
The NBA is back! And guess what? FanDuel is making sure that they're offering the best Lakers odds across the market for their game on Thursday against the Clippers.
For every 2,500 bets on the Lakers across the country, their spread will improve by one point. Between Tuesday night and Thursday afternoon, they moved from -4 to +30. There's no telling how high the line will get and there's no limit, either.
To bet:
Sign up and deposit (the max for this bet is $50, which you'll probably want to take full advantage of)
Bet on the promotion, which is featured prominently on the sportsbook home page
Important note: Your bet will be graded at whatever the line closes at, which means there's no need to wait until the minute before tip-off to bet on this.
For some context, a similar promotion FanDuel ran earlier in the year resulted in the 76ers closing at +59.5 against the Bucks. Eyeballs emoji city.
Even better, this bet is paid out as cash. What more could you ask for?
Bet on the Lakers +30 (And Rising)!
---
Unibet Sportsbook
Offer: Bet $10, Win $50 if Lakers/Clippers Goes Over 175 Points
I expect a little rust from the NBA players once real games return, but this much rust? I think not.
This promo from Unibet is essentially giving you a Lakers-Clippers over/under that's more than 40 points lower than the market, which is currently in the 216/216.5 range.
All you have to do is:
Use Promo Code NBAReturn when signing up
Deposit at least $10
Bet a cash bet of exactly $10 on the Lakers or Clippers moneyline
If the total goes Over 175, you'll be given a $50 bonus, which only needs to be rolled over 1x to turn into withdrawable cash. If your moneyline bet wins, you'll win that cash, too.
While it's possible this game goes under 175 (the Hornets beat the Bulls 83-73 earlier this year), it's highly unlikely given the skill level of these two squads.
So how does 5-1 odds on Over 175 sound to you?
Bet $10, Win $50 if Lakers-Clippers Goes Over 175!
---
Parx Sportsbook
Offer: Bet $25, Win $50 if the 76ers Make a 3 vs. the Pacers
Philly for 3 … BANG!
With this promotion, Sixers fans in Pennsylvania can cash on after one 3-pointer is made. And yeah, we're pretty confident in Philly's ability to make at least one shot from deep considering they're averaging more than 11 per game this year. Heck, Ben Simmons even made one in a recent scrimmage game!
To snag this $50:
Deposit at least $25
Make a $25+ pre-game bet on the 76ers-Pacers game (odds of -250 or higher; e.g. -200, -110, +150, etc)
If your original bet on the game wins, you'll win that money, too.
The 76ers are in the hunt in the Eastern Conference and it's setting up to be a crazy playoffs in the bubble. Whether you expect them to go on a lengthy title run is moot for this promo, though. You just need them to not have the worst game from 3-point land ever.
Bet $25, Win $50 if the 76ers Make a 3-Pointer
---
DraftKings Sportsbook
Offer: Get +500 Odds on Any Team's Moneyline Through Saturday
Bet Now: Click here
Who's it for? New and existing users
Fancy a spread favorite, but their moneyline is too juicy to bet? Well, this promotion solves that problem, as you can bet on any NBA team at +500 moneyline odds through Saturday.
All you have to do is:
Sign up for a new account and deposit at least $20 (this bet comes with a $20 max)
From DK's homepage, click the "Choose Now" button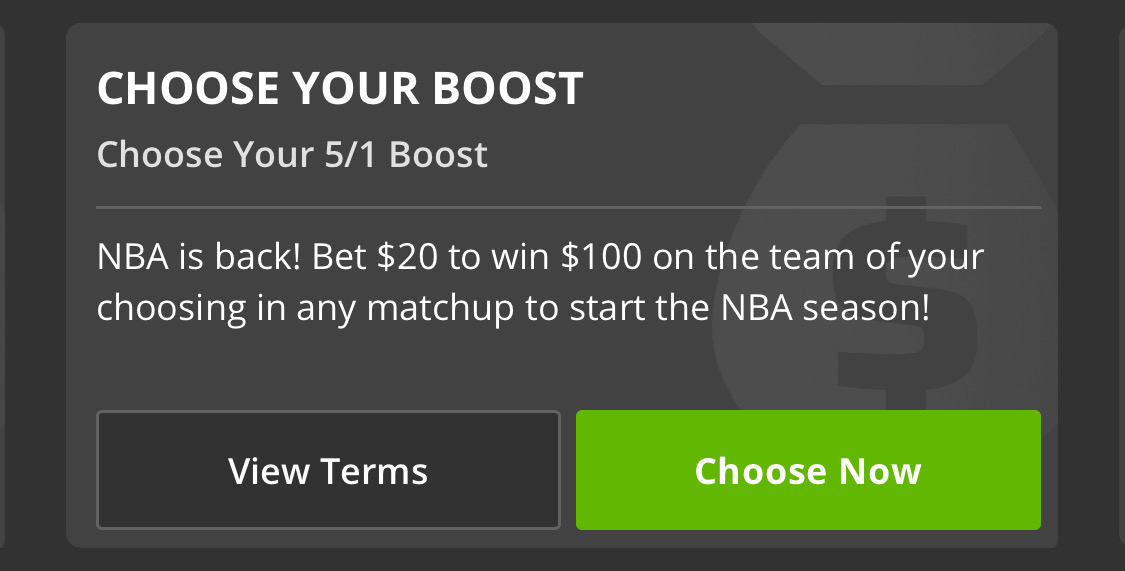 From there, you'll be taken to a landing page where you pick your game by clicking "BOOST THIS GAME." Important: Once you select a game, you can't undo it, so choose (and click) wisely.
Once you boost the game of your choosing, you'll be able to bet either side at +500 moneyline odds.
Surprisingly, the biggest favorite at the moment is Phoenix, which is -305 at DraftKings on Friday against the Wizards. Betting the Suns at +500 odds with this promo would get you a hair shy of a 60% edge over the market.
Other sizable favorites include Magic (-265) vs. Nets, 76ers (-230) vs. Pacers and Clippers (-186) vs. Pelicans.
Whether you want to play the numbers game and choose a big favorite or boost your favorite team regardless of their odds, you'll want to take advantage of this promo.
How would you rate this article?