Rajon Rondo vs. Lonzo Ball: Breaking Down Their Season Props with the Lakers
Credit:
Derick E. Hingle-USA TODAY Sports. Pictured: Rajon Rondo (left), Lonzo Ball (right).
Rajon Rondo is a slightly better scorer, but Ball may get more opportunities this season.
Both players will be in tight statistical company next season.
Whoever spends the most time on the floor with LeBron has a better chance of success.
Maybe you thought you read enough about the Los Angeles Lakers. Maybe you thought you had gone over enough props. Well, you haven't, because we haven't even discussed Lonzo vs. Rondo.
The minute it was reported that Rajon Rondo would join the Lakers, word started to spread through media that he would be competing for the starting job in LA. This was surprising given that the Lakers handed the keys to the franchise to Lonzo Ball last year, talking about expectations for his jersey to hang in the rafters. It's stark to go from that level of confidence to "we're bringing in a notoriously surly vet who is remarkably similar to your style of play and giving him a chance to compete for your starting spot." But that's what happens when you land LeBron.
Adding Rondo as a mentor for Ball makes a lot of sense. The comparison has been evident from early on. Ball is a god-awful shooter who is a brilliant passer and showed tremendous defensive capability in his first season. Rondo was much the same for Boston. Rondo clashes with coaches and grates on veteran teammates. But young players in New Orleans and Chicago raved about him, and he had their backs. There's value in that.
But the question still looms: Who's going to have a better season?
---
First Regular-season Game: Will Lonzo Ball be a Laker? Yes (-300) No (+200)
This is a Kawhi Leonard question, for the most part. If the Lakers don't land Leonard, Ball will 100% be on LA's roster. Really, even if the Lakers trade for Kawhi, Ball's meniscus injury makes this pretty easy to pick.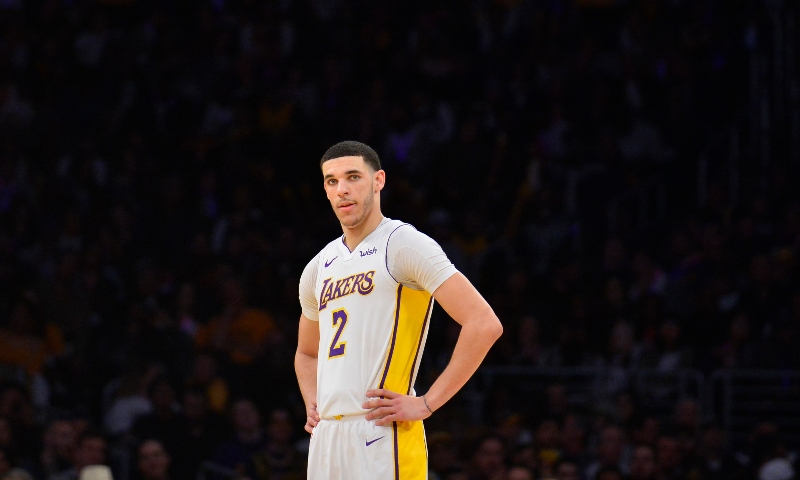 Gary A. Vasquez-USA TODAY Sports. Pictured: Lonzo Ball.
You'd have to get the Lakers to give him up, which they are loath to do, and for some team to want him and be willing to deal with his father. That's a pretty tight window before you get to his injury situation.
Ball will be a Laker, and -300 is a pretty good number, considering the certainty.
Lean: Yes (-300)
Assists per game: Lonzo (+120) Rondo (-160)
Rondo is a great play here, for a variety of reasons. Since 2014, Rondo has three of the top 10 seasons in assists per 100 possessions. Assists just pop up around him when he's on the floor like mushrooms in a field. Even if Ball plays more minutes, Rondo's going to get long stretches, and in that time he'll pile them up.
The big question is who spends more time on the floor with James. That's going to be fascinating to watch. If Ball earns the starting job, that actually lowers his chances here. James remains ball-dominant. Unless Luke Walton is able to convince LeBron to take a resoundingly different tactical approach than he has taken in the past 10 years, there's almost no chance Ball is able to play enough meaningful possessions to surpass Rondo here.
Now, if James does adapt and takes an off-ball role? Ball could absolutely tear it up, but even then, Rondo will do the same in any lineup when they share the floor, and then generate more with the bench units. To take Ball, even at plus-money, you have to think he'll stay healthy and be the primary creator while Rondo specifically takes more of a spot-up role. (Yes, I know that sounds funny given Rondo's reputation, but Rondo was average on jumpers last year.)
Lean: Rondo (-160)
Points per game: Lonzo (-350), Rondo (+240)
Another interesting one, especially with how this one is tilted. Rondo averaged 8.2 PPG last season, despite being behind Jrue Holiday, whom he was not competing for minutes with, while Ball averaged 10.2 PPG with the keys to the kingdom. Much of the issue comes down to Ball's inability to generate free throws (less than two per 36 minutes) and make them (less than 46% from the line).
Rondo isn't great from the line either (54%), he struggles as a cutter, and he can't really be used as a spot-up weapon. He's at his best when he's scoring in the pick-and-roll, shooting 55.6% compared to Ball's 40.8%. Neither are going to likely score more than 13 PPG. So again we get down to the question of who will play more minutes.
Ball is likely to play more with James, and if that's the case, Ball will score more. He's a smart enough player to find cutting lanes, and even with a shoddy layup (45.5% around the basket last year), he'll improve with the looks LeBron provides.
In part, his lack of floor spacing will prove a boon in this category. Put Ball in the corner, and defenders will invariably help off him to try and contain James, which will give Ball opportunities to slip undetected to the rim. Cutting is less about athleticism than it is about savvy and awareness, and Ball is a great athlete who is elite in those categories as well.
Ball seems like the worse offensive player who will score more points, but it's close enough to say that at -350 it's a stay-away.
Lean: Stay away
Rebounds per game: Lonzo (-170), Rondo (+130)
This one is easier, and that number being soft makes it all the more appealing. James takes up a huge amount of rebounds, but he'll take them evenly between the two, and he largely absorbs what Julius Randle did in that category last year. Meanwhile, Ball struggles to jump off one foot, but he's a phenomenal rebounder. He has a preternatural nose for the ball, and off two feet, jumps straight up like a mini-Wilt Chamberlain. He's good at leaping ahead of the trajectory and using his long arms to corral the ball.
Rondo is a quality rebounder, too, but not as good as Ball, and there will likely be a lot of times when teammates let Ball get the easy one to feed the fast break next season.
Lean: Ball (-170)
Steals per game: Lonzo (-130), Rondo (-110)
Tempting to say this is another stay-away. Last season, Ball averaged 2.4 swipes to 2.0 for Rondo per 100 possessions, so if Rondo were to take the starting job, that would equalize in a hurry. But Ball just showed more effort defensively in the regular season, and is challenged on switches more consistently.
Throw in how likely it is for Walton to stress getting into passing lanes more to feed the fast break, and it seems like Ball will be in a better position. Steals are often the result of a lineup being good enough defensively to allow those gambles, and the Lakers' backup unit likely won't be around Rondo. And if Rondo starts, I still don't see him forcing the issue.
Lean: Ball (-130)
To start Game 1 of the regular season: Lonzo (-200), Rondo (+150)
Now we've come to the heart of the debate. At even money, it's probably a stay-away. But Rondo at plus-money is too good to pass up.
Training camp is about getting the entire team on track. Ball will be pushed from the very start, and Rondo will be motivated, to some degree, not to lose the job to a second-year player. Even if he takes Ball under his wing, that doesn't mean he'll just let him take that job. This isn't about who will start more games next season, just that first one.
So when LeBron arrives and sees Brandon Ingram is still rail thin, an inconsistent Kentavious Caldwell-Pope, JaVale McGee at center and Ball struggling to shoot, something that has buried guys on other teams, he may opt for the veteran next to him to start things off.
The most likely scenario, in my mind, is for Rondo to take the starting job in camp, especially if Ball's knee injury lingers with problems, and then Rondo slowly loses it over the course of the regular season.
Then come the playoffs, and the shadow of Playoff Rondo looms.
Get your popcorn, there's more drama than just LeBron vs. LaVar this year.
Lean: Rondo (+150)
How would you rate this article?