Lakers Season Win Total: Will LeBron's Debut Season Be a Dud?
Credit:
Courtesy of Los Angeles Lakers Twitter.
The Westgate Las Vegas Superbook released its line for the Lakers' win total: 48.5.
LeBron James has won at least 50 games every season since 2007-08, excluding the lockout year.
The Lakers' roster has a number of question marks, from the bench to the defense.
The Westgate Las Vegas Superbook released its 2018-19 NBA season win totals, playoff props and division odds Sunday, earlier than usual — though preseason games do start in late September — so the debate on the best future bets begins.
Let's start in Los Angeles.
Los Angeles Lakers
Over/under: 48.5
Make playoffs: Yes (-500) | No (+375)
Division title: +700
When the LeBron James news first came out, a few books decided to get theirs while the getting was good and posted some pretty high lines. One book came out at 62.5, and of course everyone hammered the under until a limit was placed on the bet, but it got the book good exposure.
Another early line had the Lake Show at 52.5. The Westgate, however, is always going to be more conservative.
So it came in below 50 wins. I'm going to lay out the arguments for each side and give you best expectations.
The Arguments
For the over:  LeBron first made the playoffs in 2006. Since that time, he has failed to win 50 games (or at a 50-win pace in the lockout year) once. One time. The man does not win fewer than 50 games.
The Cavaliers in 2014-15 were a flaming mess — LeBron missed eight consecutive games at one point — and they still won 53 games. That team was starting Timofey Mozgov and playing James Jones, and they still won 53 games.
The Lakers have a really talented young core that will improve. If the idea is that none of those players is as good as Kevin Love or Kyrie Irving that first year in Cleveland, well, they're not. But they do have a different formula.
---
>> Follow Matt Moore in The Action Network App to get free alerts on all his bets.
---
The Lakers have pushed the narrative that their signings were part of a grand design: to put playmakers that defend around LeBron at the cost of shooting. Lonzo Ball's basketball IQ and feel for the game draw rave reviews from teammates and competitors alike. Kyle Kuzma's first-year stats were not unfavorable to Love's, though Love was younger and buried in Minnesota.
Josh Hart won Summer League MVP — which is a thing, I guess — but he also looked good toward the end of last year. Brandon Ingram is terrific in transition and at drawing fouls.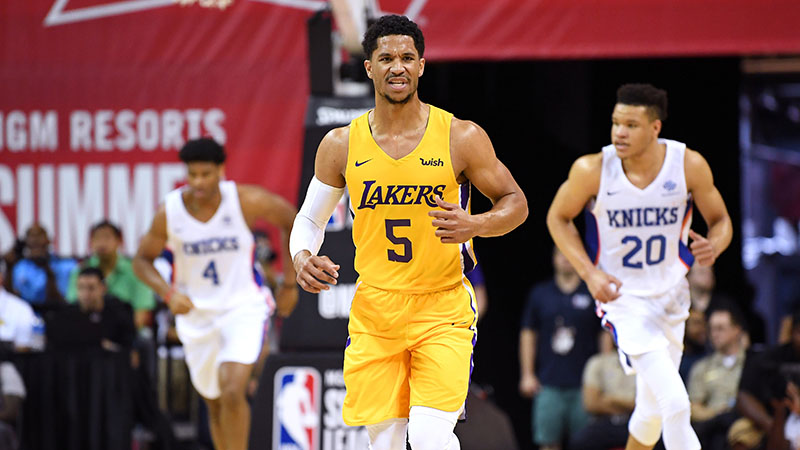 Stephen R. Sylvanie-USA TODAY Sports. Pictured: Josh Hart
The mishmash Suicide Squad the Lakers put together to fill out the roster around James in free agency might be full of combustible personalities — LeBron just led a team heavily featuring J.R. Smith to the Finals four years in a row — but these players do bring specific skills.
They fill out the profile of a team that has length to switch and can make plays. If James commits to playing off-ball as the screener, it unlocks so much of what they can do, and playing fast like Luke Walton wants makes the most of their outrageous collective athleticism.
The Lakers, with all their young guns and injuries, still ranked 12th in defensive efficiency last season. No matter how little sense it made on the surface, LA was a really good defensive team last year. That bodes well for a core structure to at least give the Lakers the identity they're aiming for.
Again, though, it all comes back to LeBron. James had one of his best offensive seasons ever in year 15. The Lakers remain capable of making a trade for a disgruntled superstar at any time. Again, he hasn't fallen below the 50-win threshold in a decade.
For the under: The elite Cavs teams over the past decade have had some combination of James, Love and Irving, or played in an era of much lower competition, in a weaker conference.
So the 50-win history of LeBron is largely a testament to the inability of the East to ever really put up a threat to him.
I never understood why the Cavaliers constantly sought to add more shooters around LeBron. They needed balance. In 2016-17, the situation started to tip as their defense spiraled out of control. They had the offense to reach the Finals annually, but never the defense to actually compete against Golden State.
Now LeBron joins the Lakers, whose roster is polarized in the other direction. The Lakers are all defenders and passers with no shooting. The spacing with the Lakers is going to be difficult. A lot of it hinges on Ingram.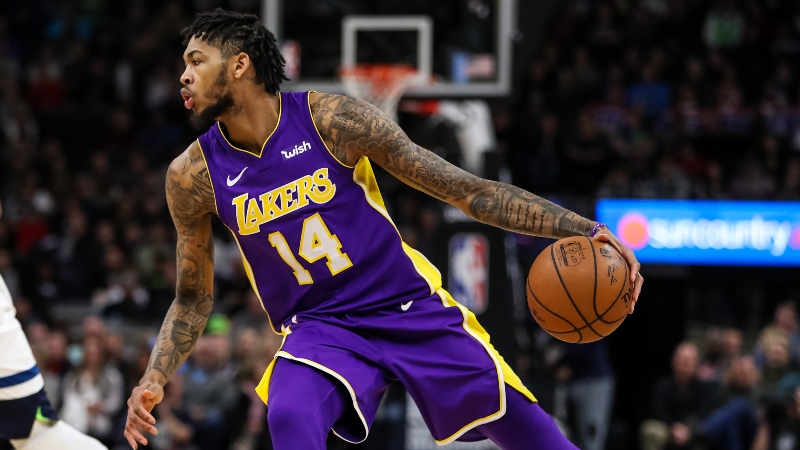 Credit: Brace Hemmelgarn-USA TODAY Sports. Pictured: Brandon Ingram.
Bear in mind that Ingram started to shoot well after the All-Star break, but for the year he shot 37.3% on jump shots, 30th percentile per Synergy Sports. Kuzma is valuable on pick-and-pop plays, but that wasn't something James ever really used to its furthest extent with Love. Why would that change with the Lakers?
Ball is thought of by most Lakers analysts as a non-ball-dominant playmaking point guard. That's a super niche concept. It's essentially saying he's the trigger man on a lot of complex options, and it leads to some genuinely cool passes.
But it's also really hard to actually fit into an offense. Lance Stephenson shot 33% on catch-and-shoots last season. Rajon Rondo shot 29.6%. Kentavious Caldwell-Pope is the Lakers' only true floor-spacer, and he's always been streaky. Ball was right in line at 30.9% on catch-and-shoots.
The idea of using James off-ball is good, and a team that balances a secondary playmaker next to James with shooting while also having the defensive strength to switch would make the ideal combination.
However, the Lakers went too far the other way. They have no spacing, and a bunch of guys who can make slick passes but may not finish at the rim all that well.
The defense is a subject of debate as well. Was last year the real product of a great defensive team, even that young? Or was some of that smoke and mirrors? There's not much in the data that suggests it; it looks legit.
The only cautionary tale I'd offer is that Ball had the fourth-most isolation possessions defended per game for a guard. Teams went at him, either because of his dad or just his general hype.
Ball shined, so much so that his defensive metrics were shocking. He had the third-best Defensive Real Plus-Minus (a stat I'm wary of but that does have a lot of internal validity) for a guard in the NBA. Third best!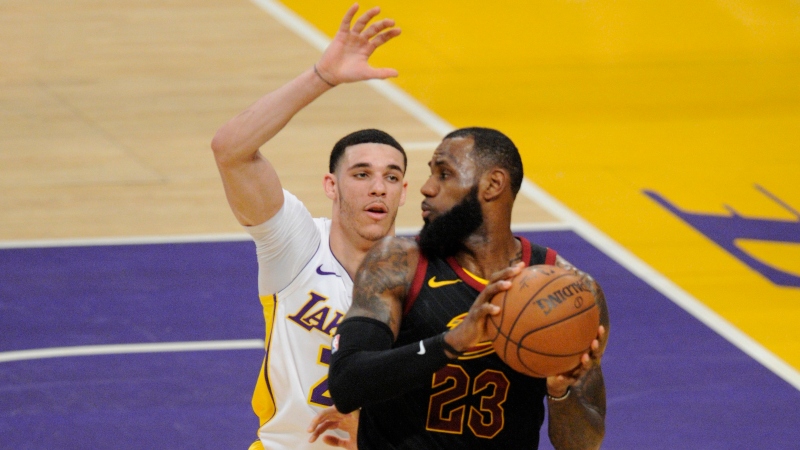 Credit: Gary A. Vasquez-USA TODAY Sports. Pictured: LeBron James (23), Lonzo Ball.
How much of this was the product of teams breaking their sets to go after what was perceived as a weakness for Ball?
Ball held opponents to a lower points-per-possession mark in those instances than Steph Curry or Malcolm Brogdon on a comparable number of possessions.
Either he was quite frankly insane, or the Lakers knew teams would target him and loaded up on help defense vs. nonelite isolation scorers.
(Note: Elite iso scorers are rare in today's NBA. John Wall, notably, embarrassed himself trying to hunt down Ball in an early season matchup, and it helped to cost the Wizards a win that sure would have helped them avoid the Raptors in the playoffs.)
The point here is that the Lakers may not be as good defensively next season, and if they take a step back in that area, without any major offensive upgrades in the offseason outside of internal improvement beyond LeBron, James may not be enough for them to hit that over mark.
That's a 14-win improvement year-over-year. Not impossible, by any means, but it's high. If James misses any time whatsoever, that alone could cost the Lakers the over. Their margin for error to hit 49 wins is razor-thin.
---
>> Sign up for The Action Network's daily newsletter to get the smartest conversation delivered into your inbox each morning.
---
The Verdict
Over/under 48.5: Can I cop out with a "stay away?" No? OK. I wouldn't go near this one because of that stat about how often LeBron hits 50 wins.
I spend all this time doing research and sussing out matchups and stats and whatever inside info I can glean, and the reality is that sometimes there are just immutable laws of the NBA universe.
The Spurs are going to win 45-plus. The Wizards won't meet expectations. LeBron is going to win 50 games.
However, we're at a point where we have to recognize the shift in where LeBron's at with his career. For years, he was the bully, the one stalking the prey in the hunting grounds. He was the one with the advantage. But things have started to stack up against him more and more.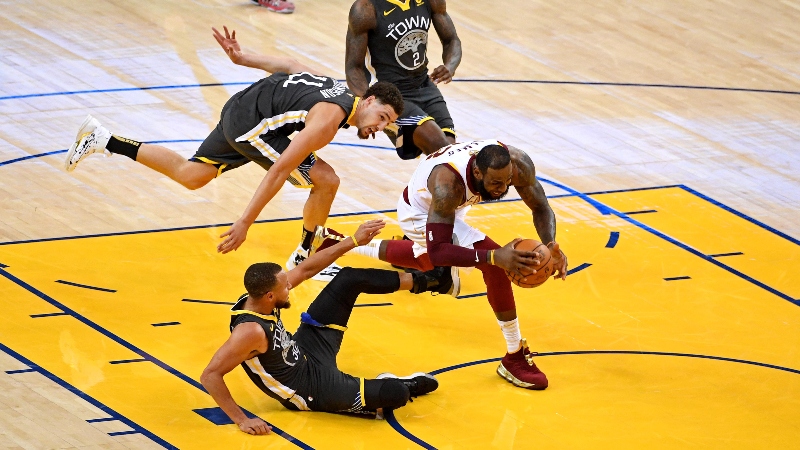 Credit: Kyle Terada-USA TODAY Sports. Pictured: Stephen Curry (on floor), LeBron James (with ball).
He weathered a terrible roster with a terrible defensive scheme in his 15th season to make an eighth straight Finals, and bully for him, with all sincerity.
However, there does come a time when the scales tip and it turns out the forces at work against you are greater. James isn't done; last year proved he is still the best player in the game. But he did slide defensively.
This team, as currently constructed, can't space the floor, the fit of its role players is questionable, James can't survive missing any games, and it's a bunch of reality-star personalities stuck in an 82-game season with LaVar Ball lurking. There's just too working against him in Year One.
Take the under.
If you can get this number north of 50 at any book, jump on the under like it stole money from you.
---
Make Playoffs Yes (-500): This is the bridge too far, for me, to think LeBron James would miss the playoffs. Come on, now.
I don't care if the West is a death gantlet nightmarish hellscape drawn from the darkest dreams of Hades. LeBron James is not going to miss the friggin' playoffs. This number doesn't have great value, but I consider it a lock regardless.
---
Pacific Division Title +700: I've spent much of this telling you why the under is probably the play.
Steve Kerr said after the Warriors won their back-to-back titles that after the team basically screwed around all year and won anyway, it would be impossible to get them to care come October.
The Warriors won 58 games, the fewest in the Kerr era, nine fewer than the year before, and still won the whole friggin' thing.
It just doesn't matter. So if they don't care again, with the strain of the three-peat weighing on them and the boredom that rendered them listless for months, they might even fall further, even with the addition of DeMarcus Cousins.
---
>> Get a 7-day free trial to access all of our premium NBA articles and exclusive betting data leading up to and during the season.
---
Now, imagine the absolute best-case scenario for the Lakers: LeBron hits camp refreshed and ready to lead. Ingram makes a huge leap and is a Pippen-esque defender whose athleticism and scoring lead to a breakout year.
Ball's shot comes around just enough, and Rondo serves as a bench mentor for him. Kuzma takes another step forward, as does Hart. JaVale McGee only does like 18 stupid things a month instead of 20. KCP stays out of handcuffs and knocks down shots.
That team could creep up to 55, and now you're within range.
Is it a longshot? Sure! They added Rondo, Stephenson and McGee. But at 7-1 return, even if you only put the odds at 30% that this happens, you're still getting Plus-1.40 EV value on it. It might be crazy, but it's not totally insane.
How would you rate this article?
This site contains commercial content. We may be compensated for the links provided on this page. The content on this page is for informational purposes only. Action Network makes no representation or warranty as to the accuracy of the information given or the outcome of any game or event.