Lakers vs. Heat Betting Odds, Picks & Predictions: Will Miami Continue to Dominate at Home?
Credit:
USA TODAY Sports. Pictured: LA Lakers forward LeBron James (left), MIami Heat forward Jimmy Butler (right).
The updated betting odds for Friday night's NBA game between the Los Angeles Lakers and the Miami Heat features the Lakers as a slight road favorites (spread: Lakers -5) with the over/under sitting at 213.
Our betting experts detail the best way to pick this matchup, including analysis on the spread and whether the Heat's incredible record at home will continue against LeBron James and the Lakers.
Los Angeles Lakers at Miami Heat Picks, Betting Odds & Predictions
Spread: Lakers -5
Over/Under: 213
Time: 7 p.m. ET
TV Channel: ESPN
---
Odds as of Friday afternoon and via PointsBet, where Action Network users can access an exclusive promotion to get a 200% deposit match (deposit $50, bet with $150). No strings attached. No rollover required.
---
The Miami Heat have been one of the best surprises of this NBA season as they have the third-best record in the NBA behind the Milwaukee Bucks and their opponent tonight, the LA Lakers.
They've also been a gift to bettors who believed they could be this good as they are the second-most profitable team against the spread in the league this season. They've amassed an impressive 11-0 home record ahead of their matchup with the Lakers.
Can they stay undefeated at home? Our NBA experts break down every angle of this game.
Betting Trend to Know
The Lakers (22-3) are 5.5-point road favorites against the Heat (18-6). When two good teams like LA and Miami play (both won at least 75% of their games), the underdog has gone 121-93-4 (57%) ATS since 2005.
Home dogs in this situation are an even better 28-18 (61%) ATS. More than 60% of bettors are laying the points with the Lakers, but history suggests the Heat are the smart play. — John Ewing
Bryan Mears: How I'm Looking to Bet this Game
The Heat are dealing with a myriad of injuries today: Goran Dragic and Justise Winslow are out again, Tyler Herro is questionable with an illness and Dion Waiters has been suspended yet again, this time for six games.
They've had injury concerns all season, and somehow they haven't really missed a beat. In 513 possessions this season without Dragic, Winslow and Herro — three of their best players and two of their three best playmakers — the Heat have posted a Net Rating of +19.5! That's in the 99th percentile, which is absolutely ridiculous.
The starting lineup of Kendrick Nunn, Jimmy Butler, Duncan Robinson, Meyers Leonard and Bam Adebayo have posted a +18.2 Net Rating, notably holding opposing to offenses to just 92.9 points per 100 possessions. I mean, what's going on here?
Jimmy has been a monster, and the role players, many of whom weren't even known to casual NBA fans prior to the start of the season, have filled in brilliantly, particularly shooting the ball. Robinson is shooting 44.9% from 3 on seven attempts per game. Leonard is at 50.0%. Nunn and Herro have been above-average on high volume. It's incredible.
I could write about the same thing for every Heat game honestly. They are 14th in expected eFG% — middle of the pack — but are actually third. On defense, they're 25th in expected eFG% allowed but actually 12th. This has been one of the luckiest teams in terms of shooting I can remember seeing. Does that mean they should regress? Absolutely — but it doesn't mean it'll be tonight. They've sustained this play for two months now, so who knows when that inevitable shooting luck will come back to earth.
Let's take a different angle, though: Since Nov. 5, the Heat have played just a few actually good teams. Here's how those went…
11/5 at Denver: 109-89 loss
11/8 at Lakers: 95-80 loss
11/23 at Philly: 113-86 loss
11/27 at Houston: 117-108 loss
12/3 at Toronto: 121-100 win
12/4 at Boston: 112-93 loss
They've feasted so far this year on the league's worst and have struggled against the league's best. That said, most of those losses came on the road, and they're at home tonight.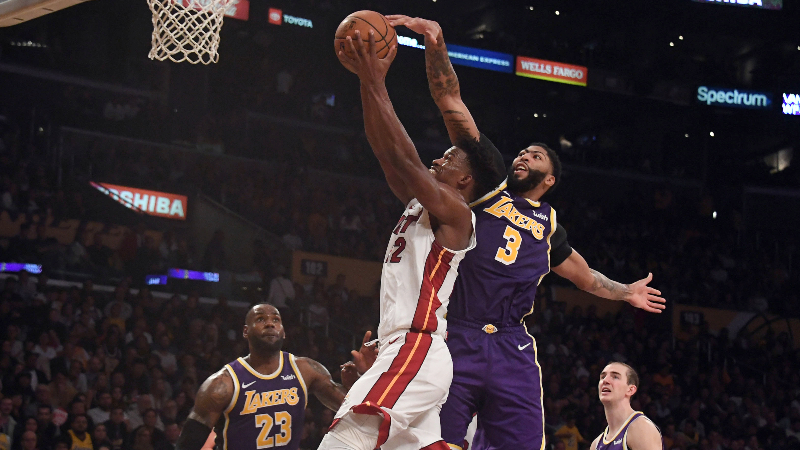 In Miami, they rank first in the league with a +16.9 Net Rating; they're a perfect 11-0 so far there. On the road, they're 20th with a -4.6 Net Rating and a 7-6 record. This is a muddled sample to say the least.
They also have pretty crazy ATS splits…
Overall: 15-8-1
As favorite: 11-3
As dog: 4-5-1
At home: 9-2
On road: 6-6-1
They've been a home dog just once, and they not only covered but won outright — although that was the infamous Houston game in which James Harden and the Rockets were in Miami for the weekend. Again, this is a weird team with weird data.
Some more weirdness, which I think will be an important factor tonight: The Heat have allowed the most 3-pointers in the league this season, but opponents have hit them at the second-worst rate. Perhaps that won't be a problem tonight against the Lakers, who are 27th in 3-point rate, but it definitely could be. Missing Kyle Kuzma will hurt in that regard, though.
The Heat have been better at deterring shots at the rim, although they're dead last in opponent shooting there. Being the worst rim protecting team in the league seems … not ideal against LeBron James and Anthony Davis.
Two other sources of contention tonight will be with turnovers and transition. The Heat have coughed the ball up at the highest rate this year, which furthers just how impressive it is they've been so good offensively. If they have a game where they don't hit everything like they have but still cough it up, they're going to get run out of the gym.
The Heat have also allowed transition opportunities at the fourth-highest rate this year, and the Lakers have been pretty good in transition. The Heat have not run much themselves, instead opting for more halfcourt sets, but they'll have to battle against a Lakers defense that ranks fifth in the halfcourt and sixth overall.
On paper and by rosters, this shouldn't be much of a game. The Lakers have advantages everywhere, they get more efficient shots, they haven't benefited from luck and their roster is much more talented. But the Heat continue to defy the odds, especially at home, where they are tonight.
I currently don't have a bet tonight, although there's been sharp money on the under in this one (banking on Miami regression and the Lakers defense?). This will be a fascinating matchup to watch. — Bryan Mears
Moore: Lakers Just Too Dominant
It's easier if I break my thought process in bullet points, so here goes:
As of this writing, 55% of the tickets are on the Lakers (of course, as they are the most public team in basketball history), but only 43% of the money is backing them. Usually that's a signal to follow the sharps, but this season, the Lakers are 5-1 ATS when the sharps are on the other side.
Davis is 3-2 vs. Bam Adebayo in his career, and has scored 25 or more in three of those five contests, including two 40-point games. James lost his first game against the Heat after leaving in 2014, but has since gone 9-5 straight up and 7-6-1 ATS including 2-1 with the Lakers despite having a pretty bad team last year.
The Heat's defense is predicated on closing out on shooters; they are the No. 1 team at defending spot-ups and the No. 2 team at guarding catch-and-shoots. Except they also give up the second-most 3-point attempts in the league. They give up the sixth-highest expected eFG% in the league via PBPStats.com, but opponents have just been brick tossers against them with the 10th lowest actual eFG%. Meanwhile, the Lakers have good shooters but do most of their work at the rim, where the Heat are 27th defending non-post-ups and 21st defending the roll. James-Davis pick and rolls will have a field day.
The Lakers annihilated the Heat in their first meeting in LA but the Heat were in the middle of a brutal West Coast road trip back to back situation.
Usually, I like taking the team missing starters, but the Heat are without Justise Winslow and Goran Dragic. Neither are star players, but Winslow's athleticism and playmaking, in particular, will be missed, here.
The Heat are due for a regression, the Lakers are a juggernaut. Even though I'm scared of the South Beach nightlife effect with LA having had the night off before this one, I'm more prepared to bet against their hangover Sunday vs. the Hawks. — Matt Moore
Pick: Lakers -5.5
Matt Moore is 641-638-16 (50.1%) overall betting on the NBA. You can follow him in our free app.
---
Editor's note: The opinions on this game are from the individual writers and are based on their research, analysis and perspective. They are independent of, and may not always match with, the algorithm-driven Best Bets from Sports Insights.
How would you rate this article?