Where Will LeBron James Sign? 25 Action Network Staff Predictions
Credit:
Cary Edmondson-USA TODAY Sports
The Highlights
LeBron's odds of picking the Cavaliers are +250. A major reason he might re-sign with Cleveland? To stay in the East and avoid the Warriors as long as possible. 
The Lakers are the odds-on favorite to land LeBron at -280. LA has the cap space to lure other big-name free agents and is the home of LeBron's business ventures.
The Rockets (+550) are a sneaky longshot, given their superstar talent and LeBron's affinity for Chris Paul.
---
Where will LeBron James end up next season? It's the question everyone has been asking at the water cooler all week, as we get closer to another decision. Those in the betting world are having the same discussion, as everyone tries to figure out if any of the LeBron props are worth throwing some fun money at.
We decided to ask 25 of our staffers for their predictions on where will LeBron will end up. And judging by the results, a lot of people are going to be surprised by whatever James decides.
---
Staying in The Land
If the Lakers land Kawhi Leonard, Los Angeles is realistic. But now, it feels more likely they wind up with Paul George and Boogie Cousins and the 9 or 10 seed out West. I also don't see LeBron playing with kids and sharing the Instagram stage with Joel Embiid in Philly. San Antonio is intriguing, but I think it's more likely he either opts in to his deal or signs another 1+1 in Cleveland and sees if the Cavs can add some pieces with new addition Collin Sexton.
Chad Millman: Cleveland Cavaliers +250
He's going to an Eastern Conference team. All this LA talk is silly. The man wants to win, which he can only do by getting to the Finals. That means he has to avoid Golden State as long as possible. I think he stays.
Justin Phan: Cleveland Cavaliers +250
There isn't a perfect destination out there that hits the two factors — family and winning — that LeBron said would determine his decision. With Bronny entering eighth grade, it makes sense for LeBron to take a 1+1 deal and make a more long-term commitment next summer when Bronny decides on a high school.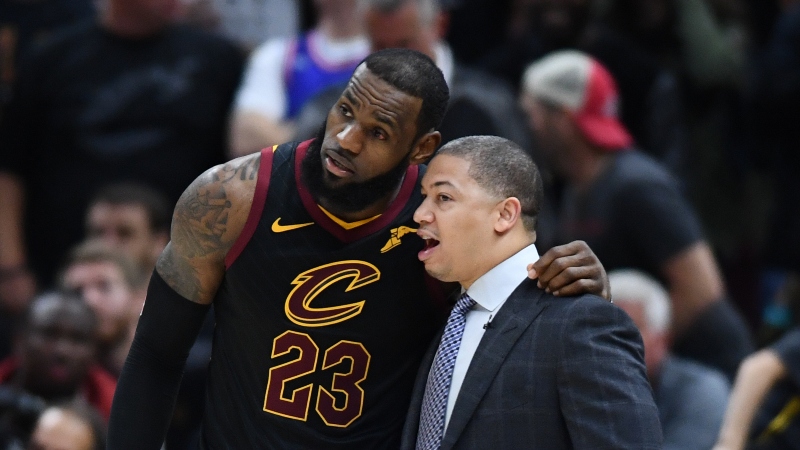 Ken Blaze-USA TODAY Sports. Pictured: LeBron James (left), Ty Lue (right).
The Lakers are the presumed favorite and for good reason, though they'll need to land both Leonard and George to realistically challenge for a title. The Rockets have too many moving pieces with Chris Paul and Clint Capela's free agency. And it's unclear how keen the James family is on a move to Philly. So why not wait it out at home for another year in the East where it's likely he'll make it to the Finals for the ninth season in a row? LeBron has the luxury to dictate his future, and the same options will more than likely be available to him a year from now.
Evan Abrams: Cleveland Cavaliers +250
LeBron is going to take his time making a decision in his third and maybe final time going through this process (… maybe). In his previous two trips to free agency, he took just under 10 days to make his choice, and I expect LeBron to wait and see what his "friends" do in this latest saga.
My gut says LeBron is too smart to go west and risk not making the Finals, which leaves the Sixers, Celtics or Cavs. My choice is LeBron stays in Akron with the Cavs on a small contract and figures out a way to attract one or two more players to Cleveland.
John Ewing: Cleveland Cavaliers +250
LeBron's signature pregame move is the powder toss.
But the King hates chalk. Here are the implied probabilities of landing LeBron based on consensus odds from multiple sportsbooks in 2010, 2014 and 2018.
The betting markets thought LBJ would stay in Cleveland in 2010. Then "The Decision" happened, and he took his talents to South Beach. Four years later, the oddsmakers assumed James would run it back in Miami, but he instead went home to Cleveland.
Betting the favorite hasn't worked out when it comes to predicting where LeBron will play. Most think the four-time MVP will don the purple and gold next season, but LeBron loves an underdog. I think he stays.
Jason Sobel: Cleveland Cavaliers +250
LeBron is going to shock the world and take his talents to … Cleveland. That's right, at the 11th hour, the pull of staying home — of playing in front of the fans who have supported him, of staying in the same house, of keeping his kids in the same school, of not wanting the Kevin Durant label of (again) forming a super-team to win a championship — beats the attraction of any other city.
But he'll stay only with a caveat: The Cavs must become active in the free agent market while also pursuing trades for experienced talent. LeBron will sign, then start recruiting others.
I'm freaking out about John Tavares, so I'll just take Cleveland and hope both GOATs return to the teams that drafted them.
---
Just Not Cleveland
I have no idea where he's going, but I don't see him staying with the Cavs after getting JR'ed in the NBA Finals. When LeBron left Cleveland in 2010, fans were outraged. Now, they just seem resigned (#ContractPun). They expect him to leave, and they don't even blame him because:
1. LeBron's teammates are bad.
2. He gave Cleveland a championship. Plus, LeBron's departure will set up his eventual re-return to the Cavs whenever he's nearing 40. That will be so nostalgically bittersweet.
---
Landing in La La Land
Matt Moore: Los Angeles Lakers -280
I can't see LeBron coming back to Cleveland after how Dan Gilbert has burned down the house in about five different ways. I can't see him going to a Philly team (with no GM) to be around a bunch of 19-year-olds in a city he's never shown affection for. And the Rockets seem to have inexplicably slipped despite Houston being the best fit for him.
So I'll say the Lakers. He gets the most control, the market, another star player and a whole lot of baggage (former and current) to deal with. The biggest star winds up playing for the biggest franchise. A little disappointing in narrative value, but still fascinating — as all things with LeBron are. Double down on your Warriors 2019 title futures.
Sean Koerner: Los Angeles Lakers -280
He's for sure coming to Los Angeles — which I can say firsthand is the best city to live in. Not only does he have a $23M mansion here, he's also scouting high schools for his kid to play ball. And more importantly, his wife said back in 2017 that she'd like them to live in LA full-time. No better way to read into the tea leaves than to find out the wife's official take on a potential decision.
LeBron goes to the Lakers. LA is already his second home, and this gives him the best opportunity to grow his businesses.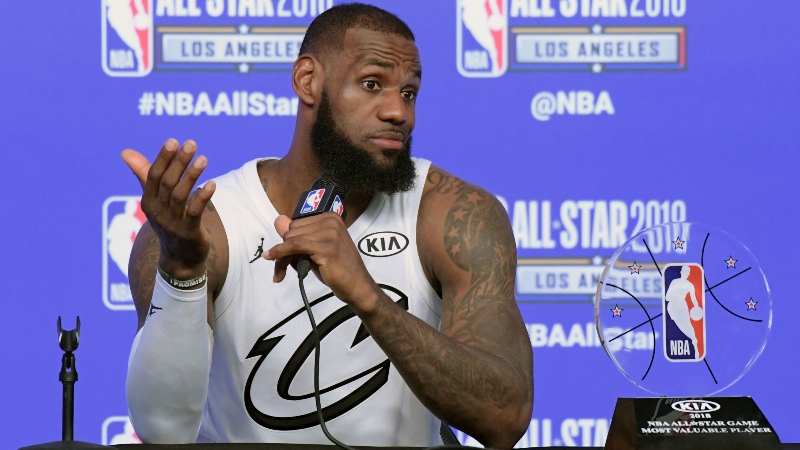 Kirby Lee-USA TODAY Sports. Pictured: LeBron James.
LeBron is going to be a Laker — not only because I'm a Lakers fan, but because that's the best option for him. He wants to be the first billionaire athlete and he's set up shop in LA already. It just makes the most sense. Plus, if he builds up the Lakers to a winner, he'll have built up three different franchises, which Jordan never did.
Scott Miller: Los Angeles Lakers -280
When this happens, it'll be doubly depressing to Cleveland fans, since the Cavs' desperation midseason trades helped the Lakers clear even more cap space for this summer. LeBron is not gonna go to LA without a star (or multiple ones) in tow. And thanks in part to Cleveland, the Lakers have the cap room to potentially add three max-level players this summer.
He can upgrade is basketball situation and living situation (LA >>>>>> CLE) with one decision. Hard to see how he passes that up, unless no other stars want to come along for the ride (which is also hard to imagine).
Chris Raybon: Los Angeles Lakers -280
Reports are that LeBron is seriously considering only the Lakers and the Cavs, and I think the punch sealed it: LeBron's not coming back to Cleveland. When he came back in 2014, he said it wasn't about the roster or the organization, but a "calling" to win a championship for his hometown. He's done that, and I think now it is, in fact, about the roster and the organization.
We know the Lakers' storied past, ownership and location trumps what Cleveland as an organization can offer. Plus, a young core of Lonzo Ball, Brandon Ingram and Kyle Kuzma — paired with at least one more superstar (or another super team if LA can swing a deal for Leonard) — offers more roster-wise than Cleveland. Four years ago, LeBron said he was coming home. He never said he was staying.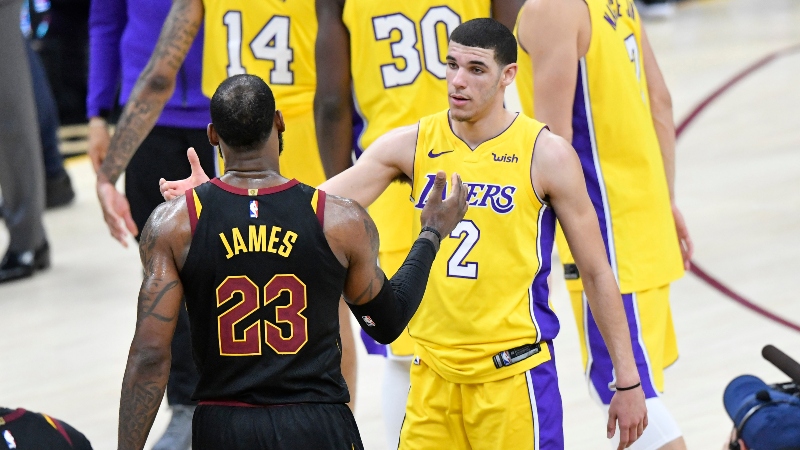 David Richard-USA TODAY Sports. Pictured: LeBron James (left), Lonzo Ball (right).
LeBron's ready to settle down, and he'll do that in the city he considers home: Los Angeles. (Sorry, Akron.) He gave Cleveland a championship, he's proven himself the GOAT and now he's ready to be The King of Brentwood for the next 50-plus years. I'd be shocked to see him go anywhere but LA.
Matt LaMarca: Los Angeles Lakers -280
At this point, we have a pretty clear formula for what LeBron James likes to do in free agency: He picks a team with a promising future, sells off the pieces for aging veterans, and then leaves after four seasons. With that in mind, the call here has to be the Lakers. They have the cap space to bring in another max-level free agent and can flip Lonzo Ball and Brandon Ingram for the kind of win-now pieces that LeBron loves to ruin his team with. I can't wait to do this again in 2022 when LeBron is 37 years old yet somehow still the best player in the league.
Stuckey: Los Angeles Lakers -280
It's the NBA in 2018. Go with the favorite. I assume another prized free agent will join him in a banana boat there, as well. Regardless, I just want to send another pre-congratulations to the Warriors for their 2019 NBA championship.
---
Rocketing to Space City
I get why the Lakers are the current favorite to land LeBron. They have the best combination of young core, cap space and location. Bron has business interests outside of basketball, and his kids are rumored to have enrolled in schools in the area.
But let me make the case for Houston. First, it's rumored that George, the next-best free agent of the summer, is interested in re-signing with Oklahoma City — be it for a long-term contract or a 1+1 that pushes his free agency until next summer. The other guy rumored to be joining LBJ in LA is Kawhi Leonard, who is still under contract in San Antonio. The Spurs could call his bluff and just elect to not trade him.
If those things happen (and both seem likely), I don't see LeBron joining a young Lakers core by himself. He wants to win championships and compete with Golden State, which he can't do if PG and Kawhi are off the table and LA can't get another star. It's in Houston, where the Rockets could add him to a team with James Harden and Chris Paul that perhaps would have won the title last year if they had better injury luck. For those reasons, I think Houston currently offers the best value on the board — especially if you can find +800 or higher.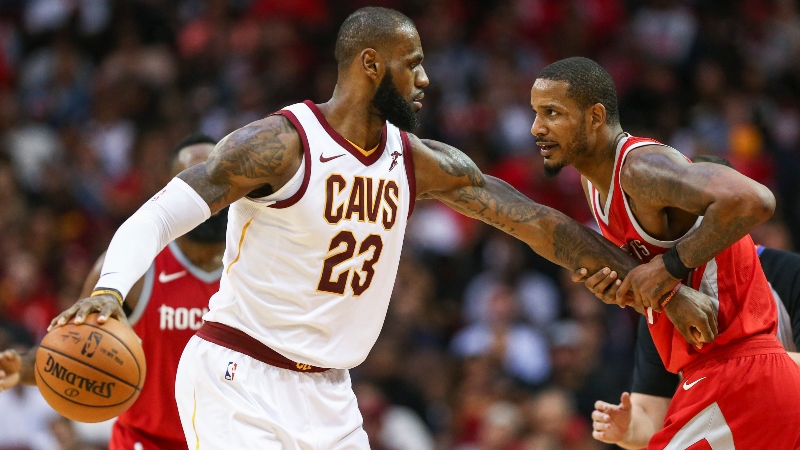 Troy Taormina-USA TODAY Sports. Pictured: LeBron James (left), Trevor Ariza (right).
At the beginning of the offseason, shortly after LeBron props were released, the odds started swinging mightily toward the Lakers. At that point, I nabbed Houston +2200 before the odds came back down to earth because why not? All I heard all season long was LeBron will go to Houston or Philly. I'm simply rooting for that big payday.
---
Feeling the Brotherly Love
LeBron has said he wants to play off the ball more, which he'd do in Philly with Ben Simmons currently incapable of it. The Sixers currently have the third-best odds to win the Finals next year — even with a less than 15% chance of snagging LeBron, according to the implied probability of their current +575 odds.
Philly has a variety of ways to make space for James without getting rid of core players, which many of the other competing teams in the LeBron Sweepstakes do not. The Sixers are also in a much better position to win right now than the Lakers. James knows that and could very well want to stay in the East. I'll take the odds.
The Eagles won the Super Bowl. The Phillies are a half game out of a wild-card spot. Oh, and Villanova is your reigning college basketball champion. I'm taking Philly — the city that booed Santa Claus and had a jail in Veterans Stadium. And it's not because of Chickie's and Pete's, Peace A Pizza or the beauty of a drive on the blue route to SAP headquarters I made weekly. It's because this team is the future.
I don't buy that LeBron's decision is about his kids, the wife or the glamour of an entertainment career. It's about championships. Every year he doesn't win one, his legacy gets partially diluted.
I see only two potential options to beat the Warriors: Houston or Philly.  I'll side with the team in the East full of young and hungry talent.
---
Homers and Hot Takes
If LeBron really wants to grab the reins on this "LBJ vs. MJ discussion," he should probably come to the Knicks. Anyone who can bring a championship to the Mecca — especially considering the state of this current team — should go down in the history books as the greatest ever. Make it happen, Fiz. I know you still got LeBron's bat phone in your contacts. Send that text.
It's really a no-lose situation for LeBron, who could also grow his empire in NYC.
JJ Calle: New York Knicks 20-1
If LeBron wants to win a championship next season, he'll become a Warrior. I'd tell him to join the Sixers, but I want him to sign with the Knicks. Truthfully, I expect him to remain in Cleveland this offseason.
I do want to mention that James and Knicks coach David Fizdale cultivated a relationship during their time in Miami. And when Fizdale was fired last November, James tweeted the following:
I need some answers. Feels like my man was a fall guy

— LeBron James (@KingJames) November 27, 2017
He could join forces with Enes Kanter, who will protect his teammates — which James knows from experience.
Plus, Kanter has already acknowledged his willingness to sign for less money if James joins the Knicks. He could opt out of his contract to create additional cap space to acquire James before re-signing with the Knicks.
It would be a suicide mission, but LeBron would atone for his decision during the summer of 2010. And James Dolan could promise to sell the team to LeBron after James retires.
Bonus: James would play a game in London, as the Knicks are scheduled to face the Wizards at The O2 Arena in mid-January. And London is where he won an Olympic gold medal in 2012. It just all makes sense — as a Knicks fan.
I like longshots, so I think LeBron wants to get the banana-boat crew back together. The only way to do that (at least partially) is to take his talents back to South Beach. My other (even crazier) long-shot prediction is he goes to the Clippers. He still gets to live in Los Angeles, Lakers fans would lose their minds and he might get Doc fired. The trifecta!
Joe Holka: Minnesota Timberwolves 80-1
If LeBron comes to Minnesota, he could do something far more fulfilling than winning championships with the Timberwolves. What is that you ask? Getting Andrew Wiggins traded for the second time would certainly be worth spending a winter in Minnesota. After the T-Wolves lock down Karl-Anthony Towns, Jimmy Butler and Taj Gibson … the only logical decision would be to move Wiggins and at least one more significant piece such as Jeff Teague.
---
LeBron Predictions Summary
There you have it. Of the 25 staff members who provided their predictions, nine think LeBron will take his talents to LA, while only seven think he will stay in Cleveland. The other nine are mixed between Houston, Philly and a few hot takes. Take a look at the summary below.
What say you?
How would you rate this article?