LeBron to the Lakers: The Scenarios and Odds to Know
Credit:
Soobum Im-USA TODAY Sports. Pictured: Kawhi Leonard and LeBron James
*Editor's note: This story was published before LeBron James' decision to join the Lakers and Paul George's decision to re-sign with the Thunder. Here's how LA's odds would shift, depending on what happens next.
LeBron, LeBron, LeBron. Say it three times fast in honor of the number of times he has held the world captive with his potential decision. First, he televised the big news. Then he went old school and put it in Sports Illustrated. Can we get odds on what will happen this time? Well, we're working on that (telepathy is the current leader in the clubhouse).
Meanwhile, the betting market on where King James will land is fluid. But, since the Lakers are the speculative favorite as a team, our in-house bookmaker, Sean Koerner, created NBA title odds and season-win totals for LA based on five different LeBron-centric scenarios. That includes if James goes west solo to if every available big name (Paul George, Kawhi Leonard and Chris Paul) joins him. Then our experts, Matt Moore and Bryan Mears, analyzed each option for optimum value.
Let the frenzy begin!
---
Scenario 1: Just LeBron
Projected eight-man rotation: LeBron James, Lonzo Ball, Brandon Ingram, Kyle Kuzma, Brook Lopez, Josh Hart, Channing Frye, Tyler Ennis
Projected title odds: 11-1
Projected win total: 52.5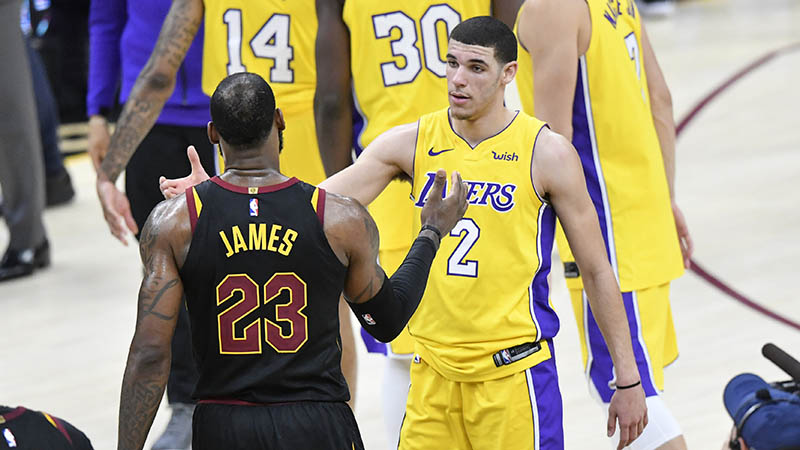 Credit: David Richard-USA TODAY Sports
In this scenario, LeBron would likely have a starting lineup around him of three players under 23 in Ball, Ingram and Kuzma, along with 30-year-old nondefensive center Brook Lopez. The Lakers could offload Julius Randle as a means of getting rid of Luol Deng's hefty contract, especially given Randle's fit alongside LeBron. The talent is there, but it's not exactly the most seasoned group: Lopez has played in 13 playoff games in his career. For reference, LeBron has played in a ridiculous 239 playoff games.
The fit around LeBron is definitely a question here. We've seen that the King is absolutely deadly as the lead creator on offense when surrounded by four shooters. Even with aging vets such as Kyle Korver, JR Smith, George Hill and Kevin Love, the 2017-18 Cleveland Cavaliers ranked fifth in offensive efficiency and third in effective field-goal rate.
Download The Action Network's free app to track your bets, get real-time odds and live scores.
Kuzma could provide a facsimile of Love, at least from a floor-stretching standpoint, but Ball and Ingram still have a long way to go as shooters. Ball hit just 30.5% of his 3-pointers in his rookie campaign. Ingram got up to 39.0% last season, but his mediocre 68.1% free-throw shooting suggests that will probably regress in his third season.
Despite having a roster with loads of athleticism and basketball IQ, this team would still be miles away from being ready to compete with the Warriors or Rockets. So I wouldn't be rushing out to bet Over 52.5 wins or those 11-1 title odds. — Bryan Mears
---
Scenario 2: LeBron and Paul George
Projected eight-man rotation: LeBron James, Paul George, Lonzo Ball, Brandon Ingram, Julius Randle, Kyle Kuzma, Brook Lopez, Josh Hart
Projected title odds: 6-1
Projected win total: 55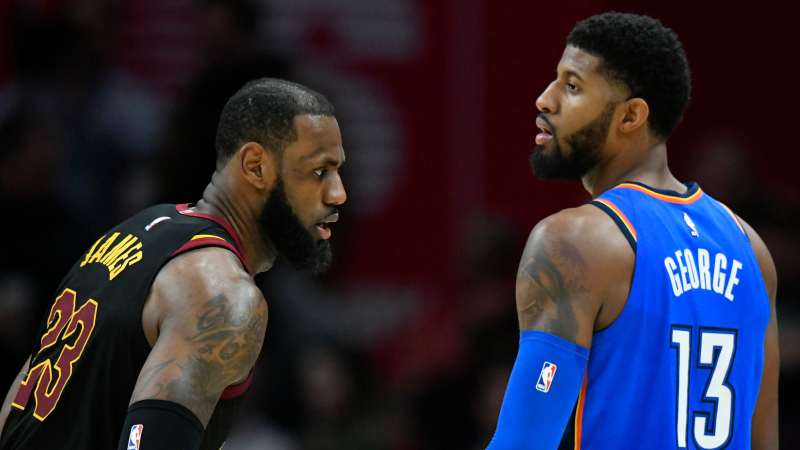 David Richard-USA TODAY Sports
Lakers fans would get to keep the key pieces of the young core they've grown so attached to and add the best two free agents on the market. James and George not only help them make a run at the title right now, but they provide a bridge to teach the younger players how to win.
This lineup would face more issues with spacing, though. Randle is good, but he can't reliably stretch to the perimeter. What role does Ball play if James is the primary ballhandler and creator, as he likely would be? Are Ingram and George complementary or redundant? Is James willing to play full-time power forward?
Considering the inexperience of the rest of the roster, I'd look to the Under 55 wins here. And at just 6-1, the title odds aren't long enough to warrant consideration. This team wouldn't be a serious threat to the Warriors or, honestly, the Rockets. — Matt Moore
---
Scenario 3: LeBron and Kawhi
Projected eight-man rotation: LeBron James, Kawhi Leonard, Lonzo Ball, Julius Randle, Kyle Kuzma, Brook Lopez, Josh Hart, Ivica Zubac
Projected title odds: 9-2
Projected win total: 56

Credit: Soobum Im-USA TODAY Sports
The Lakers are going to be quite young in nearly all of these scenarios. Outside of LeBron and Leonard, the likely starting five would have zero playoff experience.
But this team's potential on defense would massive. A healthy Leonard is arguably the best defender in the league; he could match up with the lethal perimeter players in Houston and Golden State. Ball is an underrated defender, and Randle and Kuzma have the tools to be able to handle a switching defensive scheme, which they would almost certainly have to employ with Randle and Lopez as the center rotation pieces.
On offense, the shooting would still be a little suspect unless Ball develops more quickly than expected, but the starting five would employ multiple excellent pick-and-roll ballhandlers, and all five would be able to attack close-outs.
The league's elite became more iso-heavy last season, but this team would need to get the ball moving like the old Spurs teams or the pre-Durant Warriors. Thankfully, that's likely the system Luke Walton would want to run anyway after being a part of those early Warriors squads.
The 9-2 odds are probably about right, although everything seems low during the Warriors dynasty. I would bet over on the projected 56 wins. — Bryan Mears
---
Scenario 4: All Wings Everywhere
Projected eight-man rotation: LeBron James, Kawhi Leonard, Paul George, Kyle Kuzma, Josh Hart, Tyler Ennis, Ivica Zubac, TBD Replacement Center
Projected title odds: 2-1
Projected win total: 59.5

Credit: Soobum Im-USA TODAY Sports
This scenario is an incredible idea that would require very careful money management to make it work. The Lakers would have to let Randle walk and trade Deng, Ball and Ingram for Leonard. That's too much for a guy who's asking out to come specifically to your team. But you do it to create this superteam with two guys in their prime playing alongside the greatest player of his generation who shows no signs of slowing down. To make that work, you have to clear space.
This team winds up looking a lot like the LeBron Heat did, with very questionable players at the 1 and 5. The fits aren't perfect with the three stars, but there's so much talent, you can figure it out, especially if you add some key ring-chasing veterans in Years 2 or 3.
Lopez doesn't qualify for the non-Bird-exception, and the Lakers can't keep his cap hold on board and sign the other two, so they'd have to find a replacement center. Leonard's isolation-heavy offense would conflict a bit with James' preference to spread the floor and punish teams with pick-and-roll. But these Lakers would also be lethal defensively, with unparalleled athleticism and ability at 2-3-4. Small-ball units with James at the 5 could absolutely wreck, and it never hurts to have three ballhandlers who are elite scorers.
It seems odd to imagine both George and Leonard seeking out LA ownership and winding up simply as sidekicks, especially so for Leonard, who has a title (and one he won vs. James, winning Finals MVP to boot). But if the Lakers pull this off, they'd have three versatile superstar wings, the most valuable commodities in the NBA right now.
The title odds are decent at 2-1, but waiting would likely produce a better price before the playoffs began. The over, even at 60 wins, would have good value. For context, LeBron's 2010-11 Heat won 58 games, but this team's supporting cast is arguably better. — Matt Moore
---
Scenario 5: All Wings Plus CP3
Projected eight-man rotation: LeBron James, Kawhi Leonard, Paul George, Chris Paul, Josh Hart, Channing Frye, Ivica Zubac, Literally Any Player Over 6-foot-8
Projected title odds: 3-2
Projected win total: 63.5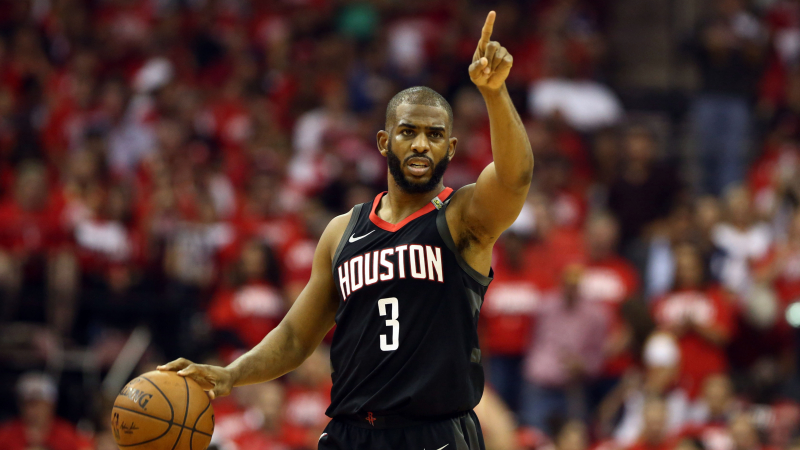 Troy Taormina-USA TODAY Sports
This one is not happening. I just want to toss that out there right now. We're covering it to use as an example of what happens should some absurd combination of players come together. But, just to be clear, this would involve 1) massive pay cuts by at least two max-level players (which, again isn't happening); 2) Paul leaving Houston, which looks profoundly unlikely; and 3) a bizarre fit with several of the best players in the league who all do the same things.
And yet … man. The idea is appealing: Paul operates as a floor general, taking a smaller role than ever but reaping all the rewards. He's a transcendent assist-creator surrounded by a lethal off-ball shooter in George, a devastating finisher from all over the floor in Leonard and, of course, LeBron. Paul and James simultaneously take the burden from one another while maximizing the other's off-ball talents.
Leonard and George can create on their own to anchor bench units. You can switch constantly, and provided your center has any jumper/mobility whatsoever, you are in a better position than anyone to combat Golden State.
Oh, and again, you have LeBron.
That said, the new talent has to come together, which can be rocky as someone inevitably gets lost. It always happens. That can cause dysfunction. Would Leonard and George really want to take that much of a backseat? Plus, you know, depth is a thing. Injuries, too, are a thing.
I'd definitely hammer the Under 63.5 on the win total in this fictitious universe. The return wouldn't be good enough on the 3-2 title odds to justify a hypothetical wager, even with Paul's departure from Houston weakening one of the main competitors.
This won't happen, but it is a ferocious idea. — Matt Moore
---
More Free Agency Betting Coverage
How would you rate this article?