Locky: My Favorite 2018-19 NBA Division, Conference and Title Bets
Credit:
Photo credit: USAToday Sports. Pictured: Rudy Gobert
The 2018-19 NBA season will tip off next Tuesday, October 16.
Below I lay out my favorite division, conference and title bets for this upcoming season.
In the last month or so, I've written about a lot of NBA bets. I've explained how the Rookie of the Year market works. I've explained how the MVP market works. I've given out some win-total bets for teams, most of which were in the running for Jimmy Butler but now seem content to go into the season as bottom-feeders.
Before we get to division, conference and title bets, I think it's important to ask "why are we betting these?" And I don't mean that from a "What am I doing with my life, I need to go back to school" standpoint. I also don't mean it from a "Why does anyone bet? What are we? What is the meaning of life?" standpoint either. Those are questions and issues you're welcome to explore on your own, though.
What I'm talking about is the reason for making a bet now as opposed to November. Or February. Or right before the playoffs. Or when the NBA Finals is going on and you're jamming the Warriors at -800 because you can't believe that's what's being dealt and you want to buy a Porsche.
Put simply, there are two primary reasons we are making these bets now:
Reason 1: The market isn't going to reopen with regularity, or at all. You may never get another chance to even bet the thing in question, and darn it, there's value. Rookie of the Year isn't up year-round, it sort of comes and goes among a few offshore sportsbooks. Divisions are in the same category. Win totals pop back up only at the All-Star break. This is your moment.
Reason 2: The price is likely to change — and change quickly — on the bet in question, despite the fact that the markets will be open on a regular basis. Basically, the season will start, and everyone will go "oh, this person is actually the best player by a mile" or "this team may be the 1- or 2-seed in their conference, and they were 300-1; that wasn't right."
Reason 2 is really what we'll be going back to when it comes to these season-long NBA bets. Because yes, the Warriors are going to win the title a really large percentage of the time this season. But I am not going to use this space to tell you to bet on the Warriors right now. And the key phrase is "right now."
I am interested in betting prices that have a lot of room to drop, and if anything, the Warriors price is probably staying the same or going up. Last season, they were complacent and injured enough that everyone starting talking themselves into Houston and even Philadelphia, which allowed the Warriors to be plus-money just weeks before the playoffs started. Think about that in retrospect. And then laugh. And yes, they were the fortunate recipient of a Chris Paul injury and a historic game-long shooting slump by the Rockets. Still … plus money.
Anyway, we're getting a little ahead of ourselves. The title stuff is going to be at the end, because it'll be big and dramatic, and you'll read about the Northwest Division just to get there. That's my master plan, anyway. Here are some bets I think are worth making right now.
Division Bets
Utah Jazz +210 to win Northwest
A warning: You're going to see this team everywhere, in all sections. I'll try to spread out the analysis, but let's just talk about the division for now.
All five of these teams (Utah, Minnesota, Oklahoma City, Portland and Denver) think they should make the playoffs. The good news is, despite a lot of recent developments, the prices haven't changed a whole lot in this market. Or, I should say, they haven't changed as much as they should.
Portland lost several bench pieces and didn't really meaningfully upgrade its team. The Blazers played a little over their heads last season and are likely to win about 42-44 games. That probably isn't good enough here, and their two best players are unlikely to get any better after playing so well last season. Their price should be about what it is (+670).
Minnesota (+520) is going to become a non-contender for the division once it trades Jimmy Butler. The development of Karl-Anthony Towns will continue, but the meshing of Towns, Andrew Wiggins, Tom Thibodeau and a lackluster collection of others probably makes the Timberwolves the leader in the clubhouse to finish fifth here.
Butler hasn't shown up to anything involving the Timberwolves since the trade demands, so if Minnesota keeps him, I have no idea what happens. But it seems like it would somehow be even worse, because the Timberwolves wouldn't have gotten a trade chip (like, say, Josh Richardson) back.
Oklahoma City was thought of as a contender entering the season, but a couple of the reasons for that have become shaky. "Well, they get Andre Roberson back!" Well … not so fast. Roberson recently had a setback in his recovery from knee surgery and might not return until midseason, if at all.
So scratch that. Also, Russell Westbrook, whose importance does not need to be explained in detail for this team, isn't yet cleared for contact after having arthroscopic knee surgery a month ago. He might not play in the opener, and considering his insane usage and minutes and history of knee issues since the Patrick Beverley incident, this is at least slightly troubling.
Denver has the most upside compared to last season's record, as the Nuggets are stocked with young players on the ascent of their career arcs. Their guards and Nikola Jokic can all improve. The problem for a season-long bet is that their bench is shaky, especially if Isaiah Thomas' hip isn't really healed; we don't know a lot about it. Also, if the Nuggets abandon defense completely, which it seems like they will, are they a 50-win team or a 45-win team that has REALLY fun games sometimes?
That leaves us with the Jazz, who I think are a phenomenal bet to be the 2- or 3-seed in the West.  They'll have maybe the No. 1 defense in the league, and their core is still guys who are in their prime or entering their prime. Their best player is going from Year 1 to Year 2 and is already known for his work habits and improvement. More on Utah later, but I think this price is incredible.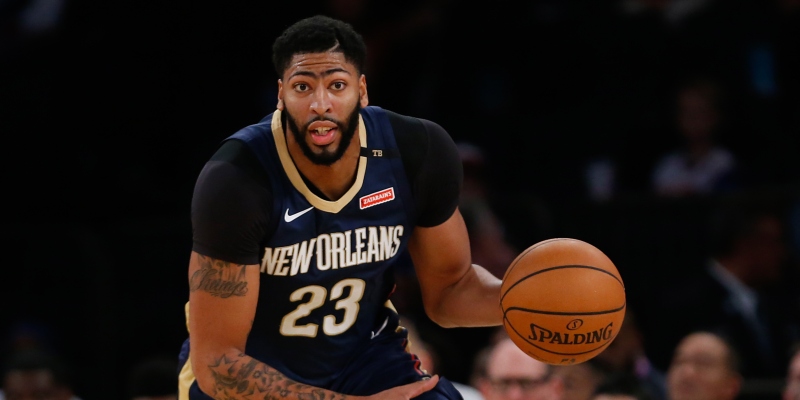 New Orleans Pelicans +875 to win Southwest
This bet is a little shakier, but some of the value comes from the fact that the Spurs are still being rated as if they have Dejounte Murray. Once we all correctly conclude that the Spurs are a 42-ish win team and the Pelicans are a 46-ish or more win team, that value goes away. It probably won't take long.
The Pels essentially swapped Rajon Rondo for Elfrid Payton, who is finally not in a horrific situation for the first time in his career (he played for both Orlando and Phoenix, so let's all make sure we're EXTRA nice to him the next time we see him). They get a full season of Nikola Mirotic (a good thing) and added Julius Randle (another good thing).
Obviously, this bet involves some kind of fade of Houston, even if San Antonio falls off the map completely. I need Houston to be not as good as it was last season. Considering Chris Paul is a year older, and there is at least uncertainty around some of the new pieces and how they'll fit, I think there are enough questions here to take a stab at this division.
A lot is being expected of James Ennis, Carmelo Anthony and even guys such as Michael Carter-Williams or Marquese Chriss. Some of these guys are going to have to play, and Ennis and Carmelo might have to play pretty big minutes. If they don't, you're assuming P.J. Tucker can run back the season he just played. Unlikely.
That doesn't mean Houston is bad or is going to tank this season. It just means that the difference between Houston and New Orleans is currently being overstated and is maybe only a handful of wins. If that's true, and one is -440 to win the division and the other is +875, there is value in the longshot price because so much can happen along the way.
Conference Bets
Jazz +4250 to win West
OK, let's talk about the Jazz a little more. They are, in my opinion, the most likely team to be the 2-seed aside from Houston. I think it's at least close to a 50-50 possibility that the Jazz are the 2. The Lakers might be a scarier postseason team because of LeBron, but I think they will struggle at times in the regular season because everyone's roles are so unclear. A LeBron team takes time to figure everything out. That probably restricts it to a lower seed a lot of the time.
So if the seeding is Golden State, then Utah, then Houston, then anyone else (but preferably the Lakers at 4/5), what is this Jazz price entering the playoffs? Even if Utah and Houston are flipped and Houston gets home court, what is this price entering the playoffs? I really think this has some room to drop, more than most of the others.
Raptors +417 to win East 
It is incredibly tempting to give out the Bucks at 20-1 in this same market, just because Jason Kidd was such a trainwreck as a coach. If you want to bet Milwaukee, Godspeed. The Bucks might end up being close to as good as the top three in the East. I just think there is still a gap between those three, and if Milwaukee can only ever be the 4-seed, this price isn't going to get that much better.
The thought with Toronto is pretty simple: Are the Raptors worse than Philadelphia and Boston, or are they equal to Philadelphia and Boston? Being the 1-seed in the East is going to be a crazy-important goal for all three teams, because you would avoid playing the other two until the Conference Finals. That's one of the reasons why the win totals for all three teams, despite being insanely high, actually look very appealing. And I actually think all three teams have a pretty equal shot at getting the 1-seed.
The expectation that Boston, from Day 1 of this season, just "figures it out," with every single player having a new role, is not reasonable. The expectation that Philadelphia can find a bench that was as productive as last season's reserves is at least a question mark.  And Markelle Fultz is the biggest question mark around.
I think the Raptors have plenty of questions of their own, most notably their best player and their coach, but all indications so far have been good with Kawhi Leonard. I think the team of the three with the most likelihood for a price drop is this one. Or maybe Giannis Antetokounmpo goes crazy and I miss the boat on 20-1. I'm thinking about it. I'm still not ruling it out.
Title Bets
The Warriors are -165, and judging from the last few years with them, I don't think this price is going to drop significantly. It just doesn't have a lot of room to do so unless all the other competitors such as the Celtics and Rockets lose their star players to injury.
Golden State is going to be very interested in resting players at opportune times and figuring out ways to implement DeMarcus Cousins effectively when he returns. None of those things is about winning regular-season games, so this is absolutely not the "buy" signal for Golden State.
It should be no surprise then, that based off the division bets I listed above, there are some prices to win the title that I think could drop a little down the road:
Toronto +1800
Utah +10,000
New Orleans +12,500
These are essentially just derivatives of other bets we've discussed. I also think, again, that Milwaukee at +10,000 is mildly intriguing with Giannis' limitless ceiling.
The most interesting thing to discuss here is Toronto, because this is a team that becomes even more interesting in the playoffs than the regular season. Leonard will use the regular season to get back in full game shape, shake off rust and become a cohesive member of the Raptors (even if he's really a robot and doesn't interact with anyone ever). In the playoffs, you are going from DeMar DeRozan, a historically poor playoff performer, to Leonard. I'm not sure we all even really realize what a difference that will make. And I'm not sure the price reflects it, either.
Anyway, these are all explanations which try to answer the question of "why?" we discussed earlier. None of these bets might win outright, but when you gather enough prices that have room to drop, and then drop significantly, you give yourself the ability to make profitable decisions down the road.