Locky: My Favorite 2018-19 NBA Win Total Bets
Credit:
June 3, 2018; Oakland, CA, USA; Cleveland Cavaliers center Kevin Love (0) reacts during the fourth quarter against the Golden State Warriors in game two of the 2018 NBA Finals at Oracle Arena. Mandatory Credit: Kyle Terada-USA TODAY Sports
The NBA season tips off early this year on October 16, so there's only a few more weeks to lock in season win total bets.
I've identified five over/under bets I like this season, specifically the New York Knicks, Brooklyn Nets, Cleveland Cavaliers, Los Angeles Clippers, and San Antonio Spurs.
You can feel it in the air. The sun is setting a little earlier. Joel Embiid is tweeting a little more.
It's almost time for the return of the NBA.
In a lot of ways, it seems like basketball never left. It's quickly becoming a year-round sport for those who cover it, as Summer League and free agency end up seeping deep into the summer, and now preseason is on the verge of starting. It seemed like just yesterday LeBron James was claiming he broke his hand to save face after being swept by the Warriors. Ah, memories.
In assessing team performance this year, and specifically win totals, it's important to keep in mind the overall complexion of the league as we head into 2019. Here are a few overarching concepts to remember:
Rules have been put into place in an attempt to curb tanking starting this season. Although the new rules 'flatten' the lottery structure so that the worst team doesn't have as large of a chance of getting the No. 1 overall pick, there is still a decided advantage in just being bad to get a high pick, whatever number that may be. It will be interesting to see what, if any, impact this eventually has on teams.  My guess is that teams that aren't trying to win will still pull the same maneuvers down the stretch in an attempt to have a bad record. It just won't matter as much whether they have the worst record or the second-worst.
On that note, the Eastern Conference got even worse. There actually weren't very many seismic shifts in terms of player movement — with one very notable exception of LeBron going to LA. The Cavs' win total this season is about 30.5, and the Lakers' is up to just under 50 this year. Based on Western Conference win totals, there is an expectation that the West is going to win a very large percentage of its games against the East.
The teams that tanked in the East last season — New York, Orlando, Chicago and Atlanta — might all tank again. Brooklyn didn't have incentive to tank, but the Nets were just awful, so they finished with a bad record anyway. Now they actually do own their 2019 first-round pick, so they might tank for real this time! What fun! In the West, Dallas will be trying to win (unlike last season), as will Memphis (at least for a little while), but Phoenix and Sacramento might need another year of awful (which you could basically say every year for the past decade). The Clippers should tank, but, considering their owner, they might not. Or they'll just be awful. More on them shortly.
With those concepts in mind, here are some win totals I think are valuable as we head toward the start of the season.
---
Eastern Conference
Knicks Under 29.5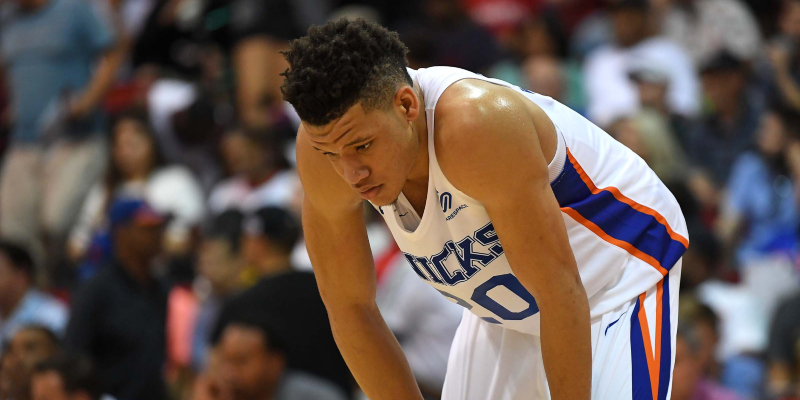 They won 29 games last season, having one of the most abysmal second halves of the season possible. The important thing to remember here is that this entire season is essentially acting as practice, to get the young players — Kevin Knox, Mitchell Robinson, even Mario Hezonja — as much playing time as possible.
Kristaps Porzingis isn't coming back until February, and I think there's a case to be made that because the team will be so atrocious by then, he might not come back at all (or he'd maybe be on a very severe minutes restriction).
With Porzingis a non-factor in projecting the team, the Knicks' high-usage guys become Enes Kanter, Tim Hardaway Jr. and whatever they can get from Knox. Most importantly, the objective of the team this season is not to win. They need to play young players and get Porzingis back healthy, then focus on signing free agents (Kyrie Irving, Jimmy Butler, possibly Kevin Durant?) next summer.
I can't emphasize this enough: Winning is not important to the New York Knicks this season. In the meantime, if they find out their young players are great assets, even better.
---
Nets Under 32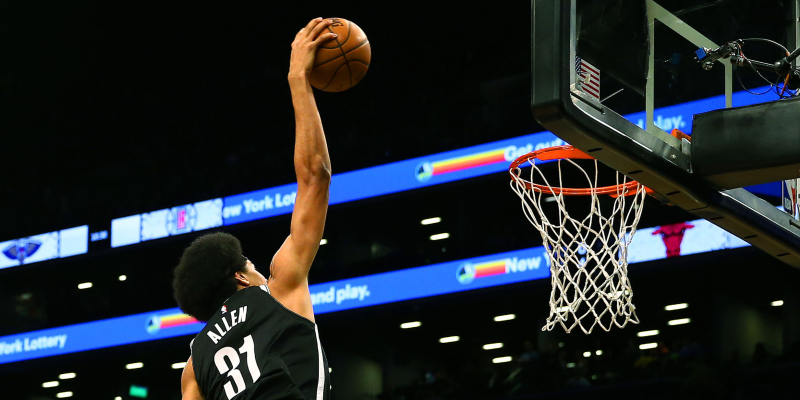 For some reason, people are kind of secretly in on the Nets this season. On the surface, the logic to support such a case may appear sound: Their GM has sneakily made great deals to acquire assets while offloading bad contracts (Timofey Mozgov in particular), and as a result, Brooklyn is positioned to sign two max guys next summer.
The Nets have a ton of role players who many feel as a collective can lure star talent in the future. They get a full season of Jarrett Allen at center, someone who might turn into an impactful player. This all sounds incredibly smart. In a lot of ways, it is. What I don't understand is how this collection of players means that the Nets are going to go 33-49 or better this season. They also finally have their own first-round pick, meaning unlike last season (when they tried hard and won just 28 games) they have incentive to be bad.
Just like the Knicks, Brooklyn plays 16 games against its division, which means 12 games against the Raptors, Celtics and Sixers — possibly three of the best five or six teams in the entire league. Last season Brooklyn went 1-15 against its division. Think that's getting any better? 2-14 maybe? It's not like the complexion of the division changed in a way that benefited the Nets.
In addition, I'm having a hard time seeing how giving D'Angelo Russell, Allen Crabbe and Allen a ton of shots is going to produce meaningful positive results over the course of a season. The depth and second unit are laudable, but due to a complete lack of star power, the starters are going to get so eviscerated by most teams that I'm not sure it will matter in terms of actual wins — the only thing we really care about.
But hey, check out those role players! They'll be great when Brooklyn signs Kyrie Irving.
---
Cavaliers Over 30.5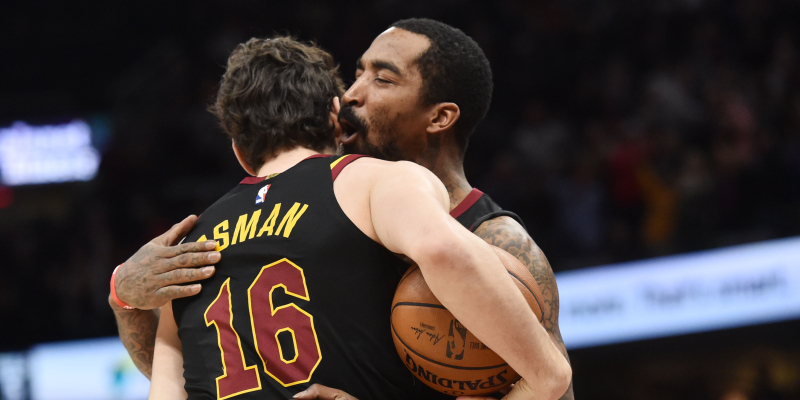 I get it. LeBron isn't there anymore. But there are some absolutely atrocious teams in this conference that have no incentive to play hard. By virtue of just having reasonable talent, the Cavaliers should have a better season than Atlanta, New York, Brooklyn and probably Chicago and Orlando (although I am kind of in on the Bulls this year as being OK).
The thing about the Cavs: Despite what many think they should have done, they didn't bottom out. Kevin Love is a better individual talent than anyone on all the teams I just mentioned who is actually playing this season. Larry Nance Jr. and Cedi Osman actually have growth potential. Rodney Hood can actually get on the court, and should get shots on this team, which isn't a bad thing.
This is all predicated on the health of Love, but if he gives the Cavs even 55-60 games, they are actually oddly deep. And that's before we talk about any contribution from Collin Sexton, however minimal it may be in his first season.  They'll be bad.  But they won't be THAT bad.  Not in the East.
---
Western Conference
Clippers Under 36.5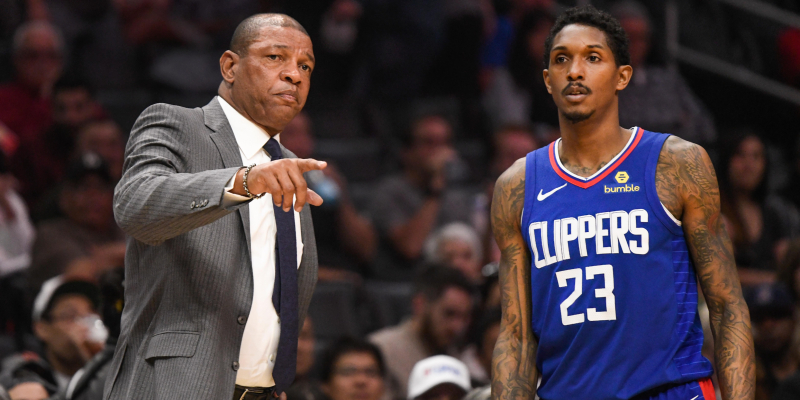 You can make a case that every other team in the Western Conference got better from last season except the Clippers and maybe Houston. Plenty of teams stayed the same, but the Clippers decidedly got worse, and, in the West, I just don't see how that translates to playoff-caliber on-court performance with the schedule they'll have to now play.
Lou Williams will absolutely have the highest usage on the team, but he's entering his 14th season. There isn't a lot of growth potential in his game. Danilo Gallinari can't stay on the court. Marcin Gortat is replacing DeAndre Jordan and just had one of the worst seasons of his career (and he's going into Year 12).
There are rumors the Suns may trade for Patrick Beverley, which would create playing time for the Clips' young draftees, and that would seemingly create even more of a tank-like condition. Can a team make the playoffs if Lou Williams is its best player? Can a team make the playoffs if Tobias Harris is its second-best player?
There are very few high-ceiling candidates on this team and a ton of aging, low-floor, injury-prone guys. Steve Ballmer may want the Clippers to be competitive, but that's going to take a lot in the West.
---
Spurs Over 44.5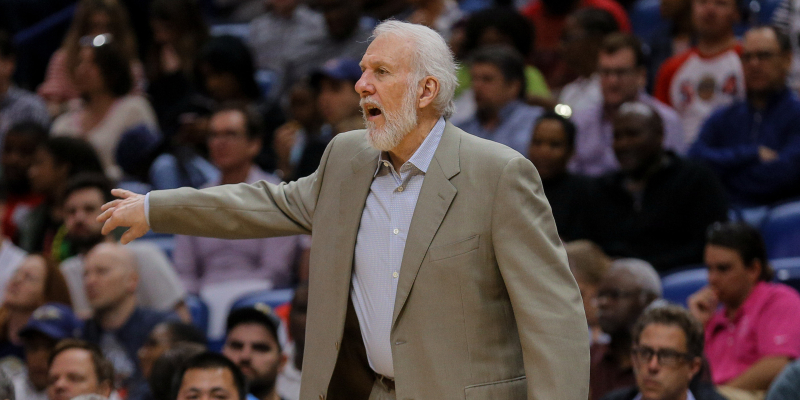 Here's a thought: What if getting rid of Tony Parker and Manu Ginobili isn't actually that bad, as they contributed very little outside of leadership last season? What if getting rid of Kawhi Leonard removes all of the negative energy from the locker room?
Now it's just Gregg Popovich and a bunch of dudes in a winning culture. The Spurs won 47 games last season with the Leonard situation lingering over everything. The conference is better, but they get (potentially) a full season of DeMar DeRozan instead of the near-zero they got from Leonard.  Has to be worth something, right?
LaMarcus Aldridge, Pau Gasol and Rudy Gay are on the decline (in Gasol's and Gay's case, it's probably a steep decline), but in Dejounte Murray and Jakob Poeltl they have guys who have contributed and also have upside to improve.
DeRozan is still just 29, his career arc is probably not declining in the short term, and he also takes a lot of the high-usage pressure off Aldridge. A bet here is a bet on Popovich, and I highly doubt he wants his remaining couple years with the Spurs to be a rebuild. Their floor here is high, and the Spurs are built to win immediately.