Luka Doncic's Puzzling NBA Draft Slide and the Prop Bet With Value
Credit:
Matti Matikainen/Newspix24/Sipa USA via USA TODAY NETWORK. Pictured: Przemyslaw Zamojski (left) and Luka Doncic (right)
The Highlights
Luka Doncic was the best player in the world's the second-best professional basketball league at the age of 19, but his NBA draft stock is slipping.
The biggest worry teams have: His shooting fell off this season as his usage increased.
Doncic, who hasn't worked out for any teams, looks like a good bet to fall to at least the No. 3 pick, but the Spurs acquiring a top pick for Kawhi Leonard is a wild card to be aware of.
---
Never give NBA front offices too much time. They will over-think anything. And so it is that Luka Doncic, EuroLeague MVP at 19 years old, is sliding down draft boards. Doncic is favorited to fall beyond the first two picks, according to these odds posted on Tuesday afternoon:
LUKA DONCIC DRAFT POSITION
2ND OR BETTER: +175
3RD OR WORSE: -180
When the reports on Doncic falling first started to surface, I was skeptical. This seemed like a ruse to assert more trade value from teams looking to move up. But with just two days to go until the draft, multiple league sources told The Action Network that they don't think this is a smokescreen.
The biggest worry comes from the fact that Doncic's shooting fell off this year with higher usage, and his athleticism is a question mark. Doncic shot 35% last season in EuroLeague from 3-point range, and that dropped to 31% this season. But his mechanics don't show any significant balance or fluidity concerns. The shot itself is sound.
The athleticism is a valid concern. Check out this quote via Uproxx from a European player who played against him:
It's just easier overseas because if you're 6'6-6'8 and you can dribble, shoot, play iso, and play pick-and-roll (like he can) you're already in the NBA. So there aren't a lot of teams that can matchup with his size in Europe. I've seen what happens to him when he goes against players his height or close-to who are athletic. He struggles mightily. Go check the film in Panathinaikos series. He was struggling to create space, to get the team in the offense comfortably, and to create shots, and get by guys. Granted Panathinaikos is the most athletic team in Euroleague, but that's kind of athleticism he will see in NBA.
So that is definitely a concern, and in a draft with so many high-upside, super-athletic players, it's easy to see him slipping. There was a thought that because of the European background of so many in the Kings' front office (Vlade Divac, Peja Stojakovic), they'd be more likely to take Doncic, but ESPN reported this week that Marvin Bagley III is the only player who has made both his medical information and workouts available to the Kings.
That leads us to the final piece of the puzzle: the workouts. Doncic, of course, hasn't worked out for any teams in the run-up to the draft. ESPN's Jonathan Givony has been hammering how stupid it is that teams are holding this against him:
Unfortunately Luka Doncic was playing 5 on 5 and not one on zero in the ACB finals tonight, so NBA teams picking in the top five came away unimpressed with his performance, and his draft stock continues to falter.

— Jonathan Givony (@DraftExpress) June 17, 2018
Here's one of the keys, as a front-office person explained it to me. It's not the workout. They know the kid can play. It's about the interview. You don't know if he'll fit with the locker room, with your star players, if he's got the mind-set you need to be a star. Background checks will reveal if Doncic — or those around him — have any red flags in his past, but they won't reveal his character, and that's what matters when you're choosing to build a franchise around a player.
For all those reasons and more, Doncic to fall at least to the third pick is the smart play, especially when you're laying less than -200 odds.
AND NOW A WORD OF WARNING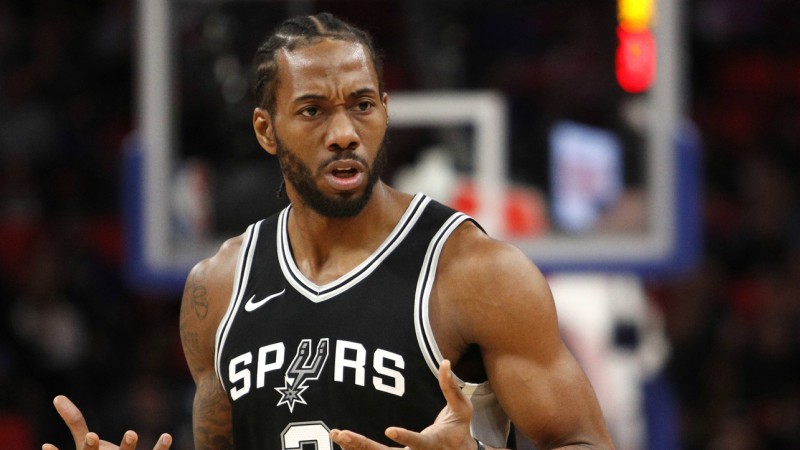 Credit: USA TODAY Sports. Pictured: Kawhi Leonard
The Suns' odds of getting Kawhi Leonard jumped mysteriously on Monday. They are now just +350, behind the Lakers and Spurs, to land the disgruntled superstar. Should the Suns or Kings trade for Leonard — which, by the way, would be absolute suicide in dealing a top pick for a player with one year left on his deal, seeking a max, who has a reported preference for larger markets and a problematic long-term injury — then Doncic will almost certainly go to the Spurs.
So if you think the Spurs move Leonard before the draft, then you might want to stay away. The Spurs are running out of time to make a deal, and the latest reports indicate that they continue to believe they might be able to fix things with Leonard.
Otherwise, however, it does indeed look like the most gifted wing in the most perimeter-oriented era in NBA history, who won EuroLeague MVP at 19 and was the No. 1 pick on most draft boards for most of the season, will indeed fall at least below No. 2 in Thursday's draft, making this a smart investment at time of publication.
---
More NBA Draft Betting Coverage