Palmer: Odds and History Agree — Luka Doncic Is Poised to Win MVP
Credit:
Glenn James/NBAE via Getty Images. Pictured: Luka Doncic (center) of the Dallas Mavericks.
Finding betting value on the NBA's Most Valuable Player award is a process of elimination.
This season, there are two players who find themselves ahead of the field as far as the odds are concerned: Luka Doncic (+400) and Giannis Antetokounmpo (+450). The next three players at the top of the odds board on DraftKings are all listed at +800 odds or longer.
Only time will tell if the two players at the top will remain on their respective perches for an entire season, but a deeper dive into past results can help in deciding who betters should put their money on.
Below I lay out five factors that have historically been at play, plus the player who I think meets that criteria.
Voter Fatigue
This one is pretty straight-forward and most NBA fans are already familiar with this line of thinking. To win the award you need to put up a superstar stat line, but voters can't be tired of seeing you win. This puts Antetokounmpo in a tough spot.
The Greek Freak improved in nearly every category from his first MVP season to his second MVP season. He even became the third player in league history to win MVP and Defensive Player of the Year in the same season.
Unfortunately, massive individual success can start to erode your case in terms of narrative.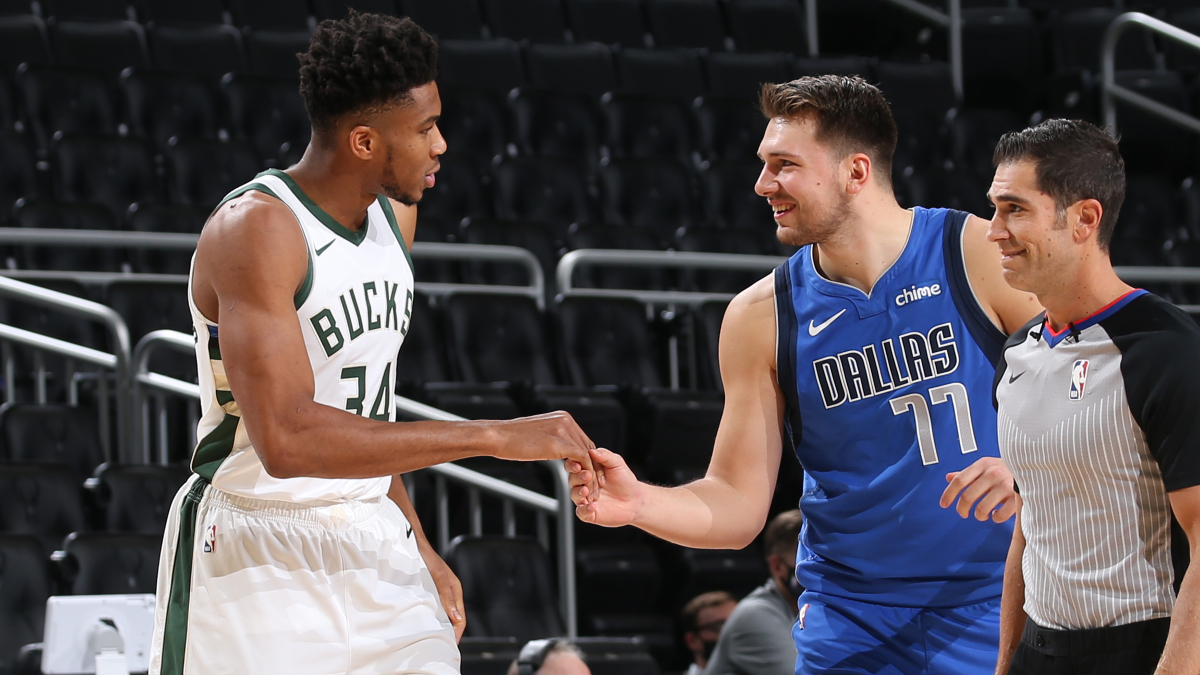 The last three-time MVP winner was Larry Bird from 1984 through 1986 and the MVP three-peat has only happened two other times in league history (Bill Russell 1961-63 and Wilt Chamberlain 1966-68).
Regardless of how well Antetokounmpo performs this season, it's highly unlikely he wins again.
Team Success
Most importantly, the winner's team has to win enough games to finish as the first or second seed in its conference. There are exceptions to the rule, however.
Since 1985, just two winners finished lower than the No. 2 seed: Michael Jordan in 1987 as a No. 3 seed with the Chicago Bulls and Russell Westbrook in 2017 as the No. 6 seed with the Oklahoma City Thunder.
Age (Is More Than a Number)
There also hasn't been an MVP aged 30 or above since the 2005 and 2006 seasons when Steve Nash won the award. Since the 1985 season, the winner of the Award has been aged 30 or above just eight times.
Both of Steve Nash's MVP seasons fall into this category and the other six award winners were in the 90s: Magic Johnson (1990), Hakeem Olajuwon (1994), Michael Jordan (1996), Karl Malone (1997), Michael Jordan (1998), Karl Malone (1999).
The seasons from 1994 through 1999 were played with the least amount of possessions and it's no surprise that we've seen more 30 year old MVPs in the 90s than we've seen in any other decade in NBA history. When it comes to the NBA MVP Award, this is "No Country For Old Men."
Advanced Numbers
Despite its problems, John Hollinger's PER (Player Efficiency Rating) has a positive correlation as a predictor for the MVP Award. Given PER's tendency to reward high-volume scoring and filling up the stat sheet, things MVP voters actually account for as opposed to defense, it's something I like to consider when making an MVP prediction.
Looking at the past 12 MVP winners, all but two finished first in PER with Stephen Curry campaign who finished third in 2015, and Derrick Rose who finished ninth in 2011 as the two outliers.
Similar to PER, most of the MVP award winners over the past 10 years have had usage percentages above 30% and have been among the league leaders.
Ideally that also means, you're not playing with another high usage/high-scoring star player. (There's a reason why only one half of two all-time great duos — Shaquille O'Neal/Kobe Bryant and Kevin Durant/Russell Westbrook — won MVP while playing with their superstar counterparts.)
Doncic's Award to Lose
So if you're adding this up, you need the usage rate to produce an eye-popping stat line, you don't want a teammate who is going to cannibalize your statistics, you need to lead your team to be at least a No. 2 seed, voters can't be sick of you and you probably need to be under the age of 30.
Want to guess who's under 30 years old, ranked top-three in usage rate (36.8), and PER (27.6) last season, doesn't play with another star (technically) and has a team with a real shot to make the leap?
Luka Doncic.
Last season he averaged 28.8 points, 9.4 rebounds and 8.8 assists on a Mavericks team that finished 43-32 last season but had a pythagorean expectation of 49-26. The Mavericks performed well under expectation as they were 17-24 in the clutch (.415 win percentage) blowing games that they should have won.
With more experience it's likely we should see their clutch statistics improve this season as they improve and learn how to win close games. The Mavericks had the most efficient offense in NBA history last season scoring 115.9 per 100 possessions.
The additions of Josh Richardson, Wes Iwundu and James Johnson should make the Mavs better defensively and the return of Dwight Powell should give them another weapon.
When you consider the absence of Kristaps Porzingis, potential load management for the Lakers and Kawhi Leonard's degenerative quad issue that won't allow him to handle a full load, the narrative is all lined up for the 21-year-old Doncic to win his first MVP award.
He finished fourth in MVP voting last season with a 19% share. This season he should get most of the voting share. His odds vary from book to book, so make sure to shop around for the best odds.
How would you rate this article?