NBA Win Total Odds & Pick: Can the Memphis Grizzlies Remain Competitive Out West?
Credit:
Joe Murphy/NBAE via Getty Images. Pictured: Ja Morant #12 of the Memphis Grizzlies.
The Memphis Grizzlies have improved over the past two seasons and are expected to be in the mix with an over/under of 41.5 wins.
Matt Moore analyzes their win total odds below.
Check out this post for updated season win totals and this post for my other 29 season win total picks.
Memphis Grizzlies Win Total Odds
The Case for the Over
The Grizzlies won at a 43-win pace last season: over. Their Pythagorean-expected mark per 82 games was just over 42. Memphis' win total in both of Taylor Jenkins' seasons as head coach: over.
The Grizzlies had a significant shutdown due to COVID last season and had the sixth-most games lost due to injury.
They also were forced at midseason to abandon a very successful rotation so that they could try and figure out what they had in Justise Winslow. He submarined their mojo and messed with the playing time of players who were having great seasons. The Grizzlies did not retain Winslow this offseason.
Jaren Jackson Jr. was coming back from injury, and when he did, he looked like a guy coming back from major knee surgery. This season is make-or-break for the former No. 4 overall pick, and Memphis needs him to make a leap. He's top five at many books for the Most Improved Player award. A big season for him bumps them up a notch.
Memphis' bench has a ton of talent. De'Anthony Melton, Tyus Jones, Desmond Bane, Brandon Clarke are all two-way players, and Xavier Tillman showed some impressive point center stuff in the summer league.
Memphis' build around Ja Morant is impressive. They'll miss Jonas Valanciunas, but Steven Adams is a fine replacement if the other players take a step forward. Dillon Brooks emerged as a top-end defender and Kyle Anderson re-invented himself as a legitimate floor spacer.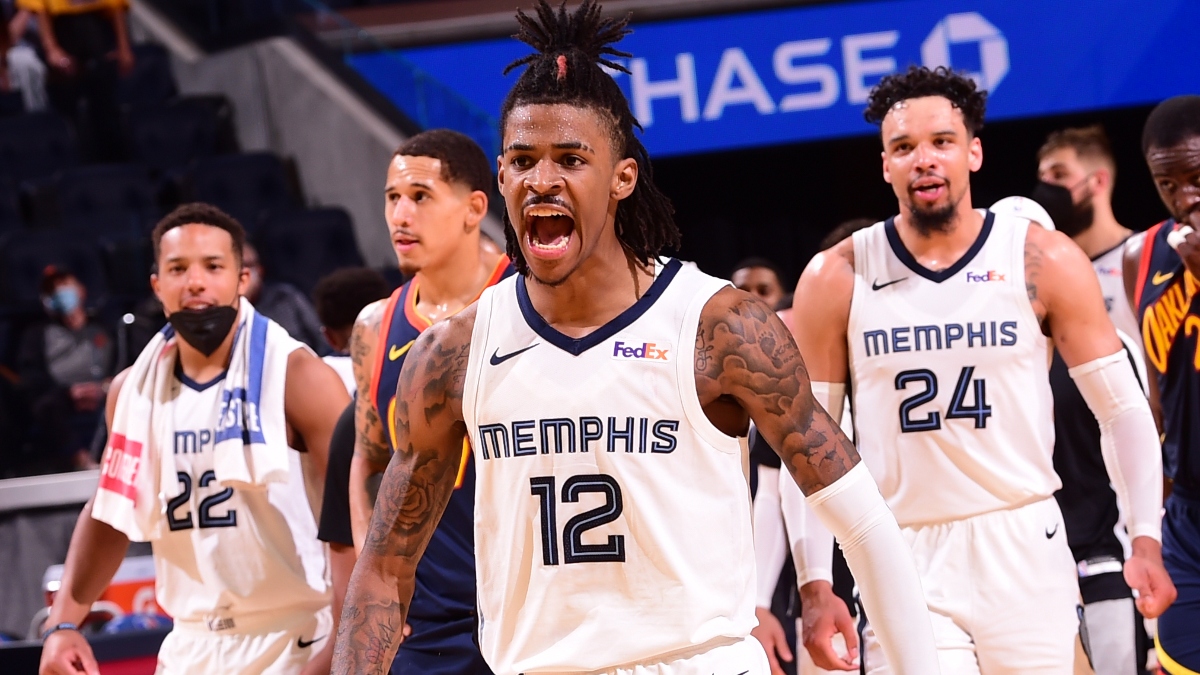 Plus, you know, Ja Morant.
Morant struggled shooting when he returned from injury, shooting 41% from the field and 28% from 3 in February. But by April, he was back to 48% from the field and 41% from 3.
His 3-pointer should take a step forward this season with repetition, and with it, his ability to draw defenders out to open the lane will improve. He's already one of the best and most impactful players in the league. This could be the year he jumps to All-Star.
Their schedule is average; there aren't many red flags on it. They're low in three-in-four-night sets, and their overall rest-adjusted schedule is middling. It's not a soft schedule, but it's not a concerning one, either.
The Case for the Under
Jonas Valanciunas led the Grizzlies in Win Shares last season. He could stretch the floor more with a mid-range jumper more so than Steven Adams can, and while his defensive numbers weren't good, neither have Adams' been over the past few seasons.
Adams has a lot of miles on him from his Thunder playoff runs, and if Morant's jumper doesn't take that step forward, Memphis' offense is going to be pretty clunky.
Brooks is an inconsistent shooter, Anderson was never a real threat before last season, and Jackson's career is worrisome. His injuries have hampered his athleticism, but more importantly, they've robbed him of the development time he needed. He needs a go-to move offensively, so he's not consistently dribbling into nothingness.
In short, the Grizzlies have banked on all their young guys improving, but often development isn't linear. Sporadic stalling in development could lead to regression on a team level pretty quickly without Valanciunas there to set the floor.
The Grizzlies had a -10.5 Net Rating with Jaren Jackson Jr. on the floor last season, and he's going to play a ton of minutes. If Jackson's injuries have simply made him a negative player, especially relative to the progression of the rest of the team, that's going to be a drag and create an awkward situation.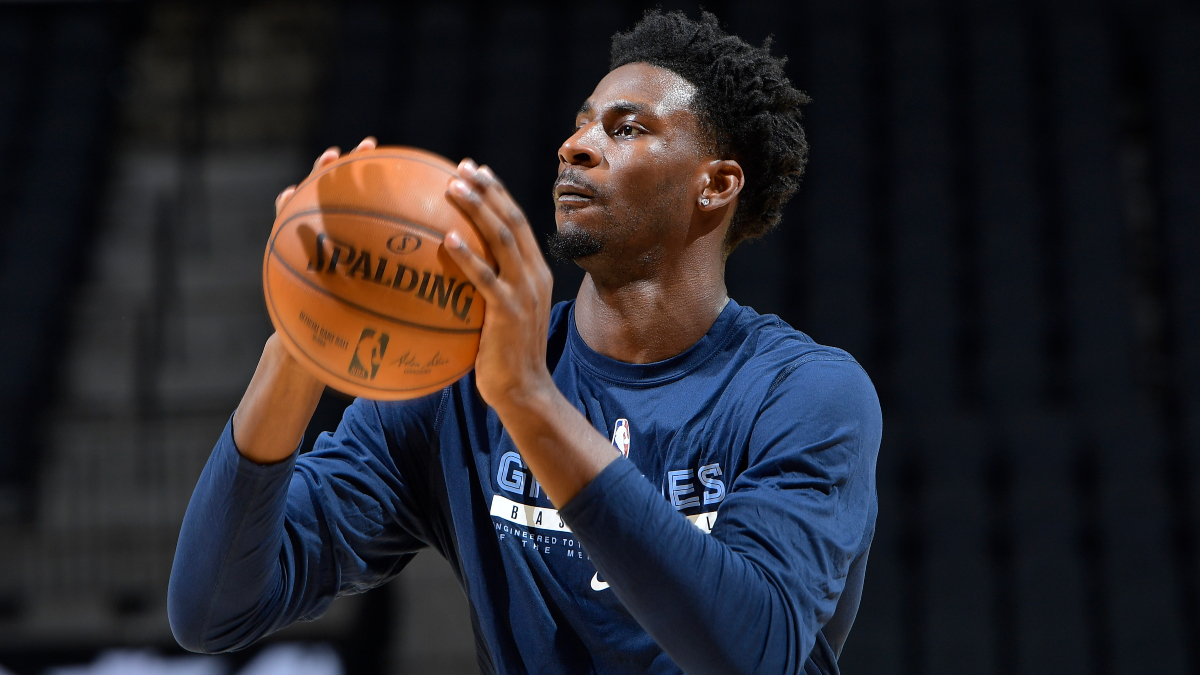 Memphis has been above expectation, considerably, the last two seasons. Banking on regression isn't so much "they're due" as the expectations have moved too far in their direction.
Their win total was 26.5 in 2020 and 33 last year at the lowest on board. Now we're looking at seven wins over that mark. The line has moved by 15 wins over two seasons without a major marquee signing, and the over is the play?
Did Memphis' roster improve? They moved Grayson Allen and Valanciunas and got back … rookie Ziaire Williams. They Russian-nesting-dolled their way out of Eric Bledsoe and then Patrick Beverley and Rajon Rondo and then Juancho Hernangomez.
They have put all their eggs in their young basket. Traditionally young teams struggle defensively. Taylor Jenkins has pulled a rabbit out of a hat in pulling the defense together but with so many young pieces, will that hold?
Grizzlies Win Total Bet
This win total is another chase situation for me, which always makes me nervous. I faded a young, rebuilding team two years ago; they nearly made the playoffs. I doubled down last season; they did make the playoffs.
Being late and taking over on teams after the leap makes me feel like I'm getting lousy closing line value. But last year, this team was better than their record and hurt themselves to try the Winslow experiment.
That's over, and the young guys do look better. They have shooting, defenders, bigs, passers, creators, and a star.
I like the over here as a best bet, and I like the Grizzlies' division odds as well.
How would you rate this article?
This site contains commercial content. We may be compensated for the links provided on this page. The content on this page is for informational purposes only. Action Network makes no representation or warranty as to the accuracy of the information given or the outcome of any game or event.