1-on-1 with Mike Conley Jr., the NBA's Forgotten All-Star
Memphis Grizzlies point guard Mike Conley sat down with Rob Perez (aka @WorldWideWob) in an exclusive interview.
The topics include his career-long chase to become an NBA All-Star, the "Grit 'N Grind" brotherhood, playing through gruesome injuries and more.
Sprained ankles, wrist sprains, strained neck, shattered orbital bone, broken back, Achilles strains, season-ending heel surgery.
And those are the only ones we actually know about.
Mike Conley Jr.'s list of injuries throughout his NBA career could barely fit on a CVS receipt. But it's all fair game, right? Conley is not the first professional athlete to deal with extensive health problems, and he surely won't be the last.
There is something peculiarly unique to think about when discussing Conley's story: Does he think all of these setbacks make him … better?
"I really do. I think it changed my game a lot. It changed the way I go out there and perform and the things I do and the way I try and accomplish it. Early on, I was so much of a guy who was trying to get to the basket and just be physical and diving for every loose ball and taking charges … just doing all these things … I still do them, but I pick and choose. I'm smarter with my movements. I'm smarter with not over-exerting myself in situations, and because of that I think I'm able to be more effective in games."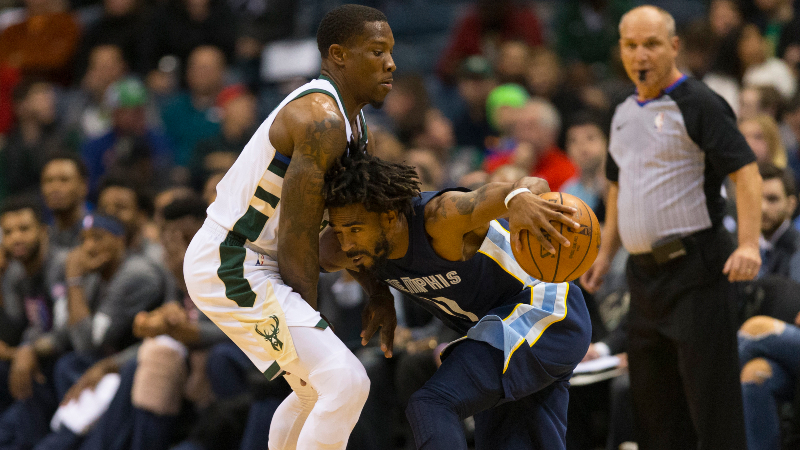 Just more than one year ago today, Conley played his final game of the 2017-18 campaign against the Bucks, undergoing treatment and eventual surgery for a "golf ball"-sized bone spur in his heel that he had been playing with for "years."
I mean, come on. This isn't just bad luck anymore. When the news dropped, it felt like it was his destiny to never be great.
We had to ask the question: Will we ever see Conley play to his full potential before Father Time shuts the door on his prime?
After a decade of speculation, we finally have our answer.
Through 23 games, the Memphis Grizzlies are 14-9, sixth in a Western Conference in which the 14th-ranked team is only 6.5 games back of first place. Conley holds career-high per-game averages in…
Points (21.1)
Assists (6.5)
Field goal attempts (16.7)
When he's on the floor, the team has a Net Rating of +5.7, and when he's not, it drops all the way to -4.6 — the highest differential on the team/Conley relationship since 2012-13.
This isn't happening all of a sudden because the Grizzlies brought in a top free agent to help him, either. As a matter of fact, Conley's 28.5% usage rate (the percentage of plays used by a player while on the floor) is the highest of his career.
"I think it's necessary for our team, honestly. I don't think it was me coming in and just really trying to focus on being that kind of aggressive player. The way we're built — what coach is asking of me and Marc and a lot of guys on our team — my role was to come in and be that guy. I didn't expect to play 35 minutes a game or whatever I'm playing, but I'm starting to get used the more and more minutes I play, the more conditioning I get and it allows me to be more assertive when I play."
He is not only putting additional, extensive miles on those surgically-repaired limbs, he is performing when it matters most — in the clutch.
"The clutch," as defined by the NBA's official stats website, measures a player's performance in the final five minutes of a game in which the differential is five points or less.
Of all NBA players who have been in this situation 10 times or more this season, Conley ranks second in points per minute scored (1.14) behind only Kemba Walker (1.28).
You can try and cherry pick any stat available, it won't change the fact that Mike Conley Jr. is having arguably the best season of his career and is as important to the Grizzlies franchise on and off the court as any player who's ever worn the jersey.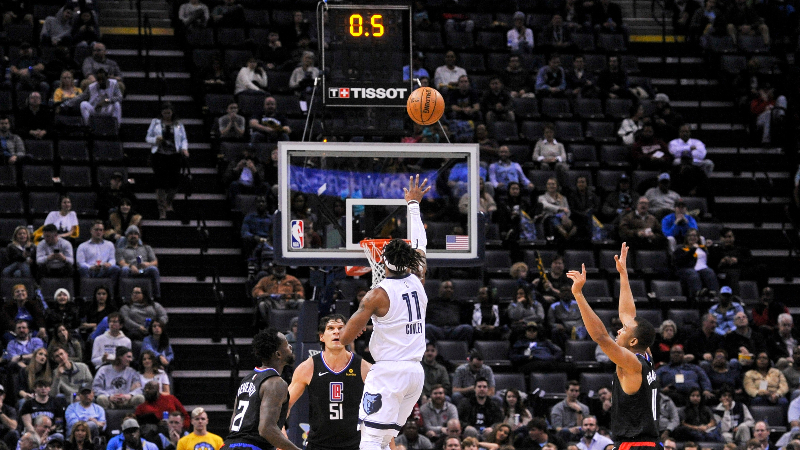 He is Memphis' rock, the engine that makes the vehicle run, the floor general and one of the few constants in a franchise consistently dealing with the ripple effects of front office Game of Thrones.
Which is what makes what I'm about to say even more outrageous: He's STILL, after all these campaigns, never made the All-Star team.
How is this even remotely possible? Is it something Conley Jr. actually wants?
"Of course I want it. I've tried to be humble about it and hoped to God it somehow works out, but it hasn't, and it's to the point that I need to let everyone know I really do want it, and it's like one of those deals that I need to close that chapter and at least get that opportunity, because there's been opportunities for me in the past that didn't work out. If this season doesn't work out, when will it?"
At first glance, the reasons why Conley has never been recognized with this honor are, honestly, quite reasonable — Stephen Curry, Chris Paul, Russell Westbrook, James Harden, and Klay Thompson have all played their entire careers in the West and rightfully deserve to lead the conversation when discussing the conference's best players at the guard position.
However, there are spots claimed by individuals every season not a part of this list of usual suspects, and Conley's omission from them, year after year, remains one of the most puzzling NBA award snubs.
Does the natural "I've paid my dues, what more do I have to do?" mentality set in here? Has Conley felt disrespected by the voters?
When I asked if this sentiment has ever passed through his mind, he had this to say:
"Yeah it did, actually, there's been times where one year they tell me because your team wasn't winning enough. Then the next year we're the No. 2 seed and we get one All-Star in while the No. 8 seed gets two All-Star in or whatever it may be, and then I'm like well I did what you told me to do so now what's the issue? And then it's like, next year you broke your back and were out for 12 games and you didn't play enough. I'm hoping I can check all of those boxes in one season and hopefully that'll be the key."
While I didn't ask him it directly, this answer had me thinking about the Grizzlies' famous "Grit 'N Grind" motto and how it plays into the whole All-Star selection process.
Similar to the San Antonio Spurs' philosophy of individual parts contributing to a collective efforts, "Grit 'N Grind" preaches doing anything and everything required to get the job done for the team — no matter how ugly the optics of it may be, or what it costs.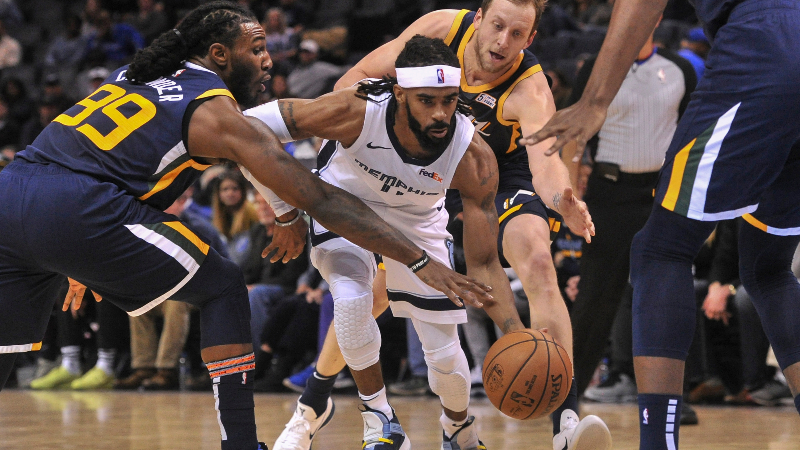 I use the word "ugly" here as a compliment. In an era of pace-and-space basketball and "Moreyball" dunks-and-3s offenses, the Memphis Grizzlies have become an endangered species — a team built around defense, slowing the game down, and essentially trying to be a pothole in the middle of the freeway as 29 other Lamborghini NBA offenses fly by blasting EDM music.
Unless you have a fetish for turnovers, sloppy gameplay, scrums, and rim warfare — the "Grit 'N Grind" style will never be sexy. It's not going to make YouTube highlight mixtapes, be on SportsCenter's Top 10, or appeal to a global audience fascinated with scoring, which all helps explain why the Grizzlies sometimes don't get the attention they deserve.
So why has Conley and Memphis embraced this as a part of the city's culture?
"It's because it's a mentality and not a style, first and foremost, what Tony Allen and Z-Bo and all those guys brought to the city of Memphis — stuck with everybody. Not just our team, but our city. It resonated. When you walk around Memphis, that's who you are and how you present yourself. You work hard, don't make excuses, you just go to work, do your job, and forget the trends. If we can get 15 guys to commit to a certain way, then you can be a nightmare for any team any night."
What this translates to is "Grit 'N Grind" has become a small-market basketball religion, which the players themselves continue to preach even after they've moved on from their tenure on the roster.
It is a fraternity with dedication to a brand, unique to today's NBA where "loyalty" between players and front offices is often times nothing more than just a word in the dictionary.
"First to call me [when I make the All-Star team] is going to be Tony Allen. He's been my biggest fan of anybody. Of all the years I didn't make it, he's telling the media why I should be there and telling me every single day in practice and every single game 'Man, you an All-Star. You top five. You top 10.' He's always pushed me and made me believe in myself in a different way.

"[Allen and Z-Bo] are [still] my brothers. They're guys I can look to for anything. Every single time I didn't make it or they felt like I should have made it, they were the first ones to come up to me and say 'We know your value, don't let this affect you and define who you are as a player or a person'."
The team's players, records and executives may change, but this tight-nit "Grit 'N Grind" community, on-and-off-the-court, will always be the constant. There's no guarantee Conley will have his named announced as an All-Star in the Spectrum Center on Feb. 17 in Charlotte, but he's not going to let that define his legacy.
"I want Memphis to remember me as a winner, somebody who did anything and everything sacrificed my body for something bigger than myself. I think that's what gets overlooked is I'm not just getting hurt walking around the corner, I'm getting hurt because I'm diving on the floor, taking chargers being the smallest guy on the court. I want to continue to increase my reach throughout the community. Whether I work with St. Jude, the Methodist Hospitals, the Shoe Up event where I give out shoes to students who do well with their grades, understanding the future is our kids and our city. I want to be able to be that for people who don't have the opportunity to do that for themselves."
… until then, whether he makes the team this season or not, Mike Conley Jr. will be the NBA's forgotten All-Star — no more.