Moore & Perez: Deng, Thibs and Another 'Timberbulls' Signing … What the Hell Is Going on in Minnesota?
Credit:
Credit: Brad Rempel-USA TODAY Sports. Pictured: Tom Thibodeau
Matt Moore and Rob Perez try to make sense of what Tom Thibodeau is doing in Minnesota in the wake of the Timberwolves' Luol Deng signing.
The one-year deal raises questions about what this means for Karl-Anthony Towns' extension and Andrew Wiggins' starting job.
Deng is the most recent addition from Thibodeau's Bulls teams, along with Jimmy Butler, Derrick Rose and Taj Gibson.
Luol Deng signed a one-year deal with the Minnesota Timberwolves on Monday, becoming the fourth former Chicago Bull to rejoin Tom Thibodeau.
Matt Moore and Rob Perez run down the five biggest questions the signing raises, starting with Thibs' objective.
---
This whole "Timberbulls" thing wasn't a joke. What is Thibs doing? Like, for real?
Matt Moore, Senior NBA Writer for The Action Network: There's this theory in social psychology called terror management. Effectively, whenever someone's aware of their own mortality, they express their core values more strongly. That's what we're seeing with Tom Thibodeau.
In two seasons under Thibs, the Wolves have ranked 26th and 22nd respectively in defensive rating. There is talk of internal discord within the front office and locker room, and Karl-Anthony Towns still hasn't signed his extension. I talked about a lot of this stuff with Jon Krawczynski of The Athletic this summer and none of it sounded good. So with that much internal strife and the team's wildly disappointing slide last season, there's a lot of tension in the building.
Thibs is turning to his security blanket: Past success. The 2010-11 Bulls were the most successful team of Thibs' career, and like a lot of coaches in that position, he's opted to cling to that security blanket — even if that era was seven to eight years ago.
It's hard to see how he doesn't realize this is a bad idea. That Derrick Rose, despite a good playoff series against the Rockets, is a shell of himself. That Deng can barely play. That Joakim Noah, should he join the crew, also can't get on the floor. This is a roster built around guys who just aren't the players they used to be. For all the talk of wanting to bring in leadership and change the locker-room dynamic, you're also bringing in a crew of guys who will remember their past success in the current context rather than as an anachronism.
Rob Perez, Senior NBA Producer at The Action Network: First of all: There are two Dengs and a Dieng on the same team. When they play together, it has to be called the "Wu-Deng Clan," right?
We'll get to the jokes later, but, there is only one explanation here for me, and it's Thibs' attempt to squash any locker room trust issues.
The Andrew Wiggins vs. Towns vs. Jimmy Butler vs. Thibodeau vs. Old Bulls regime of players Royal Rumble is the worst-kept secret in the league right now. Thibs is bringing in guys he has been in the trenches with, and what appears to be the only guys he wants to be in the trenches with moving forward. Like, what is going to happen after either this fails or all these old dudes retire? Thibodeau going to The Big 3 with them, too?
I will say this, however: I saw enough from Deng in the NBA Africa Game that I'm willing to declare he still has enough to be on an NBA roster. But Deng, who has been trapped in the Lakers' dungeon for the past two years, didn't sign with the Wolves to ride the bench behind Wiggins. Deng met with Thibs, and something was said to convince Deng he's going to get run. I don't know how that is possible without sacrifice when I look at the roster. Makes me think we are going to get LEGIT LUOL DENG MINUTES in 2018. I can't believe I just said that out loud.
If you're the Knicks are you running to Noah for a buyout before the Timberwolves roster fills up?
MM: Even Thibs isn't crazy enough to trade for Noah. So, yes. This is a good time to go after that buyout and try to motivate Noah to take a discount for a real chance to play. That said, at this point, Noah is still going to want almost the whole bag to get loose. He's both smart and irritated enough at the Knicks to go that route.
Maybe the more interesting question is whether Noah, who reportedly had some issues with Butler in their time together, wants to join a team knowing that Butler is not only the star and locker-room leader, but is also in a contract year. Do you want to join what might be the Titanic, no matter how much you love the captain?
RP: If the Wolves are the Titanic, let's not act like Noah is the Carpathia. At this point, he's more like Rose telling Jack the door wasn't big enough to fit both of them when it's plenty big for her to sprawl out and kick her feet up while Jack freezes to death.
I think Noah wants to play. You don't post Instagram videos of yourself shooting (and making!) 3s unless you're trying to prove you still have it and want to play. (Guarantee it took them 20 tries to get that video done, by the way.)
The Butler dynamic is interesting. We all just kind of assume that all the players on that Bulls team got along and pledged to follow their fearless leader in unison against LeBron James — maybe there's still unsettled beef we don't know about. With respect to his buyout: Noah is absolutely getting all of his money minus the $2.4 million he'll get for the veteran's minimum from another team.
I got a weird feeling he wants every dollar. Just to spite the Knicks.
Even if he does, the Knicks should not care. James Dolan has more gold in his checking account than that cave has in "Aladdin;" $2.4 Million is just another night out playing the kazoo to him.
Also, since the calendar is past Aug. 31, waiver rules now say that the Knicks would owe Noah his full contract this season while the final year gets stretched over three years. HELLO $47 MILLION IN CAP SPACE.
This makes way too much sense to happen. This is the Knicks we're talking about here.
What does this mean for Towns' extension?
MM: It continues to be weird that this isn't done. The money is clear; the Wolves are never going to let him just walk as a free agent. So if Towns is hesitating, it seems that there's some uncertainty on his part to give the Wolves the leverage of him on a five-year deal if trade talks were to develop.
The Wolves denied any interest in trading Towns when the idea was floated early in the offseason. But they didn't come out guns blazing through a reporter of choice, either. It was a soft denial.
So from that perspective, if you don't know what the future is going to hold for Thibs, Butler or Towns' own position in Minnesota, it makes sense that Towns would be hesitant to give them a contract like that to move. Just ask Blake Griffin.
RP: This is going to be one of the most underrated storylines of the year. Towns obviously wants to get paid, and probably deserves the biggest extension he can get. But to get that max money he wants, it's going to have to be from the Timberwolves.
If this "bad blood" we've heard so much about is actually true and evolves throughout the season, the best case scenario is … he gets signed and traded? Would Towns dare sign a qualifying offer just to guarantee to get to unrestricted free agency the following season? If they beef, would Minnesota act to remove Thibodeau at Towns' request? Who does management side with: the star or the front office?
There is a lot at stake in Minnesota this season.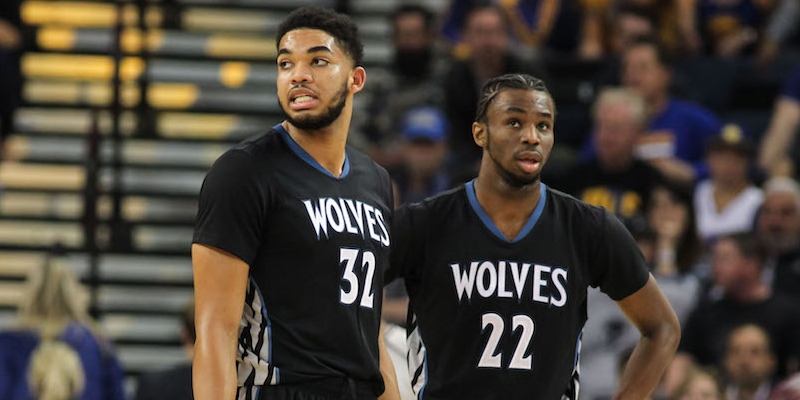 Would Thibodeau dare bench Wiggins?
MM: I don't think so, based on Wiggins' contract situation and overall talent. The idea of pairing the backcourt with Tyus Jones next to either Jeff Teague or Rose is interesting, but that move doesn't seem like a card that Thibs will play given the size issues.
Meanwhile, Deng is 100% a power forward now, just like Joe Johnson and other former 2-guards. That's what happens when dudes get old: They morph from 2-guard to power forward in two years. The old man thick game is real.
The nightmare that Wolves fans may want to worry about more might be that Teague is benched in favor of not Jones, but Rose. If that's the case, whoo boy. It's gonna get wild in a hurry.
RP: Now that you teased this, I want nothing more than the Rose, Butler, Deng, Taj Gibson and Carlos Boozer (you know it's coming) starting lineup before Christmas.
I think you hit the nail on the head here, but we need to seriously discuss whether Wiggins is the worst contract in the NBA right now if you use money, salary-cap hold, usage and production as the qualifying factors.
This team is 100% going to lead the league in cryptic emoji tweets this season.
What do you think this locker room is going to be like?
MM: It will smell of money and Bengay, and will operate with a very clear dichotomy of the young dudes and the old guys. Like Chicago in 2016-17 and other teams before it, creating this kind of separation between the old guys and the young dudes rarely works well. It increases division and entrenchment. Not great.
RP: First day of training camp I imagine Towns and Wiggins walking in and being grilled by the Timberbulls like Lindsay Lohan when she sits down with Regina George and the Mean Girls for the first time. (I need a girlfriend badly.)
If you're Nate Robinson, Boozer or Kirk Hinrich — what are you doing at this exact moment?
MM: Where's John Lucas III? Someone call Ronnie Brewer. Get C.J. Miles from Toronto. The Raptors have Danny Green now, anyway. Brian Scalabrine can still ball. Let's make this happen.
RP: glass shatters
BAW GAWD … IS THAT!?!? … IT IS!!!! THAT'S VLADIMIR RADMANOVIC'S MUSIC!!!!! AND HE'S GOT A CHAIR!!!!!
How would you rate this article?