NBA Win Total Odds & Pick: Is the Tide Turning for the Minnesota Timberwolves and Karl-Anthony Towns?
Credit:
David Sherman/NBAE via Getty Images. Pictured: Karl-Anthony Towns #32 of the Minnesota Timberwolves.
The Minnesota Timberwolves are in a show-me season with Karl-Anthony Towns and have an over/under of 34.5 wins.
Matt Moore analyzes their win total odds below.
Check out this post for updated season win totals and this post for my other 29 season win total picks.
Minnesota Timberwolves Win Total Odds
The Case for the Over
Chris Finch took over in late February as head coach of the Minnesota Timberwolves in a season with a highly compact schedule and no practice time. From March 15 through the end of the season, the Wolves went 14-19, a 42.4% win percentage which over 82 games would put them right at 35 for the season.
Finch unlocked something significant with not only the Wolves' offense but Karl-Anthony Towns in particular. Minnesota went 7-3 vs. bottom-10 teams in point differential in that span, which, "Sure," you say, "it's easy vs. the tanking teams." But that's just the point. This win total doesn't suggest the Wolves have to be good to hit the over. They just have to be not as bad.
After the All-Star Break, Minnesota went 11-12 against Western Conference teams and 4-3 vs. East teams that aren't in the Northeast Division. They went 0-5 vs. the Nets (top-two seed), the Sixers (top-two seed), and the Celtics (playoff team). If we dig in, there are all sorts of signs that their win profile stabilized.
The Timberwolves are changing their defensive scheme this season, going to an at-the-level contain approach. Patrick Beverley's presence will help with that, but more importantly, this change helps Towns.
He is fast, athletic, and mobile; the Wolves handcuffed him to a drop scheme in pick-and-roll that does nothing to accentuate his strengths and instead exacerbates his weaknesses.
The Wolves last season had the No. 2 ([) defense defending pick-and-rolls in coverages that weren't drop or switch, and in preseason, they've talked explicitly about playing less of both.
Minnesota has offensive firepower that should improve with a better roster and Anthony Edwards' improvement, plus better coaching from Finch and a defense moving away from failed strategies towards a better approach. So the on-court performance should be better.
Before Saunders was dismissed, the Wolves were outscored by 1.2 points per 100 possessions with Towns, their best player, on the floor. After the All-Star Break, when Finch could install some things, that number went from -1.2 to +1.6. That differential is crucial. You need to win your starters minutes.
There is a non-zero chance they trade for Ben Simmons. The path to such a trade is difficult. KAT and D'Angelo Russell are great friends; they wanted to play together. Both are friends with Simmons.
The most logical trade involves Russell (and many other pieces) for Simmons, but that would mean disrupting those friendships that the team can't afford with Towns' overall depression about the franchise's instability. The alternative would be trading Edwards, which would be a mistake given he's the second-best player on the team.
However, if they found a trade that worked and didn't involve Russell or Edwards — again, I'm skeptical of this — Simmons adds a dynamite defender and playmaker, and this team probably leaps into a playoff contender.
General manager Sachin Gupta (who took over for the fired Gersson Rosas) worked for Daryl Morey in Houston and Sam Hinkie (a member of the Morey tree) in Philly. There are ties.
There's been action on this from the offseason. It opened 33.5, and there are 35.5's on the market now. Follow the money.
The Case for the Under
Before the All-Star Break this upcoming season, Minnesota has the second-toughest rest-adjusted schedule in the league, flying the fifth-most miles of any team in that stretch. If they struggle due to a demanding schedule, they may have to pivot to draft equity and tank, yet again.
Towns' frustration over the franchise's instability combined with an incoming new set of owners is concerning. Not profoundly so, but enough to be a little nervous.
At some level, the changes in the defensive scheme are just rearranging deck chairs on the Titanic. They don't have good defensive personnel. Teams with Russell on the floor have had a negative rating in all but one season of his career (2019 Nets) and worse than -7 in six of his seven seasons.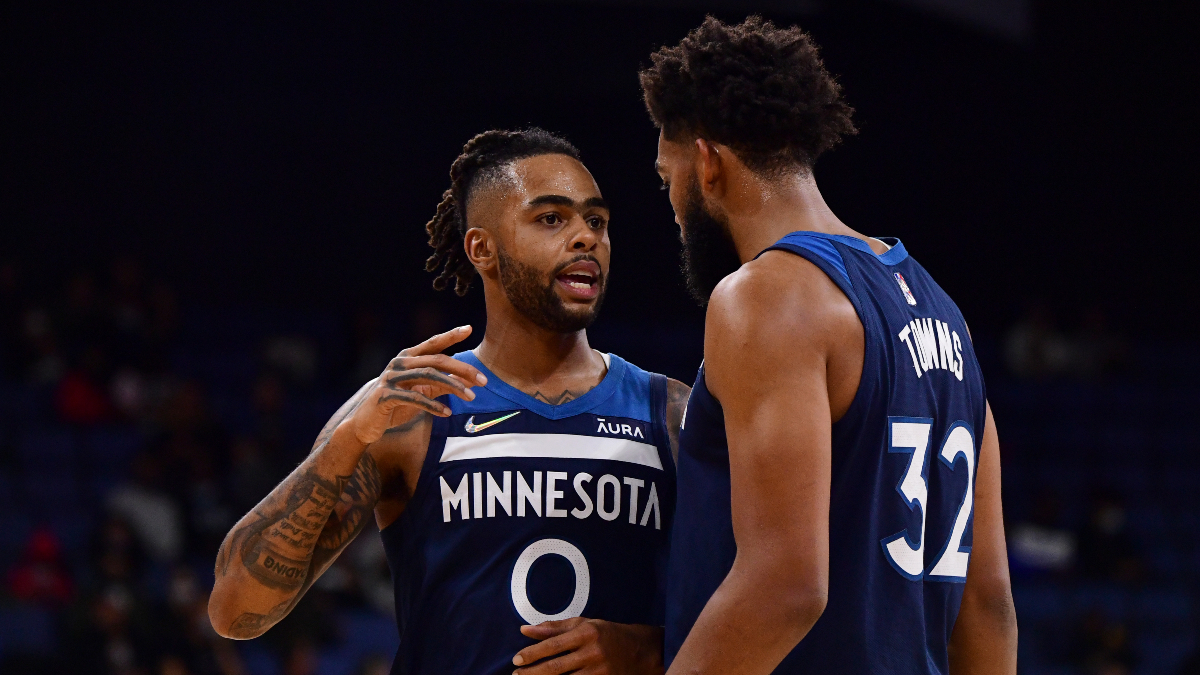 Teams have never won their minutes with him on the floor outside of that one Nets season. Not coincidentally, his team's defensive rating has been 110 or worse, with him on the floor in all but that one Nets season. There's just no evidence you can win with Russell.
The Wolves had the sixth-fewest games lost to injury, and the 6th-fewest Win Shares lost to injury per ManGamesLost.com. So relatively good injury luck, and they still went under easily.
They were an easy under bet last season, and now they're jumping up nine wins? Does Finch mean that much?
Timberwolves Win Total Bet
Yes, Finch does mean that much.
I already jumped on Wolves to make the play-in tournament at +200 at FanDuel, and this over is a best bet.
The talent has been there. Edwards started slowly last season and came on, KAT really is a dominating offensive force, and his defensive effort has been there to start seasons and then waned when the wind went out of sails. The upgrade on coaching puts them at 30 wins; the talent gets them the rest of the way.
We need five poorer teams for the play-in, and the Rockets, Thunder, Kings, and Spurs all have either worse rosters or coaches.
Follow the money that pushed this win total up. I like it to 37.5.
How would you rate this article?
This site contains commercial content. We may be compensated for the links provided on this page. The content on this page is for informational purposes only. Action Network makes no representation or warranty as to the accuracy of the information given or the outcome of any game or event.