NBA Odds, Picks & Betting Predictions (Friday, Feb. 21): Buy the Pelicans Against the Shorthanded Blazers?
Credit:
Layne Murdoch Jr./NBAE via Getty Images. Pictured: Zion Williamson #1 of the New Orleans Pelicans.
Looking for an edge on Friday's NBA betting slate? Bryan Mears gives his picks on three matchups on tonight's schedule.
See how where he's finding value in tonight's Trail Blazers-Pelicans matchup plus his analysis on the DFS market below.
This NBA season, I'm trying something new. I'm going to write a daily piece that highlights everything bettors and DFS players need to know for that night's slate. For more on what to expect, read the inaugural piece.
Yesterday I finished 1-5-1 for -2.0 units. While I don't want to get sucked into the past, I think it's worth reviewing things each day.
The best way to do that is to look at closing line value (CLV), which is just measuring whether the line you bet moved for or against you by closing.
I bet Grizzlies pick'em and it closed at Grizzlies -1 (lost)
I bet Hornets-Bulls over 210.5 and it closed at 211.5 (lost)
I bet Bulls (2H) -6 (pushed)
I bet Nets-Sixers under 215.5/214.5 and it closed at 214 (lost)
I bet Nets-Sixers (1H) under 105 (won)
I bet Heat-Hawks under 230 and it closed at 229.5 (lost)
It was a tough day despite getting positive CLV on literally every bet. It happens.
It would've actually been about a neutral day if it wasn't for the Nets-Sixers game, which were my biggest bets (I hit the total twice). It was going way under in regulation but finished at 216 in overtime. Tough luck.
Anyway, let's dive into today's slate and find some angles.
YTD Record:
Overall: 224-206-2
Spreads: 87-86-3
Totals: 88-89
Moneylines: 23-10
Props: 29-22
Jump To: Odds & Analysis | Projected Starting Lineups & Injury News | Player Props | DFS Values & Strategy | My Bets
---
Odds as of Friday afternoon and via FanDuel, where Action Network users get a risk-free bet up to $500.
---
Betting Odds and Analysis
7 p.m. ET: Dallas Mavericks (-4) at Orlando Magic, 220
7 p.m. ET: Cleveland Cavaliers at Washington Wizards (-6), 236.5
7:30 p.m. ET: Indiana Pacers (-6.5) at New York Knicks, 211.5
7:30 p.m. ET: Phoenix Suns at Toronto Raptors (-7.5), 228.5
8 p.m. ET: Boston Celtics (-6.5) at Minnesota Timberwolves, 228.5
8 p.m. ET: Denver Nuggets at OKC Thunder (-1), 215
9 p.m. ET: San Antonio Spurs at Utah Jazz (-7), 221.5
10:30 p.m. ET: New Orleans Pelicans (-4.5) at Portland Trail Blazers, 237.5
10:30 p.m. ET: Memphis Grizzlies at Los Angeles Lakers (-11), 232.5
Mavs at Magic
The Mavs have stumbled a bit in the new year, partly due to some shooting regression but mostly due to injuries. Dwight Powell was out for the year, and Luka Doncic has been in and out with nagging ailments. Kristaps Porzingis, too.
Luka is back and seems healthy after the All-Star break, so I think it's smart to take a longer view on things. When Luka has been on the floor this season, the Mavs have been awesome, posting a +7.0 Net Rating across nearly 3,000 possessions. The offense in particular has been incredible, scoring 119.4 points per 100 possessions — an insane mark.
To be fair, with Doncic on the floor and Powell off, the team has posted just a +3.9 Net Rating. But they've still been largely great offensively, posting a +116.5 Offensive Rating — it's been the defense that has really dropped.
But I think that's less of a concern against the Magic, who rank 24th in offensive efficiency this season and 28th in eFG%. Sometimes you can overthink things: Dallas is one of the best shooting teams in the league; the Magic are one of the worst.
There's also the math problem: The Mavs are second in 3-point rate this season and fifth specifically in corner-3s. The Magic are 18th and dead last, respectively, in those categories.
In the first meeting between these teams this season, the Mavs won but the Magic were able to largely negate that math problem. But that was a very different team with Jonathan Isaac — one of the league's most underrated defenders — out there to help and limit Luka.
Put more simply: The Mavs won despite Isaac playing and despite shooting poorly; what happens when Isaac isn't out there and they shoot closer to their average?
The Magic are fine; they'll likely make the playoffs and get swept by the Bucks in the first round. Prior to the All-Star break, they took care of business against the league's worst teams but really struggled against the best, getting blown out by the Bucks, Celtics and Heat in February. And even against the bad teams, they weren't covering: They're 2-8 against the spread in their past 10 games.
To put those splits into perspective on the whole year: The Magic are 8-18-2 ATS as underdogs; they really struggle against the best teams. Combine that with the fact that they're 10-17-1 ATS at home, and they seem to be undervalued in this spot. The Mavs, meanwhile, are 18-8 straight-up and 18-6-2 ATS on the road; they crush in this spot.
[Bet now at FanDuel. NJ, PA, IN and WV only.]
Celtics at Wolves
This one isn't too complicated. Two key offensive players are out in Kemba Walker for the Celtics and Karl-Anthony Towns for the Wolves. I grabbed this at 229; I think that number is too high with those players out.
Let's start with the Celtics: Kemba has a neutral on/off differential for the Celtics; they've been just 0.1 points/100 better with him playing. But that's because he has pretty negative defensive splits. On offense, he's been the team's most important player: The Celtics have been 8.2 points/100 better with him on vs. off — the highest mark on the floor.
I think it can be dangerous sometimes to use on/off splits when a player is out to evaluate team performance: There's collinearity, which means that a lot of these metrics are correlated with teammates. For example, a team's entire starting five may have awesome offensive splits. That doesn't necessarily mean that if you take one out they'll struggle; it's tough to say since they're all so correlated.
But I'm not sure that's the case with the Celtics: Of the starters, only Kemba and Jayson Tatum have very positive marks; Jaylen Brown and Marcus Smart have negative ones, in fact, and they play a lot with Kemba. I think this data speaks to his importance as an on-ball shot creator.
I think the same thing is true in Minnesota and perhaps even more exaggerated. When Towns has been on the floor, the Wolves have been an astounding 14.2 points/100 better than with him off. Some of the other players who also have good on/off differentials — Robert Covington, Jeff Teague, Jordan Bell and Andrew Wiggins — are no longer on the team.
The Wolves are just weird right now. They exploded against the Clippers in their first game after the trade deadline, putting up 142 points and a 135.0 Offensive Rating in a blowout win at home. In the other two games, things were tougher for them, and it's reasonable to expect their new guys — D'Angelo Russell, Malik Beasley, Juancho Hernangomez, etc. — to take some time to develop offensive chemistry.
Against a great Celtics defense, that's especially true, and they won't have Kemba to pick on with Smart likely starting at point guard.
I still like the under here even after some movement down to 228.5 or so.
[Bet now at FanDuel. NJ, PA, IN and WV only.]
Pelicans at Blazers
Damian Lillard is out for this one following an injury he sustained just before the All-Star break.
Lillard is obviously important to the Blazers; he's a legitimate MVP candidate if we're measuring solely by value and not just "best player." With him on the floor, the Blazers have been 11.2 points/100 better than him off. Most of that value has come offensively, of course, where he has one of the strongest on/off differential splits in the league.
They still have some talent, but the data just doesn't suggest a high level of play without Dame. Even with CJ McCollum as the point guard, the Blazers have posted a terrible -9.3 Net Rating in those 1,007 possessions. The offense has completely fallen off a cliff, scoring just 105.1 points/100. They don't get great shots, they don't run — nothing has really worked without Dame.
Meanwhile, the Pels are hot right now. Since Jan. 1, they are seventh in the league in Net Rating, including fourth on offense and second in eFG%. Zion Williamson has continued to ramp up his minutes and get comfortable with the team, and his data is incredible.
With Zion playing, the Pels have posted a +11.9 Net Rating. They've been incredible offensively, defensively, shooting … everything. Turns out he might be a generational player — who would've thought?
Given Dame's absence, I don't think this line at open adjusted enough. I grabbed the Pels at -4 and think there's value even at -5.
[Bet now at FanDuel. NJ, PA, IN and WV only.]
Projected Starting Lineups and Injury News
Note: Info as of 12:15 p.m. ET. For up-to-the-minute lineups and news, see FantasyLabs' matchups page.
Projected Lineups
Boston Celtics: Marcus Smart – Jaylen Brown – Jayson Tatum – Gordon Hayward – Daniel Theis
Cleveland Cavaliers: Darius Garland – Collin Sexton – Cedi Osman – Kevin Love – Andre Drummond
Dallas Mavericks: Luka Doncic – Jalen Brunson – Tim Hardaway Jr. – Dorian Finney-Smith – Kristaps Porzingis
Denver Nuggets: Jamal Murray – Gary Harris – Torrey Craig – Jerami Grant – Nikola Jokic
Indiana Pacers: Malcolm Brogdon – Victor Oladipo – TJ Warren – Domantas Sabonis – Myles Turner
LA Lakers: LeBron James – Avery Bradley – Danny Green – Anthony Davis – JaVale McGee
Memphis Grizzlies: Ja Morant – Dillon Brooks – Kyle Anderson – Jaren Jackson Jr. – Jonas Valanciunas
Minnesota Timberwolves: D'Angelo Russell – Malik Beasley – Josh Okogie – Juancho Hernangomez – James Johnson
New Orleans Pelicans: Lonzo Ball – Jrue Holiday – Brandon Ingram – Zion Williamson – Derrick Favors
New York Knicks: Elfrid Payton – RJ Barrett – Reggie Bullock – Julius Randle – Taj Gibson
OKC Thunder: Chris Paul – Shai Gilgeous-Alexander – Luguentz Dort – Danilo Gallinari – Steven Adams
Orlando Magic: Markelle Fultz – Evan Fournier – Wes Iwundu – Aaron Gordon – Nikola Vucevic
Phoenix Suns: Ricky Rubio – Devin Booker – Kelly Oubre – Mikal Bridges – Deandre Ayton
Portland Trail Blazers: CJ McCollum – Gary Trent Jr. – Trevor Ariza – Carmelo Anthony – Hassan Whiteside
San Antonio Spurs: Dejounte Murray – Bryn Forbes – DeMar DeRozan – Trey Lyles – LaMarcus Aldridge
Toronto Raptors: Kyle Lowry – Fred VanVleet – OG Anunoby – Pascal Siakam – Serge Ibaka
Utah Jazz: Donovan Mitchell – Joe Ingles – Bogdan Bogdanovic – Royce O'Neale – Rudy Gobert
Washington Wizards: Ish Smith – Bradley Beal – Isaac Bonga – Rui Hachimura – Ian Mahinmi
Injury News
Boston Celtics: Kemba Walker (knee) is out. Jaylen Brown (calf) is not on the injury report.
Cleveland Cavaliers: Alfonzo McKinnie (foot) is out. Kevin Love (Achilles) is not on the injury report.
Dallas Mavericks: Nothing new.
Denver Nuggets: Will Barton (knee) is questionable. Mason Plumlee (cuboid) and Michael Porter Jr. (ankle) will play.
Indiana Pacers: TJ Warren (back) is questionable.
LA Lakers: Anthony Davis (finger) is probable.
Memphis Grizzlies: Nothing new.
Minnesota Timberwolves: Karl-Anthony Towns (wrist) is out.
New Orleans Pelicans: Brandon Ingram (ankle) is TBD.
New York Knicks: Wayne Ellington (ankle) and Elfrid Payton (ankle) are questionable.
OKC Thunder: Nothing new.
Orlando Magic: DJ Augustin (knee) is available to play. Mo Bamba (illness) is not on the injury report.
Phoenix Suns: Frank Kaminsky (knee) remains out. Elie Okobo (ankle), Aron Baynes (hip), Dario Saric (ankle) and Deandre Ayton (ankle) are probable.
Portland Trail Blazers: Damian Lillard (groin) and Mario Hezonja (ankle) are out. Nassir Little (ankle) will play.
San Antonio Spurs: DeMar DeRozan (back) said he'll play.
Toronto Raptors: Marc Gasol (hamstring) remains out. Pat McCaw (illness) is doubtful.
Utah Jazz: Mike Conley (rest) is out.
Washington Wizards: Ian Mahinmi (foot) and Thomas Bryant (foot) are questionable.
Player Props
To bet props, I use our FantasyLabs player props tool. Follow me in the Action Network app to see my bets (or go to the bottom of the article), but the more important thing is the tool, which measures our projections for every player vs. current odds in the market and highlights the biggest edges for you.
Player props are an inefficient market, which allows casual bettors (limits are low, so pro bettors aren't incentivized to prioritize them) to grab very +EV bets.
That said, the lines move quickly. Our props tool is set up so you can always see whether there's an edge even at the updated numbers throughout the day.
It's one of my favorite tools we offer and should be one of your bookmarked pages if you like making a few extra bucks. Here's a screenshot of what it looks like:

My usual recommendation: Bet unders.
Last season, 10-rated props in our tool hit at a 60.31% rate. But overs hit at a 57.08% rate vs. 66.47% for unders. For 9-rated props, 55.96% of overs were successful bets vs. 62.60% for unders.
As I have noted in the past, unders have more outs: A blowout, an injury, a poor shooting night all will likely make the under hit. But also, props are less efficient as a market given the low limits, so they're less likely to adjust for things like opponent and pace.
That said, you can sometimes find edges due to injuries. One such example is with Gordon Hayward's 3.5-assist prop.
Kemba is out tonight, and without him playing Hayward has taken a much larger role within the offense, especially with shot creation. In seven games without his fellow star, he's been up near 4.5 assists per game. Marcus Smart has also seen a bump; there could be value on his marks as well.
DFS Values and Strategy
There are four players priced at $10,000 or higher on FanDuel tonight: Nikola Jokic, Luka Doncic, LeBron James and Anthony Davis.
All of those guys are worthy of roster spots, as usual, although Jokic will likely go the lowest-owned given his tougher matchup against the Thunder. That's probably somewhat true with Luka as well against the slow-paced Magic, although he's usually always pretty popular.
I think a lot of users will take one of the two Lakers stars given their matchup against the fast-paced Grizzlies (who are on a road back-to-back). Davis is currently the best value of the stud options on both DraftKings and FanDuel.
The best values, though, are in the mid-range. CJ McCollum seems like a no-brainer option given he's just $6,600 on DraftKings and will have to operate the offense without Damian Lillard, who is out with an injury. We have him projected for 40 minutes against the hyper-fast Pelicans; it's very difficult to imagine him failing in that spot.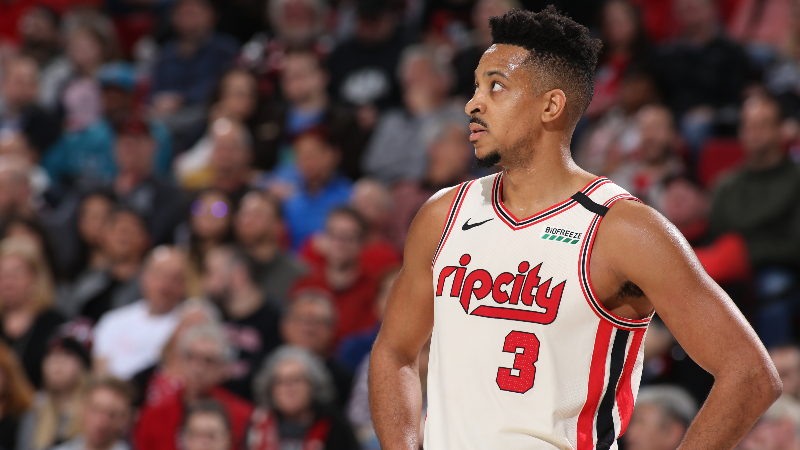 Other guys standing out include Brandon Ingram, Dennis Schroder, Jayson Tatum and Jaylen Brown. Those Boston guys will likely be popular mid-tier options against the Wolves given Kemba Walker's absence tonight.
There are also good low-tier values, especially with the Blazers without Dame. Anfernee Simons is one of the best pure values of the day at $3,500, and Carmelo Anthony stands out as well. Other options include Juancho Hernangomez (without Karl-Anthony Towns), Victor Oladipo, RJ Barrett and more.
Make sure to monitor injury news as well. Will Barton, TJ Warren and Elfrid Payton are all questionable; Deandre Ayton and Anthony Davis are probable.
You know the drill: Follow the news and make sure to subscribe to our models to see up-to-the-minute projection updates.
For more DFS analysis and value plays, check out the FantasyLabs NBA models.
My Bets Currently
Mavs -4
Celtics-Wolves under 229
Pelicans -4
[In New Jersey, Pennsylvania, Indiana or West Virginia? Bet now at FanDuel]
Follow me in our free app if you want an alert on bets I make.
How would you rate this article?