NBA Predictions, Picks & Betting Odds (Friday, Jan. 3): Will Philly's Road Woes Continue?
Credit:
Photo credit: Michael Reaves/Getty Images. Pictured: Joel Embiid
This NBA season, I'm trying something new. I'm going to write a daily piece that highlights everything bettors and DFS players need to know for that night's slate. For more on what to expect, read the inaugural piece.
Yesterday I finished 1-0 for +0.5 units. While I don't want to get sucked into the past, I think it's worth reviewing things each day.
The best way to do that is to look at closing line value (CLV), which is just measuring whether the line you bet moved for or against you by closing.
I bet Grizzlies/Kings over 224.5 and it closed at 224.5 (won)
I've been off the last week or so due to some personal things, but I sincerely thank everyone who wrote kind words and asked about this piece. Knowing that people read it daily and it helps you makes me happy. I'm glad to be back.
Anyway, let's dive into today's slate and find some angles.
Note: For updates, see the chat at the bottom of this post.
YTD Record:
Overall: 155-121-2
Spreads: 59-52-2
Totals: 47-41
Moneylines: 14-6
Props: 29-22
Jump To: Odds & Analysis | Projected Starting Lineups & Injury News | Player Props | DFS Values & Strategy | My Bets
---
Odds as of Friday afternoon and via FanDuel, where Action Network users get a risk-free bet up to $500.
---
Betting Odds and Analysis
7 p.m. ET: Portland Trail Blazers (-7) at Washington Wizards, 235
7 p.m. ET: Atlanta Hawks at Boston Celtics (-10.5), 223.5
7 p.m. ET: Miami Heat (-1.5) at Orlando Magic, 207.5
8 p.m. ET: Philadelphia 76ers at Houston Rockets (-4.5), 226.5
9 p.m. ET: New York Knicks at Phoenix Suns (-7.5), 225
10:30 p.m. ET: New Orleans Pelicans at LA Lakers (-10.5), 224.5
Let's run through a couple angles I'm eyeing.
Heat at Magic
The Magic are coming off a blowout win, although it was hardly convincing, against a Wizards team without Davis Bertans and other key contributors. Prior to that, Orlando lost at home by eight to the lowly Hawks.
Jonathan Isaac is out for the foreseeable future with a knee injury, and Aaron Gordon is questionable to play. If Gordon isn't able to go, I just don't trust this team, which has really struggled without him and Isaac on the floor. In those 479 possessions, the Magic have posted a -7.2 Net Rating, scoring just 99.6 points per 100 possessions (5th percentile).
Admittedly, the starters have been good without Isaac and Gordon: In 140 possessions without Gordon and Isaac but with Nikola Vucevic, the Magic have posted a +11.2 Net Rating.
That's a small sample, however, and it belies how this team will fare over the course of the entire game. Even if the starters hold their own against the Heat tonight, the bench will be weaker. Guys like Wes Iwundu and Khem Birch are going to have to play increased roles.
The Heat are on the second leg of a back-to-back, and they didn't look particularly impressive last night against the undermanned Raptors. That was mostly just shooting variance, however, and their bigger concern over the last couple of weeks, defense, may be less of an issue today against a poor, undermanned Orlando offensive unit.
There are other stats I could give: The Heat are a good rebounding team, and without Gordon and Isaac, the Magic's rebounding numbers have fallen off a cliff. But it really comes down to the Heat being 4-5 points better on a neutral court vs. the Magic without those two guys, despite the rigors of a back-to-back. If Gordon plays, this is a stayaway for me.
76ers at Rockets
My colleague, Justin Phan, bet on the Rockets and had some good anecdotes on why:
[I'm] continuing to fade the Sixers on the road, where they are now 1-7 this season against teams that currently have a winning record. The Rockets are the healthiest they've been in months, and James Harden (toe) and Clint Capela (heel) appear to be totally over the minor ailments that landed them on the injury report prior to Tuesday's game. Houston has a full 4 days off until their next game so it wouldn't be surprising to see coach D'Antoni extend his starters' minutes in this one.
The Sixers have notable home/road splits this season:
Philly overall: +4.5 Net Rating | 13th on offense | fifth on defense
Philly at home: +11.6 Net Rating | seventh on offense | first on defense
Philly on the road: -2.5 Net Rating | 16th on offense | 12th on defense
They're a very hot-and-cold team. Just look at their recent games.
They've had stretches of offensive explosion, notably in that three-game stretch culminating in the Milwaukee game. But they've also had major lulls, especially in their past three games.
Now, part of that is just shooting variance: Over those last three games, the Sixers have ranked sixth in shots classified as "open," but they've posted a miserable 41.7% eFG% on those — fifth-worst in the league. Honestly, that's how it goes sometimes with teams with poor shot profiles.
The Sixers are 23rd and 25th, respectively, in shots at the rim and behind the arc this season. When those teams go cold, it can be ugly — the math just doesn't work in their favor.
Maybe that turns around today — the Rockets haven't exactly been world-beaters this season defensively, and that's been true lately, too — but there's some uncertainty with that side of the ball.
The Sixers' defense vs. the Rockets' offense is much more interesting, though. Everyone knows what Houston wants to do: Get to the rim, get to the foul line and shoot a historic number of 3-pointers.
The Sixers foul a bunch, which should be a source of efficiency for James Harden and Co., but they also allow the fewest 3-pointers in the league and have Joel Embiid to protect the rim.
The Sixers are somewhat more theoretical than actual so far defensively this season, however. Despite their rim-protecting talent, they're actually bottom-10 in FG% allowed at the rim. And despite not allowing many 3-pointers, opponents tend to shoot well against them on said shots.
We don't have a lot of data on what these teams would look like against each other. The rosters are obviously different from last season, and they've yet to play each other this season.
In one of the games last year — a Rockets win — Embiid didn't play and the Rockets dominated, shooting 69.0% at the rim and scoring 102.5 points/100 in the halfcourt. In the other game — a Philly route with Embiid — the Rockets shot 48.0% at the rim and scored just 80.3 points/100 in the halfcourt.
Again, the Sixers are theoretically a team built to beat the Rockets. They have awesome perimeter defenders in Ben Simmons and Josh Richardson to push Harden, they don't allow many 3s and they have Embiid to patrol the paint. But they're on the road, where they've struggled, and they haven't proven themselves to be consistent defensively despite their immense talent.
I think there's a bit of value on the Rockets at the current number, but their games are incredibly volatile given the long-range shooting. If I do end up deciding to bet the spread here, I likely won't bet a full unit on it for that reason.
Projected Starting Lineups and Injury News
Note: Info as of 3:30 p.m. ET. For up-to-the-minute lineups and news, see FantasyLabs' matchups page.
Projected Lineups
Atlanta Hawks: Trae Young – Kevin Huerter – De'Andre Hunter – John Collins – Bruno Fernando
Boston Celtics: Kemba Walker – Jaylen Brown – Jayson Tatum – Gordon Hayward – Daniel Theis
Houston Rockets: Russell Westbrook – James Harden – Danuel House – PJ Tucker – Clint Capela
LA Lakers: LeBron James – Avery Bradley – Danny Green – Anthony Davis – JaVale McGee
Miami Heat: Kendrick Nunn – Jimmy Butler – Duncan Robinson – Bam Adebayo – Meyers Leonard
New Orleans Pelicans: Lonzo Ball – Jrue Holiday – JJ Redick – Brandon Ingram – Derrick Favors
New York Knicks: Elfrid Payton – RJ Barrett – Marcus Morris – Julius Randle – Taj Gibson
Orlando Magic: Markelle Fultz – Evan Fournier – Wes Iwundu – Aaron Gordon – Nikola Vucevic
Philadelphia 76ers: Ben Simmons – Josh Richardson – Tobias Harris – Al Horford – Joel Embiid
Phoenix Suns: Ricky Rubio – Devin Booker – Kelly Oubre – Dario Saric – Aron Baynes
Portland Trail Blazers: Damian Lillard – CJ McCollum – Kent Bazemore – Carmelo Anthony – Hassan Whiteside
Washington Wizards: Isaiah Thomas – Gary Payton II – Bradley Beal – Johnathan Williams – Ian Mahinmi
Injury News
Atlanta Hawks: Trae Young (ankle) will play. Jabari Parker (shoulder) is probable.
Boston Celtics: Kemba Walker (flu-like symptoms) is out. Jaylen Brown (illness) is likely to play.
Houston Rockets: Nothing new.
LA Lakers: Alex Caruso (calf) is out. Anthony Davis (shoulder) is probable.
Miami Heat: Justise Winslow (back) is out.
New Orleans Pelicans: Nothing new.
New York Knicks: Dennis Smith Jr. (oblique) and Elfrid Payton (personal) are questionable.
Orlando Magic: Michael Carter-Williams (shoulder) and Jonathan Isaac (knee) are out. Aaron Gordon (Achilles) is questionable.
Philadelphia 76ers: James Ennis (illness) is out. Kyle O'Quinn (illness) and Joel Embiid (knee) are not on the injury report.
Phoenix Suns: Frank Kaminsky (knee) is doubtful. Ricky Rubio (hip) is expected to play.
Portland Trail Blazers: Mario Hezonja (back) is probable.
Washington Wizards: Bradley Beal (leg) is questionable.
---
Player Props
To bet props, I use our FantasyLabs player props tool. Follow me in the Action Network app to see my bets (or go to the bottom of the article), but the more important thing is the tool, which measures our projections for every player vs. current odds in the market and highlights the biggest edges for you.
Player props are an inefficient market, which allows casual bettors (limits are low, so pro bettors aren't incentivized to prioritize them) to grab very +EV bets. That said, the lines move quickly. Our props tool is set up so you can always see whether there's an edge even at the updated numbers throughout the day.
It's one of my favorite tools we offer and should be one of your bookmarked pages if you like making a few extra bucks. Here's a screenshot of what it looks like:

My usual recommendation: Bet unders.
Last season, 10-rated props in our tool hit at a 60.31% rate. But overs hit at a 57.08% rate vs. 66.47% for unders. For 9-rated props, 55.96% of overs were successful bets vs. 62.60% for unders.
As I have noted in the past, unders have more outs: A blowout, an injury, a poor shooting night — all will likely make the under hit. But also, props are less efficient as a market given the low limits, so they're less likely to adjust for things like opponent and pace.
One under I think is intriguing is Dario Saric's 7.5-point total.
If you looked just at averages for the year, this line would seem quite low. Saric is averaging 26.8 minutes and 10.8 points per game. And today the Suns are at home against the lowly Knicks.
But Saric just doesn't have that role right now: He's played just 14 and 16 minutes over his past two games, and his usage remains low. He has just six total points in his last three games and three total field goals.
With the Suns getting healthier, especially with their big men in Deandre Ayton and Aron Baynes, there's just fewer opportunities for Saric. We have him projected for just 16 minutes and 6.5 points today, so I'd take the under.
DFS Values and Strategy
Tonight's slate is loaded with studs, including LeBron James, James Harden, Anthony Davis, Damian Lillard, Joel Embiid and Russell Westbrook. And honestly, they're all projecting fairly similarly in our models right now.
Lillard has the highest Projected Plus/Minus on FanDuel among those high-priced options, as does his teammate, Hassan Whiteside. It's easy to understand why, as the Blazers get the fast-paced Wizards, who remain incredibly bad on defense. At $9,000 price tags, they're very solid bets to hit value and worthy studs to build around.
I would expect them to be popular, which means it could be worth pivoting to other studs in tournaments. Harden has a theoretically bad matchup against the Sixers, but as we know he can go off against anyone.
LeBron and Davis have a good matchup, but somewhat cannibalize each other. Embiid is intriguing against a subpar Houston defense; he might be the best combination of value, ceiling and ownership for GPPs.
The best plays as of now are in the mid-tier with the Boston guys in Gordon Hayward, Jayson Tatum, Jaylen Brown and Marcus Smart. All of those guys are projected to exceed 33 minutes, and they'll be without Kemba Walker, which opens up a ton of usage and playmaking responsibilities.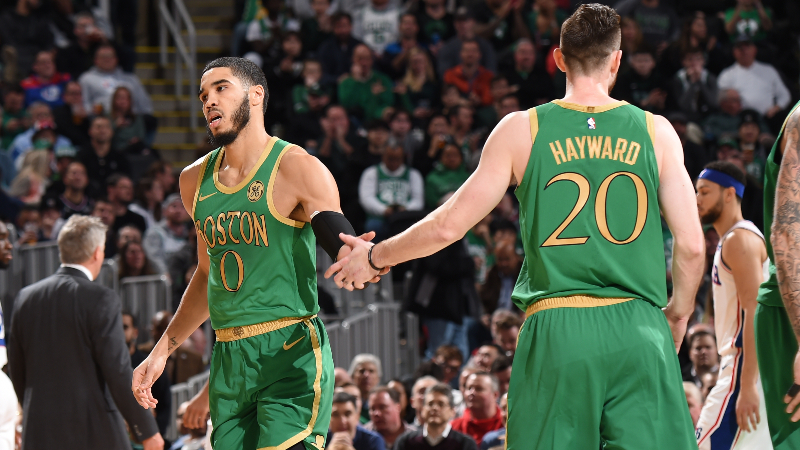 Per our FantasyLabs news feed: "Gordon Hayward is a strong candidate to take over Walker's playmaking duties as he has led the team with a 28.1% assist rate with Walker off the court this season." It's no surprise Hayward currently leads the entire slate on FanDuel in Projected Plus/Minus, especially considering the Celtics are going up against the lowly Atlanta Hawks.
There are still several key injuries to monitor leading up to lock, including to Bradley Beal and Aaron Gordon. If they're absent, there will be a much more value, especially on the lower end of the pricing spectrum.
As of now, building around the Celtics is definitely the way to go, and the injury situations will dictate the other spots as well as which studs to pay up for.
Make sure to subscribe to our FantasyLabs models and check out our new Labs NBA Insiders tool to get up-to-the-minute information on injuries and projection changes.
For more DFS analysis and value plays, check out the FantasyLabs NBA models.
My Bets Currently
Nothing yet.
[In New Jersey, Pennsylvania, Indiana or West Virginia? Bet now at FanDuel]
Follow me in our free app if you want an alert on bets I make.
How would you rate this article?