Monday NBA Odds & Picks (Nov. 11): Betting Analysis, DFS Strategies, Injury News, More
Credit:
Photo credit: Raj Mehta-USA TODAY Sports. Pictured: Blake Griffin
Bryan Mears breaks down tonight's six-game NBA slate, offering betting advice, DFS strategies and injury news to help you find an edge.
This NBA season, I'm trying something new. I'm going to write a daily piece that highlights everything bettors and DFS players need to know for that night's slate. For more on what to expect, read the inaugural piece.
Friday I finished 0-3 for -1.65 units. While I don't want to get sucked into the past, I think it's worth reviewing things each day.
The best way to do that is to look at closing line value (CLV), which is just measuring whether the line you bet moved for or against you by closing.
I bet Grizzlies-Magic over 209 and it closed at 208.5
I bet 76ers-Nuggets over 211.5 and it closed at 211.5
I bet Heat-Lakers over 216.5 and it closed at 218.5
With a daily sport like NBA, it's important to #TrustTheProcess and not get too bogged down by a big winning day (celebrate, of course) or a big losing one. On Friday, I did fine against the closing numbers (especially the final one) — but the results just didn't come on the actual bets. It's frustrating, but with the long season getting better numbers than the market is more predictive of success than win-loss record I believe.
The way these games lost were pretty tilting as well. The Grizzlies-Magic went under by five points, and that was with the Grizzlies somehow scoring eight points in the final quarter. EIGHT POINTS.
The Sixers-Nuggets game was trending under the whole time, so perhaps that was a misread on my part. The final game was trending under the whole game as well, mostly because the Heat shot 35% from the field, including 6-of-35 (17%) from beyond the arc.
It was also a frustrating weekend. I bet the Grizzlies on Saturday when Kristaps Porzingis was ruled out, but then 10 minutes later Memphis announced it was resting rookies Ja Morant and Brandon Clarke, who are 20- and 23-years-old, respectively, and playing 27.5 and 22.8 minutes per game. Welcome to the load management era!
Anyway, let's get to today's six-game slate. This is a long post, so use the jump links below to skip ahead to whatever you're looking for.
Note: For updates, see the chat at the bottom of this post.
Jump To: Odds & Analysis | Projected Starting Lineups & Injury News | Player Props | DFS Values & Strategy | My Bets | Live Chat
---
Betting Odds and Analysis
7 p.m. ET: Minnesota Timberwolves at Detroit Pistons (-3), 222
7:30 p.m. ET: Dallas Mavericks at Boston Celtics (-4), 219.5
7:30 p.m. ET: Memphis Grizzlies at San Antonio Spurs (-11), 223.5
8 p.m. ET: Houston Rockets (-6) at New Orleans Pelicans, 245
10:30 p.m. ET: Utah Jazz (-8) at Golden State Warriors, 211
10:30 p.m. ET: Toronto Raptors at LA Clippers (-10), 223
(Odds via PointsBet — claim your 200% deposit match, an exclusive promotion for Action Network users)
Let's run through a couple situations for today.
Timberwolves-Pistons: The big news in this one is that Blake Griffin said he'll make his season debut tonight. Tim Frazier and Bruce Brown are both probable, while Derrick Rose is questionable. After having terrible injury luck to start the year, Detroit might finally be whole.
Let's talk about Griffin's potential impact and what that might mean for the line.
He has been a positive player his entire career: In all 10 of his seasons, his teams have been better with him on the floor vs. off. Last season was a bit down compared to his L.A. years, although that makes sense considering his ON/OFF then was boosted by playing with Chris Paul and DeAndre Jordan.
Last season, the Pistons were 2.6 points per 100 possessions better with him on the floor, which was in the 67th percentile of players. More importantly is how he changes the team. Last season here were his ON/OFF numbers for offense:
2018-19 Pistons with Blake on: 96.8 pace, 111.6 Offensive Rating, 51.5% eFG%
2018-19 Pistons with Blake off: 96.3 pace, 105.1 Offensive Rating, 48.8% eFG%
Diving deeper, the Pistons took slightly more shots at the rim with Blake playing and significantly more from beyond the arc. They went way less mid-range heavy, getting better shots with Blake's playmaking and spacing.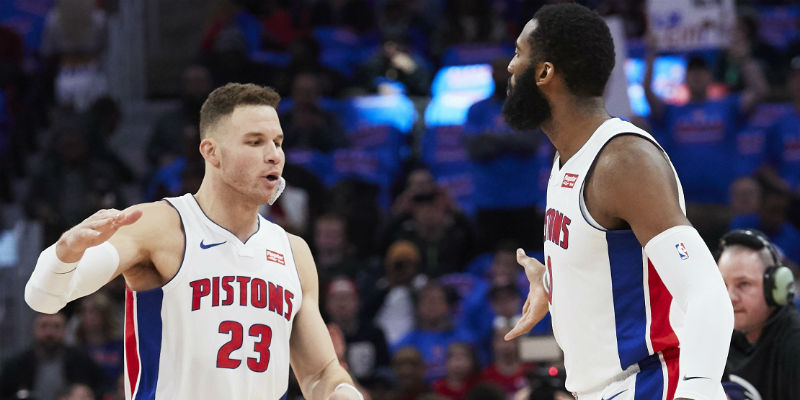 That's all good news for a Pistons team that currently ranks 23rd in the league in 3-point rate, although it's important to see the bigger picture with this team. Right now they're 14th in offensive efficiency almost solely because they're fourth in eFG%. They're doing little else well on offense and have been buoyed by some hot shooting.
Per NBA.com, they are first in the league so far on wide-open 3-pointers, hitting 46% of such shots. They're taking those at a bottom-five rate, so while Griffin could boost the frequency, the Pistons are likely to regress shooting no matter what. Luke Kennard, Tony Snell, Markieff Morris and Langston Galloway are all way above their career-averages shooting.
And finally, it's unclear whether Blake will be limited right away, and even if they don't limit his minutes explicitly how effective he'll be in his first game back after a long layoff. There's buzz around the Pistons — they moved from -1 at opening to -3 currently — but we'll see whether that's warranted or too early with Blake getting back into the feel of things.
This line suggests the teams are even on a neutral court, and while the point differentials are fairly even, I think the Wolves could be a little undervalued. Whereas the Pistons have been the luckiest team shooting the ball, the Wolves have been the unluckiest in the league. They have a much better shot profile; they just haven't made many shots.
The problem is that the Wolves are on the second leg of a back-to-back, and last night they lost to the Nuggets in overtime. Karl-Anthony Towns and Andrew Wiggins both pushed over 40 minutes.
As I've mentioned before, back-to-backs are a bit overrated earlier in the season, but the minute totals are concerning here. All in all, if this line pushes up to Pistons -4 or -5 based on the Blake buzz, there could be value on Minnesota.
I'm personally going to wait for a bit more news on the Blake situation, specifically whether he'll be limited. The best value might be to live bet this game after seeing how Blake looks.
Mavericks-Celtics: Let's talk about this one as well.
Gordon Hayward fractured his left hand in Friday's game and thus is unlikely to play tonight or soon.
After dipping in play for a couple years after his catastrophic injury, Hayward has been absolutely on fire this season. He is shooting an obvious career-high 55.% from the field, including 43.3% from 3.
Here are his on/off numbers for the Celtics so far:
Celtics shooting frequency at rim with Hayward on: -6.8%
Celtics shooting accuracy at rim with Hayward on: +11.4%
Celtics shooting frequency from mid-range with Hayward on: +9.7%
Celtics shooting accuracy from mid-range with Hayward on: +1.3%
Celtics shooting frequency from 3 with Hayward on: -2.9%
Celtics shooting accuracy from 3 with Hayward on: +11.2%
Overall, the Celtics have an eFG% 9.1% higher with Hayward on vs. off this season, which is in the 97th percentile of all players.
Hayward is taking a career-high 17.3% of his shots from mid-range, and he's hitting 52.6% of those shots. On the longest 2s, he's at 54.5%.
You can see where I'm going with this: The value of Hayward on paper is immense. His ON/OFF numbers are incredible. That said, those numbers are highly unsustainable and should regress in a big way.
The market is pretty divided on this game:

There have been three steam moves on Mavericks +4 and three on Celtics -3.5, per our Sports Insights tools.
This line hasn't really moved as a result, and I think the market is smart here on the value on Hayward's potential absence. I think it could've been overrated in this game, but the market either 1) agrees or 2) is very high on the Mavs. Either way, I don't think there's much value on the current line.
Finally, here are a couple Pro Trends from Bet Labs that have matches today.
This first one identifies unders in which the home team has hit the over at a high rate, but the line has moved down. That likely indicates sharper money on the under despite potential public overreaction on the over.
This system has gone 57.8% historically, including 8-2 so far this season. The unders in Grizzlies-Spurs and Jazz-Warriors both match for today's slate.
Another over/under system identifies sharp money on the over…
The Mavs-Celtics currently matches for this trend.
And finally, as I've mentioned many times, back-to-backs early in the season have historically been overrated by the betting market.
The Raptors match this trend today, and they're currently double-digit underdogs against the Clippers despite covering the same number last night against the Lakers without Kyle Lowry, who is likely out again tonight, along with Serge Ibaka.
[In New Jersey? Bet now at PointsBet]
---
Projected Starting Lineups and Injury News
Note: Info as of 3:30 p.m. ET. For up-to-the-minute lineups and news, see FantasyLabs' matchups page.
Projected Lineups
Boston Celtics: Kemba Walker – Marcus Smart – Jaylen Brown – Jayson Tatum – Daniel Theis
Dallas Mavericks: Luka Doncic – Seth Curry – Dorian Finney-Smith – Kristaps Porzingis – Dwight Powell
Detroit Pistons: Tim Frazier – Luke Kennard – Tony Snell – Blake Griffin – Andre Drummond
Golden State Warriors: D'Angelo Russell – Jordan Poole – Glenn Robinson III – Draymond Green – Willie Cauley-Stein
Houston Rockets: Russell Westbrook – James Harden – Danuel House – PJ Tucker – Clint Capela
LA Clippers: Patrick Beverley – Landry Shamet – Kawhi Leonard – Patrick Patterson – Ivica Zubac
Memphis Grizzlies: Ja Morant – Dillon Brooks – Jae Crowder – Jaren Jackson Jr. – Jonas Valanciunas
Minnesota Timberwolves: Jeff Teague – Andrew Wiggins – Treveon Graham – Robert Covington – Karl-Anthony Towns
New Orleans Pelicans: Jrue Holiday – JJ Redick – Brandon Ingram – Kenrich Williams – Derrick Favors
San Antonio Spurs: Dejounte Murray – Bryn Forbes – DeMar DeRozan – Trey Lyles – LaMarcus Aldridge
Toronto Raptors: Fred VanVleet – Norman Powell – OG Anunoby – Pascal Siakam – Marc Gasol
Utah Jazz: Mike Conley – Donovan Mitchell – Bojan Bogdanovic – Royce O'Neale – Rudy Gobert
Injury News
Boston Celtics: Gordon Hayward (hand) is out. Enes Kanter (knee) is available to play.
Dallas Mavericks: Nothing new.
Detroit Pistons: Derrick Rose (hamstring) is questionable. Tim Frazier (shoulder) and Bruce Brown (knee) are probable. Blake Griffin (hamstring, knee) said he'll play.
Golden State Warriors: Omari Spellman (ankle) is questionable. Draymond Green (finger) said he'll play. Eric Paschall (hip) is probable.
Houston Rockets: Nothing new.
LA Clippers: Paul George (shoulders) is out.
Memphis Grizzlies: Grayson Allen (ankle) is out.
Minnesota Timberwolves: Jeff Teague (illness) is questionable. Shabazz Napier (hamstring) is doubtful. Jordan Bell (shoulder) is out.
New Orleans Pelicans: Lonzo Ball (adductor) is out.
San Antonio Spurs: Nothing new.
Toronto Raptors: Kyle Lowry (thumb) and Serge Ibaka (ankle) are out.
Utah Jazz: Emmanuel Mudiay (hamstring) is questionable.
---
Player Props
To bet props, I use our FantasyLabs player props tool. Follow me in the Action Network app to see my bets (or go to the bottom of the article), but the more important thing is the tool, which measures our projections for every player vs. current odds in the market and highlights the biggest edges for you.
Player props are an inefficient market, which allows casual bettors (limits are low, so pro bettors aren't incentivized to prioritize them) to grab very +EV bets. That said, the lines move quickly. Our props tool is set up so you can always see whether there's an edge even at the updated numbers throughout the day.
It's one of my favorite tools we offer and should be one of your bookmarked pages if you like making a few extra bucks. Here's a screenshot of what it looks like:

My usual recommendation: Bet unders. Last season, 10-rated props in our tool hit at a 60.31% rate. But overs hit at a 57.08% rate vs. 66.47% for unders. For 9-rated props, 55.96% of overs were successful bets vs. 62.60% for unders.
As I have noted in the past, unders have more outs: A blowout, an injury, a poor shooting night — all will likely make the under hit. But also, props are less efficient as a market given the low limits, so they're less likely to adjust for things like opponent and pace.
One under I think is intriguing is Eric Gordon's 13.5-point total.
Gordon got just 21 minutes last game against the Bulls, despite the other guys like Clint Capela and James Harden pushing for 40 minutes. The reason seems to be a nagging hamstring injury that isn't keeping him out but limited both in terms of playing time and efficiency this season.
On the year, he's shooting a career-low (by far) 28.3% from the field, including 25.4% from 3-point range. And while I normally want to buy low on such players given impending regression, I wonder if the injury is the root cause. He has gone under this mark in three of the last four, and I don't mind making him prove he's healthy yet again.
DFS Values and Strategy
We don't have an overwhelmingly huge slate, but there are still stars galore. And of the guys priced over $8,000, all of them currently have a Projected Plus/Minus value over +2.0.
We can tease out the best of this loaded bunch, but the truth is that a lot of these guys are very viable today, especially in tournaments. You can likely buy guys like Andre Drummond, Kemba Walker and Pascal Siakam at low ownerships.
The guys who stand out the most are the Houston studs in Russell Westbrook and James Harden; the former leads the slate in Opponent Plus/Minus against a Pelicans team that ranks 28th in defensive efficiency and 25th in eFG% allowed, and they've been especially vulnerable to lead guards.
They're allowing the second-highest rate of shots at the rim this year and the third-highest 3-point rate. That seems … not great against the Rockets, who continue to be at the forefront of offensive shot optimization.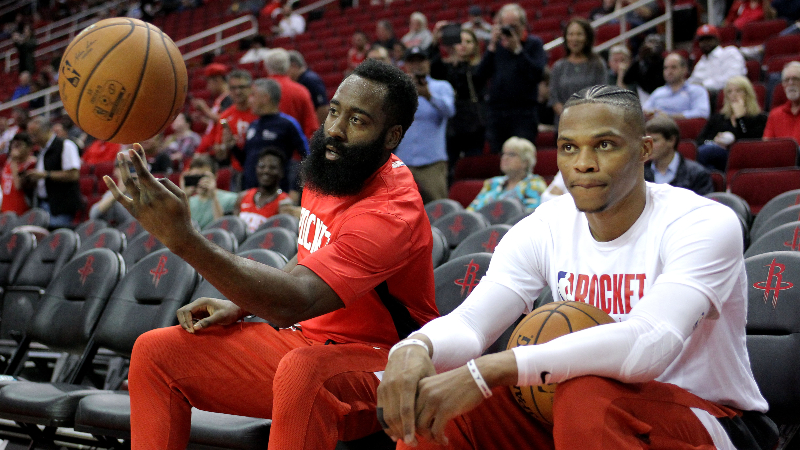 This game has an insanely high total of 245.5 at the time of writing, which shows the upside of this affair. They're definitely in play in all contests.
Value-wise, Toronto's Chris Boucher is likely to be incredibly popular given the Raptors' injury situation. Last night without Serge Ibaka, Boucher got nearly 25 minutes and finished with 29.5 DraftKings points — nearly 17 points above his implied expectation. At just $3,400 today, it's not surprising he leads the slate in Projected Plus/Minus.
Some of the Boston guys in the mid-tier are popping as values with Gordon Hayward out, including Marcus Smart and Jaylen Brown. Along with Boucher in the punt region is someone like Kenrich Williams, who is projected to start alongside Derrick Favors in the frontcourt.
Most of the value is in the mid-tier today, so it'll be interesting to see whether users try to jam in both Houston guys or not.
One very intriguing strategy for tournaments is to game-stack the Rockets-Pelicans affair. Williams is in that game, and if you punt with Boucher, you can get up to the Rockets guys plus Jrue Holiday and Brandon Ingram on the other side.
For more DFS analysis and value plays, check out the FantasyLabs NBA models.
My Bets Currently
Nothing yet.
Follow me in our free app if you want an alert on bets I make. I'll also make updates in the chat below.
---
Updates and Live Chat
I will put updated thoughts below, whether they're about line movement, injury news, etc. You can also ask questions, which I'll answer as quickly as I can.
How would you rate this article?