NBA Predictions, Picks & Betting Odds (Thursday, Jan. 30): What's Wrong With the Sacramento Kings?
Credit:
Photo credit: Rocky Widner/NBAE via Getty Images. Pictured: De'Aaron Fox and Luke Walton
This NBA season, I'm trying something new. I'm going to write a daily piece that highlights everything bettors and DFS players need to know for that night's slate. For more on what to expect, read the inaugural piece.
Yesterday I finished 1-1 for -0.1 units. While I don't want to get sucked into the past, I think it's worth reviewing things each day.
The best way to do that is to look at closing line value (CLV), which is just measuring whether the line you bet moved for or against you by closing.
I bet Grizzlies -145 ML and it closed at Grizzlies -140 (won)
I bet Jazz -5 and it closed at Jazz -5 (lost)
I was able to hit on the Grizzlies, who blew out the Knicks (to the annoyance of Elfrid Payton), but missed on the Jazz. They're actually one of my featured teams today, so instead of soapboxing here on last night's game, go to the next section below for my full thoughts on that plus tonight's affair.
Let's dive into today's slate and find some angles.
YTD Record:
Overall: 197-168-2
Spreads: 76-70-2
Totals: 74-67
Moneylines: 18-9
Props: 29-22
Jump To: Odds & Analysis | Projected Starting Lineups & Injury News | Player Props | DFS Values & Strategy | My Bets
---
Odds as of Thursday afternoon and via FanDuel, where Action Network users get a risk-free bet up to $500.
---
Betting Odds and Analysis
7 p.m. ET: Charlotte Hornets at Washington Wizards (-4), 227.5
7 p.m. ET: Toronto Raptors (-10) at Cleveland Cavaliers, 221
7:30 p.m. ET: Philadelphia 76ers (-7) at Atlanta Hawks, 228
8 p.m. ET: Golden State Warriors at Boston Celtics (-12.5), 222
10:30 p.m. ET: Utah Jazz at Denver Nuggets (-1.5), 215.5
10:30 p.m. ET: Sacramento Kings at LA Clippers (-13.5), 226
Jazz at Nuggets
I think it's important to remember that an efficient betting market is designed to highlight a spread and total — and thus predicted points and the outcome — for a median performance. But life and sports don't work that way; everything has a range of outcomes, and often things don't fall right in the middle.
So just because you lost (or won) a bet, it doesn't mean you didn't correctly find value on that median outcome. Perhaps a team, or both teams for a total, just played way above or below median expectations, falling in the tails of a range of outcomes plot.
That happened last night with the Jazz against the Spurs, who hit 71.4% (30-of-42) of their mid-rangers. They went 10-of-14 for the same percentage specifically on long mid-rangers. At the rim, the Spurs hit eight of their nine shots.
The Jazz actually defended the outside very well, but the Spurs just drained everything. It's a make-or-miss league, and the Spurs didn't miss. Even on tough shots: Per NBA.com, the Spurs posted an 82.1% eFG% on tightly-contested shots.
Now if this was a bad defense, I'd be more hesitant to call it a fluke. Some teams give up a lot of open shots and are more liable to give up higher range-of-outcome performances. But the Jazz don't do that: Over the last month, they've ranked in the top-10 in expected eFG% allowed. The defense, while not as elite as it was last season, is still a very good unit.
Speaking of the last month, the Jazz's data is still incredible despite the loss. In that time, they're second in the league with a +11.3 Net Rating, first with a 121.5 Offensive Rating and 10th with a 110.2 Defensive Rating. The Nuggets, meanwhile, are 16th, 12th and 23rd, respectively, in those categories.
And honestly, the Nuggets haven't exactly impressed even in their recent wins. They put up just 96 on the Grizzlies in a loss on Tuesday, beat a Rockets team that's reeling and was missing James Harden, beat a weird Pelicans team that was getting used to Zion Williamson entering the rotation and got blown out by that same Rockets team when Harden actually played.
They are still dealing with injury concerns, as Jamal Murray and Paul Millsap remain out. Torrey Craig is currently starting a point guard, although in that starting unit obviously Will Barton and Nikola Jokic will run the offense. Monte Morris, an awesome backup last year, has had growing pains this season.
The data without those guys continues to be poor, despite getting some wins without them lately (again, against questionable teams). With Murray and Millsap off the floor, the Nuggets have posted a -3.5 Net Rating. Even with the rest of the starters on, the team in a small sample has posted an Offensive Rating in the ninth percentile.
Now, it's important to note the Jazz are on a road back-to-back here, and the Nuggets have historically done well in these spots given the elevation. But 1) the Jazz have been awesome on back-to-backs this season, posting a +9.7 Net Rating, and 2) I'm not sure the edge really applies, as the Jazz are used to elevation themselves, training and playing in Salt Lake City constantly.
Maybe I'll look like a fool again, but I'm continuing to buy this Jazz team, which has seemingly fixed its early-season issues: protecting the ball and shot profile.
Kings at Clippers
The Kings, for me, are one of the league's biggest disappointments this season. After playing so well with a promising young core last year, they're now just 17-30 and have been awful lately.
They've won two of their last three games, but prior to that had lost six in a row. And even their recent wins weren't terribly impressive, beating the Wolves and Bulls, who also really suck right now.
In the last month, the offense has just been really bad, ranking 23rd in that time span. They've been unable to grab offensive boards, they never get to the foul line and they're below average in both shots at the rim and behind the arc. They've recently bumped Buddy Hield out of the starting lineup in favor of Bogdan Bogdanovic; they're desperate for any kind of spark.
I think the Kings still have talent — I'm not completely out on them long-term or anything. But honestly I am out on Luke Walton, who I think is a pretty terrible coach. He had success in Golden State, but who wouldn't with that roster? With the Lakers, he couldn't figure out how to get LeBron freaking James to the playoffs. And the Sacramento tenure has gone poorly now, too.
The biggest thing is that he doesn't seem to be putting his players in the best chance to succeed. He has De'Aaron Fox, one of the league's most exciting young point guards, and for whatever reason the Kings have just stopped running, which is Fox's strength. Over the past month, the Kings rank 20th in transition opportunities. That's a travesty.
Just look at the last game for an example: They used just 82 possessions against the Thunder, making it one of the slowest games of the year. What are we doing here?
I'm not expecting a turnaround while Walton is coaching and today the Kings get a Clippers team that is welcoming back Paul George to the lineup. The Clips have been up and down this year, but I'm still on board with them long-term. The data with the team when PG and Kawhi Leonard share the floor is just too good. In those nearly 1,000 possessions, the Clips have allowed just 103.1 points per 100 possessions. They are elite.
With the Kings' slow and terrible play, along with Clippers getting healthier, I'm expecting a poor offensive performance from Sacramento. I like the under here, and I'll likely grab a little of the Kings team total under as well.
Projected Starting Lineups and Injury News
Note: Info as of 11:30 a.m. ET. For up-to-the-minute lineups and news, see FantasyLabs' matchups page.
Projected Lineups
Atlanta Hawks: Trae Young – Kevin Huerter – Cam Reddish – De'Andre Hunter – John Collins
Boston Celtics: Kemba Walker – Jaylen Brown – Jayson Tatum – Gordon Hayward – Daniel Theis
Charlotte Hornets: Devonte' Graham – Terry Rozier – Miles Bridges – PJ Washington – Cody Zeller
Cleveland Cavaliers: Darius Garland – Collin Sexton – Cedi Osman – Kevin Love – Tristan Thompson
Denver Nuggets: Torrey Craig – Gary Harris – Will Barton – Jerami Grant – Nikola Jokic
Golden State Warriors: D'Angelo Russell – Damion Lee – Glenn Robinson III – Draymond Green – Marquese Chriss
LA Clippers: Patrick Beverley – Paul George – Kawhi Leonard – Maurice Harkless – Ivica Zubac
Philadelphia 76ers: Ben Simmons – Shake Milton – Tobias Harris – Matisse Thybulle – Joel Embiid
Sacramento Kings: De'Aaron Fox – Bogdan Bogdanovic – Harrison Barnes – Nemanja Bjelica – Dewayne Dedmon
Toronto Raptors: Kyle Lowry – Fred VanVleet – OG Anunoby – Pascal Siakam – Serge Ibaka
Utah Jazz: Donovan Mitchell – Joe Ingles – Bojan Bogdanovic – Royce O'Neale – Rudy Gobert
Washington Wizards: Isaiah Thomas – Bradley Beal – Isaac Bonga – Thomas Bryant – Ian Mahinmi
Injury News
Atlanta Hawks: Alex Len (hip) is out. Bruno Fernando (calf) and DeAndre Bembry (hand) are doubtful.
Boston Celtics: Enes Kanter (hip) is out. Jayson Tatum (groin) will play. Javonte Green (knee) is not on the injury report.
Charlotte Hornets: Nothing new.
Cleveland Cavaliers: Nothing new.
Denver Nuggets: Nothing new.
Golden State Warriors: Kevon Looney (abdominal) is out.
LA Clippers: Patrick Beverley (groin) and Paul George (hamstring) are probable.
Philadelphia 76ers: Mike Scott (knee) is available to play. Al Horford (knee) is out. Ben Simmons (illness) is probable.
Sacramento Kings: Marvin Bagley (foot) is out.
Toronto Raptors: Rondae Hollis-Jefferson (ankle) remains out. Pat McCaw (nose) is questionable. OG Anunoby (shoulder) is not on the injury report.
Utah Jazz: Nothing new.
Washington Wizards: Jordan McRae (ankle) is out.
Player Props
To bet props, I use our FantasyLabs player props tool. Follow me in the Action Network app to see my bets (or go to the bottom of the article), but the more important thing is the tool, which measures our projections for every player vs. current odds in the market and highlights the biggest edges for you.
Player props are an inefficient market, which allows casual bettors (limits are low, so pro bettors aren't incentivized to prioritize them) to grab very +EV bets.
That said, the lines move quickly. Our props tool is set up so you can always see whether there's an edge even at the updated numbers throughout the day.
It's one of my favorite tools we offer and should be one of your bookmarked pages if you like making a few extra bucks. Here's a screenshot of what it looks like:

My usual recommendation: Bet unders.
Last season, 10-rated props in our tool hit at a 60.31% rate. But overs hit at a 57.08% rate vs. 66.47% for unders. For 9-rated props, 55.96% of overs were successful bets vs. 62.60% for unders.
As I have noted in the past, unders have more outs: A blowout, an injury, a poor shooting night all will likely make the under hit. But also, props are less efficient as a market given the low limits, so they're less likely to adjust for things like opponent and pace.
One under I think is intriguing is Thomas Bryant's 12.5-point total.
Bryant blew past this number last game, going for 18 points, along with 10 rebounds and six assists. But he also got 32 minutes in that game, which was a blowout loss against the Milwaukee Bucks. That matchup had one of the highest over/unders of the season at 241, and it went for 282 points. Everyone smashed overs in the player props for that one.
Today's matchup, though, is down at 227.5 against the Hornets, who have played at the league's slowest pace over the last month. Further, we're projecting Bryant to fall below 20 minutes.
Since returning from injury, he's hit the over on this prop just twice in his last eight games, including the Bucks matchup. I'll bet on regression and take the under.
DFS Values and Strategy
Only three guys tonight are priced above $9,500 on DraftKings: Trae Young, Nikola Jokic and Kawhi Leonard. Oddly, we don't have a ton of notable injury news: Al Horford and Marvin Bagley have been ruled out while Jayson Tatum has been confirmed playing. Otherwise, Paul George, Ben Simmons and Patrick Beverley are the other chips to fall, and they're all probable.
That's going to make it potentially tough to really pay up today for a stud, although of course we could get some surprise injury news that shifts the slate and provides value. But as of early afternoon, no player has a Projected Plus/Minus on DraftKings higher than +5.3, which is much lower than what we usually see.
So while Kawhi, Jokic and Young all have huge ceilings, they could be hard to roster unless you take some risks down low. Jokic will likely be the preferred option of those three for most people given how he's played of late with Jamal Murray, Paul Millsap and Mason Plumlee out. Kawhi welcomes back Paul George, and Trae has a tough matchup against Philly's defense.
As a result, it might be wise to build a more balanced lineup with guys like Donovan Mitchell and Rudy Gobert, who are in the $7-8k range and have a good matchup against a bad Denver defense right now.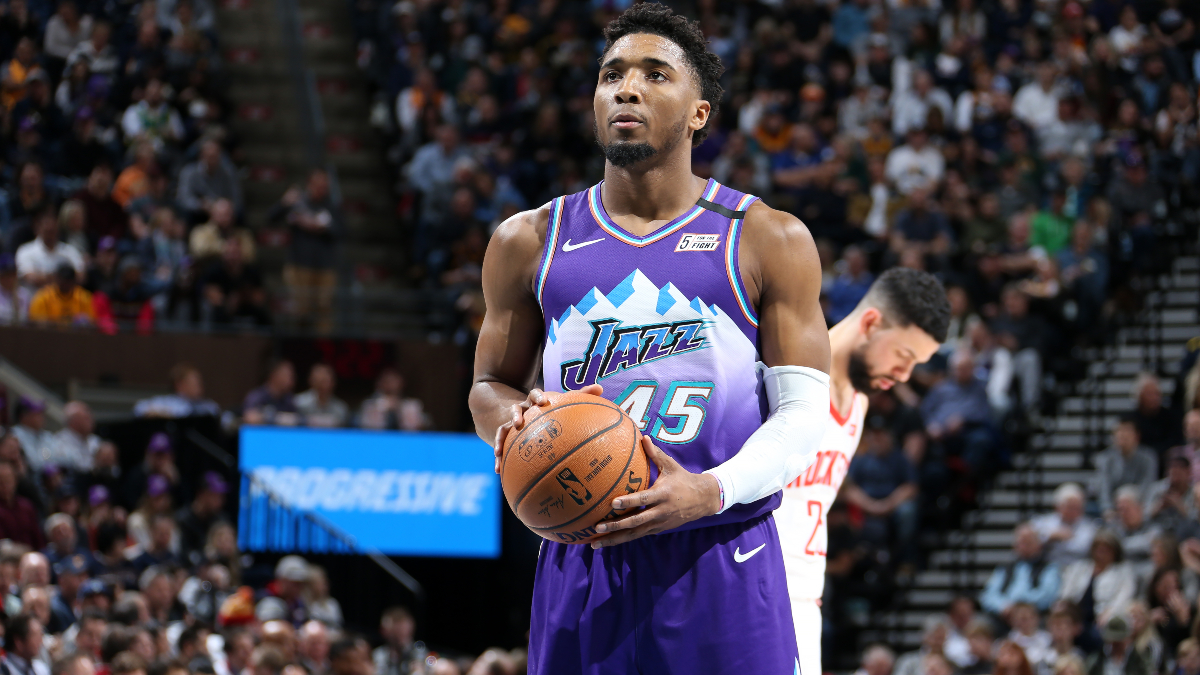 There are some decent values you can pair with them, including Dewayne Dedmon, who is starting for the Kings right now, Marquese Chriss, Malik Beasley and others.
But make sure to see which values pop on which sites. On FanDuel, the players currently standing out include Serge Ibaka, Monte Morris, Michael Porter Jr., Nemanja Bjelica and others. The best DFS players are incredibly price-sensitive, and that's especially important on a day like today with few injury values.
You know the drill: Follow the news and make sure to subscribe to our models to see up-to-the-minute projection updates.
For more DFS analysis and value plays, check out the FantasyLabs NBA models.
My Bets Currently
Kings-Clippers under 226
Jazz +1.5
[In New Jersey, Pennsylvania, Indiana or West Virginia? Bet now at FanDuel]
Follow me in our free app if you want an alert on bets I make.
How would you rate this article?