NBA Predictions, Picks & Betting Odds (Tuesday, Jan. 28): Celtics-Heat Is the Ultimate Battle of Trends
Credit:
Photo credit: Adam Glanzman/Getty Images. Pictured: Brad Stevens
This NBA season, I'm trying something new. I'm going to write a daily piece that highlights everything bettors and DFS players need to know for that night's slate. For more on what to expect, read the inaugural piece.
Yesterday I finished 2-7 for -3.54 units. While I don't want to get sucked into the past, I think it's worth reviewing things each day.
The best way to do that is to look at closing line value (CLV), which is just measuring whether the line you bet moved for or against you by closing.
I bet Cavs-Pistons under 219 and it closed at 214 (won)
I bet Cavs under 106 and it closed at 105 (lost)
I bet Mavs-Thunder over 226.5 and it closed at 223 (lost)
I bet Spurs-Bulls under 214.5 and it closed at 213.5 (lost)
I bet Mavs -3 and it closed at Mavs -5 (won)
I bet Rockets-Jazz under 224 and 222.5 and it closed at 221 (lost)
I bet Jazz -12 and it closed at Jazz -14 (lost)
I bet Rockets under 105.5 and it closed at 104 (lost)
It was a rough night, but I actually don't feel that bad about it. Maybe I should.
I got some awesome line value on a bunch of games and on the games that I didn't, I was just a bit unlucky on injury news. I bet the Mavs-Thunder over, for example, way before Chris Paul was ruled out (which was a surprise).
The Cavs outperformed expectations, but I wasn't expecting the Pistons guys to all be out. I bet the Spurs-Bulls under after LaMarcus Aldridge was ruled out, and that one went down to the wire. I guess I just completely whiffed on the Rockets-Jazz game, but this is why CLV is good to monitor.
I got three points of CLV on my initial under bet, which didn't hit ultimately. You could think that was a bad bet, but then you'd also have to think the NBA betting market is inefficient. I don't, so I'm not going to be too down about yesterday despite the poor results. Basketball can be weird and random.
Let's dive into today's slate and find some angles.
YTD Record:
Overall: 194-164-2
Spreads: 75-68-2
Totals: 73-66
Moneylines: 17-8
Props: 29-22
Jump To: Odds & Analysis | Projected Starting Lineups & Injury News | Player Props | DFS Values & Strategy | My Bets
---
Odds as of Tuesday afternoon and via FanDuel, where Action Network users get a risk-free bet up to $500.
---
Betting Odds and Analysis
7 p.m. ET: New York Knicks at Charlotte Hornets (-1.5), 209
7 p.m. ET: Golden State Warriors at Philadelphia 76ers (-12.5), 212.5
7:30 p.m. ET: Atlanta Hawks at Toronto Raptors (-12.5), 233
7:30 p.m. ET: New Orleans Pelicans (-8) at Cleveland Cavaliers, 232.5
8 p.m. ET: Boston Celtics at Miami Heat (-2), 216.5
8 p.m. ET: Washington Wizards at Milwaukee Bucks (-16), 242
8 p.m. ET: Denver Nuggets at Memphis Grizzlies (-1), 225
8:30 p.m. ET: Phoenix Suns at Dallas Mavericks (-6), 227.5
Knicks at Hornets
This is clearly the game of the night.
I'm selling the Hornets right now. Over the past two weeks, they're dead last in the league with an unheard-of -19.6 Net Rating. They're dead last on offense, scoring just 95.6 points per 100 possessions, and just 24th on defense.
They've had moments of friskiness this season, but I think a big part of that was some outlier shooting from their wings and especially Devonte' Graham, who has come back to earth a bit over the last month.
The big issue lately on offense is their inability to finish at the rim. They've shot just 56.0% their since Jan. 1, which is why the offense has been so terrible despite actually pretty good shooting from outside and especially the corner. They've also been turning the ball over at an extremely high rate.
The Knicks, meanwhile, have been … not atrocious lately? Over the last two weeks, they're still 23rd in Net Rating, but that's mostly because the offense has still struggled, ranking 29th. The defense, however, has ranked eighth.
And they've probably been a bit unlucky, too. Since Jan. 1, they've allowed the highest 3-point percentage in the league by a decent margin. Opponents are hitting 40.2% of their non-corner-3s against them. As a result, the Knicks rank 16th in expected eFG% allowed but 27th in actual eFG% allowed.
(Interestingly, the Hornets and Knicks are the two worst teams over the last month in opponent shooting on wide-open shots, suggesting actually both teams have been a bit unlucky defensively.)
One more data point worth considering is the pace here: Over the past month the Hornets are last in pace by a large margin, averaging 93.65 possessions per game.
I would lean toward the Knicks here — yes, I'm saying I would lean toward the Knicks covering on the road — but I think the most value is on the under.
Suns at Mavericks
The Mavs are on the second leg of a back-to-back here and have traveled quite a bit over the past week with three road games.
But most importantly, I'm curious to how they'll perform the rest of the season with Dwight Powell out for the year. I think he's a pretty underrated player given his pick-and-roll prowess and ability to stretch the defense as a lob threat. With Luka Doncic operating the offense, that player archetype — like with LeBron James — is incredibly important.
That's not really Kristaps Porzingis' role; it doesn't suit his game, and he clearly prefers to pick-and-pop out on the perimeter. Further, the Mavs have been limiting his minutes lately given his injury concerns. They did sign Willie Cauley-Stein to fill in Powell's role, but I'm unsure he'll be able to.
The Mavs played fine last night without Powell, although they faced a Thunder team that surprisingly played without Chris Paul. The Mavs offense didn't exactly dominate, but the Thunder just couldn't get anything going on that end either, so the Mavs stole a win on the road.
It's hard to give concrete data on the Mavs without Powell given that his minutes were so tied to Luka's. Per Cleaning the Glass, the offense has dropped in eFG% by a stunning 4.2% without Powell, but that largely mirrors Luka's numbers, again. We'll see over time whether my hypothesis — that Powell is an underrated part of this offense, which relies on space for shooters — is correct.
The Suns aren't a great team, but they can be frisky, and they're playing their main guys — Devin Booker and Deandre Ayton — absolutely huge minutes right now, pushing them to 40 on most nights.
They've actually been underrated on the road this year, going 13-8 ATS in that situation. They're 15-9-1 ATS this season as an underdog. The Mavs, meanwhile, have a positive ATS record this season overall, but they're just 9-14-1 at home. They're definitely a public team in that situation, and already we're seeing 58% of bettors take them. For what it's worth, 82% of the money is on the Suns tonight.
Given all of those reasons, I like the Suns to cover the big number here. I think there's value currently at +7.5, but I also don't mind taking a chance to see if that public money pushes it up to 8 or higher.
Note: I only like this bet if Ricky Rubio suits up; he's currently questionable.
Celtics at Heat
I don't currently have a strong lean on this game, but since it's the big one of the night, I'll give my thoughts for those looking for them.
This one is a battle of trends.
Heat at home: 16-6-1 ATS, including 14-5-1 as a favorite
Celtics on road: 13-8-1 ATS, including 7-4 as a dog
And you've likely heard the record of Brad Stevens in this spot. As a road dog in his career, he's an astounding 89-58-1 (60.5%) ATS, netting bettors an incredible 18.4% ROI.
But the Celtics are also likely to be missing Jayson Tatum, who I think has been their best player this year. In the two games without him lately, they outperformed expectations in the first, beating the Magic as three-point dogs on the road — that trend again — but in the second on Sunday, they got blown out as 1.5-point road dogs to Zion Williamson and the Pelicans.
The data clearly shows Tatum's value to this team: On the year, the Celtics have been 11.4 points per 100 possessions better with him playing vs. not. That's in the 96th percentile of all players this season.
For reference, Grant Williams has a +6.0 on/off differential, and then it dips to +2.3 and +2.1 for Enes Kanter and Gordon Hayward, respectively. Kemba Walker, Marcus Smart and Jaylen Brown all have neutral or negative marks.
Kemba has been incredibly valuable offensively, to be fair. The offense has increased its eFG% by 5.6% with him playing, which is easily the highest mark on the team. But Tatum just provides so much value defensively: Opponents consistently shoot much worse from mid-range and beyond the arc with him on the floor.
That's problematic against a Heat team that ranks third this season in eFG%, second in 3-point percentage and first on specifically non-corner-3s. I think they've run hot, and I've written that a ton, but they continue to fire away and make everything.
Tatum isn't the only injury in this game. Jimmy Butler played with a sprained ankle last night, but it's possible that could bother him on a back-to-back. Kendrick Nunn, one of the league's best surprises this year, didn't suit up last night and could miss tonight with an Achilles injury. For Boston, Tatum is doubtful and Enes Kanter is already out.
Regarding how bettors are attacking this game, it's mixed:

We tracked a ton of steam moves on the Celtics when it opened at +3, but we also just tracked a buyback on the Heat at -1.
Again, this is a weird game and I don't have a great read on it. I would lean normally towards the Heat given Tatum's injury, but Stevens is just an absolute wizard in this spot.
Projected Starting Lineups and Injury News
Note: Info as of 11:30 a.m. ET. For up-to-the-minute lineups and news, see FantasyLabs' matchups page.
Projected Lineups
Atlanta Hawks: Trae Young – Kevin Huerter – De'Andre Hunter – John Collins – Bruno Fernando
Boston Celtics: Kemba Walker – Marcus Smart – Jaylen Brown – Gordon Hayward – Daniel Theis
Charlotte Hornets: Devonte' Graham – Terry Rozier – Miles Bridges – PJ Washington – Cody Zeller
Cleveland Cavaliers: Dante Exum – Collin Sexton – Cedi Osman – Kevin Love – Tristan Thompson
Dallas Mavericks: Luka Doncic – Seth Curry – Tim Hardaway Jr. – Dorian Finney-Smith – Kristaps Porzingis
Denver Nuggets: Torrey Craig – Gary Harris – Will Barton – Jerami Grant – Nikola Jokic
Golden State Warriors: D'Angelo Russell – Damion Lee – Glenn Robinson III – Draymond Green – Marquese Chriss
Memphis Grizzlies: Ja Morant – Dillon Brooks – Kyle Anderson – Jaren Jackson Jr. – Jonas Valanciunas
Miami Heat: Kendrick Nunn – Jimmy Butler – Duncan Robinson – Bam Adebayo – Meyers Leonard
Milwaukee Bucks: Eric Bledsoe – Wes Matthews – Khris Middleton – Ersan Ilyasova – Brook Lopez
New Orleans Pelicans: Lonzo Ball – Jrue Holiday – Brandon Ingram – Zion Williamson – Derrick Favors
New York Knicks: Elfrid Payton – Reggie Bullock – Marcus Morris – Julius Randle – Taj Gibson
Philadelphia 76ers: Ben Simmons – Matisse Thybulle – Tobias Harris – Al Horford – Joel Embiid
Phoenix Suns: Ricky Rubio – Devin Booker – Kelly Oubre – Dario Saric – Deandre Ayton
Toronto Raptors: Kyle Lowry – Fred VanVleet – OG Anunoby – Pascal Siakam – Marc Gasol
Washington Wizards: Isaiah Thomas – Gary Payton II – Bradley Beal – Thomas Bryant – Ian Mahinmi
Injury News
Atlanta Hawks: DeAndre Bembry (hand) and Alex Len (hip) are out. Bruno Fernando (calf) are questionable.
Boston Celtics: Enes Kanter (hip) remains out. Jayson Tatum (groin) is doubtful. Javonte Green (knee) is questionable.
Charlotte Hornets: Nothing new.
Cleveland Cavaliers: Brandon Knight (knee) remains out. Darius Garland (rest) is out. Kevin Porter Jr. (ankle) is questionable.
Dallas Mavericks: Luka Doncic (ankle) is probable. Kristaps Porzingis (knee) is questionable.
Denver Nuggets: Nothing new.
Golden State Warriors: Nothing new.
Memphis Grizzlies: Grayson Allen (hip) is out indefinitely. Jae Crowder (knee) is doubtful.
Miami Heat: Kendrick Nunn (Achilles) is TBD.
Milwaukee Bucks: Giannis Antetokounmpo (shoulder) is out. George Hill (hamstring) is available to play. Robin Lopez (illness) is not on the injury report.
New Orleans Pelicans: Nothing new.
New York Knicks: Nothing new.
Philadelphia 76ers: Josh Richardson (hamstring) remains out. Joel Embiid (hand) and Zhaire Smith (ankle) are questionable.
Phoenix Suns: Aron Baynes (hip) and Cam Johnson (quad) remain out. Ricky Rubio (ankle) is questionable.
Toronto Raptors: Pat McCaw (nose) and Rondae Hollis-Jefferson (ankle) are questionable.
Washington Wizards: Jordan McRae (ankle) is out.
---
Player Props
To bet props, I use our FantasyLabs player props tool. Follow me in the Action Network app to see my bets (or go to the bottom of the article), but the more important thing is the tool, which measures our projections for every player vs. current odds in the market and highlights the biggest edges for you.
Player props are an inefficient market, which allows casual bettors (limits are low, so pro bettors aren't incentivized to prioritize them) to grab very +EV bets.
That said, the lines move quickly. Our props tool is set up so you can always see whether there's an edge even at the updated numbers throughout the day.
It's one of my favorite tools we offer and should be one of your bookmarked pages if you like making a few extra bucks. Here's a screenshot of what it looks like:

My usual recommendation: Bet unders.
Last season, 10-rated props in our tool hit at a 60.31% rate. But overs hit at a 57.08% rate vs. 66.47% for unders. For 9-rated props, 55.96% of overs were successful bets vs. 62.60% for unders.
As I have noted in the past, unders have more outs: A blowout, an injury, a poor shooting night — all will likely make the under hit. But also, props are less efficient as a market given the low limits, so they're less likely to adjust for things like opponent and pace.
One under I think is intriguing is Dario Saric's 5.5-rebound total.
In his last 15 games, Saric has gone over this total just three times. He's gone over six just once, when he had to play 37 minutes due to injuries a couple weeks ago. He's gone under this mark four straight times.
I just don't think this number is accounting for his current role, which is limited at around 20 minutes. Deandre Ayton is finally back, and the Suns are giving him huge minutes — around 40 the last couple of games. That means just very little opportunity (Ayton is a monster rebounder) for Saric, and it seems like the market hasn't caught on yet.
DFS Values and Strategy
Four players tonight are priced at $10,000 or higher on DraftKings: Nikola Jokic, Trae Young, Luka Doncic and Giannis Antetokounmpo. Talk about some young studs; the NBA is in an awesome place long-term.
Interestingly, Luka and Giannis — the two highest-priced players and those with the highest ceilings night to night — have really struggled to hit value lately, due to slumps or just a lack of minutes. Trae and Jokic, meanwhile, have both smashed lately.
Trae is in a tough spot against the Raptors, but he's also playing just huge minutes and using so many possessions. I've written about how I'm buying some Hawks stock right now, as they've finally gotten their important core with John Collins and Kevin Huerter healthy and playing together. There's reason for optimism despite the matchup certainly.
Jokic might be the guy to buy, though. He's gone over 54 DraftKings points in three straight games, including over 60 in back-to-back matchups. He's playing huge minutes, mostly because he has to with Jamal Murray, Paul Millsap and Mason Plumlee all out for extended time. He's the offense right now, and he's risen to the occasion with nearly three straight triple-doubles.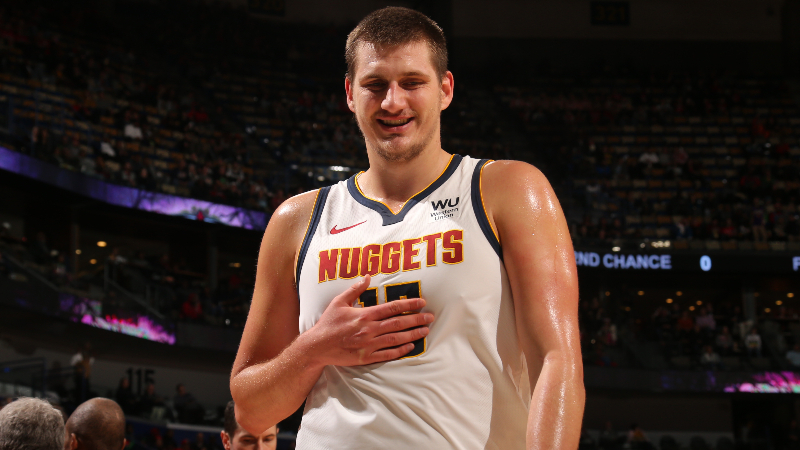 Value-wise, Delon Wright and Seth Curry stand out at their low price points. The latter has moved into the starting lineup with Dwight Powell out, as the Mavs have elected to play smaller rather than staying with two-big lineups.
There aren't too many huge injuries to note tonight. Jayson Tatum is doubtful, which could mean extra volume for the Celtics' main guys, but they're already salary-adjusted and have a tough matchup in Miami.
Joel Embiid is the only other main guy to watch; he's questionable after missing the last several weeks with a hand injury. There's no word on a minutes restriction if he plays, so it might be a situation to avoid: With a minutes cap, he won't be very playable, but he will cannibalize the production of his teammates.
Instead, it's probably wise tonight to focus on the juicy games on the slate and potentially game stack. The Bucks and Wizards are in a game with a 243.5 total, the fast-paced Pels get the atrocious Cavs defense on a back-to-back and the Raptors get the fast-paced Hawks at home.
You know the drill: Follow the news and make sure to subscribe to our models to see up-to-the-minute projection updates.
For more DFS analysis and value plays, check out the FantasyLabs NBA models.
My Bets Currently
Wizards +16 (just bet after Giannis news)
[In New Jersey, Pennsylvania, Indiana or West Virginia? Bet now at FanDuel]
Follow me in our free app if you want an alert on bets I make.
How would you rate this article?