NBA Predictions, Picks & Betting Odds (Tuesday, Jan. 7): Is Lights-Out Defense Enough to Boost the Wolves' Value?
Credit:
Photo credit: Lachlan Cunningham/Getty Images. Pictured: Gorgui Dieng
This NBA season, I'm trying something new. I'm going to write a daily piece that highlights everything bettors and DFS players need to know for that night's slate. For more on what to expect, read the inaugural piece.
Yesterday I finished 3-2 for +0.2 units. While I don't want to get sucked into the past, I think it's worth reviewing things each day.
The best way to do that is to look at closing line value (CLV), which is just measuring whether the line you bet moved for or against you by closing.
I bet Bulls-Mavericks under 217 and it closed at 217 (lost)
I bet Nuggets-Hawks over 223.5 and it closed at 224 (won)
I bet Celtics-Wizards under (2H) 115 and it closed at 115 (won)
I bet Pacers-Hornets under (2H) 103.5 and it closed at 103.5 (lost)
I bet Nets-Magic under (2H) 108.5 and it closed at 109 (won)
It was a largely uneventful day in terms of CLV, and I don't have many takeaways on my bets. I think I probably made a mistake on the Bulls-Mavs game, potentially overrating the Bulls' recent defensive surge.
Anyway, let's dive into today's slate and find some angles.
Note: For updates, see the chat at the bottom of this post.
YTD Record:
Overall: 159-125-2
Spreads: 60-52-2
Totals: 50-45
Moneylines: 14-6
Props: 29-22
Jump To: Odds & Analysis | Projected Starting Lineups & Injury News | Player Props | DFS Values & Strategy | My Bets
---
Odds as of Friday afternoon and via FanDuel, where Action Network users get a risk-free bet up to $500.
---
Betting Odds and Analysis
7 p.m. ET: Detroit Pistons (-3.5) at Cleveland Cavaliers, 219.5
7 p.m. ET: Portland Trail Blazers at Toronto Raptors (-2.5), 219.5
7:30 p.m. ET: OKC Thunder (-1.5) at Brooklyn Nets, 215.5
8 p.m. ET: Minnesota Timberwolves at Memphis Grizzlies (-3.5), 229
9 p.m. ET: Sacramento Kings at Phoenix Suns (-6.5), 226
10:30 p.m. ET: New York Knicks at LA Lakers (-12.5), 222
Let's run through a couple angles I'm eyeing.
Blazers at Raptors
I hope you didn't buy tickets to this game in the preseason, because you're not going to see a ton of starting players.
For the Blazers, CJ McCollum is questionable to play with an illness and missed Sunday's game. For the Raptors, Fred VanVleet is out, joining Pascal Siakam, Marc Gasol and likely Norman Powell on the bench.
The Blazers are a weird team to handicap right now. If McCollum is out, the offense is obviously hurt. For the season, the team has been 6.9 points per 100 possessions worse with him on the bench vs. playing. The biggest hit has predictably been on offense, as the Blazers have seen a team-high 3.9% drop in effective FG% without him on the floor.
In 689 possessions this season with Damian Lillard playing and McCollum on the bench, the Blazers have posted a poor -4.5 Net Rating. McCollum is a pretty underrated player to his team's value, especially offensively.
Further, the guys out for the Raptors are incredibly important to their offense as well. Without Gasol, the Raps' eFG% has dropped by 5.9%. Without Siakam, 6.0%. Without FVV, 3.6%. Those are three of the four highest marks on the team.
The Raps have been decent overall without those three guys playing, posting a +5.4 point differential in 482 possessions. As suggested above, though, it's been almost entirely due to the defense, which has allowed just 101.5 points/100 in that sample. The team on offense has posted a 46.9% eFG%.
OK, to summarize, we have the Blazers with McCollum potentially out. That would hurt the offense, but that defense has just been so bad lately. The Raptors are missing a lot of offensive talent, and the defense has been solid even without those guys. This seems like an under play if it weren't for the Blazers defense being so scarily bad.
But looking deeper there, over the last two weeks they've been dead last with a 122.5 rating — almost impossibly bad. But they could see some regression: Opponents in that span are hitting 40.3% of their 3-pointers, which will go down. They're shooting over 40% on non-corner-3s — the hardest ones. On wide-open shots, opponents are posting an absurd 61.5% eFG% against Portland. The Blazers suck, but probably not that bad.
It's terrifying to bet the under in anything related to the Blazers, but I think there's some value if McCollum is ruled out.
Wolves at Grizzlies
The Wolves have been one of the weirdest teams in the league lately. Over the past two weeks, they've been awful offensively, ranking 29th with just 99.8 points per 100 possessions. But the defense has been historically good, allowing just 96.0 — first in the league in that span by nearly 5.0/100.
That has led to some extreme splits for Karl-Anthony Towns, who has been in and out of the lineup of late. On the season, the Wolves have been 3.5 points per 100 possessions better with Towns on the floor vs. off.
The splits are crazy though: They've been 16.2/100 (100th percentile) better on offense but 12.8/100 worse on defense. The team has posted a eFG% 7.8% better on offense, but has allowed one 6.6% worse on defense.
Is that Towns' true value? Is he that bad on defense and that important on offense? Are his fill-ins like Gorgui Dieng that much better?
I'm skeptical. Over that two-week span, opponents are posting a league-low 42.1% eFG% on wide-open shots. On wide-open 3-pointers, opponents are shooting just 26.2%, again worst in the league. It's the same story for merely "open" shots. They're doing a great job of limiting those open shots, sure, but those shooting numbers should regress.
It's not clear how much the Towns-Dieng switch is really worth. Over the last two weeks, teams have attacked the rim against the Wolves at the sixth-highest rate and have taken shots in the paint at the seventh-highest rate. Minnesota ranked third in Field Goal percentage allowed at the rim in that stretch and 18th in the paint.
This is the eFG% difference for opponents with players on vs. off the court: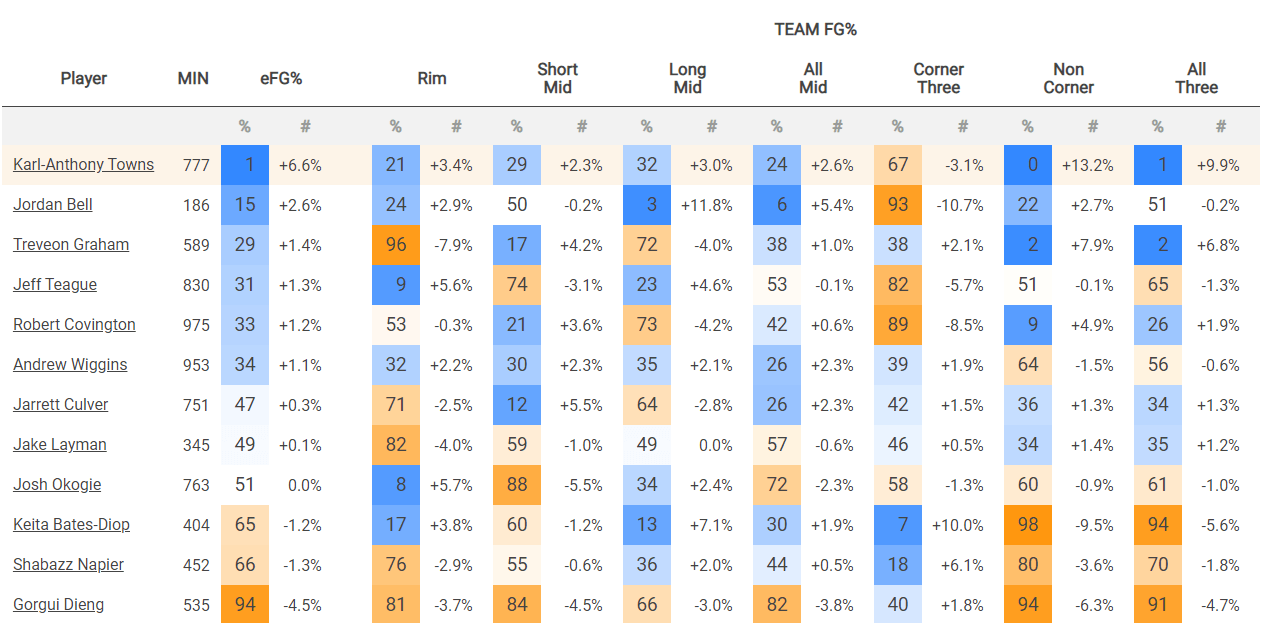 The Wolves have been worse defending the rim with Towns, sure, but the majority of his negative defensive value has been from the outside. Centers can affect that with how they defend pick-and-rolls, absolutely.
Towns clearly consistently drops back in those plays:
Another example:
But so has Dieng:
And honestly all of their bigs:
This is how the Wolves' scheme is built. Towns is not a perfect defender by any means, but in the film I've watched it's hard to say that the 3-point shooting splits with him on vs. off the floor are  his fault. I think it's probably just a little fluky in a small sample size.
The offensive splits are more easy to believe given Towns' talent on that end of the floor. The Wolves take 7.1% more shots at the rim with him on the floor (99th percentile) in the league, and that's directly attributable to him and his presence.
All in all, I think the Wolves' offense will continue to struggle without Towns, and the defense should get a little worse. If that's the case, I don't think they'll continue to post a positive point differential without Towns. If he's out, I like the upstart Grizzlies to continue their solid play.
Projected Starting Lineups and Injury News
Note: Info as of 2:30 p.m. ET. For up-to-the-minute lineups and news, see FantasyLabs' matchups page.
Projected Lineups
Brooklyn Nets: Spencer Dinwiddie – Garrett Temple – Joe Harris – Taurean Prince – Jarrett Allen
Cleveland Cavaliers: Darius Garland – Collin Sexton – Cedi Osman – Kevin Love – Tristan Thompson
Detroit Pistons: Tim Frazier – Svi Mykhailiuk – Tony Snell – Sekou Doumbouya – Andre Drummond
LA Lakers: LeBron James – Avery Bradley – Danny Green – Anthony Davis – JaVale McGee
Memphis Grizzlies: Ja Morant – Dillon Brooks – Jae Crowder – Jaren Jackson Jr. – Jonas Valanciunas
Minnesota Timberwolves: Shabazz Napier – Jarrett Culver – Andrew Wiggins – Robert Covington – Karl-Anthony Towns
New York Knicks: Elfrid Payton – RJ Barrett – Kevin Knox – Julius Randle – Taj Gibson
OKC Thunder: Chris Paul – Shai Gilgeous-Alexander – Terrance Ferguson – Darius Bazley – Steven Adams
Phoenix Suns: Ricky Rubio – Devin Booker – Kelly Oubre – Deandre Ayton – Aron Baynes
Portland Trail Blazers: Damian Lillard – CJ McCollum – Kent Bazemore – Carmelo Anthony – Hassan Whiteside
Sacramento Kings: De'Aaron Fox – Buddy Hield – Harrison Barnes – Nemanja Bjelica – Richaun Holmes
Toronto Raptors: Kyle Lowry – Pat McCaw – OG Anunoby – Rondae Hollis-Jefferson – Serge Ibaka
Injury News
Brooklyn Nets: Caris LeVert (thumb) is available to play.
Cleveland Cavaliers: Kevin Porter Jr. (knee) is out. Tristan Thompson (illness) is questionable.
Detroit Pistons: Blake Griffin (knee surgery) and Markieff Morris (foot) are out.
LA Lakers: Avery Bradley (ankle) said he'll play. Anthony Davis (shoulder) is probable. LeBron James (illness) is hopeful to play.
Memphis Grizzlies: Nothing new.
Minnesota Timberwolves: Karl-Anthony Towns (knee) is questionable.
New York Knicks: Elfrid Payton (personal) is available to play. Dennis Smith Jr. (oblique) is questionable. Marcus Morris (neck) is doubtful.
OKC Thunder: Nerlens Noel (ankle) and Danilo Gallinari (calf) are out.
Phoenix Suns: Frank Kaminsky (patella) is out indefinitely.
Portland Trail Blazers: CJ McCollum (illness) is questionable.
Sacramento Kings: Bogdan Bogdanovic (ankle, illness) is unlikely to play.
Toronto Raptors: Fred VanVleet (hamstring) is out. Norman Powell (shoulder) is doubtful.
---
Player Props
To bet props, I use our FantasyLabs player props tool. Follow me in the Action Network app to see my bets (or go to the bottom of the article), but the more important thing is the tool, which measures our projections for every player vs. current odds in the market and highlights the biggest edges for you.
Player props are an inefficient market, which allows casual bettors (limits are low, so pro bettors aren't incentivized to prioritize them) to grab very +EV bets. That said, the lines move quickly. Our props tool is set up so you can always see whether there's an edge even at the updated numbers throughout the day.
It's one of my favorite tools we offer and should be one of your bookmarked pages if you like making a few extra bucks. Here's a screenshot of what it looks like:

My usual recommendation: Bet unders.
Last season, 10-rated props in our tool hit at a 60.31% rate. But overs hit at a 57.08% rate vs. 66.47% for unders. For 9-rated props, 55.96% of overs were successful bets vs. 62.60% for unders.
As I have noted in the past, unders have more outs: A blowout, an injury, a poor shooting night — all will likely make the under hit. But also, props are less efficient as a market given the low limits, so they're less likely to adjust for things like opponent and pace.
One under I think is intriguing is Nemanja Bjelica's 13.5-point total.
Bjelica has been all over the place in terms of both his scoring and usage lately. Last game against the Warriors, he put up eight points on just 10.7% usage. The game before he posted a 28.9% usage rate. The week prior, he had 27 points.
This line is probably a bit inflated due to the mean, which can be influenced by outliers, whereas the median outcome is not. With the Kings continuing to play fairly slowly plus the inflated line, I think this is a solid under bet.
DFS Values and Strategy
Two of the top studs today are currently questionable to play, which will obviously really shift the slate, especially since LeBron James is one of those players. He is apparently under the weather but hopeful to play. We currently have him at 50% to play tonight.
If he's unable to go, Anthony Davis would obviously be a must-play, especially against the lowly Knicks. In the first game LeBron missed this season, Davis put up 56.6 DraftKings points on a massive 38.1% usage rate. In all possessions with LeBron on the bench, Davis has increased his usage rate by a team-high 5.5%. Don't overthink this one if LBJ is out.
Andre Drummond is worth a look against a bad Cavs team, as is Damian Lillard, especially if CJ McCollum is unable to go. Some of the best value, however, is down in the mid-tier with guys like Kyle Lowry, Steven Adams, Shai Gilgeous-Alexander, Chris Paul and others.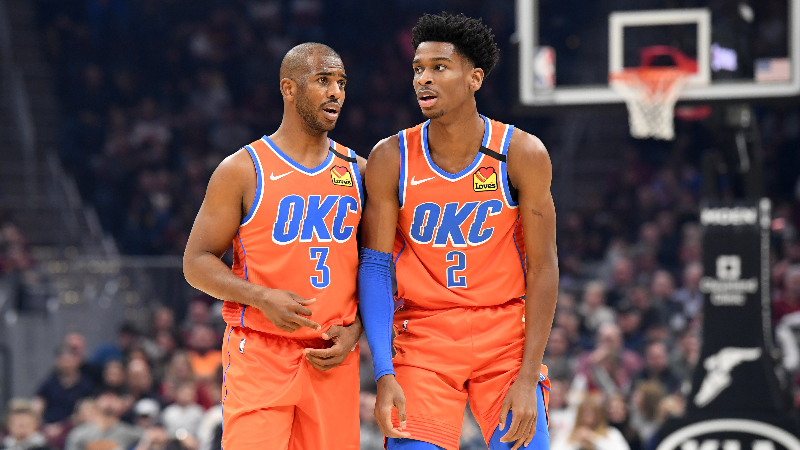 The OKC guys are popping in our models because both Nerlens Noel and Danilo Gallinari have been ruled out. Darius Bazley is a candidate to fill in the starting lineup, but the rest of the starters will likely absorb the majority of the counting stats, making them underpriced in DFS, especially against a Brooklyn team that has been one of the worst in the NBA of late.
And Kyle Lowry is another obvious play, as he'll be without Fred VanVleet, Pascal Siakam, Marc Gasol and potentially Norman Powell. That's a ton of usage and production on offense, which means Lowry will need to play huge minutes and largely operate the offense by himself. Right now we have him projected to play over 40 minutes. You can't fade that in cash games.
Make sure to subscribe to our FantasyLabs models and check out our new Labs NBA Insiders tool to get up-to-the-minute information on injuries and projection changes.
For more DFS analysis and value plays, check out the FantasyLabs NBA models.
My Bets Currently
Nothing yet.
[In New Jersey, Pennsylvania, Indiana or West Virginia? Bet now at FanDuel]
Follow me in our free app if you want an alert on bets I make.
How would you rate this article?