Moore's Saturday Angles: Should You Seriously Bet on the Knicks Tonight?
Credit:
Joe Robbins/Getty Images. Pictured: Dennis Smith Jr., Mike Miller.
Angles for Saturday's NBA slate based on matchups and trends…
Milwaukee Bucks at Orlando Magic
Spread: Bucks -9
Over/Under: 221
Time: 5 p.m. ET
The Angle: The Counterintuitive Middle
Under Mike Budenholzer, the Bucks are 23-9-1 (69%) ATS vs. sub-.500 teams when more than a 6-point favorite and 9-4-1 when a double-digit favorite in such spots. They just wreck teams.
Orlando has a bottom-five offense and the Bucks play at the league's fastest pace with the best defense, meaning there will be several possessions where the Magic don't get a bucket and the Bucks run down and score. The pace differential alone makes this pretty good.
I know this sounds counterintuitive, but I also like the under. I've seen it regularly throughout this tenure. A low-scoring game where the Bucks' defense delivers a double-digit win. The Magic are a top-five team in two key categories: points allowed after field goal misses and transition points allowed. So even when the Magic clank it up, they're going to slow down Milwaukee's offense enough to keep the total down.
To back that up, the under is 7-2-1 in Bucks Budenholzer road games in which the total is sub-220, and 15-9-1 (63%) in Bucks road games where the opponent's offensive rating is below 106.
I get that this feels like a middle, but it's been a successful strategy. I like playing the Bucks and unders against the market in Bucks games in two situations: against bad offensive, good defensive teams, and against good offensive, bad defensive teams. The Bucks play to the under vs. outliers.
The Play: Bucks -9 and Under 220
New York Knicks at Detroit Pistons
Spread: Pick
Over/Under: 214
Time: 7 p.m. ET
The Angle: Why Do I Hate Myself? 
I'm gonna bet the Knicks. I promised myself I wouldn't do this. Like four times.
But look, the Pistons are on a back to back and with rest disadvantage this season, they're 3-11 ATS. THREE AND ELEVEN.
The Knicks are 8-7 with rest advantage, ATS. They're a small favorite, tiny. The Pistons basically gave up on life at the deadline. Blake Griffin's gone. Andre Drummond's gone. I like Christian Wood, who's been awesome, as much as the next guy, but if you were asking me to find a roster that is at least as bad as the Knicks? The list starts with the Pistons.
So I'm going to do this, and I'm going to regret it, and that's just how this Saturday will go.
The Play: Knicks ML
New Orleans Pelicans at Indiana Pacers 
Spread: Pacers -4
Over/Under: 225.5
Time: 7:30 p.m. ET
The Angle: Fade the Pacers' Defense on Short Rest
So Brandon Ingram is doubtful, and both he and Zion Williamson are game-time decisions. As such, the line moved from Pacers -1 to Pacers -4.5.
Wait on that news. If suddenly those two play, grab the Pelicans. The Pelicans are 9-5-1 ATS with rest advantage this season, the Pacers are 5-7 with rest disadvantage. Indiana is a really solid team, but they take the second-fewest 3-pointers per 100 possessions and the Pelicans bomb from deep.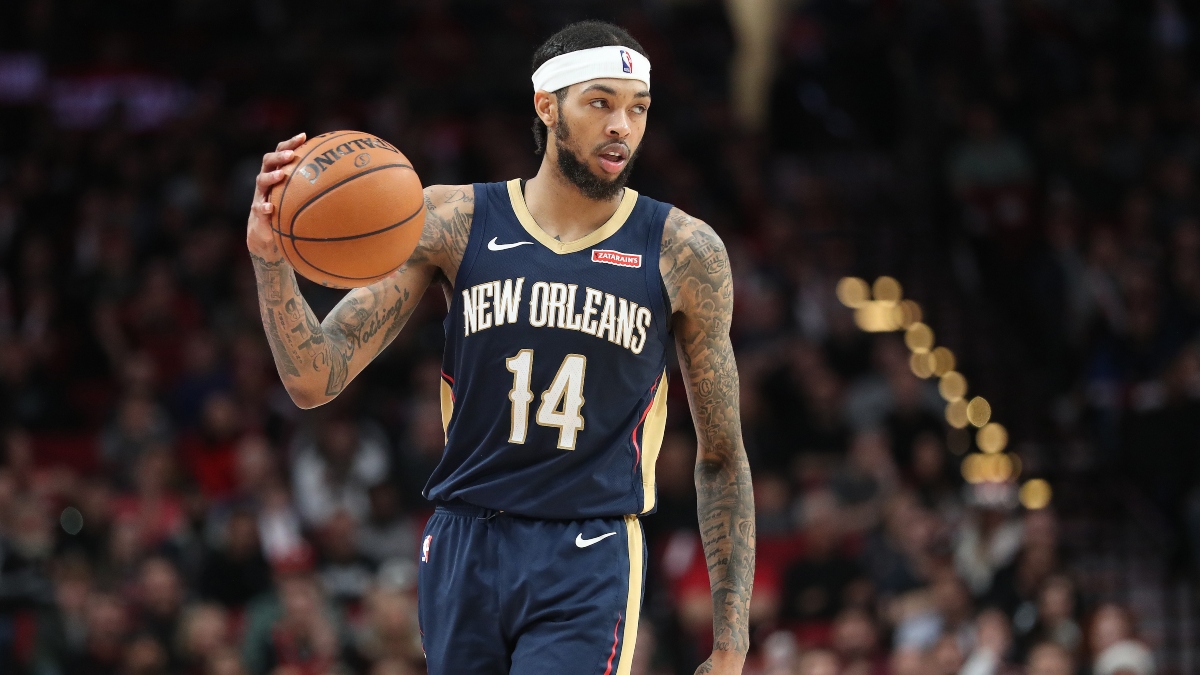 If Ingram plays and Zion doesn't, take the Pels on whatever the line settles at. If Zion plays and Ingram doesn't, or if neither plays, stay away.
The over, though, is the play no matter what. The over is 7-4-1 in games where the Pacers have rest disadvantage, and 12-4 (75%) when the Pelicans have rest advantage. The Pacers' low 3-point volume is a concern, but the Pelicans' defense is so bad at baseline, they're going to score anyway.
This is an absurdly low total for a Pelicans game in the year of our Lord 2020. I am, however, being selective to be safe. The Pelicans' team total at various books is 110. That's a cakewalk, even if Ingram doesn't play.
The Play: Pelicans +4 (if Ingram plays) | Over 225, Pelicans team total over 110
Brooklyn Nets at Toronto Raptors
Spread: Raptors -6.5
Over/Under: 219
Time: 7:30 p.m. ET
The Angle: Nick Nurse Against the Atlantic
Kyle Lowry took a nasty hit Friday night on his neck and is doubtful for this game as is Marc Gasol with a hamstring injury. The line dropped a full two points to 6.5 from open (8.5) and the sharps have jumped on it, with tickets on the Raptors and the sharps on the Nets.
I'm going the other way.
Nick Nurse is 12-4 (75%) as a favorite in his career vs. Atlantic teams, and 8-5-1 ATS as a favorite on a back to back. The Nets are 15-15 without Kyrie Irving this season.
The key here is that while Lowry is awesome, the value lost is low, because Fred VanVleet is awesome. FVV is averaging 18-7 this season on 40 percent shooting and is averaging as many made 3's per game as C.J. McCollum. So the dropoff there isn't huge.
So the Nets are without their starting point guard but have a really good backup and the Raptors are without their starting point guard and have a really good backup.
Meanwhile, Marc Gasol might be out but you're not worried about Jarrett Allen going off on his own—pick and roll defense is systemic, not individual, and Toronto is great at it.
I'll take the Raptors at a discounted line, and stay away from the total.
The Play: Raptors -6.5
Los Angeles Clippers at Minnesota Timberwolves
Spread: Clippers -8.5
Over/Under: 233.5
Time: 8 p.m. ET
The Angle: I Think This Team Works Now!
Wait to see if D'Angelo Russell plays (gametime decision). If he does, I like the Wolves here.
I detailed it when I wrote about the trades, but this Wolves team makes a lot more sense now. They were a 3-point shooting team that couldn't make 3's, and they added a lot of shooting. Russell for Wiggins is an upgrade, Malik Beasley and Juancho Hernangomez for Bates-Diop is an upgrade. They have guys who can play how they want now.
I'm expecting (hoping) for reinvestment from Karl-Anthony Towns now that the Minnesota front office made the team they tried to make this summer.
That said, the defense will still suck, so I can't take the points here. I do like the Wolves' total of 111.5, though. The Clippers give up 111 per game on the road across all opponents.
I don't hate the idea of taking the points here. I think you need to throw out how bad Minnesota has been at home with how many new pieces they have. But I'm still nervous considering that they didn't do anything that will fix the defense. The offense, though, I feel good about.
The Play: Wolves Team Total Over 111.5 
Denver Nuggets at Phoenix Suns
Spread: Nuggets -3.5
Over/Under: 217
Time: 5 p.m. ET
The Angle: Joker Is Gonna Eat
Nikola Jokic is 7-2 straight up vs. the Suns since 2017-2018 with an average margin of victory of 7 points.
Joker absolutely annihilates DeAndre Ayton who is on a back to back after a fast-paced game vs. the Rockets last night. The kid just doesn't have the savvy to stick with him.
The injury report matters here, too. Paul Millsap is probable for this game after missing over a month of action. Jamal Murray is off the injury report. Gary Harris is back. The Nuggets starting five should be back together, a unit that has been great the past two years.
Now, Jerami Grant is questionable, as is Michael Porter Jr., and the guys they traded for are going to be largely lost. But Phoenix is short-handed on several fronts as well.
Denver as a road favorite this season is 9-6 ATS. I can't help but take them laying less than two possessions.
The Play: Nuggets -3.5
How would you rate this article?