Moore: How Pelicans Draft Lottery Win Impacts the NBA and its Betting Market
Credit:
USA TODAY Sports. Pictured: Zion Williamson and Anthony Davis
Chaos is a ladder, and the Pelicans flew on up to the top.
For the last four years, the team with the best odds won the lottery. But then on Tuesday night, three teams outside the top 6 jumped into the top 4, as the New Orleans Pelicans landed the coveted No. 1 spot and the opportunity to draft Zion Williamson, the clear-cut top player in the class.
The Memphis Grizzlies, who had hoped someone would jump them so they could sent their pick to the Celtics instead of having to send it next year in a better draft, landed No. 2, putting them in position to draft Ja Morant. The Knicks thankfully avoided further misery by at least landing No. 3, and the Los Angeles Lakers, after the most disastrous offseason you can have through a single month, landed the No. 4 pick.
So there's a lot to unpack here.
Let's start at the top. Scattered thoughts from the ladder of chaos that was the 2019 NBA draft lottery:
NEW ORLEANS PELICANS AWARDED NO. 1 PICK
Likely Selection: Zion Williamson, Able-Bodied Demi-God
David Griffin has now been with the team that has gotten No. 1 four times out of the past 10 lotteries. For a franchise put to the brink by Anthony Davis' trade request, this resets everything. They just landed the best prospect since Davis … and maybe further back than that.
Think of how big a deal it is that the Pelicans didn't completely blow the team up? They resisted trading Jrue Holiday and Elfrid Payton and now have some semblance of a roster to put around Williamson. Holiday and Zion will be one of the most exciting 1-4 combos in the league next season.
This likely means the departure of Julius Randle in free agency, given that Zion is like mega-nuclear-Randle.
But that, of course, is not the big question of departure this summer.
Griffin, from the day he arrived, has stressed that the Pelicans may not trade Anthony Davis and may instead try and convince him to stay. Griffin reiterated that after the lottery:
Asked David Griffin if this changes the situation with Anthony Davis. "Not a lot," he said. "…. We want to create an environment that players are attracted to and we feel very strongly Anthony, in totality, will be attracted to what we can build." https://t.co/c9BaiVhUAF

— Ian Begley (@IanBegley) May 15, 2019
Now, there's no doubt teams will continue to make offers, as the Athletic reports Davis' trade demand remains in effect. But this helps the Pelicans' leverage so much. The Pelicans don't need to trade for Zion; they don't have to accept less in a return to get a new cornerstone. They have it.
If Davis wants to continue to sit out? The Pelicans can manage that, and wait til the trade deadline. They got Zion Williamson. Nothing they will get in return for Davis will be better than that.
But if they decide to pursue that angle, they now can turn to the Lakers, who can offer multiple members of their young "core" and now the No. 4 pick as well. That would let the Pelicans rebuild with Jrue Holiday, Zion, and potentially Jarrett Culver, an incredible combo.
They can trade with the Knicks but now New York's offer goes down significantly. It's basically Kevin Knox, Mitchell Robinson, and the third pick. The Pelicans could combine Zion Williamson and RJ Barrett, Duke teammates, but that's just not as attractive.
The biggest outcome here in terms of an AD trade is the leverage this gives them with Boston and the Lakers.  Several league executives noted the pressure this takes off the Pelicans in the midst of a tough situation and transition.
The Lakers can't say things are off the table; neither can the Celtics. The Pelicans can play those two (and whoever else wants in) against each other with "fine, we'll walk away from the table and play it out and make the playoffs" as the worst case scenario.
New Orleans' title odds improved from 300-1 to 25-1 with one lottery ball bounce. Now, obviously, the Pelicans are not winning the title next year. But that number gives us some perspective. For example, the San Antonio Spurs opened 25-1 last year and wound up with a win total over/under of 43.5, which they wound up clearing.
It's fuzzy estimation, but you have to think that the win total for New Orleans will likely be somewhere around 39.5 depending on how the AD trade works out. That number is either radically optimistic or a little low, depending on how you feel about Zion and what was left of the roster. The Pelicans have upward mobility now, and they have the best single asset in the NBA at this moment.
One thing that should be considered with Williamson? There are always questions about whether his incredible frame can withstand that level of explosiveness. Griffin hired the Suns' lead trainer. That's a great sign for keeping him, and potentially Davis, on the floor.
From the brink of disaster to the brightest future possible. That's how the lottery balls bounce.
MEMPHIS GRIZZLIES LAND NO. 2 PICK
Likely Pick: Human Joystick Ja Morant
It will go under the radar in the Knicks' misery and the Pelicans' elation, but man what a win for the Grizzlies. Memphis was set to celebrate when the Lakers jumped up because it meant they would convey their pick to Boston instead of sending likely a better pick in a better draft next year. But now, instead, they land the No. 2 pick and it opens up all sorts of possibilities.
They can keep Mike Conley — which they shouldn't do — and have him mentor Ja Morant as the next franchise guard until he's dealt or moves on. They can trade Conley to a sub-contender, like Utah — which they absolutely should — and get back young pieces to put around Morant, Jaren Jackson Jr. and a revived Jonas Valancinuas.
The Grizzlies aren't a playoff team, but after hitting their unders on season wins the last two years, there's a good chance they at least flirt with the over next year.
NEW YORK KNICKS GET NO. 3 BECAUSE THE GODS HATE JAMES DOLAN
Likely Pick: R.J. Barrett
Just…. rough. Now you have to hope that Kyrie Irving, you know, the guy who just helped tank Boston's season, comes in free agency along with Kevin "the NBA version of an Elliot Smith album" Durant. They didn't deserve this for how much their fans have suffered, but I will admit I'm relieved James Dolan won't waste another prolific star.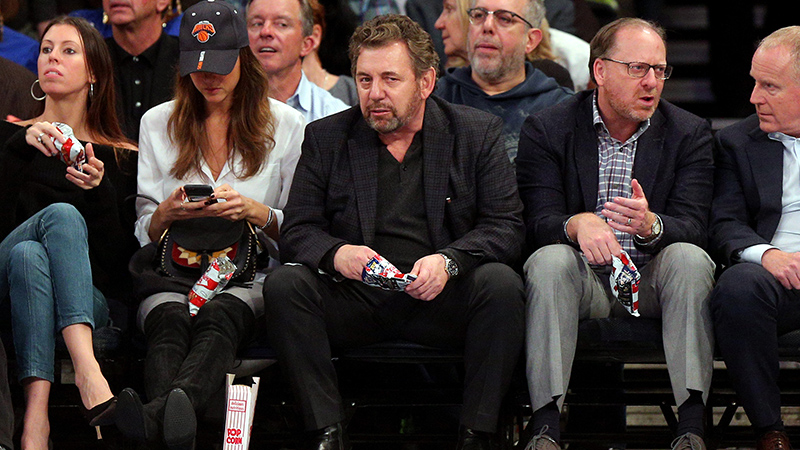 I'm low on Barrett as a decision maker, but his defense projects well, and there's a lot in the toolkit there. It's just… doesn't it seem like the most likely result is him being the kind of star New York doesn't need?
LAKERS GET NO.4 PICK, WHICH IS REALLY FUNNY
Likely Pick: Jarrett Culver
This pick is trade bait. The Lakers are currently locked in a power battle as Jeanie Buss tries to control things and LeBron's incredible influence continues to expand slowly like an empire. But this pick can be used to either acquire Davis, or to substitute for the loss of an asset. If the Lakers trade Brandon Ingram and keep the pick, they can draft Culver or Coby White (or DeAndre Hunter). They have options and that's something they need.
And, not for nothing, but in the event that things get very bad and the Lakers wind up trading LeBron as various outlets have suggested as possibilities this week, that pick would provide a new building block to add to the young core.
Other odds considerations:
Lakers season total over probably gets a bump here.
Bulls under feels like an absolute lock now.
If the Knicks don't get Irving or Durant… yikes.
The Rockets and Spurs win totals take a dip here; they now have to play Zion Williamson and Ja Morant four times a year.