NBA Draft Props: Bet on Marvin Bagley III Slipping?
Credit:
Rob Kinnan-USA TODAY Sports. Pictured: Marvin Bagley
The Highlights
Marvin Bagley is considered a safe choice in the NBA draft.
But there's a real chance he slips outside the first three picks, giving his draft position prop of over 3.5 (+380) some value.
---
An NBA scout put it pretty simply when it comes to Marvin Bagley III and his draft stock.
"Big, athletic, went to Duke. That's a hard formula to screw up."
Higher-profile players are getting picked apart as the NBA draft approaches. Luka Doncic's athleticism and shooting acumen. Deandre Ayton (while still the heavy favorite to go No. 1) and his defense. Jaren Jackson Jr. and his offensive feel.
Bagley has benefited from this process as a player you can take fewer knocks against because he is who he is. He's 6-foot-11 and 235 pounds. He has great touch at the rim. He's an established product who is ready out of the box, so when it comes to his draft position prop, the "3rd or better (-490)" offered seems like a good call on the surface.
But the value is on Bagley getting picked No. 4 or worse (+330). The plus money is the key here. (All odds as of Wednesday at noon ET.)
Consider this: Ayton is an absurd favorite to be taken by the Suns. The Arizona Wildcat has the local connection, and the Suns have telegraphed strongly that he's the guy. So now you've got the Kings and Hawks to worry about. If Doncic falls, that puts Bagley in prime position to go second or third. However, what if the Doncic talk is all smokescreen stuff?
Keep in mind that Atlanta and Sacramento have strong international scouting departments. They are not going to be deterred by not getting Doncic in for a workout because he's still playing in Europe. Then you have to factor in the odds of a trade. Atlanta and Sacramento have been mentioned in potential deals involving their picks. If a team moves up, it is more likely to go for a high-upside pick such as Doncic or Jackson than a "safe pick" such as Bagley.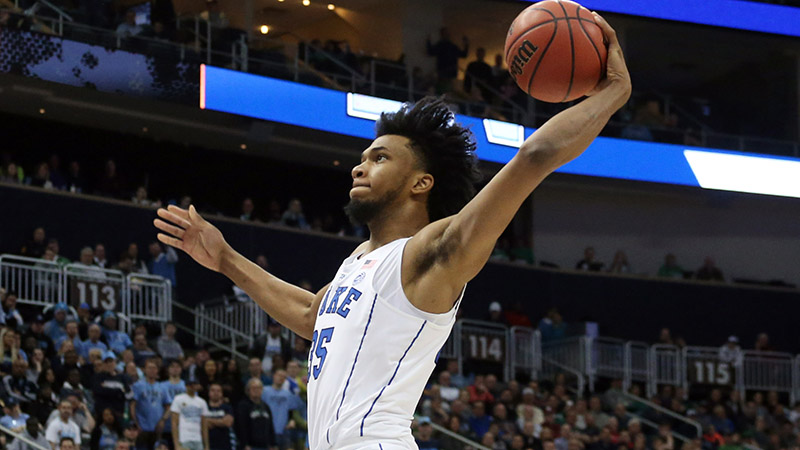 Credit: USA TODAY Sports
The Kings, in a bizarre twist, are reportedly interested in a trade for Kawhi Leonard. If the Spurs land that No. 2 pick, they are almost certainly taking Doncic. That possibility is low, but it's another outcome where Bagley slips.
The downside here was reported by Jonathan Givony, ESPN's Draft Chancellor. Bagley opted for a visit to Sacramento, one of the only high prospects to do so, and is "open" to playing for the Kings, which is tough. However, teams have dealt with this problem more and more in the past few years. High-profile picks refuse to work out for a team and are drafted anyway.
Then there's Jackson. Triple-J has the best profile for a modern NBA big. He shot 39.6% from deep for Michigan State last season compared to Bagley's 39.7, and Jackson's defensive instincts are light years beyond what we know for Bagley. If Bagley is the safe pick, Jackson is the value pick.
Throw in the chance that someone talks themselves into Michael Porter Jr. despite the injury concerns, the Mo Bamba super-upside play and the possibility a team really believes in Trae Young, and you have so many outcomes where Bagley slips just one spot.
At plus money, with his profile, with the kind of instability in this draft, the smart move is on Bagley sliding to at least No. 4.
If nothing else, you can bank on this: The Kings are the most likely team to take Bagley, and you can never, ever trust the Kings to do the expected.
---
More NBA Draft Betting Coverage
How would you rate this article?