NBA Expert Picks: Our Staff's 5 Favorite Tuesday Bets
Credit:
Joe Nicholson-USA TODAY Sports. Pictured: Golden State Warriors forward Kevin Durant (35).
Our NBA experts give their favorite betting picks for the eight-game Tuesday NBA slate.
You'll find a number of intriguing betting angles, including historical trends, matchup analysis and why the Knicks shouldn't historically large dogs tonight.
We've got a ton of intriguing storylines on tap in the NBA on Tuesday, most notably the Minnesota Timberwolves playing their first game without former head coach Tom Thibodeau.
That means there are plenty of betting opportunities in the marketplace. Let's dive into some of our experts' favorite wagers on Tuesday.
This piece will cover the following games tonight:
7:30 p.m. ET: Atlanta Hawks at Toronto Raptors
7:30 p.m. ET: Denver Nuggets at Miami Heat
10:30 p.m. ET: New York Knicks at Golden State Warriors
---
Rob Perez: Knicks +16.5 at Warriors
10:30 p.m. ET
OK, we all know the Knicks suck, but it's never from a lack of effort. As a matter of fact, they are annoyingly scrappy and play the full 48 minutes like it's Game 7 of the Finals, because for a lot of the guys on the roster who don't know if they'll even be in the league next week, it is.
A line of 16.5 should be reserved for teams that are dressing only seven guys and/or have waived the white flag even before stepping onto the court.
It should be reserved for that 2015-16 Philadelphia 76ers team that strived to lose by double digits.
It means the team that is favored by 16.5 is the best team in the league AND has a bench to expand a blowout.
The Warriors are none of those things. They are good enough to build out a 20-point lead in a matter of minutes — we all know this — but that bench is an absolute catastrophe: -16.5 is not safe unless they're up by 35 in the fourth quarter.
Could the starters get them that lead? Sure. But Quinn Cook, Alfonzo McKinnie, Jordan Bell … the Warriors' second and third units are as bad as the Knicks, if not worse.
The Knicks should win the fourth quarter by at least seven points in an empty-the-bench blowout, and I think they can keep it within 23 before then. So give me the Knicks and the late avalanche of points.
---
Evan Abrams: Knicks +9.5 First Half at Warriors
10:30 p.m. ET
I am going to step in front of a train tonight (fun!). The Warriors are 22-34-2 (39.3%) against the first-half spread at home under Steve Kerr when facing an opponent on a back-to-back, per our Bet Labs data.
That figure includes a 10-16-2 mark when facing a team under .500; they're 3-9-1 against the first-half spread when that team has a win rate of 33% or less.
I'll play the Knicks +6/+6.5 first quarter as well. New York is coming off a road win against the Lakers, and the market is positioning them for a letdown — which may happen, but I'll take the points.
Side note: I will most likely play the Warriors third quarter here, too, as it is -5.5 in pregame and a great value if the first half plays out like I hope.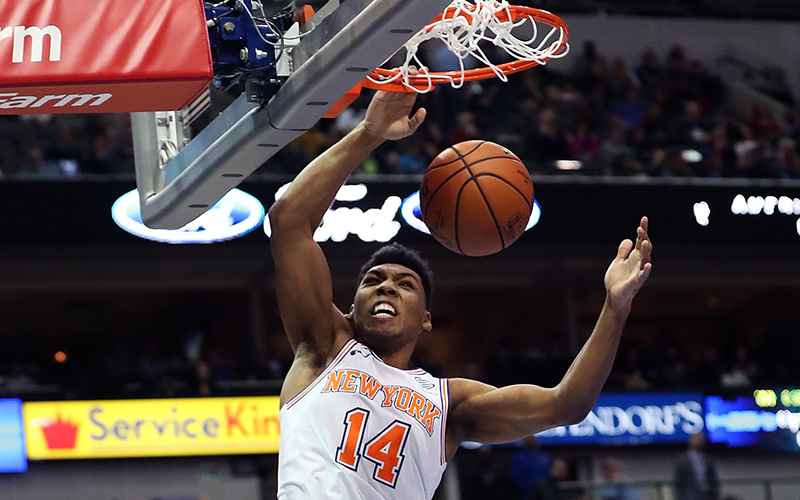 ---
Ken Barkley: Heat -1.5 vs. Nuggets
7:30 p.m. ET
There are a few interesting things going on here. This matchup and timing really is the confluence of a few angles that are appealing. The most obvious is fatigue/rest, with Denver having played last night in Houston and now traveling to Miami for a game the next night. Miami is on normal rest playing at home.
The second angle is some recency bias with Miami. The last time we saw the Heat, they lost to Atlanta by 24. It was one of their worst offensive outputs of the season (a paltry 85.4 offensive efficiency and 38.5% effective field goal percentage).
Despite Denver losing to Houston last night, that is an explainable result. Miami's most recent result is not; in fact, it's borderline embarrassing. So the market may be a little more down on the Heat than they should be.
That leads to the third angle: a handicap of these teams using only the most recent month's work. And it's been a good month for Miami — one most bettors likely haven't noticed.
In the past 30 days, the team has beaten the Rockets, Clippers and Bucks, lost to Toronto by two and at the Lakers by three. Using just efficiencies from the last 30 days, combined with Miami's home-court advantage (a little under 3), you get somewhere in the neighborhood of Miami -5.5. And that's before factoring in rest.
This combination of things (plus Miami's overall total health) makes the Heat a good bet for me at -1.5.
---
Matt Moore: Heat -1.5 at Nuggets
7:30 p.m. ET
Can I pass?
No? All right, then.
Miami -1.5 vs. Denver. The Nuggets are on a road-road back-to-back.
The trend of teams being dominant at home vs. teams on a back-to-back has started to regress a bit. They were 56-45 up until Christmas; since then they are just 9-8.
But Denver also played a dispiriting, frustrating game last night against Houston that was surprisingly physical. Hassan Whiteside, like Clint Capela, is the model of a center who gives Nikola Jokic fits with athleticism and length at the rim.
Even then, I have a lot of hesitation here. Denver is 13-9 ATS after a loss the last three seasons, and this line having opened with them as an underdog makes me even more nervous. But compared to the rest of the board, it's my favorite of the evening.

---
Bryan Mears: Atlanta Hawks at Toronto Raptors, Over 228
7:30 p.m. ET
Here are a couple notable trends from this year…
The over is 21-16 when the Hawks are underdogs and 21-10 in away games.
The over is 25-17 in Raptors games (second in the NBA), including 13-7 in homes games.
The Raps are the second-most profitable to the over team this season, and that's despite struggling whenever Kyle Lowry has been out.
Per Cleaning the Glass, the offense has been 9.7 points per 100 possessions better when he's on the floor vs. off. The Raptors are expected to be at full strength tonight.
Atlanta will almost certainly get blown on this one, and they're down several rotation players yet again. That should mean a lot of garbage time in the fourth, during which the Raps defense shouldn't be trying as hard.

---
Editor's note: The opinions on these games are from the individual writers and are based on their research, analysis and perspective. They are independent of, and may not always match with, the algorithm-driven Best Bets from Sports Insights.