Best NBA MVP Value Bets: Ranking Chances of Steph Curry, Anthony Davis, More
Credit:
Photos via USAToday Sports. Pictured: Stephen Curry, Anthony Davis, and Kawhi Leonard
With only a week before the start of the 2018-19 NBA season, five of our experts are here to debate the NBA MVP award.
Matt Moore, Rob Perez, Ken Barkley, Justin Phan and Bryan Mears conducted a snake draft of MVP odds, picking players based on the best betting value.
The Action Network's NBA analysts did a snake draft of 2018-19 MVP odds ahead of the regular season. Each pick was made with the current betting value in mind, not only a player's probability of winning.
Here was the order of the draft:
1. Matt Moore
2. Rob Perez
3. Ken Barkley
4. Justin Phan
5. Bryan Mears
2018-19 NBA MVP Value Bets Snake Draft
---
1. Moore: Giannis Antetokounmpo (+400)
After spending a few days in Milwaukee, a few things became clear. One, that city's food scene is positively righteous. Two, the Bucks are setting up Giannis for an MVP push better than any other candidate.
The new system employs basic fundamental concepts of good basketball, but they're all tailored around Antetokounmpo's skill set.
With more spacing to boost his assists, a better defense to boost the Bucks' win total and the fact that somehow the Greek Freak has come back bigger, stronger and faster, getting 4-1 on this almost makes me feel guilty. Almost.
2. Perez: Anthony Davis (+400)
I'm willing to die on this hill: Anthony Davis is the most talented basketball player on Earth right now.
Talent alone, however, does not make you the best. That honor would belong to LeBron. The only reason why Davis has not entered the 'best' conversation is because he cannot stay healthy. That is a major prerequisite to be recognized as so.
Let's give him the benefit of the doubt and say he'll stay just healthy enough to play a full season — 65-70 games.
No more DeMarcus Cousins; no more Rajon Rondo. Davis will be required to fill the voids of this missing production whether he likes it or not. His usage will be as high as it's ever been.
If the Pelicans make it back to the playoffs, it will be because Davis was just so good we'll have no choice but to give him the MVP.
Oh, by the way, he is going to get a triple-double this year with blocks. That will be his signature "yup, this race is over" moment.
---
3. Barkley: James Harden (+650)
I would've taken him with the first overall pick, so I'm happy to get him at 3.
This is really about his odds compared to other players. Giannis, Davis and LeBron are all amazing players and incredible talents, but they play on teams that are uncertain to win 50 games — a milestone that has become a magical threshold for crowning essentially all MVPs the last 30 years.
Harden plays on one of the four to five teams that is virtually assured of reaching that mark, and the other teams have either too much balance or don't care about the award. If he has the exact same season he had last year, Harden will win again.
There is actually great precedent for winners running it back again, as there have been four repeat champions since 2000, with LeBron doing it twice.
Basically, as a super-duper-star, you have your window — maybe a year or a couple years — and then it closes. Harden's window is still open, probably for one more year until Davis (playing for another team) and Giannis take over.
4. Phan: LeBron James (+350)
I'm not in love with the value, as Davis and Giannis should be the favorites, but I'm willing to pay a premium for the last guy on the board I think has a realistic shot at winning it.
With Andre Roberson out at least two more months for the Thunder, regression likely to hit the Blazers hard and the trades of Kawhi Leonard and (soon-to-be) Jimmy Butler, the path to the 4-seed in the West is wide open.
The narrative is in LeBron's favor this time around with him not winning the award for five seasons and with the Lakers expected to add north of 10 wins to their total from last season.
The concern here, as in years past, is that the Lakers will monitor his workload to make sure he's fresh for the playoffs, but that should be somewhat negated by a blistering pace (LA is fourth so far in the preseason at 112.2 possessions per game) that will ensure he'll still get his.
It also helps that he's still the best player in the league.
5. Mears: Donovan Mitchell (+5000)
I agree with Locky's analysis here that you want a player on a likely 50-win team who can put up raw stats and won't split votes with teammates. That narrows my list down to Kyrie Irving, Kawhi Leonard and Donovan Mitchell.
And Kyrie's a tough case: Even if the other Celtics won't be in the MVP discussion, it's possible Boston's success will be put on the overall talent and the coaching of Brad Stevens.
So for pick No. 5, although I think Kawhi is more likely to win, I'll go with the value of Mitchell at 50-1. It's perhaps a year or two early for him, but the Jazz have the sixth-highest win total at 50 wins, and Mitchell is clearly the alpha dog for that squad. Again, he might be too young to actually contend, but he fits all the markers we want, and his 50-1 number is way too high for that reason.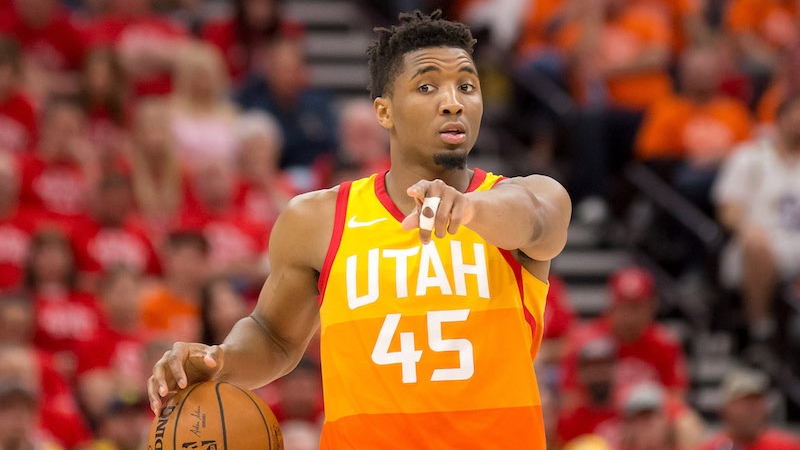 ---
6. Mears: Kawhi Leonard (+900)
And with my next pick, I'll go with Kawhi. Sure, he's been surrounded by drama over the past year, and it's been awhile since we've seen him fully healthy. But he was the co-favorite to start last season at 4-1 (tied with LeBron), and he's still smack in his prime at 27 years old.
Assuming he's fully healthy, he's perhaps the best two-way wing in the world, and because this is "Most Valuable Player," it's possible he matches that definition.
The Raptors are a great fit for his skill set — he'll be surrounded by elite knock-down shooters in Kyle Lowry and Danny Green — and they'll likely be one of the NBA's best squads. If you want to bet him, do it now, because he won't be 9-1 in a couple weeks in if he shows he's still the Kawhi of old.
---
7. Phan: Kevin Durant (+1000)
I was hoping Kawhi would fall to me, so I'll go best player available again with Durant. Joel Embiid (+1600) and Kyrie Irving (+1800) were the other two I was considering with the East up for grabs, but I have serious doubts they'll play enough games to qualify.
The biggest obstacle standing in Durant's path is his own teammate, Stephen Curry. Adding DeMarcus Cousins to the mix won't help his cause either, although I think people are vastly overestimating Boogie's regular-season impact.
The case for KD is as follows: He's the best player on the best team in the league, and the Warriors should only widen the gap on the field with the Rockets expected to take a bit of a step back.
---
8. Barkley: Ben Simmons (+1800)
First, his odds are much better at other shops, so I advise shopping around more than anything here.
We are almost done with the list of guys who even have a tiny chance of winning, so I'll reach for a guy who will absolutely be in the MVP conversation for many years in his career … it's just a matter of when.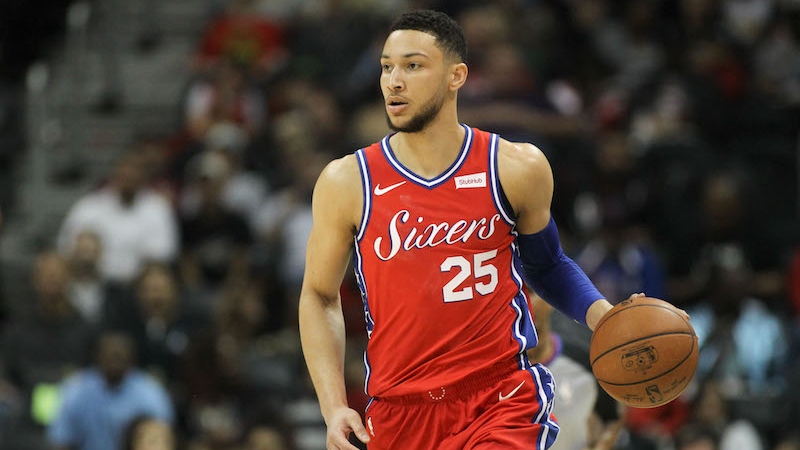 I'm probably a year early here, but with the windows for Curry, Westbrook and Lillard probably either closed or closing, let's take a shot, right? The Sixers are one of the teams with the best chance of winning 50-plus games, and I've heard arguments that Simmons was the MVP of the last quarter of last season from smart NBA people. I am inclined to agree.
Year 1 to Year 2 could bring with it scary developments in his game, and obviously if he ever gets anything close to a jumper, it's a wrap and he's in the Hall of Fame. There is a non-zero chance he averages a triple-double this season, and that — combined with a 1- or 2-seed season from the Sixers — easily justifies his candidacy.
Yes, he has to split accolades with Embiid, but Embiid is also a pretty massive injury risk, and Simmons' ceiling is much higher anyway, even if he has yet to reach it.
---
9. Perez: Russell Westbrook (+1200)
When I walk in the club
All eyes on me
I'm with the party rock crew
All drinks are free
We like Ciroc, we love Patron
We came to party rock
Everybody it's on
Shots shots shots shots shots
Shots shots shots shots shots
Shots shots shots shots shots
---
10. Moore: Stephen Curry (+1600)
I'm getting 16-1 return on the player who is almost unanimously listed among the top three players in the league.
Curry started to absolutely blister last season until his injury. Assuming Curry avoids injuries this season, you have to think about how the Warriors keep talking about how much different 2018-19 seems.
They're refreshed and ready to go. If the Warriors screw around and still win 65-70 games? If Curry once again puts on a shooting clinic since Durant doesn't need to prove himself and might be halfway out the door anyway? If no one else really asserts himself by having a special season while the Warriors absolutely roast everyone again as part of their send-off, having acknowledged changes are probably coming to the group?
The "they have too much talent" factor deadens over time, and believe me when I tell you that Curry is the kind of player the voters want to vote for. Love this number here.
---
11. Moore: Kyrie Irving (+1800)
Because I can already see my "This is insane, Al Horford is the No. 1 reason the Celtics won 60 games, Irving shot worse than last season with fewer assists, what are we doing" tweets in my head. I can already see them. The player most people wrongly think is the best player on what will assuredly be the best team in the East. And I get 18-1. Thank you very much.
---
12. Perez: Joel Embiid (+1600)
Did someone say best player on the best team in the East? And I get 16-1 on Shaquille O'Neal with a 3-point jump shot? Thank you very much.
---
13. Barkley: Damian Lillard (+4000)
We are essentially out of players on 50-plus win teams at this point, and even Westbrook is off the board, so I'll take a flier on Lillard here. Why? Well, I have a secret for you:
HE FINISHED FOURTH LAST YEAR IN MVP VOTING.
One of the most positive predictors of the year's MVP award is someone who did well in voting the year before. There are only two examples in the last couple decades of a player not receiving votes the year before and then winning (Steve Nash and Derrick Rose).
Lillard just had the best season of his career and is 28 years old. This can be his best season, and I'm not even sure it would be very surprising if it were. His Portland team is being disrespected significantly in the win-total market compared to how it performed last year because its bench is going to look much different. Still, of the remaining players, to me this is clearly the best value left.
---
14. Phan: Karl-Anthony Towns (+2500)
It seems like a foregone conclusion that Butler will get traded, and when that happens, KAT will become the Wolves' clear alpha. It's a role he thrived in last season, as he averaged an absurd 24-13-3 per 36 minutes with Butler off the court while managing to be a more efficient scorer, particularly behind the arc at 46.5 (!!) %.
The concern here is the impact Butler's absence will have on Minnesota's win total. The Wolves were a total disaster when Butler was on the bench and are at serious risk of missing the playoffs without him. If Minnesota is able to get some useful pieces back in a trade and can tread water to push for that 4-seed, KAT will be right up there in MVP voting.
---
15. Mears: Victor Oladipo (+1800)
I hate the number here, and I'll admit I'm not sure how I feel about Oladipo after his unexpected leap a season ago. He got really hot early on, notably going 50% on pull-up 3s in the month of November. His backcourt mate, Darren Collison, shot 47% from the 3-point line on the season.
The Pacers got hot, and their offense isn't exactly modern, which means there is less room for error if efficiency drops. Indiana ranked just 27th in 3-point rate last year.
Still, just because regression could happen doesn't mean it will, and we know the Pacers will play as hard as any team in the league. In the regular season, discipline and attention to detail go a long way. Dipo is the clear alpha dog of this squad, and the Pacers could surprise for a top-four seed in the East. I don't think he has a real shot, and the number isn't great, but, hey, it's the final pick.
How would you rate this article?