What This Strange & Unstable NBA Season Means for the Playoffs
Credit:
Adam Hagy/NBAE via Getty Images
Multiple NBA executives said this was going to be a difficult and challenging season. The short offseason (or overly long one in some cases), the pandemic, testing interruptions, a condensed schedule — all of it portended a season of frustration and struggle for teams to get in a rhythm.
Rhythm: The eminent yet delicate catalyst for on-court success. Given the myriad mitigating circumstances that defined an historic offseason, it was easy to forecast the type of season that we've seen play out.
So, what kind of season have we seen play out?
Below, I've reported full-season win percentage distribution over the last 10 years — excluding 2012 (lockout-impacted) and the current season (COVID-19). Win percentages are reported in 10% buckets: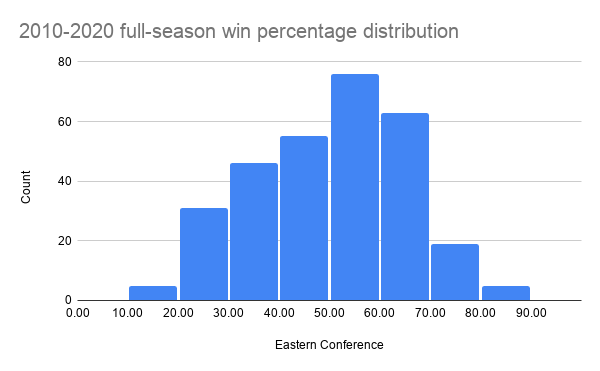 It's a pretty normal bell curve, with a larger tail sub-.500 and a higher peak in the 50-60% and 60-70% ranges.
Now let's contrast that with this season's win percentage distribution: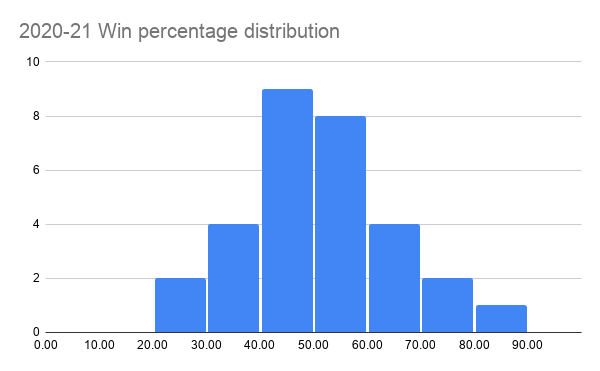 Seventeen teams have a win percentage between 40% and 60%. That's 57% of the league — right in the middle. Now contrast that with 131 out of the 300 other teams over the last 10 seasons, which make up about 44% of that sample size.
Here's what the last shortened season with a shortened preseason (2012) looked like: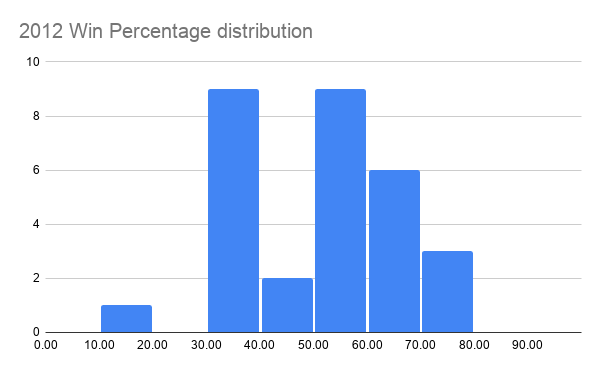 The distributions on these three samples are interesting. There are more teams under .500 this season (50%) than there are over the span of the 10 full seasons (45.6%). But there are fewer teams under 40% (six out of 30, 20%) than in the full seasons (82 out of 300, 27%).
The big takeaway is that there's a higher level of parity this season. That matches the eye test — favorites are winning straight up at a 59% rate compared to 68% in all other seasons going back to 2003.
There are fewer God-awful teams this season, but fewer really good teams so far. There are three teams with a win percentage north of 70% (Jazz, Clippers, Lakers) when there were only 24 of those teams across the previous 10 full seasons.
Of course, it's also early. Favorites won just 55% of the time in the month of December compared to 61.3% in February. It's likely that one of the elite teams slips down (especially with Anthony Davis out for the Lakers) and that some of those teams hovering in the 30-40% range also slide as they turn to their pursuit of projected No. 1 pick Cade Cunningham.
Also interesting: Exactly 15 teams are projected to hit the under on their win total while the other 15 are expected to hit the over. The over teams are a mix of top-end surprises (Jazz and Sixers) and mid-range competitors (Spurs). The unders are a mix of top-end disappointments (Bucks and Heat) and lower-card drops (Pistons and Magic).
Ultimately, the regular season may prove to reflect that 2012 season, when the Heat — the best team from start to finish — won the title in dominant fashion despite finishing second in conference behind the Bulls. (This makes for an interesting comparison of that season's Bulls team to this season's Jazz team, but that's for another time.)
If you're searching for what all this means, the best I can offer is this: Do we think that teams this season, or in 2012, were meaningfully more competitive? Or that the top teams were less so? Were there rampant upsets that season in the playoffs?
Of course not.
The natural order of the NBA bends toward strength through talent. But this season, that talent has more adversity to overcome and less incentive to do so.
We shouldn't expect a topsy-turvy postseason. In the short term, it helps to explain why this season has seen so many more upsets. However, at the same time, favorites of nine or more points have won straight up at a 94% clip compared to 88% in seasons prior.
This season is difficult, but the unsteadiness we've seen in the regular season is not foreshadowed to happen in the playoffs.
These are strange times, under every possible definition, and this NBA season reflects them. Try not to get moved to conclusion by the odd atmosphere the season continues within.
How would you rate this article?