Tuesday NBA Player Prop Bets & Picks: 4 Rebounding Overs To Bet for Nuggets vs. Clippers & Heat vs. Celtics (Sept. 15)
Credit:
Andrew D. Bernstein/NBAE via Getty Images
Betting on props can be one of the easiest ways to build your bankroll, especially in the NBA postseason. Sportsbooks tend to offer lower limits and take less action on props than they do on games, so they don't have as much incentive to post an accurate line.
That's where our Player Prop tool comes in handy. We compare our industry-leading NBA projections to the props posted at a variety of sportsbooks to identify the best plays each day. Each bet is then graded on a scale from 1-10, with 10 being the best possible grade.
| | Win-Loss (Win Pct) |
| --- | --- |
| Bet Quality of 10 | 775-572 (57%) |
| Bet Quality of 9 | 942-776 (54%) |
| Bet Quality of 8 | 1432-1263 (52%) |
Tuesday's player props come from both of the slate's games:
Heat vs. Celtics: 6:30 p.m. ET on ESPN

Nuggets vs. Clippers: 9 p.m. ET on ESPN

NBA Player Prop Bets & Picks
---
Odds as of 11 a.m. ET on Tuesday and via DraftKings. Get up to a $1,000 sign-up bonus at DraftKings today or see more offers and reviews for the best online sportsbooks.
---
LA Clippers, Paul George

The Prop: Over 6.5 Rebounds (+118)
This series has been predictable in its unpredictability, with wild swings from game-to-game and quarter-to-quarter. The Nuggets have sent this thing to Game 7 on the strength of three big quarters, really, and it genuinely feels like anything can happen tonight. But the one thing that probably won't happen is a high-scoring shootout.
The under is 5-0-1 so far this series. It's also 3-0 in Game 7s so far this postseason. Fewer points means more rebounds! Game 7 also means more minutes for the starriest stars, and more time on the court means more rebounds, too.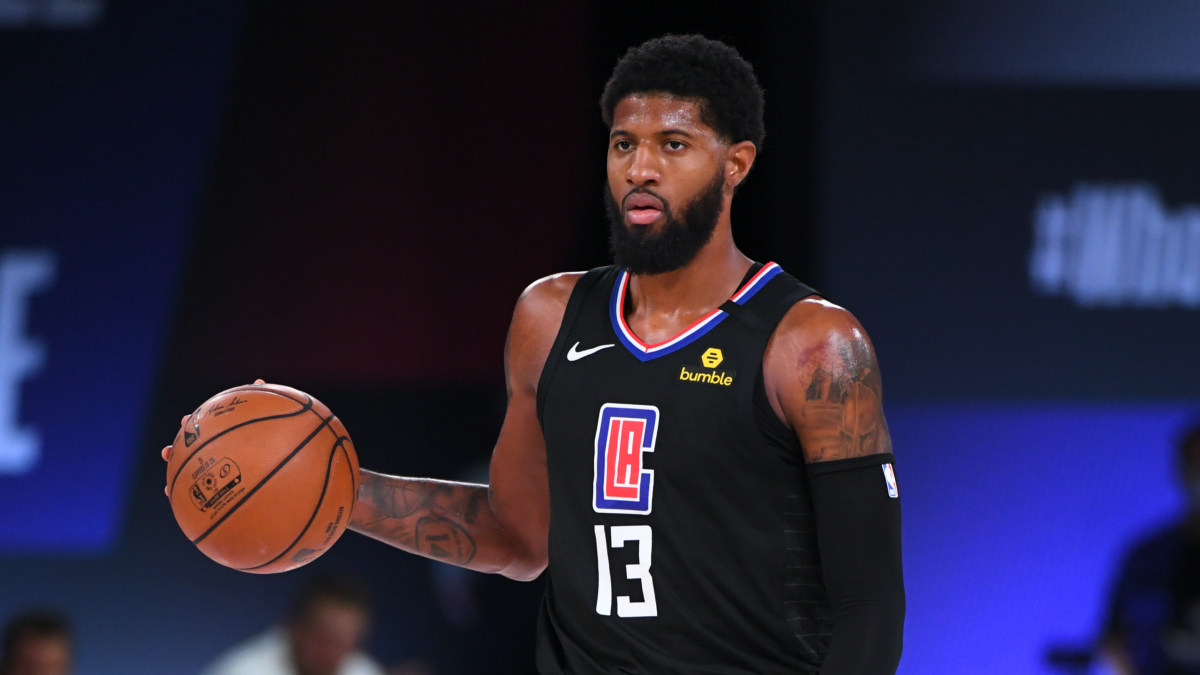 Do you trust Paul George with the season on the line? We'll see if he can hit the big shot, but rebounding is about effort and opportunity, and neither of those should be a factor for PG. George is averaging 6.3 RPG these playoffs in 36.8 minutes, but he's played over 39 minutes in four of the last five games as the Clippers tighten their rotation with an unreliable bench.
I expect PG to play more than 40 minutes tonight, which tips this rebounding prop slightly in our favor. We're projecting him at 7.3 boards, so it's close, but at +EV this is worth a bet down to +100.
[Bet now at DraftKings and get a $1,000 sign-up bonus.]
Denver Nuggets, Nikola Jokic

The Prop: Over 11.5 Rebounds (+105)

Jokic had three measly rebounds in Game 1 and the oddsmakers panicked and pushed this rebounding number down the rest of the series, but he was playing exhausted in that one and didn't even hit 30 minutes. Since then, he's recorded 18, 12, 11, 14 and 14 rebounds. He's played over 38 minutes in four straight, and you know he'll play more than that tonight with everything on the line.
The Clippers have no answer for Jokic, and he's become a genuine playoff superstar. In three Game 7s the last two years, Jokic is averaging 26.7 PPG and 14.0 RPG in 41.4 minutes. That's about where I expect him tonight. The oddsmakers finally moved this line up from 10.5 the last few games, but I ain't scurred. As far as I'm concerned, all they did was give us better value.
Play to -120.
[Bet now at DraftKings and get a $1,000 sign-up bonus.]
---
Check out our free NBA odds page, which automatically surfaces the best line for every game. Subscribe to our new NBA Insiders tool at FantasyLabs to beat the market with our cutting edge player projections, injury news and betting thresholds.
---
Boston Celtics, Jaylen Brown

The Prop: Over 6.5 Rebounds (-120)

Jaylen Brown has been a breakout performer for the Celtics in these playoffs, averaging 21.0 points per game and 7.6 rebounds per game so far. He's taken a bigger role with Gordon Hayward sidelined, eating more minutes and doing more while on the court.
Hayward is not expected to play in Game 1, so Brown should continue to have an outsize role. He's averaging 38.7 minutes per game thus far in the playoffs. And even though Boston may be tired coming off an exhausting seven-game series against Toronto, the Celtics haven't played since Friday. Brad Stevens has not shown much trust in his short bench, so expect Brown to get a full minutes load again tonight.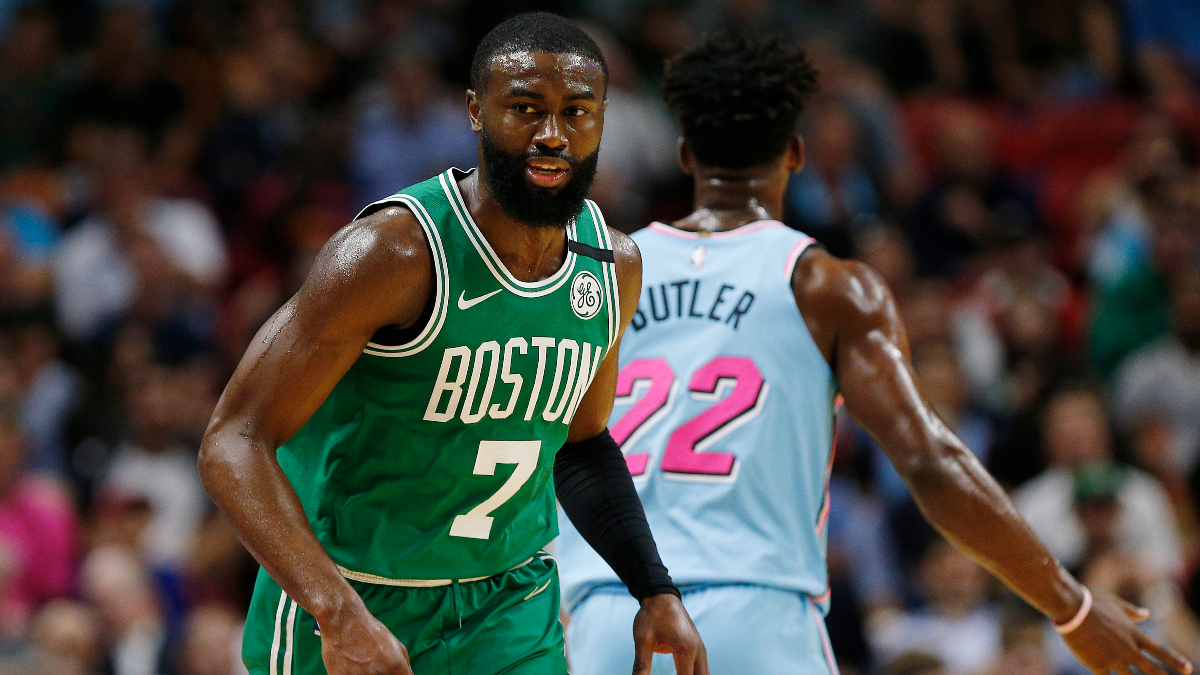 The one other area Brown has really taken a leap forward of late is rebounding, where he's averaged 9.3 rebounds per game over the last six games. It's possible that was a matchup thing with Toronto, but it's just as likely that his energy and extra time on the court are simply leading to more rebounding opportunities.
In 11 playoff games this year, Brown has a floor of five rebounds, and he had a career-high 16 two games ago.
We're projecting him at 9.0 boards in 49 minutes, giving you a whopping 49% margin of error here. Hammer this at 6.5 as high as -175 and play it at better odds if it moves up half a rebound with this margin of error in our favor.
[Bet now at DraftKings and get a $1,000 sign-up bonus.]
Miami Heat, Goran Dragic

The Prop: Over 3.5 Rebounds (-154)

I'm not totally sure what to expect from Heat vs. Celtics, but the one thing that seems almost certain is that this series should be a cagey, defensive, hard-fought battle.
That means a lot of missed shots, and missed shots mean rebounds.
Goran Dragic has been a third star for the Heat these playoffs. He's played at least 32 minutes in every game, stealing Kendrick Nunn's starter spot, and he's gone over 3.5 rebounds in six straight games. Dragic could have his hands full if Marcus Smart is on him, but Dragic already dealt with Eric Bledsoe last round and hung in just fine.
Grab this one before it gets past -170.
How would you rate this article?