Wednesday's 3 NBA Player Props to Bet: Chris Paul, Daniel Theis & Garrett Temple
Credit:
Barry Gossage/NBAE via Getty Images. Pictured: Chris Paul, Devin Booker
Daniel Theis's points in Hawks-Celtics. Garrett Temple's assists in Bulls-TWolves. Chris Paul's assists in Suns-Hornets.
Find out why that trio of NBA player props are among our favorite bets for Wednesday night's slate.
The All-Star reserves were announced on Tuesday night and everyone loves a good NBA All-Star Game snubs discourse.
It's a time-honored tradition for the top few guys who didn't get the call come out fired up in their next game and throw up a huge line. That's the sort of thing that could provide real betting opportunity — on overs for those snubbed and on unders for players who may cede extra usage to their motivated teammates.
That's the angle on Wednesday night with Devin Booker, who may have been the biggest snub in the West.
For those who are new to this series of daily props, we'll be using the Action Labs Player Prop tool to compare our NBA projections to the props posted at a variety of sportsbooks. Each bet is then graded on a scale from 1-10, with 10 being the best possible grade.
Below, I have laid out three prop bets that I'm playing, the case for each bet and the best books to find odds on those player props.
NBA Player Props & Picks
Daniel Theis Over 8.5 Points (-125)

| | |
| --- | --- |
| Hawks vs. Celtics | Celtics -2 |
| Time | 7:30 p.m. ET |
| Best Book | DraftKings |
The Celtics need a better center. We've been here for awhile now and still it's true.
Boston turned down the chance to trade for Myles Turner in the offseason (but Danny Ainge was this close, guys!!) and still refuses to play Robert Williams big minutes, so for now, Daniel Theis is the best they've got.
And Theis is … fine.
He's a solid role player. When Kemba Walker is healthier and Marcus Smart is in the lineup, Theis is a perfectly fine fifth starter — he sets tough screens, crashes the boards, and is a nifty passer. That's not enough for the Celtics right now, but they're so shorthanded that Theis is playing more than ever.
Theis is averaging 9.1 points per game on the season, but like almost any player, he scores more when his minutes are up, and his minutes are up lately: He's averaging 29.9 minutes since Feb. 7, despite coming off the bench in one of those games. That's way up from 22.9 minutes per game before that, and it means more time for Theis to fill up the box score.
Theis has played at least 24 minutes in 18 Celtics games this season. He's had double-digit points in 13 of those, hitting this over 72% of the time with 12.4 PPG. And he's gone way over that minutes number lately and should get a chance for some easy buckets against Atlanta tonight.
Our tool likes Theis' assist over, too, so you can pivot to over 10.5 points + assists at near even odds if you prefer — that's basically pricing in two extra assists, though, and I think that's a bit high so I'll stick with the points.
I like the over 8.5 to -135.
---
Garrett Temple Over 1.5 Assists (-134)

| | |
| --- | --- |
| Bulls vs. Timberwolves | Bulls -4 |
| Time | 8 p.m. ET |
| Best Book | FanDuel |
Garrett Temple is the walking definition of an NBA journeyman. Temple is on his 10th NBA team since just the start of the 2010 season, and that's not even counting the Italian team he played for during a year away from the NBA, too.
And yet, Temple keeps grinding and finding a role. He's doing that again in Chicago, where he's grabbed a starting role over the past six games and looked good with 11.3 PPG in a nice 4-2 Bulls stretch.
Temple is averaging 33 minutes per game in starts this season, and we only need a couple assists in all those minutes against a horrendous Timberwolves defense that loves to make things easy on the opponent.
Temple averages an assist every 13.9 minutes with the Bulls this season, so even 20 minutes of Temple give us a solid shot here. With starter minutes instead, this looks like a terrific play.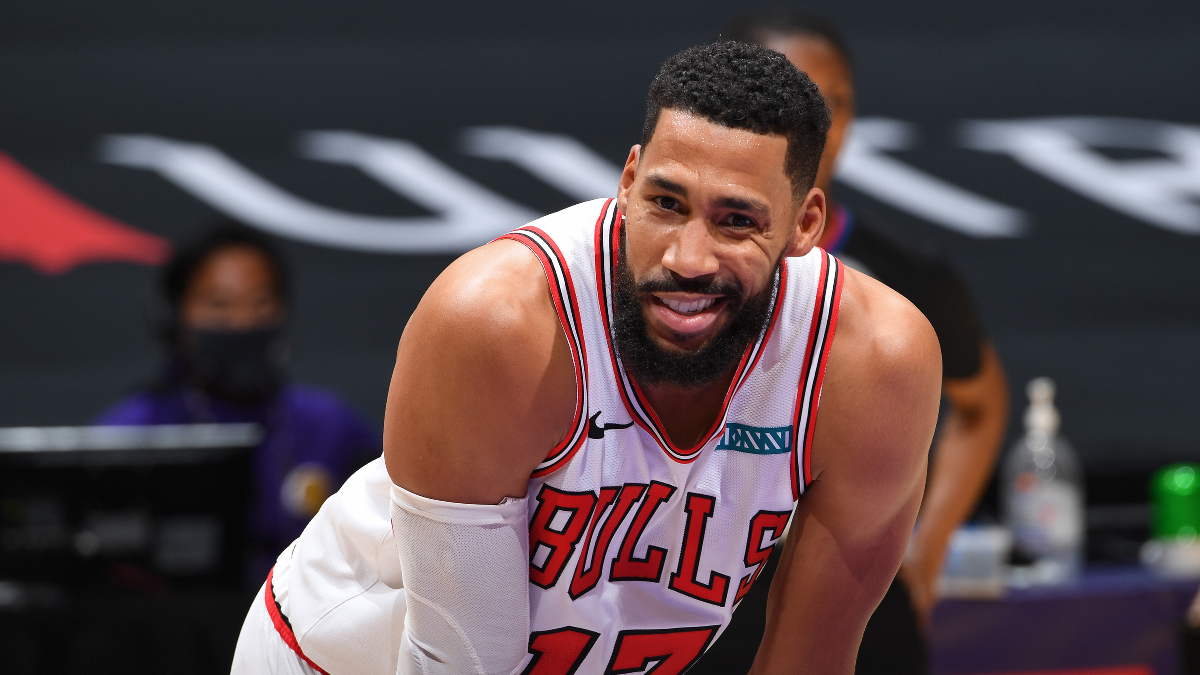 Temple has at least one assist in 25 of his 29 games this season, so we just need that second one. He's gone over 1.5 in 16 of 29 games, hitting the over 55% of the time, and remember, he's only been a starter for eight games.
There's one other piece of the numbers that hints at Temple's passing ability: He's had six Bulls games this year with at least four assists and even recorded seven dimes in one game. That's pretty unusual for a guy with a 1.5-assist prop line. It hints at more assists to come, not fewer.
We project Temple at 2.6 assists. You can play him over 2.5 instead at serious plus juice — +150 at BetMGM as of writing — but I prefer the safer play as I typically do here.
Our tool gives the over 1.5 a 16% edge in our favor, and I'd play that up to -160 or pivot to the big time plus juice from there.
---
Chris Paul Under 9.5 Assists (-134)

| | |
| --- | --- |
| Suns vs. Hornets | Suns -10 |
| Time | 9 p.m. ET |
| Best Book | FanDuel |
Chris Paul is coming off his worst game of the season: He scored just two points against the Blazers on 1-of-9 shooting, but Phoenix blew Portland out anyway. Normally that would make this a bounce-back spot for CP3, but I've been fading his assists lately and I'll stick with it again.
Paul is averaging 8.5 assists per game on the season. That's a higher number than he hit in Houston or Oklahoma City, but that's because his assists dropped next to a ball-dominant scorer. For much of this season, Phoenix was not playing like that kind of team with Devin Booker in a more muted role, but that has not been the case of late.
Booker exploded for 36 points on Feb. 8 when Chris Paul sat out, and he's been on fire ever since. He's averaging 28.9 points since then, and if you watch the Suns, it's clear that Paul is deferring more to Booker when the two share the court. That means less time on the ball for CP3, which could be the case even more on Wednesday night since Booker just got snubbed from the All-Star Game and will be eager to put up a big game.
Paul's assist totals have been fading as the offense tilts more toward Booker. He's averaging only 8.0 assists over his last 14 games and has hit double digits only three times, meaning he's gone under this number in 11 of his last 14 (79%). Paul also had 19 assists in one of those games. Remove that obvious outlier and he drops to 7.2 APG across the stretch, well below the target here.
I'm sticking with the CP3 assist fade and expecting a big game from a pissed off Booker. I'd play as high as -150.
How would you rate this article?