Rob Perez: The Beefs, the Drama and the Reunions That Will Define the NBA's 2018-19 Schedule
Credit:
Soobum Im-USA TODAY Sports, Pictured: Kawhi Leonard
The NBA released its full 2018-2019 schedule on Friday, and there are plenty of juicy matchups.
LeBron's return to Cleveland, rookie showdowns, and Embiid vs. Whiteside are among the storylines Rob Perez is excited to follow.
All told, there are plenty of loose ends to tie up this season, and Perez wouldn't want it any other way.
Welcome to NBA August, where the dry season has fully settled in.
With the exception of the Olympics and a Kyrie blockbuster-esque trade every four years, this is the month when time ticks slower than James Harden getting back on defense.
The one bit of content we basketball junkies cling to for a fix, however, is finally here: the regular-season schedule release.
After getting a taste earlier in the week with the announcement of some marquee matchups, we finally got our paws on the full schedule.
Let's highlight the most important dates just announced, with a special eye toward the feuds brewing after an offseason for the ages.
---
1. Raptors @ Spurs
The Storyline: Kawhi Leonard returns to San Antonio
The Date: Jan. 3, 2019
In terms of vitriol spewed, this one is going to be up there with when Kevin Durant returned to OKC and when LeBron played his first game back in Cleveland after taking his talents to South Beach.
Spurs fans are going to be waiting for Kawhi to come out of that tunnel like Tony, Sil and Paulie inviting Puss Bompensiero to the bottom of the boat for a drink.
Based on Leonard's reclusiveness — he allegedly hid from Spurs officials trying to speak with him this summer — I smell a "minor back injury" coming for Kawhi that prevents him from flying on the team plane for this one.
---
2. Lakers @ Cavaliers
The Storyline: LeBron back in Cleveland
The Date: Nov. 21, 2018
There's no bad blood this time around, but there is J.R. Smith. This is the first time LeBron can get revenge for Game 1…
Please, basketball gods, we don't ask for much — but please let LeBron be on a breakaway with J.R. the only defender between James and the rim. We will have enough memes for the next decade. There is not a doubt in my mind J.R. will put up 30 shots to try and show out against his boy.
Also: The pregame video tribute to LeBron is going to be worth the price of admission alone.
---
3. Bulls @ Pelicans
The Storyline: Nikola Mirotic vs. Bobby Portis
The Date: Nov. 7, 2018
This will be the first time they've faced each other (on opposing teams) since Portis knocked out Mirotic and sent him to the hospital during a Bulls practice. DING DING DING.
Flagrant Foul 2 in this game prop bet:
---
4. 76ers @ Heat
The Storyline: Joel Embiid vs. Hassan Whiteside
The Date: Nov. 12, 2018
The most fun individual rivalry in the game writes its next chapter.
---
5. Trail Blazers @ Warriors
Warriors @ Cavaliers
The Storylines: CJ McCollum vs. Kevin Durant | Draymond Green vs. Tristan Thompson
The Dates: Nov. 23, 2018 (POR-GSW), Dec. 5 , 2018 (GSW-CLE)
The Warriors are really good at three things:
Basketball
Talking shit
Beating your ass (on the court) after taking that shit
I specify "on the court" because, well…
CJ gets his first shot at KD after Durant emasculated him on his own damn podcast, and you already know things are going to get testy when the Warriors hang a 30-point first-half lead on the Cavs and are trying to throw alley-oops off Tristan's head.
---
6. Warriors @ Pelicans
The Storyline: Boogie returns to New Orleans (AND MIGHT ACTUALLY PLAY!)
The Date: April 9, 2019
What could possibly go wrong?
---
7. Mavericks @ Hawks
The Storyline: Luka Doncic vs. Trae Young
The Date: Oct. 24, 2018
After trading down in the draft and passing on Luka Doncic — and Trae Young looking like the next Jimmer Fredette with a fancy arm sleeve at Summer League — the Hawks really, REALLY need this game to go well. Otherwise, they'll hear it from the 300 people in attendance.
---
8. Jazz @ 76ers
The Storyline: Donovan Mitchell vs. Ben Simmons
The Date: Nov. 16, 2018
The moment Donovan Mitchell crosses half court, he's going to look to dunk on Simmons. The drama from last year is not done until this game is played. Honestly, everyone just go stand in the corner, turn the clock off, and let these two go 1-on-1 like Commodus vs. Maximus in the Coliseum.
On a serious note: This will be a pivotal game for Ben as he attempts to win his second Rookie of the Year in the past three seasons.
---
9. Celtics @ Knicks
Hornets @ Knicks
Warriors @ Knicks
Timberwolves @ Knicks
The Storyline: Potential Free Agents Scouting Out the Big Apple
The Dates: Oct. 20, 2018 (BOS-NYK), Oct. 26, 2018 (CHA-NYK), Dec. 9, 2018 (GSW-NYK), Feb. 22, 2019 (MIN-NYK)
Knicks fans right now are Gollum from "Lord of the Rings" when Faramir asks what Frodo is carrying with him: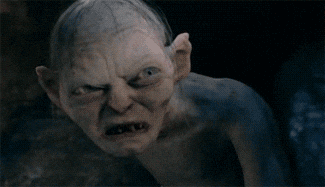 They know the Knicks have young players with huge potential, possibly two max spots available next summer in free agency, and also this:
When these three plus Kemba Walker — a Bronx native and one of the most beloved Madison Square Garden performers of all-time — take the floor, this is going to be the most epic tampering violation in recent NBA history.
---
10. Wizards @ Clippers
The Storyline: John Wall vs. Marcin Gortat, Rivers vs. Rivers
The Date: Oct. 28, 2018
Despite conflicting reports, I feel confident declaring John Wall and Marcin Gortat did not/do not/probably will not ever be sending each other Christmas cards.
I mean, if Wall was willing to go as far as to say this on SportsCenter…
They are 100% going to meet at the rim. Years of tension are going to be unleashed in one nuclear dunk attempt by Wall, and I'm here for every second of it.
Also, Austin Rivers having to face Doc for the first time is pretty much HBO's "Succession" plot on a basketball court. I'm sorry if this makes me a bad person, but I want nothing more than Doc to hack-a-Shaq his son, because you already know Austin will stomp to the foul line every time like he's been done an unforgivable injustice by his own blood.
There are a LOT of loose ends to tie up this season — but I wouldn't want it any other way.
How would you rate this article?