NBA Schedule FAQ: Teams With Biggest Advantages, Betting Takeaways, More
Credit:
AAron Ontiveroz/MediaNews Group/The Denver Post via Getty Images. Pictured: Giannis Antetokounmpo (34) of the Milwaukee Bucks.
The NBA announced its schedule for the eight "seeding games" starting July 30 in Orlando. Matt Moore and Rob Perez AKA @WorldWideWob discuss the ramifications and what to expect below.
What did we learn from the NBA schedule release?
Moore: Mostly we experienced the thrill of actual games with times and lines that will be played. I don't know if I'll get used to seeing August dates for games, but we have a full schedule now.
There are differences between the schedules, but ultimately, there's not as much variance.
Denver, for example, plays a 9% harder schedule by winning percentage than before. But the Nuggets A) weren't great vs. bad teams yet were good vs. good teams, and B) get the Clippers and Lakers in their seventh and eighth games, meaning those teams likely have already locked into their seeding. The Clippers may still be battling the Nuggets at that point, but there's also a chance the gap between the two teams is settled.
The games tip off with the Jazz vs. the Pelicans because Zion Williamson is a star magnet, then Lakers-Clippers because the league loves money.
Which teams have the most number of day games?
Moore: Here's the list of games before 5 p.m. ET by team:
| Team | # Day Games |
| --- | --- |
| Grizzlies | 5 |
| Suns | 5 |
| Spurs | 5 |
| Jazz | 5 |
| Wizards | 5 |
| Nets | 4 |
| Nuggets | 4 |
| Thunder | 4 |
| Pacers | 3 |
| Heat | 3 |
| Blazers | 3 |
| Celtics | 2 |
| Mavericks | 2 |
| Rockets | 2 |
| Clippers | 2 |
| Bucks | 2 |
| Sixers | 2 |
| Pelicans | 2 |
| Magic | 2 |
| Kings | 2 |
| Raptors | 2 |
| Lakers | 0 |
Is there an advantage to playing in the morning as opposed to night? Probably not, right?
Moore: I kind of think the opposite. Players have been used to one schedule for their entire pro careers: Wake up in the morning, shootaround, treatment, nap, warmup, game, treatment, travel/sleep. Now we've taken the travel component out, and that's good.
But players playing in early afternoon are all out of whack, it's why those road matinees on the weekend are killer. Per Bet Labs, NBA favorites have covered 49.6% of the time overall. But in games that started at 2 p.m. local time or earlier, that drops to 46%.
Most of the players will be adjusted from whatever time zone they were in by the time the games tip-off, so that won't be a problem. But NBA players are definitely nocturnal, and disruptions to those normal schedules will cause even more issues.
Because of the 14-day quarantine rule, should we be blind betting huge underdogs to win the title?
Wob: I think the better play might be taking the under on series win differential. Betting the series to go long while taking the better team might be the best way to approach this. The problem is whether or not a team down 3-1 or 3-2 puts up a fight or just tries to get out of Dodge.
What has to happen for LeBron to steal the MVP from Giannis?
Moore: It's not happening.
We looked at the angle from every possible perspective before the suspension of play, then at what's happened in the interim from likely voters and historically. Giannis is going back to back.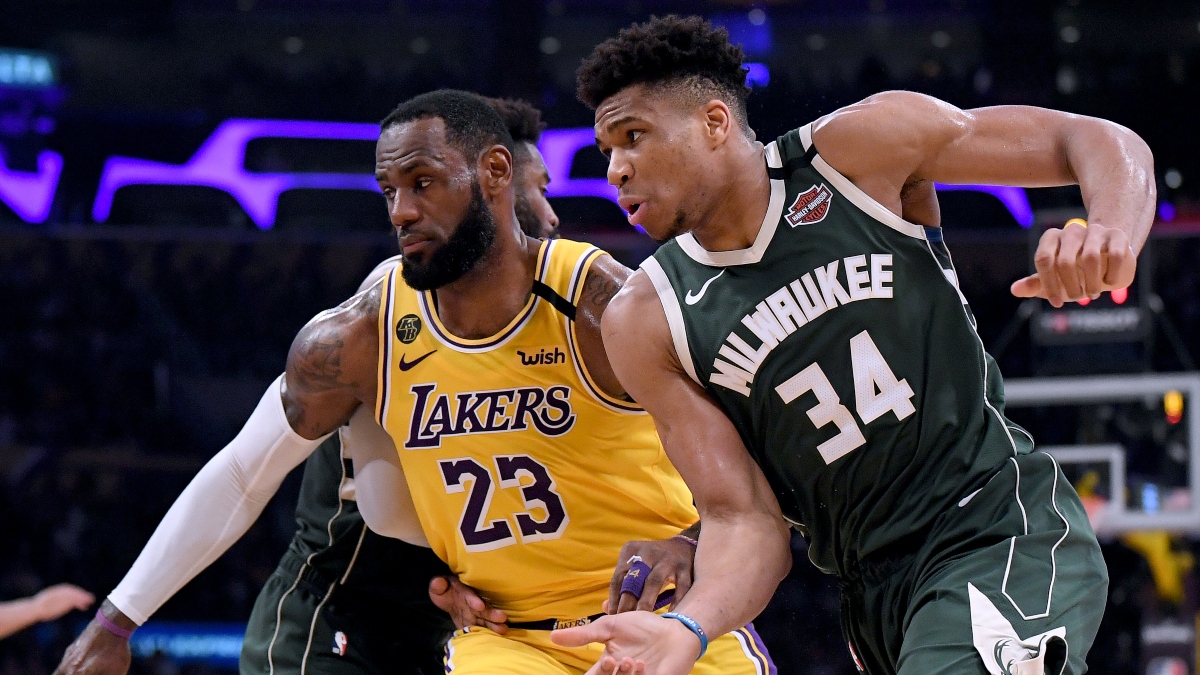 What's LeBron's approach in this? Can he afford the feel-out Game 1's? Do they try and burn through the regular season as a statement?
Wob: Over/under amount of regular season games he plays should be three. What's the point other than getting back into shape?
Home-court advantage doesn't matter and as long as you finish first, second or third, you more than likely don't have to play the Clippers until the conference finals because they'd hypothetically be the ones to jump them.
Considering Anthony Davis shatters into a thousand pieces if you so much as drop him off the coffee table, there is no chance in hell the Lakers use the remaining regular season for anything other than getting their spare tires to regulation tread.
What if the Lakers load manage and make sure the 8-seed has to play the play-in tournament before the first round begins?
Moore: I think that's possible/likely. The Lakers get the benefit of toying with their opponents no matter what, needing only three to clinch their spot.
The Clippers are going to play maybe three of the eight games, right?
Wob: Games of what … ping pong in the lounge? Unless the Jazz get within a game of dropping them to the 4-seed, I'll be stunned if Kawhi and Paul George are even on the bench let alone playing.
Is load management acceptable now?
Moore: Probably less so, right? Your odds of getting the virus don't decrease, and part of it will be "Why come all this way just to sit?"
I'm sure the Clippers will sit guys, that's what they do, but overall I think most guys will be ready for eight games.
Is the lottery locked?
Moore: Yes, the league stipulated that the games played in the bubble will not affect lottery standings and the lottery is locked as of the suspension of play. The non-lottery teams will be slotted by playoff finish.
So yes, this means the Pelicans could make the playoffs and win the lottery (as could the Kings, Blazers, Spurs and, sure, why not the Suns).
Will teams eliminated from the playoffs tank?
Moore: 100%. There have already been reports teams are going to treat this like an extended Summer League. What's wild is that across the board I think we'll see different approaches.
I think some teams at the top will go hard for all eight and some will barely field teams. I think some teams at the bottom will pour blood on hardwood to make the eighth seed and some teams are going to be ghosts.
But like it is with the regular season, once you have nothing to play for, you won't be playing. Every individual player has to have a reason a play in these circumstances because just going to Orlando gets you your money.
Did anybody benefit more from this time off than the 76ers?
Moore: Getting Ben Simmons back absolutely helps things a ton. But we have no indication of what condition Joel Embiid is in, and that's a big freakin' deal.
Will the time off make their chemistry better? Will it make Josh Richardson into the perimeter creator they need? Will it solve the issues Brett Brown has had despite a great tenure?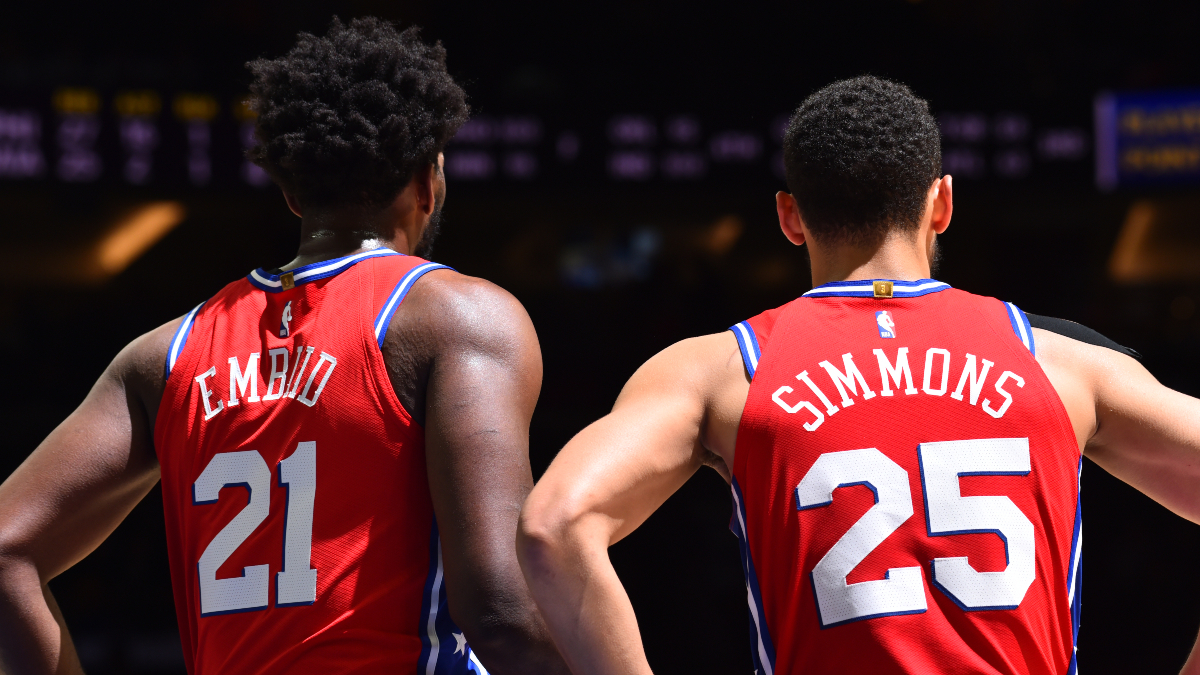 I wrote about Houston, and I think the Rockets might have the best chance to benefit just from getting a healthy James Harden.
Is it more beneficial for the 76ers to play well and win, or stay in the 6 spot to avoid Milwaukee in the second round?
Moore: I think it should be more about targeting the Celtics, who they have shown a matchup advantage against. Certainly, given the greater chance of variance in performance under these conditions, holding off the Bucks until as late as possible makes sense. It's absolutely not certain that the Bucks make the ECF.
From there I think there's value in avoiding Miami. A high-volume 3-point team with capable big men and also Jimmy Butler in Philly's heads? Avoid as much as possible.
Books think unders are going to be lower because of the circumstances. I think defense will be suspect even with no crowd noise because of lack of rhythm. I'm leaning toward unders as a starting place. Am I nuts?
Wob: You're not nuts but you've got to remember that shooters love small gyms. They talk about it all the time.
The walls behind the baskets help them with depth perception and I would anticipate percentages to be up across the board for this sole reason. But, your point about these being unprecedented, extenuating circumstances is heard.
It's hard to believe the players, as individual talents, will perform at the same efficiency than before the pandemic began — let alone the teams as an offensive unit. Just because Monta Ellis was good at scoring didn't mean his team was good at offense. It feels like there are going to be a lot of Montas that first week.
If the 9-seed wins the play in after having to play back-to-back games and THEN a Game 1, should we hammer the Lakers (if LeBron is available)?
Wob: Do you think those tall towers in Las Vegas built themselves?
Is there a team that, if they look terrible in the regular season finish, it'll impact what you think of their chances in playoffs?
Wob: I mean every day is going to present new challenges, which nobody will have answers for.
Trying to predict what's going to transpire is impossible, but I will say if the 76ers come out and stink it up again — after all their injuries and playing on the road issues have seemingly been cured — I could see them just waving the white flag. They need to come out and play at a level that makes them believe they are the best team in the Eastern Conference, because if they don't, we saw earlier this season just how bad they can be.
What teams do you think are most comfortable in neutral court?
Wob: Any answer other than the Los Angeles Clippers is just wrong.
Seven of their 41 home games — Lakers, Celtics, Knicks, Warriors, Bulls — are drowned in an ocean of opposing team's fans and all of the others are just one big Bumble first date in which someone is undoubtedly getting ghosted the next day.
There are plenty of genuine, die-hard Clippers fans out there — don't even think about screenshotting this and slandering me on some random Reddit thread, the loyal Clippers fans are like the 300 Spartans defending the Hot Gates — but their support has never translated to anything close to resembling a home-court advantage.
In re: to playing in arenas without fans, this is just another day ending in "y" for them.
How would you rate this article?