Ranking All 30 NBA Projected Starting Lineups for the 2018-19 Season
Credit:
Photo credit: USAToday Sports
The 2018-19 NBA season will tip off next Tuesday, October 16.
Our NBA experts projected and ranked each starting lineup and how it will perform. We aggregated the rankings and provided some analysis for why they're at that spot.
Several of our analysts projected and then ranked all 30 NBA starting lineups for the upcoming 2018-19 season. We then aggregated the rankings, which you can see below.
One quick note before we dive in: We projected starting lineups by which fivesome we expect will play the majority of the season together — not necessarily start Day 1. So while the Thunder's Andre Roberson and the Bulls' Lauri Markkanen are currently out, we expect they'll start the majority of the games when all is said and done.
Without further ado, here are the 1-30 rankings of each team's starting lineup.
---
1. Golden State Warriors
Projected starting lineup: Stephen Curry-Klay Thompson-Kevin Durant-Draymond Green-DeMarcus Cousins
2017-18 stats: 0 minutes together
This is an embarrassment of riches for the two-time defending champions. Are there usage questions with Boogie now in the fold? Sure, but it could also make them even more efficient.
The Warriors ranked just 26th last season in frequency of shots around the rim. Boogie won't get double-teamed, but if a team dares, he'll have the world's best shooters open.
---
2. Houston Rockets
Projected starting lineup: Chris Paul-Eric Gordon-James Harden-P.J. Tucker-Clint Capela
2017-18 stats: 24 minutes together, +14.1 Net Rating
Interestingly, this unit barely played together last season as head coach Mike D'Antoni typically staggered the trio of CP3, Harden and Gordon. Together they should blow away teams: Capela is perhaps the best rim-running big in the league and Gordon shot 43% from the corner last season.
---
3. Boston Celtics
Projected starting lineup: Kyrie Irving-Jaylen Brown-Gordon Hayward-Jayson Tatum-Al Horford
2017-18 stats: 5 minutes together, +12.8 Net Rating
The fivesome that famously got just five minutes together is the unit the basketball public is most excited to see. There are some questions about usage: Tatum thrived with the ball in his hands, but that won't happen often with Irving and Hayward back. Irving will be a question mark on defense, as well. But let's not get carried away: The talent here should overwhelm.
---
4. Utah Jazz
Projected starting lineup: Ricky Rubio-Donovan Mitchell-Joe Ingles-Derrick Favors-Rudy Gobert
2017-18 stats: 456 minutes together, +9.9 Net Rating
Rubio thrived last season in Utah with spacing he had never before seen in the NBA, and Mitchell was a revelation as a rookie. Each of these players should continue to improve in their prime years, and they showed in a large sample size of 456 minutes that they're really darn good.
Spacing will be an issue with Rubio plus two bigs, but this lineup should clamp down defensively.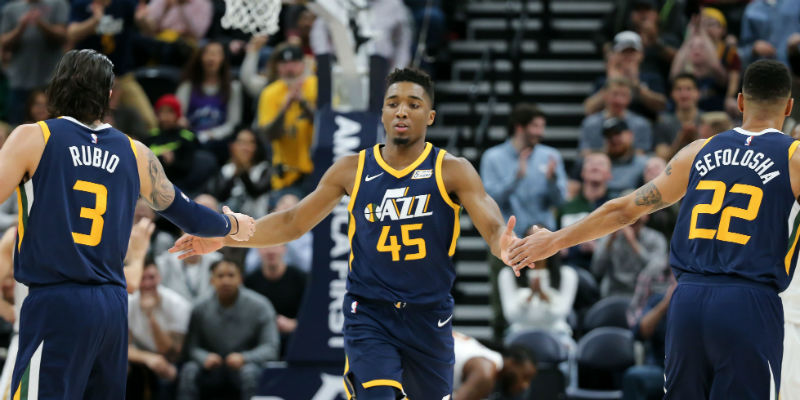 ---
5. Oklahoma City Thunder
Projected starting lineup: Russell Westbrook-Andre Roberson-Paul George-Jerami Grant-Steven Adams
2017-18 stats: 36 minutes together, +6.3 Net Rating
Roberson was quietly one of the most important players in the league last season: The Thunder were 7.1 points per 100 possessions better with him on the floor versus off. This lineup has monster defensive potential with him, George, Grant and Adams; Westbrook is enough of a one-man wrecking ball in the pick-and-roll to survive offensively. George's shooting will be key: He hit 40.4% of his catch-and-shoot 3-pointers last season, one of the best marks in the league.
Note: Reports indicate Roberson (knee) will be out the first couple months of the season.
---
6. Philadelphia 76ers
Projected starting lineup: Ben Simmons-Markelle Fultz-Robert Covington-Dario Saric-Joel Embiid
2017-18 stats: 0 minutes together
It remains to be seen whether head coach Brett Brown will indeed start Fultz over sharpshooter JJ Redick. It could definitely affect the chemistry gained during last season. Per NBA.com, this projected starting lineup didn't log a single minute together.
The lineup with Redick, on the other hand, was analytically perhaps the best fivesome in the entire NBA. Despite the offensive issues with Fultz's and Simmons' shooting, however, this new fivesome could contend for the best defensive unit. Plus, all five players are either entering or not quite in their prime.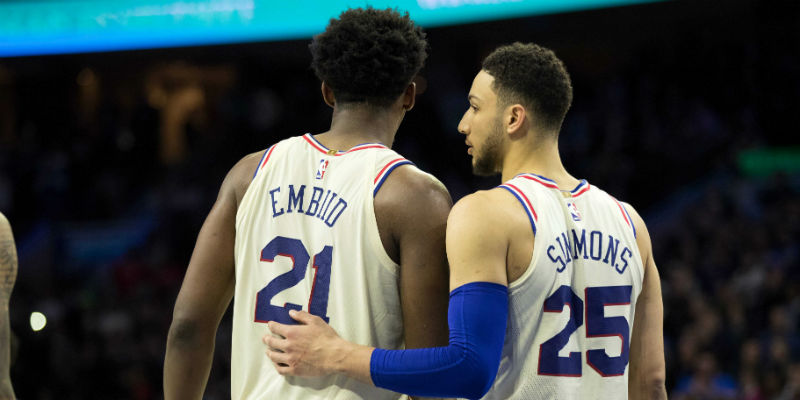 ---
7. Toronto Raptors
Projected starting lineup: Kyle Lowry-Danny Green-CJ Miles-Kawhi Leonard-Serge Ibaka
2017-18 stats: 0 minutes together
I was personally higher on this fivesome, ranking them fourth. Lowry, Green and Leonard are three of the best knock-down shooters in the league, and that combination plus Miles and Ibaka is potentially lethal defensively.
The big question mark is the health of Leonard, who played only 210 minutes last season and hit just 31.4% of his 3s. Two seasons ago, he was in the 70th-plus percentile in every shooting location on the floor. That player plus the other four guys is a top-five unit.
---
8. Denver Nuggets
Projected starting lineup: Jamal Murray-Gary Harris-Will Barton-Paul Millsap-Nikola Jokic
2017-18 stats: 65 minutes together, +32.7 Net Rating
It was admittedly just 65 minutes, but outscoring opponents by 32.7 points per 100 possessions isn't shabby. This fivesome is quite young outside of Millsap, and it seemed that head coach Mike Malone at the end of the season finally figured out he should feature budding superstar Jokic.
Among players with at least 40 games played, Murray's and Jokic's offensive ratings of 113.0 and 112.6 were top 15 — right at the Warriors' starters level, for reference. And that was largely without Millsap.
---
9. Milwaukee Bucks
Projected starting lineup: Eric Bledsoe-Malcolm Brogdon-Khris Middleton-Giannis Antetokounmpo-Brook Lopez
2017-18 stats: 0 minutes together
Lopez is the new addition, but really this is about the continued development of MVP hopeful Antetokounmpo. Per the Ringer's Kevin O'Connor, Giannis last season finished as the ballhandler in pick-and-rolls 500 fewer times than LeBron James — a number that could increase that with new head coach Mike Budenholzer.
Also factor in that Middleton is one of the top candidates to see positive 3-point shooting regression, and it's time to buy this Bucks lineup.
---
10. New Orleans Pelicans
Projected starting lineup: Elfrid Payton-Jrue Holiday-E'Twaun Moore-Nikola Mirotic-Anthony Davis
2017-18 stats: 0 minutes together
Davis is in his prime and is gearing up for an MVP run. He's second in odds right now at around 5-1 throughout the industry. The big question mark is Payton, who will try to prove he can improve his play in a winning environment. His Phoenix tryout was a disaster: He shot 20.0% from the 3-point line in 551 minutes of action.
Still, the trio of Holiday, Mirotic and Davis will be nearly impossible to stop on a nightly basis, as shown in last season's playoff sweep of a solid Portland squad.
---
11. Washington Wizards
Projected starting lineup: John Wall-Bradley Beal-Otto Porter-Markieff Morris-Dwight Howard
2017-18 stats: 0 minutes together
Given the Wizards' talent, it's hard to believe all of their starting lineups last season ranked just 14th in the league with a middling +2.4 net rating collectively. They will hope the drama with Marcin Gortat will make things on the floor smoother, and Wall will need to get back to his rim-attacking ways.
The Wizards ranked just 28th in frequency of shots at the rim last season after finishing 13th the season before. Wall is complemented by elite shooters in Beal and Porter, and if Howard will buy in to being a rim-runner (don't hold your breath), this fivesome could be great.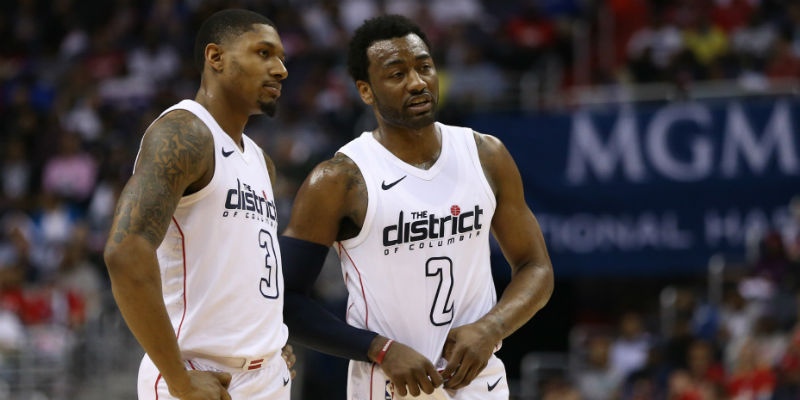 ---
12. Los Angeles Lakers
Projected starting lineup: Lonzo Ball-Kentavious Caldwell-Pope-Brandon Ingram-LeBron James-JaVale McGee
2017-18 stats: 0 minutes together
This lineup has a wide range of outcomes. Ball and Ingram are still questionable shooters, and offense could be even more of an issue if Rajon Rondo is given the starting nod ahead of Lonzo. Further, this group would be best getting out in transition, but it remains to be seen whether LeBron will want to run at nearly 34 years old.
Regardless, James has shown he can prop up nearly any lineup, and the basketball IQ between him and Lonzo is nearly unrivaled in the league. If head coach Luke Walton gives Josh Hart more run this season with this group, the core could surprise.
---
13. Indiana Pacers
Projected starting lineup: Darren Collison-Victor Oladipo-Bojan Bogdanovic-Thaddeus Young-Myles Turner
2017-18 stats: 696 minutes together, +2.1 Net Rating
The biggest surprise of the 2017-18 season, this fivesome has played the most minutes of any starting unit entering this season. The big question is whether the unit can sustain its hot play: Collison, for example, shot a ridiculous 47.0% from the 3-point line last season. The Pacers' net rating was middling, and if they drop at all in efficiency, it'll hurt: The Pacers ranked 27th in 3-point rate last season. Still, the chemistry they developed could help them get off to a quick start.
---
14. Dallas Mavericks
Projected starting lineup: Dennis Smith Jr.-Wesley Matthews-Harrison Barnes-Luka Doncic-DeAndre Jordan
2017-18 stats: 0 minutes together
Young, rookie point guards are almost always a negative, and that was the case last season: Smith ranked 460th out of 521 players last season with a poor -3.09 Real Plus-Minus. That said, his burden will be eased this season thanks to their newest high draft pick, Doncic, who was last season's EuroLeague MVP.
This lineup may not be great defensively, but Doncic-Jordan pick-and-rolls should be high-efficiency options, and Smith seems like a breakout candidate as a secondary playmaker on the perimeter with extra spacing.
---
15. Portland Trail Blazers
Projected starting lineup: Damian Lillard-CJ McCollum-Maurice Harkless-Al-Farouq Aminu-Jusuf Nurkic
2017-18 stats: 442 minutes together, +7.7 Net Rating
This lineup did well together last season in a large sample size. Dame and CJ are still a formidable backcourt, but the question is whether they can stuff enough shooting around them. Last season they did, mostly because Harkless, a career 33.0% 3-point shooter, hit 41.5% from behind the arc.
If those shots aren't going in, the offense could have lulls: The Blazers ranked dead last in the NBA in field-goal percentage at the rim, per Cleaning the Glass.
---
16. Minnesota Timberwolves
Projected starting lineup: Jeff Teague-Derrick Rose-Andrew Wiggins-Taj Gibson-Karl-Anthony Towns
2017-18 stats: 7 minutes together, -41.1 Net Rating
We're currently projecting Jimmy Butler not to be here for the majority of the season, and unfortunately the team just wasn't good without him last season. Without him on the floor, the Wolves were an astonishing 13.5 points per 100 possessions worse than with him on. A large part of that was on defense (8.8 per 100), and it's unlikely this group vastly improves in that regard.
Towns will be a beast this season, but this offense is just so antiquated: The Wolves ranked dead last in 3-point rate and bottom-10 in shots at the rim. I personally ranked this fivesome much lower than No. 16.
---
17. Miami Heat
Projected starting lineup: Goran Dragic-Dion Waiters-Josh Richardson-James Johnson-Hassan Whiteside
2017-18 stats: 33 minutes together, +35.5 Net Rating
It remains to be seen whether guys such as Richardson will still be in a Heat uniform, as he's a likely piece in a Butler trade scenario. Butler would obviously improve the ceiling of the starting lineup, although Richardson is no slouch, hitting 37.6% of his 3s and growing as a playmaker and defender last season.
One main issue for this Heat lineup and team is the ability to reliably put pressure on the rim and get easy looks. It ranked just 25th in free-throw rate a season ago and thus 20th in offensive efficiency.
---
18. San Antonio Spurs
Projected starting lineup: Derrick White-DeMar DeRozan-Rudy Gay-LaMarcus Aldridge-Pau Gasol
2017-18 stats: 0 minutes together
Well, the Spurs' rotation players are dropping like flies as exciting, young point guard Dejounte Murray will miss the season due to a torn ACL. It was thought that Patty Mills might step in as the starter — he would improve the offensive outlook for this unit despite hurting it defensively — but it was announced this week that White, a second-year player, will instead get the nod. He will likely be a low-usage game manager, which means the offense will almost entirely run through DeRozan and Aldridge.
This squad took nearly 43% of its shots from mid-range last season; expect the same again.
---
19. Cleveland Cavaliers
Projected starting lineup: George Hill-JR Smith-Rodney Hood-Kevin Love-Tristan Thompson
2017-18 stats: 0 minutes together
It's hard to calculate just how devastating it is to lose LeBron, but note that the Cavaliers offense dipped by 9.8 points/100 with him off the floor last season. The Cavs took 4.1% fewer shots at the rim and 6.2% fewer 3-pointers, and they were obviously less efficient on those shots, as well.
Perhaps we'll see a rejuvenation of Minnesota Love, and there's still a good amount of shooting on the floor. But without James to put pressure on the rim — Hill and Hood almost certainly won't — defenses will adjust and make this merely a middling fivesome.
---
20. Charlotte Hornets
Projected starting lineup: Kemba Walker-Jeremy Lamb-Nicolas Batum-Marvin Williams-Cody Zeller
2017-18 stats: 4 minutes together, -15.3 Net Rating
I will say that I'm quite a bit higher on this fivesome than the rest of the group here, but I understand the concern. Zeller is a big injury risk, and there are huge question marks about how this fivesome — and the team in general — will protect the rim.
That said, Walker is in his prime, and the Hornets should benefit from Lamb taking another step forward and playing more minutes with the starters. With him on the floor, the Hornets shot 5.1% better from behind the arc. If new head coach James Borrego can get them running a more modern offense, this fivesome should outperform this ranking.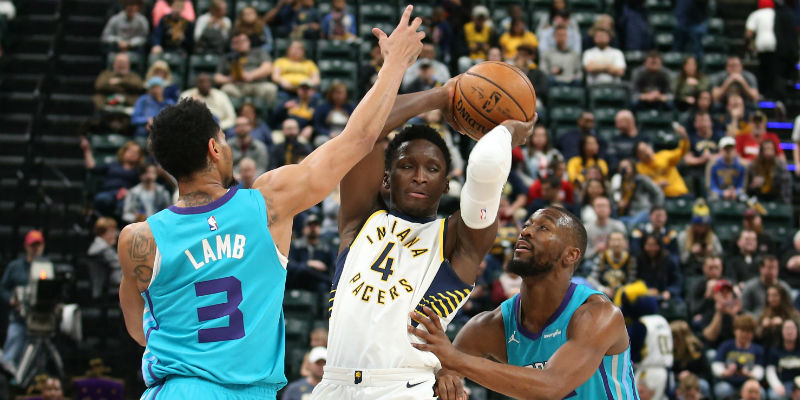 ---
21. Los Angeles Clippers
Projected starting lineup: Patrick Beverley-Avery Bradley-Tobias Harris-Danilo Gallinari-Marcin Gortat
2017-18 stats: 0 minutes together
Given the injury history of the Clippers, it's possible this unit actually plays very few minutes together. The Clips are an intriguing team: They are incredibly deep yet lack true top-end talent.
Harris should have an excellent season in his prime, but there are large question marks at center with Gortat, who is 34 years old and had a disastrous last season in Washington.
The defense will likely be bad with this fivesome, although if Montrezl Harrell ends up taking over the starting role, they'll be much better than this low ranking.
---
22. Memphis Grizzlies
Projected starting lineup: Mike Conley-Dillon Brooks-Kyle Anderson-JaMychal Green-Marc Gasol
2017-18 stats: 0 minutes together
Perhaps the most confusing team in the league; it's hard to know what to expect from aging vets Conley and Gasol. Perhaps the scariest stat is that Gasol allowed better than 64% shooting in the restricted area (for reference, guys like Joel Embiid and the best rim protectors were in the 58% range).
If even a healthy Gasol has lost a step defensively, that will hurt the team in a big way. There's certainly upside here given the talent, albeit aging talent, but it's hard to bet on a complete return to form.
---
23. Detroit Pistons
Projected starting lineup: Reggie Jackson-Luke Kennard-Stanley Johnson-Blake Griffin-Andre Drummond
2017-18 stats: 3 minutes together, -4.5 Net Rating
Somehow, despite playing two bigs in Griffin and Drummond, the Pistons ranked just 27th in free-throw rate and 22nd in frequency of shots at the rim. Unless the Pistons (who ranked fifth in 3-point percentage last season) get hot from the 3-point line again — which is questionable if Stanley Johnson and Reggie Jackson play more — it's difficult to see how this fivesome is above average on either end of the floor.
The names are intriguing, but we'll see if they can actually put it together this season.
---
24. Phoenix Suns
Projected starting lineup: Devin Booker-Josh Jackson-Trevor Ariza-Ryan Anderson-Deandre Ayton
2017-18 stats: 0 minutes together
A lineup that projects to be more exciting than good, it at least boasts much more shooting this season with new additions Ariza and Anderson. Further, Booker at point guard playing with Ayton as a roll man has potential. The issue, of course, is defense.
Ayton has shown some decent flashes of rim protection in the preseason, but that was a weakness of his at Arizona, and it's nearly unprecedented for a rookie center to anchor a good defense. Plus, Booker and Anderson are some of the worst defenders at their positions. This fivesome will score a ton of points, but it will probably let up a ton more.
---
25. Chicago Bulls
Projected starting lineup: Kris Dunn-Zach LaVine-Jabari Parker-Lauri Markkanen-Robin Lopez
2017-18 stats: 0 minutes together
Much like with Roberson and the Thunder, we're putting Markkanen here despite the fact that he'll miss the beginning of the season. This group certainly has on-court talent, but it also boasts some of the most inefficient, ball-dominant wings in LaVine and Parker. The Bulls ranked 29th in field-goal percentage at the rim last season, and it's unlikely that they'll generate efficient offense this season.
The biggest question mark, however, is on defense. LaVine ranked 490th out of 521 players in Defensive Real Plus-Minus, and Parker will really struggle at the 3. This fivesome will have some fun nights, but the overall season-long metrics won't be pretty.
---
26. Brooklyn Nets
Projected starting lineup: D'Angelo Russell-Allen Crabbe-DeMarre Carroll-Rondae Hollis-Jefferson-Jarrett Allen
2017-18 stats: 85 minutes together, +15.8 Net Rating
This lineup posted impressive numbers together last season, albeit in just 85 minutes together, but all of these guys should improve.
Allen is a popular breakout candidate pick, but a lot of this season's success will come down to Russell's development as the lead initiator of the offense. Last season he used a whopping 32.9% of the Nets' possessions while on the floor but struggled shooting, hitting just 32.5% of his 3-pointers.
The team was actually 4.9 points per 100 better with him on the bench; that will need to reverse this season.
---
27. Orlando Magic
Projected starting lineup: D.J. Augustin-Evan Fournier-Jonathan Isaac-Aaron Gordon-Nikola Vucevic
2017-18 stats: 10 minutes together, +15.1 Net Rating
For the 100th straight season, the Magic have the same question: Who is going to shoot the ball? They have intriguing young talent in Isaac and Gordon in the projected starting lineup, but there's a reason this squad ranked 28th in 3-point percentage last season.
Orlando has a big hole at point guard, although Augustin did have an underrated season in 2017-18, shooting 41.9% from behind the arc. But the soon-to-be 31-year-old is a low-usage player and can help the spacing of this unit only so much. The more interesting lineups will be ones with Isaac, Gordon or rookie Mo Bamba at the five surrounded by more guards.
---
28. Atlanta Hawks
Projected starting lineup: Trae Young-Kent Bazemore-Taurean Prince-John Collins-Dewayne Dedmon
2017-18 stats: 0 minutes together
As with the Suns, this fivesome will be immensely fun but probably not very good when it comes to winning games. The biggest question mark is with Young, who looks like he will have the keys to the offense from Day 1. Even excellent point guards struggle early in their careers, and Young will likely have some rough games mixed in with his highlight ones.
Still, this is an exciting core, full of high-ceiling talent and intriguing role players who can shoot in Bazemore and Prince. Dedmon has long been an underrated analytics darling.
---
29. Sacramento Kings
Projected starting lineup: De'Aaron Fox-Buddy Hield-Bogdan Bogdanovic-Skal Labissiere-Willie Cauley-Stein
2017-18 stats: 82 minutes together, +2.0 Net Rating
Well, at least this fivesome isn't playing four centers tweeners out of the five spots. The Kings last season ranked 29th in offense and 28th in defense, so there's noowhere to go but up. And whether they do largely depends on the development of sophomore point guard Fox. He's shown flashes in the preseason, but he'll need to prove he can get far beyond his 44.1% effective field-goal percentage this season to have a positive impact on the offense.
---
30. New York Knicks
Projected starting lineup: Trey Burke-Tim Hardaway Jr.-Kevin Knox-Lance Thomas-Enes Kanter
2017-18 stats: 0 minutes together
This fivesome would be higher if Kristaps Porzingis was projected to play a majority of the season, but alas, Kanter will anchor a defense that finished 25th in efficiency a season ago.
Summer League star Knox will be a welcome addition to the roster, but it's hard to imagine how this fivesome isn't bottom 10 on either end of the floor. Burke had a nice 2017-18 season but started just nine games across his 746 minutes. Plus, he still remains one of the worst point-guard defenders in the league.
Sorry, Knicks fans, but things could ugly until the Unicorn returns.
How would you rate this article?